Albert Valentien (1862-1925 ) Botanical study #8 w/c, double sided. ex. Cincinnati Exhibition Albert R. Valentien, The California Years 1908-1925, pictured in exposition catalogue, framed $1400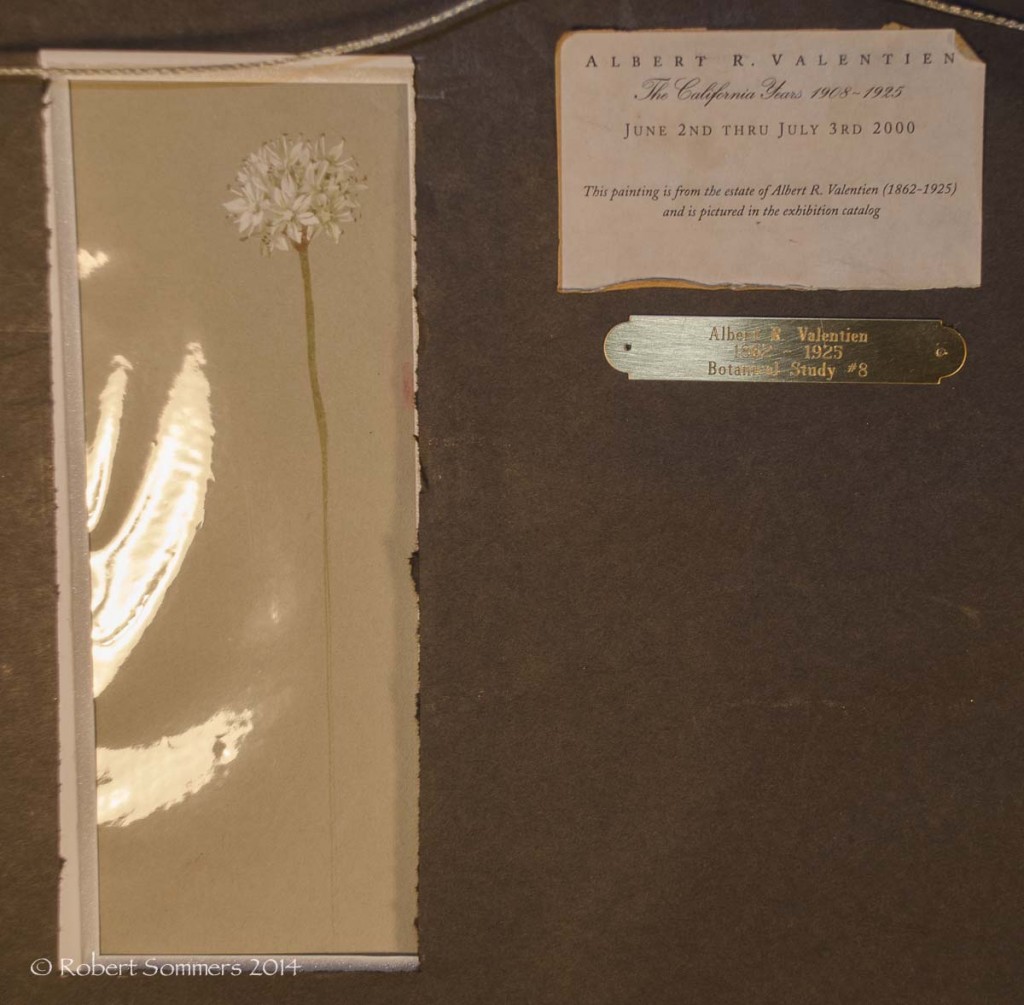 Albert Robert Valentien was born in 1862 in Cincinnati and showed great artistic talent from an early age. By the age of 19 he was employed at the Rookwood Pottery in Cincinnati, and he became the head decorator there, staying for 24 years. He created many beautiful ceramic pieces owned by such museums as the Victoria and Albert Museum (London), the Museum of Decorative Arts (Copenhagen), the National Museum (Sevres), and many others. In 1900 he received the gold medal at the Paris Exposition for his work at Rookwood. His works in ceramics, as well as his paintings and still-lifes, are considered very valuable by collectors.

In 1884 Rookwood hired Anna Marie Bookprinter, an artist and sculptor in her own right, and three years later, Anna and Albert married. As Rookwood employees, Anna and Albert traveled to Europe in 1899 to receive further art training and to prepare the Rookwood Pottery exhibit for the Paris Exposition of 1900. During a visit to the Black Forest in Germany, while Albert was recuperating from an illness, he began to paint the wildflowers of the region, which proved to be a turning point in his career.

Because they had heard about the natural beauty of California, they traveled west in 1903 to visit Anna's brother near San Diego. Over the next eight months, Valentien painted 150 species of plants, and both artists fell in love with the area. They decided to resign from Rookwood, and moved permanently to San Diego in 1908.

Shortly after they arrived, Ellen Browning Scripps, a prominent San Diego philanthropist with an interest in natural history, commissioned Valentien to take on a monumental task-the painting of all the wildflowers or plants of California. He began work in 1908, and for the next ten years traveled all over the state, from the Mexican border, to the northern California coast, collecting in chaparral, desert, and mountains, by rivers, in canyons, and along the beaches and salt marshes. California at this time offered an unspoiled wealth of incredibly diverse plants and animals for an artist to study and depict. Valentien always painted from fresh specimens, and by 1918 had completed 1094 sheets that depicted 1500 species altogether. Although he had initially focused on the wildflowers, he enlarged his scope to include trees, grasses, and ferns as well. His exquisite paintings were botanically accurate and meticulous in their execution, yet breathtakingly vibrant and full of spontaneity.

Valentien had assumed that his work would be published at its completion, but Miss Scripps decided that publication would be too costly, and although attempts were made to get some of the paintings included in various formats, his work was never published. This obviously was a grave disappointment to the artist. Valentien began to paint more landscapes in oil and explored other subjects. He died unexpectedly of a heart attack in 1925.

Written by Margaret Dykens, Director of the Research Library, San Diego Natural History Museum.