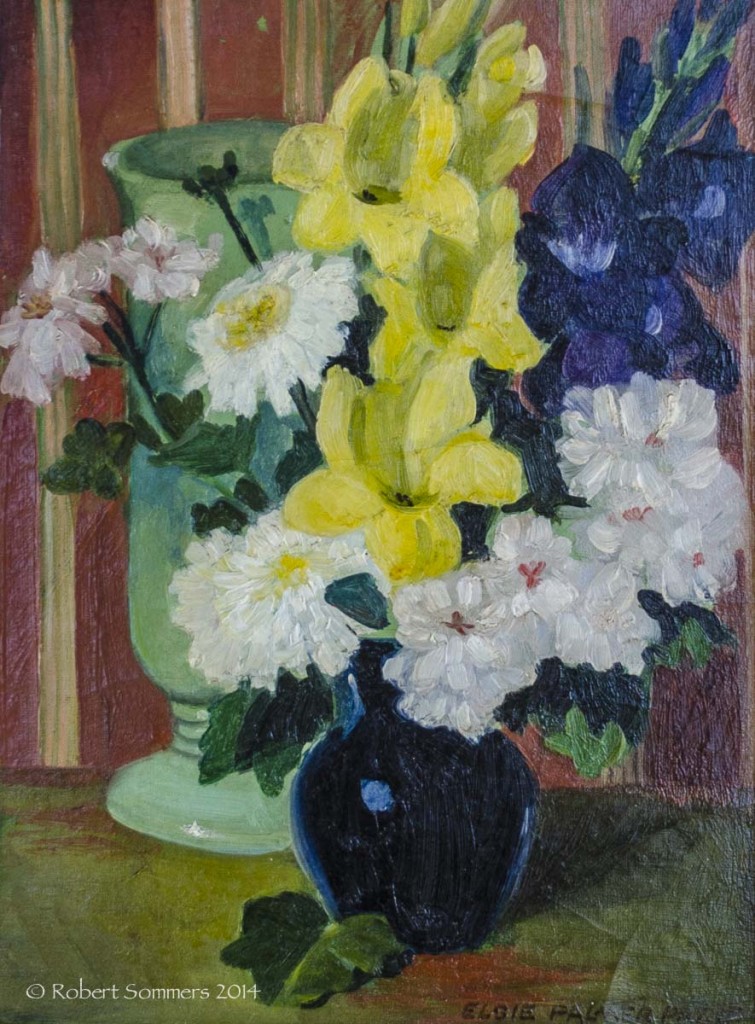 Elsie Palmer Payne (1884-1971) boquet o/b 12 x 9″ signed l/r titled verso framed $1200
A landscape, floral and portrait painter, Elsie Palmer Payne had a career that was early subverted to that of her husband, Edgar Payne, but was much recognized later in her life and posthumously. Her primary medium was gouache, and her great interest was painting people, although she also did landscapes.
She was born in San Antonio, Texas and was raised by parents who had emigrated from England where her father had raised fine horses. Hoof-and-mouth disease wiped out his business and a local bank robbery caused him to completely loose his fortune. Her mother did not want to remain in England as the "poor relation" among her family, so the couple came to America. In 1886, they moved from Texas, where they had tried unsuccessfully to raise horse, to Los Angeles and then to San Francisco where Elsie Payne was raised.
She studied locally at the Best Art School and worked as a commercial artist designing billboards and ads including for Old Dutch Cleanser, Kellogg's Cereal and Pabst beer. She was so successful she won a national prize and amazingly was paid the same as her male colleagues. In 1910, she moved to Chicago where she studied at the Chicago Fine Arts Academy. She also re-met her future husband, Edgar Payne (1883-1947), whom she had first met in San Francisco. In 1912, the couple married and a daughter, Evelyn, was born in 1914.
In 1917, the couple traveled to the Southwest, spending four months in Canyon de Chelly. In 1918, they moved to Laguna Hills, California. They traveled and exhibited in Europe from 1922 to 1924, and she received high acclaim by French critics. She carried her art supplies around in a canvas shopping bag, and according to the daughter, Evelyn Payne Hatcher, "We lived in a different city every winter until I went to high school in New York. My mother had promised I could spend my high school years in one location."
In Beverly Hills, she headed the Elsie Palmer Art School. In 1947, Edgar Payne died, and in 1969, she moved to Minneapolis to be near her daughter. Elsie Payne died in 1971, having sacrificed much of her own talent during her productive years to further the career of her husband.
Source:
Evelyn Payne Hatcher, 'Elsie Palmer Payne', Plein Air, June 2004
Edan Hughes, Artists in California, 1786-1940
Rena Coen, The Paynes