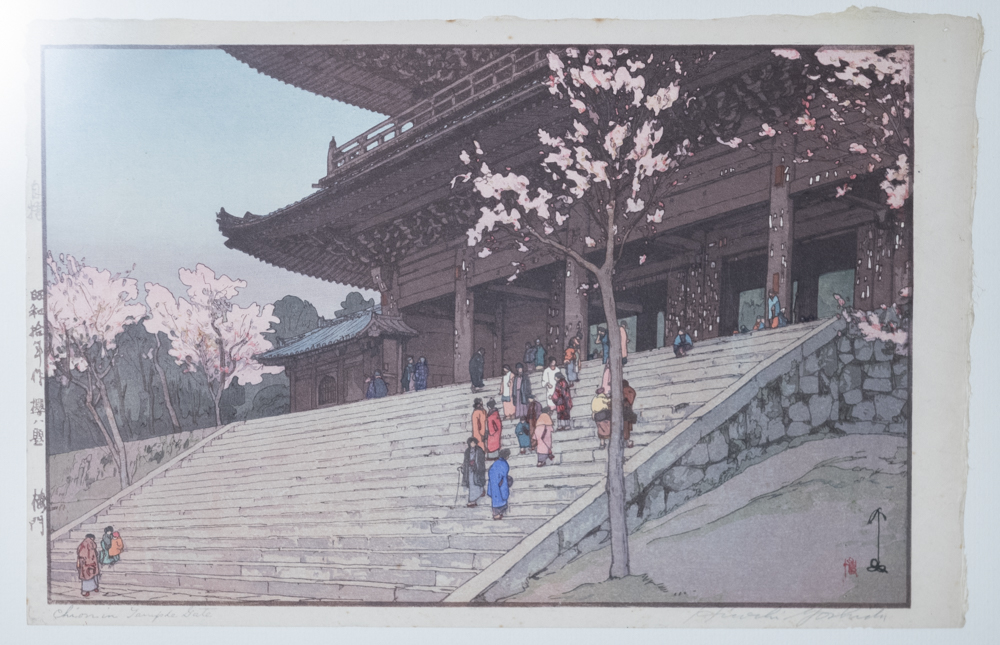 Hiroshi Yoshida (1876-1950)
Chionin Temple Gate
1935
woodblock with jizuri seal
pencil titled and signed
$1600
From AskArt: A Japanese landscape painter and printmaker, especially known for woodcuts, Hiroshi Yoshida was born in Kyusha or Kurema, Japan, and was much influenced by his adoptive father who was a painting teacher in the public schools.   At age 19, he began art study in Kyoto with Tamura Skoryu, who did western style painting, which was becoming increasingly accepted in Japan.  For three years Yoshida studied in Tokyo with Soyama Shotaro.

In 1899, he received his first recognition in America with an exhibition of his work at the Detroit Museum, later renamed the Detroit Institute of Art.  During that period he traveled on the East Coast of the USA and in Europe.   By the 1920s, in addition to oil and watercolor landscape painting, he was heavily involved in woodblock printmaking.

Referred to as Romantic Realism in western style, his artwork was heavily influenced by his travels in America.  "Two Grand Canyon scenes indicate Yoshida's presence in Arizona about 1925".  (Dawdy, 486)

His work is exhibited at the Fogg Museum at Harvard University, and numerous other museums including the Museum of Northern Arizona and the Minneapolis Institute of Art.