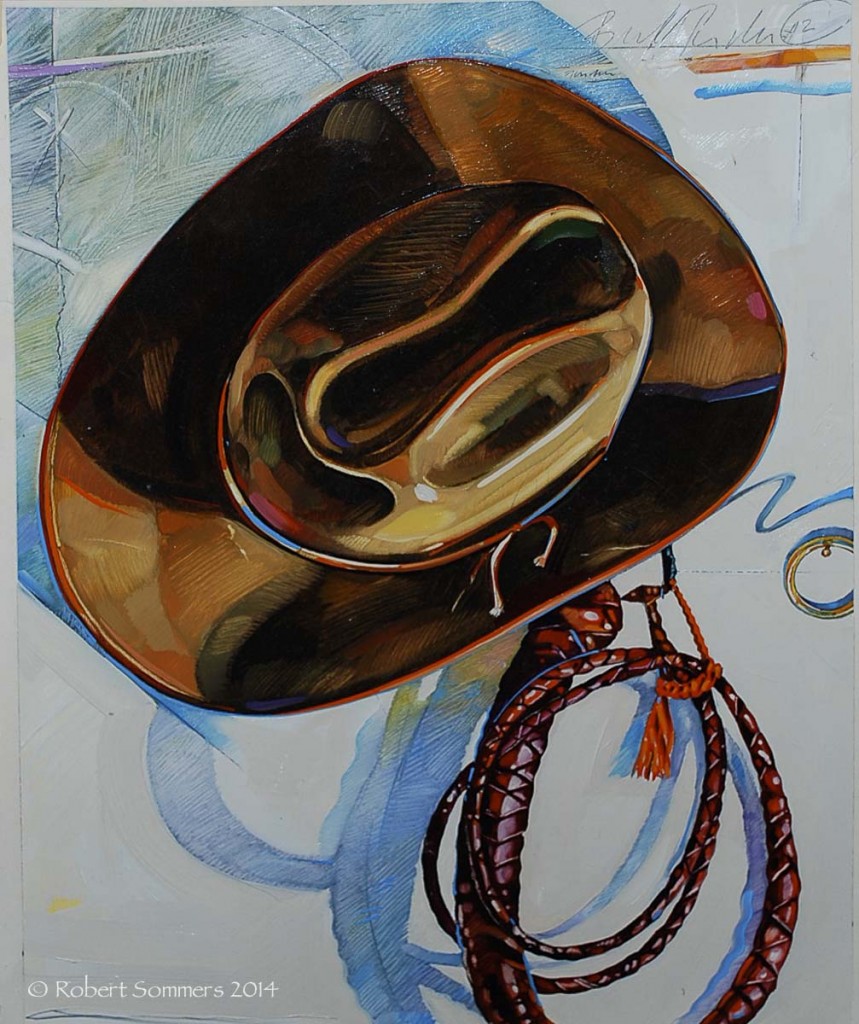 John Fincher (b. 1941) Bull Rider #2, mixed media on paper, 28 x 22″ sight, Elaine Horwitch Gallery label, signed, framed  p.o.r.
From Askart: Honored as the official artist for the cover of The Santa Fe Opera's 2010 Season Program and its pair of Season Posters, John Fincher has for more than 40 years created art that celebrates what the artist terms modestly "the trappings of the American West." These "trappings" encapsulate references that are both familiar and totemic of the Great American Frontier and its mythic role as a reservoir of pride, strength, individualism and renewal.

Distinguished by a singular blend of sensuality and authentic realism, his art is intended to explore diverse art historical and personal references to offer new understandings of America's natural and cultural landscapes. Exercising an economy of means, his work is focused on stirring emotional resonance from a combination of balanced composition, nuanced brushwork, dramatic shadowing, and the application of intense points of contrasting colors to punctuate significant visual elements.

He does images of towering poplars, pine limbs set against crystalline skies, richly hued desert hillsides, arrays of colors within canopies of aspens turning, and aggressively cropped prickly pears to symbolize cultural meanings and representations of the mythic American West.

Elsewhere, as in an enigmatic painting of a lone padlock and a suite of serially repeated images of shaving brushes, the artist hopes to transmute commonplace objects into powerful expressions that compound the equivocal with the intensely diaristic.

Born in Hamilton, Texas, in 1941, John Fincher earned his MFA from University of Oklahoma in 1966. The artist's works have been the subject of numerous solo exhibitions and have been represented in important group exhibitions at such significant venues as SITE Santa Fe, the Aspen Art Museum, and the National Art Museum of China, Beijing.

His work resides in major public institutions including the Smithsonian Institution, the Dallas Museum of Art, the Wichita Art Museum, and the Albuquerque Museum of Art and History.