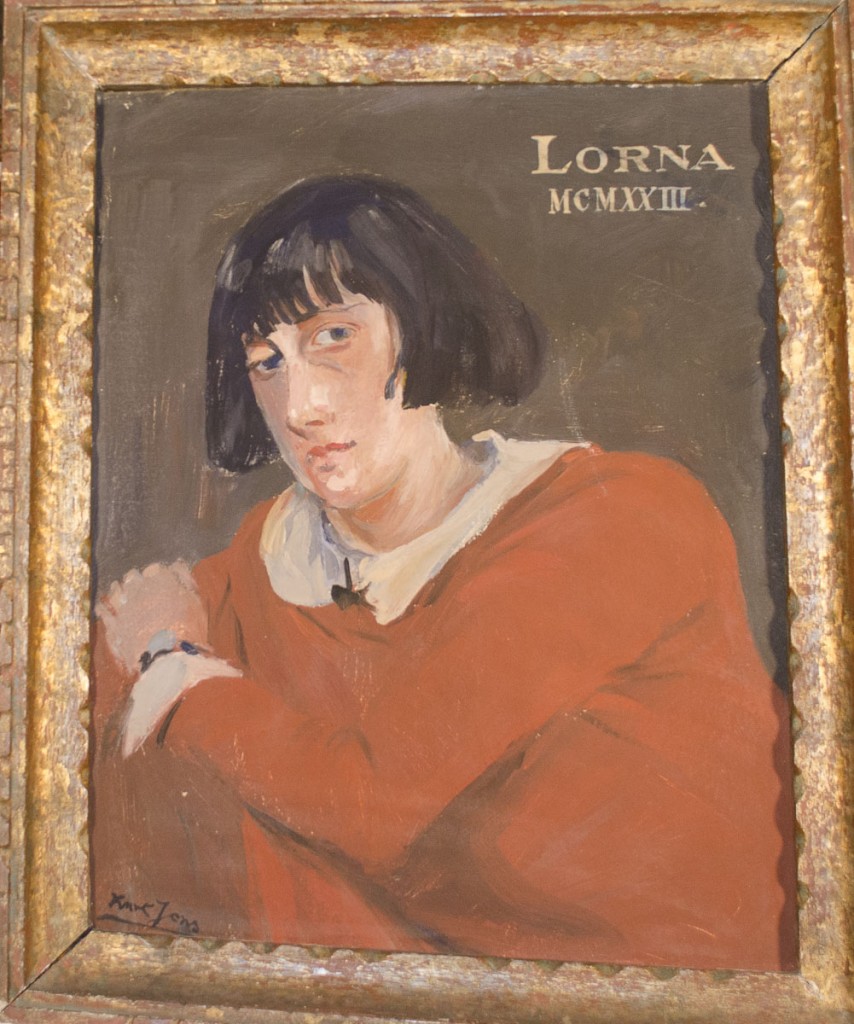 Karl Yens (1868-1945) Lorna, Egoity – 1923,  oil on board, 20 x 16″ PAFA exhibition sticker verso, signed and titled front and verso, Laguna Beach address, original frame  p.o.r.
Born in Altona, Germany on Jan. 11, 1868, Karl Yens (né Jens) studied with Max Koch in Berlin and with Benjamin Constant and Jean-Paul Laurens in Paris. He was active as a muralist in Germany and Edinburgh, Scotland before coming to the U.S. in 1901.

During the first decade in his adopted country he fulfilled mural commissions in NYC and Washington, DC. After settling in southern California in 1910, he was active in Los Angeles and Pasadena before moving to Laguna Beach in 1918. His studio still stands there on South Coast Highway near Ruby Street. Yens died there on April 13, 1945.

A versatile painter, his oeuvre includes portraits, still lifes, landscapes, genre subjects, and many studio figure studies. Equally facile with oil and watercolor, his work is distinguished by its bold, colorful, and decorative style.

Memberships:
California Teachers Ass'n; American Federation of Art; California Society of Miniature Painters; Academy of Western Painters (LA); Laguna Beach Art Association (cofounder); Long Beach Art Association; San Diego Fine Arts Society; American Artists Professional League.

Exhibitions:
Panama-California Int'l Expo (San Diego), 1915; Los Angeles County Museum of Art, 1918, 1922, 1929; California Watercolor Society, 1921-30; San Francisco Art Association, 1925; California Art Club, 1925; Modern Art Workers (LA), 1925; Ebell Club (LA), 1925; Painters & Sculptors of LA, 1926; Artland Club (LA), 1927; Arizona State Fair, 1927-28; Pacific Southwest Expo (Long Beach), 1928; Oakland Art Gallery, 1932-33; Whittier Art Gallery, 1934; Santa Cruz Art League, 1934; Los Angeles Art Association, 1935; Golden Gate International Exposition, 1939.