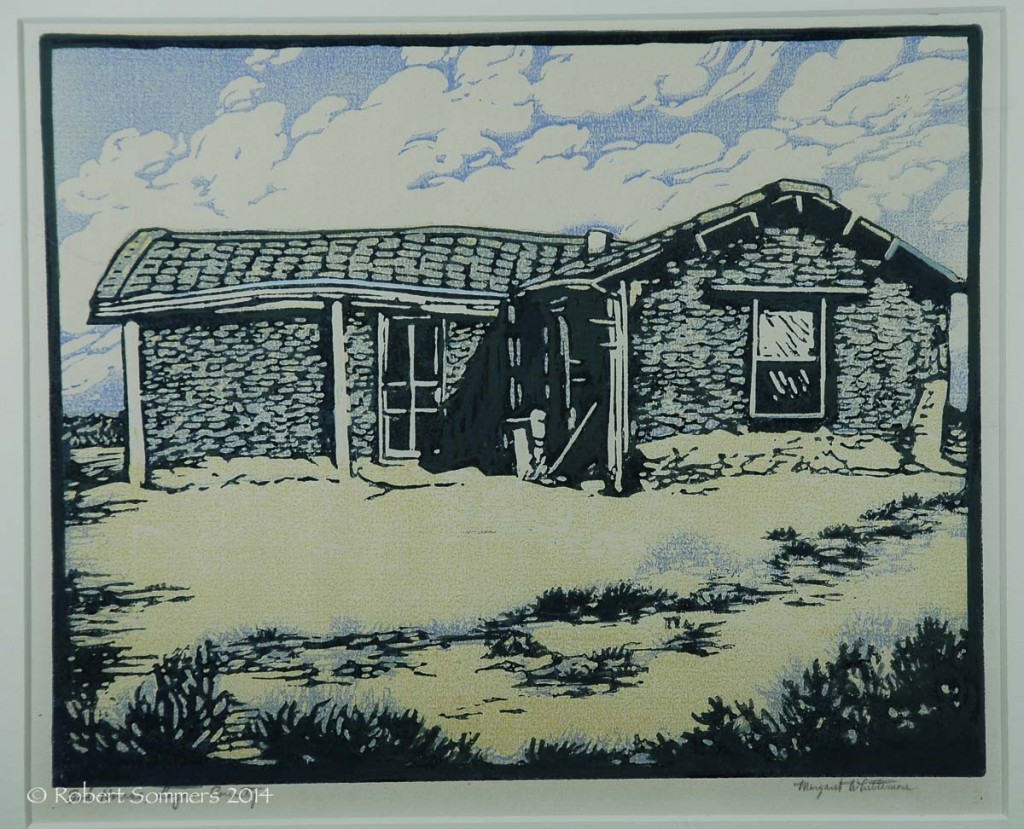 Margaret Whittemore (1897-1983) Sod house, Logan County colored woodblock 8 x 10″ pencil signed and titled with explanatory label on verso, framed – I believe that this work is from her 1936 series of Kansas landmarks. $500
Graphic artist, Margaret Whittemore was born into a family of Washburn College teachers on September 7, 1897, in Topeka, Kansas, growing up there. Her father, Luther D. Whittemore was a professor of Latin and education, and her mother Frances Davis Whittemore was director of the art department. The artist-to-be studied, naturally enough, at Washburn (today a University) from 1915-1919, receiving her degree. From 1920-1923, she studied graphic arts at the School of the Art Institute of Chicago, Illinois. In 1927, she taught art at Bethany College, in Lindsborg, Kansas. From 1928-1935, she edited the national publication of the honorary art fraternity Delta Phi Delta, "The Palette." Whittemore moved from Topeka to Kissimmee, Florida, in 1952, spending a number of years in both Short Hills, New Jersey, and Sarasota, Florida, before choosing Sarasota as her home. She would die there on November 24, 1983.

While Whittemore did some work in oil, her primary medium in the expression of Kansas subjects was the graphic arts, wood block prints in particular. Around 1930, magazines and newspapers began publishing her prints of historic landmarks, as well as her earlier birds and trees. She illustrated books by other writers, while also writing and illustrating her own. Sketchbook of Kansas Landmarks, published in 1936, was her first book. It featured drawings and descriptions of historically significant landmarks like the capitol, missions, old trails, homes, bridges and trees. The 1955 Exhibit of Chicago and Midwestern Bookmaking honored Whittemore's Historic Kansas: A Centenary Sketchbook, 1954. Her One-Way Ticket to Kansas appeared in 1959. Whittemore's work is in the Kansas collections of the Emporia Library; Topeka Public Library; University of Kansas, Lawrence; and Butler County Historical Society, in El Dorado.

An early oil, Santa Fe Poster, was shown at the Kansas City Art Institute in their 1923 exhibition of work by artists of Kansas, Missouri and Oklahoma. Whittemore, during summer study with Birger Sandzen at the Broadmoor Academy, Colorado Springs, painted another oil, Sunrise on Pikes Peak, which was also exhibited at the Institute in the 1924 Midwestern Artists exhibition. Other exhibitions included the Prairie Print Makers, which traveled through Kansas. She won "Best Print by a Kansas Artist" in the 1936 American Block Print exhibition, in Wichita, Kansas.

References containing information on Margaret Whittemore's life and art include: Who Was Who in American Art; Who's Who in American Art 1953-1959; Petteys; American Women; Kansas Historical Collection 17 (1926-1928); Penwoman, Nov 1960; Topeka Journal, 14 Apr 1926, 27 Aug 1943; Kansas City Journal [MO], 21 Mar 1927; Topeka Daily Capitol, 6 Dec 1936, 11 Jun 1939, 23 Jul 1939, 30 Jul 1939, 26 Oct 1952; Kansas City Times, 8 Mar 1943, 23 Jul 1954; Topeka Capitol-Journal, 1 Dec 1983; Kansas State Historical files, Topeka; US Census 1900, Shawnee County, KS, ED 169, pg 5; Topeka City Directory; M. Whittemore, 1975; C. R. Rasch (Washburn University), 1991.