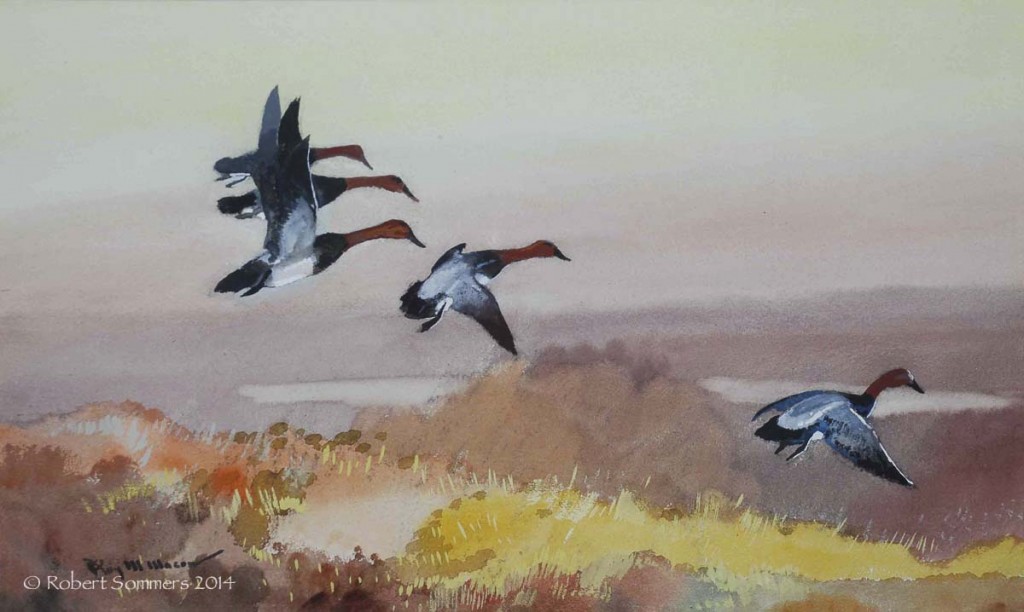 Roy Mason (1886-1972) painting of ducks titled verso Canvasbacks w.c.15 x 22″, original frame, p.o.r.
From Askart: Born in Gilbert Mills, New York, Roy Martell Mason painted a wide range of outdoor subject matter reflecting his interest in hunting and fishing. He won many awards including the Gold Medal from the American Watercolor Society. He was also an illustrator, whose work appeared in Reader's Digest and True magazines.

Mason was raised on a farm and was encouraged in his art talent by his father who worked as an engraver and who also taught his son the skills and love of outdoor sports.

His art education consisted of only one correspondence course, which he later referred to as his "formal art training." He worked with his father in an engraving business, and then became head of the art department for a Philadelphia lithograph company while maintaining his own studio for painting.

A close friend of artist Chauncey Ryder from 1926, Mason often painted with him in New Hampshire.

He became a member of the Buffalo Society of Artists, the Salmagundi Club, the American Federation of Arts, the Philadelphia Water Color Club, Grand Central Galleries and an Associate Member of the National Academy of Design.

In 1959, he and his wife, Lena, moved to La Jolla, California, where they lived the remainder of their years.