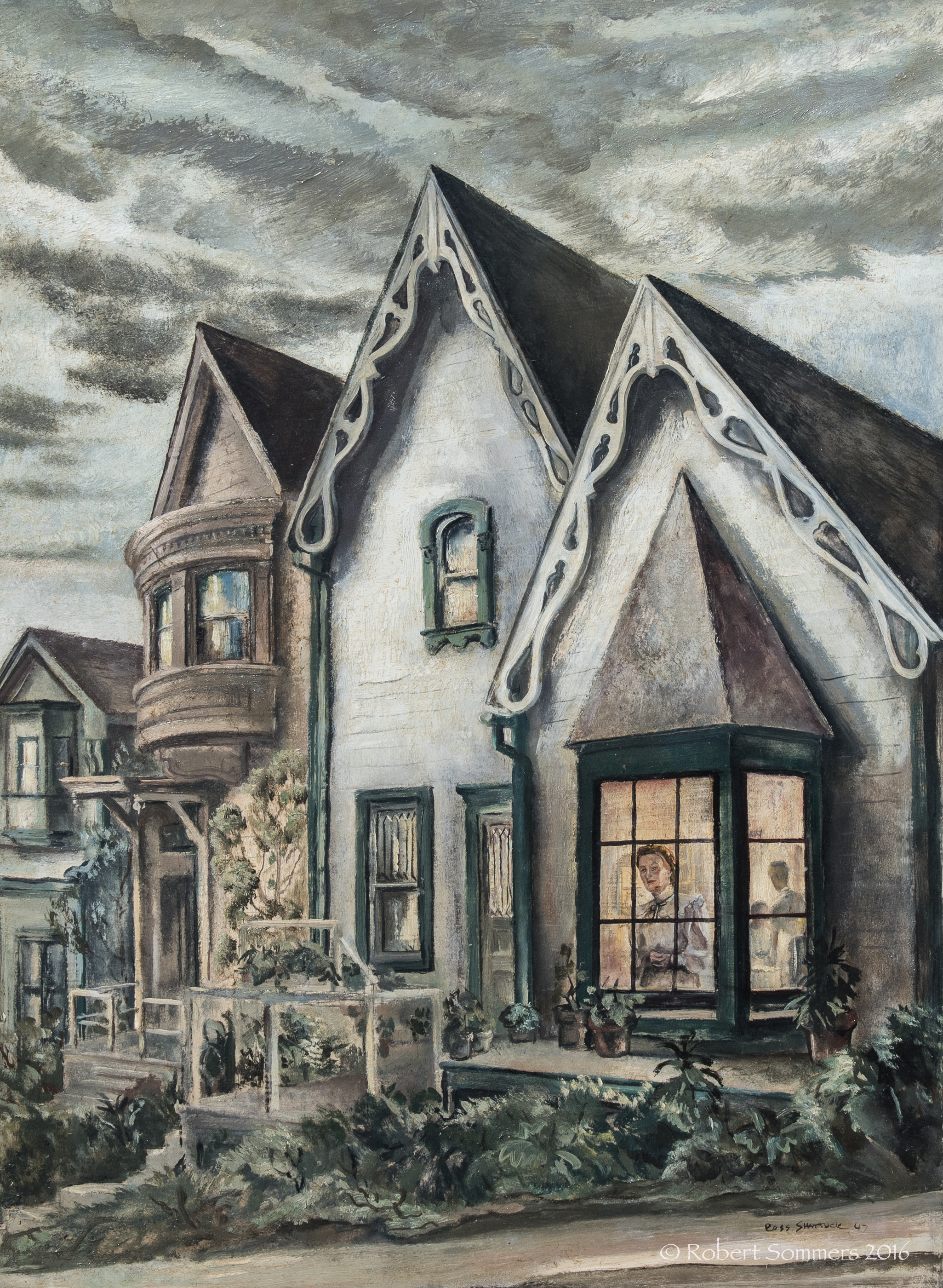 William Ross Shattuck (1895-1962) untitled o/b 30 x 22″ elaborate but worn victorian frame
I really like this painting, sort of Hopper meets James Thurber. $2800
Born in Enderlin, ND on Sept. 26, 1895. Shattuck studied at the Chicago Academy of Fine Art and the PAFA. He moved from New York to Laguna Beach about 1929. During the 1930s he was an art director for Metro-Goldwyn-Mayer and an instructor at the Chouinard Art School. A veteran of both world wars, he died at the Veterans Hospital in Los Angeles on March 2, 1962. His paintings include nudes, interiors, and landscapes of the West and Mexico.
Exh: Chouinard Gallery (LA), 1936; Gump's (SF), 1940; CPLH, 1948; La Quinta Hotel, 1960.
Edan Hughes, "Artists in California, 1786-1940"
Southern California Artists (Nancy Moure); California Arts and Architecture list, 1932; Los Angeles Times, 3-6-1962 (obituary).
"Following work on the faculty of the Chicago Academy of Fine Arts, Ross Shattuck became art director successively for N. W. Ayer, J. Walter Thompson, and Metro Goldwyn Mayer. Moving to Laguna in 1929, Shattuck began to freelance with an ingenious plan whereby his friends sponsored painting trips to Mexico ('The Shatuxico Expedition') and Louisiana ('The Louisiana Buy') in return for first choice of all canvases produced." (from March 1958 LBAA cat.)
(Further information in PSCA, No. 8)
Source: Nancy Dustin Moure, "Publications in California Art No. 11 , Index to California Art Exhibited at the Laguna Beach Art Association, 1918-1972; 2015 edition"