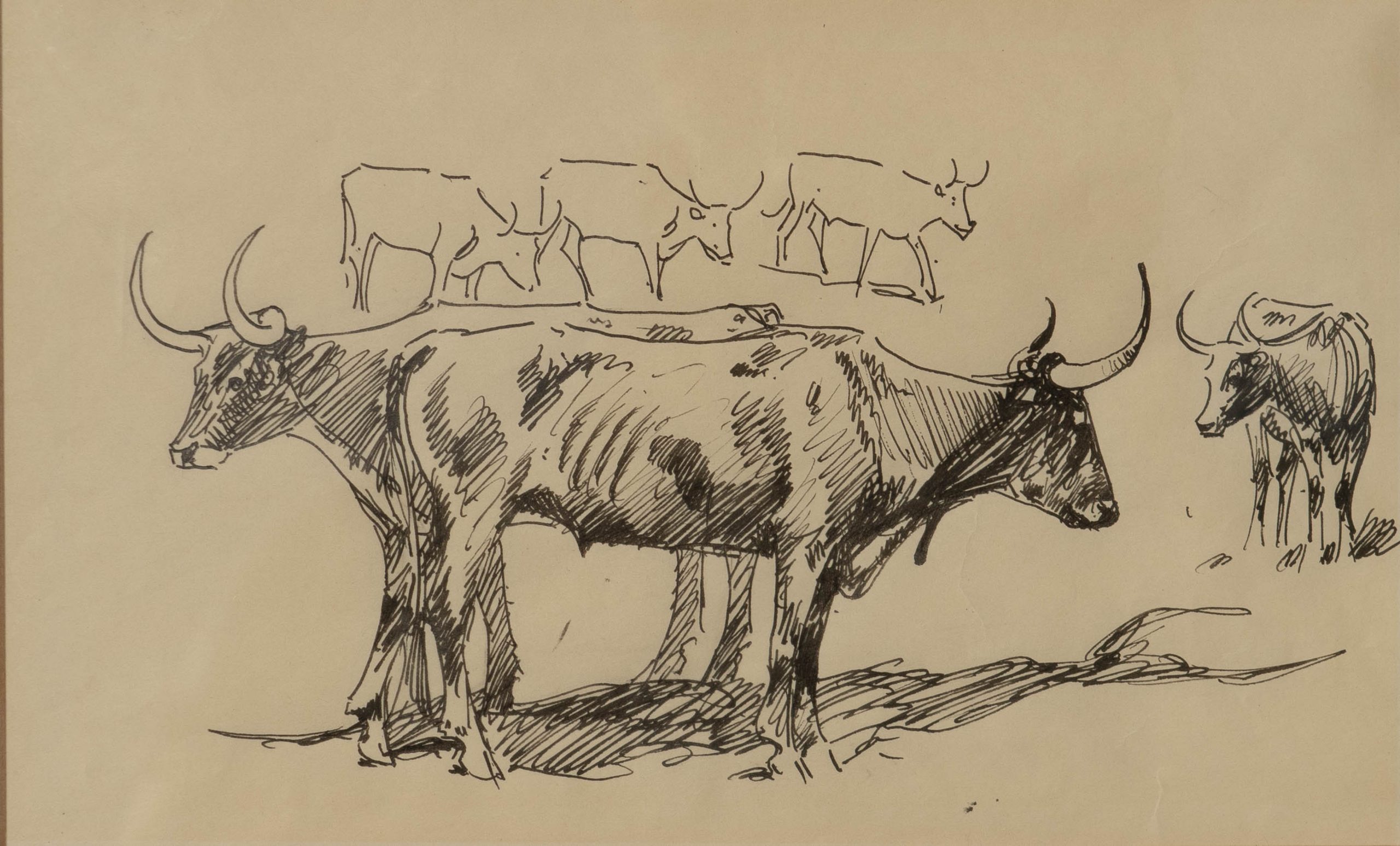 Edward Borein (1872-1945)
Longhorns
ink in paper, framed
7 x 11″
$800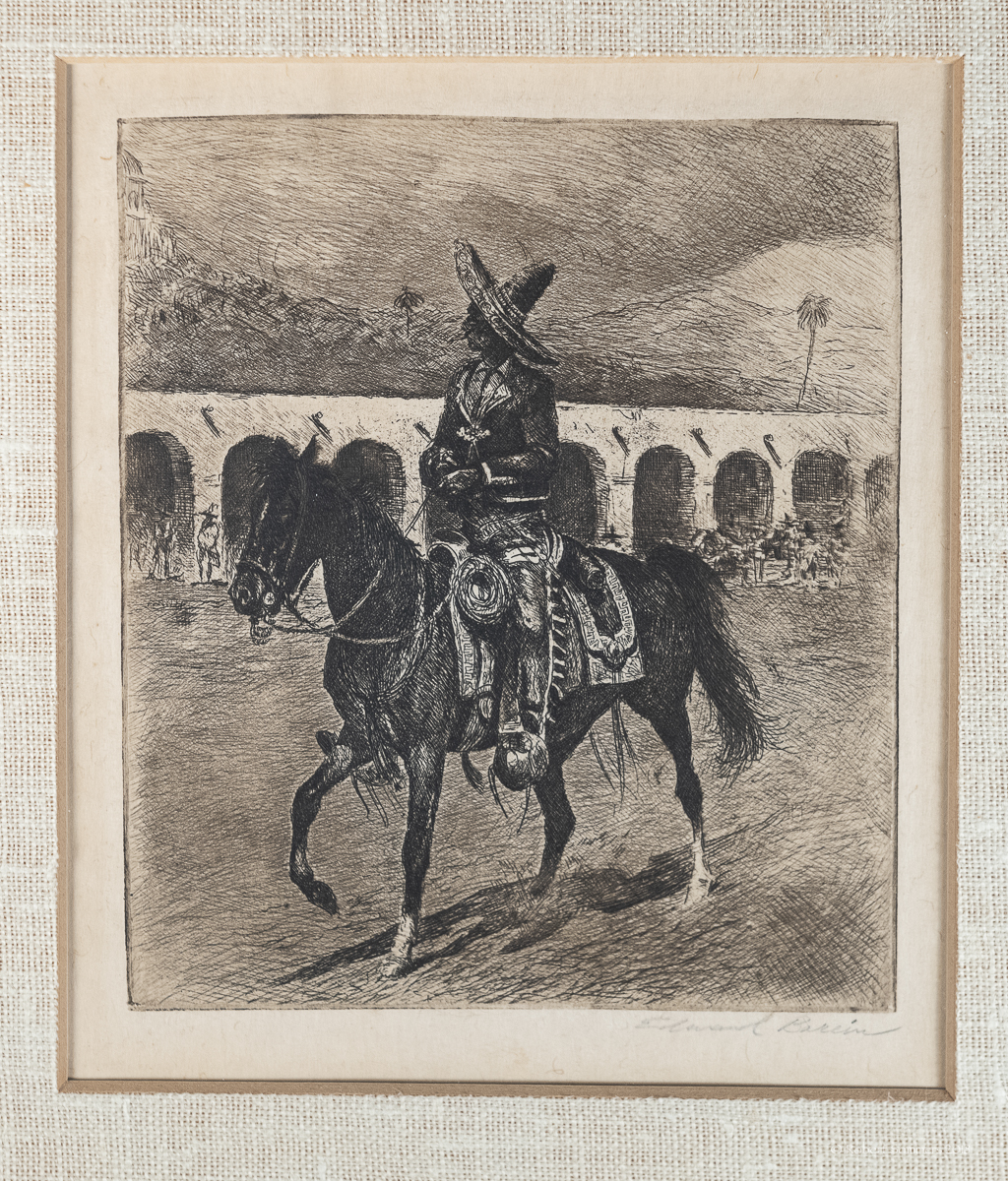 Edward Borein (1872-1945)
Mexican Charro
Drypoint etching
6&3/8″ x 5&5/8″
Galvin #267
pencil signed l/r
framed, matted
$2500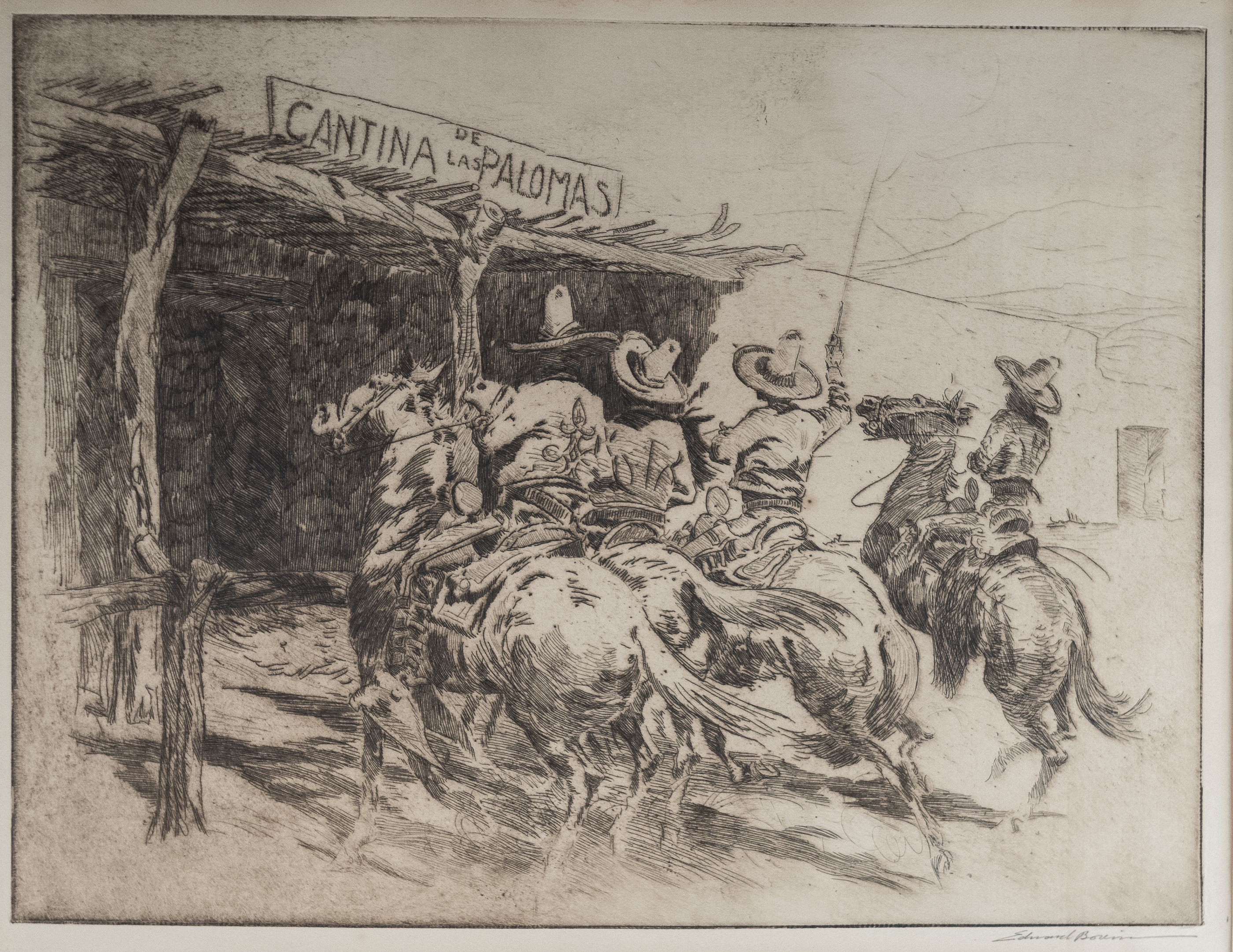 Edward Borein
Cantina de las Palomas
etching with drypoint
pencil signed l/r
9 x 11 7/8″
matted and framed
sold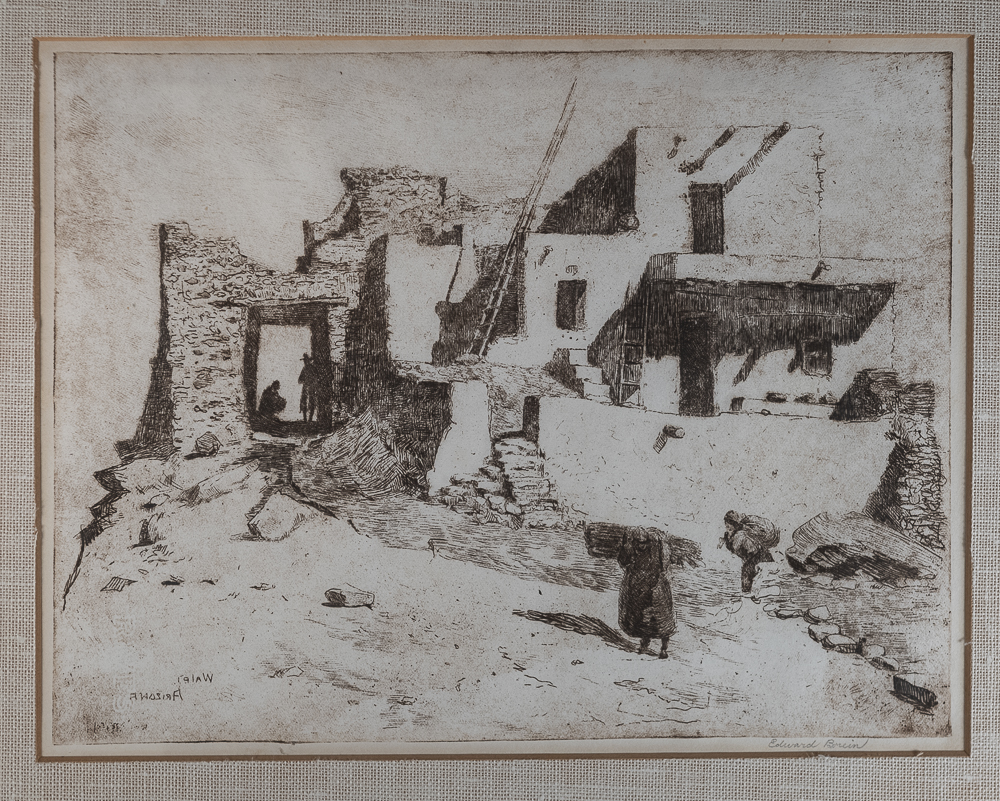 Edward Borein
Last house at Walpi
etching and drypoint
Galvin 217
8 3/4 x 11 1/8″
pencil signed l/r
framed, matted
$2400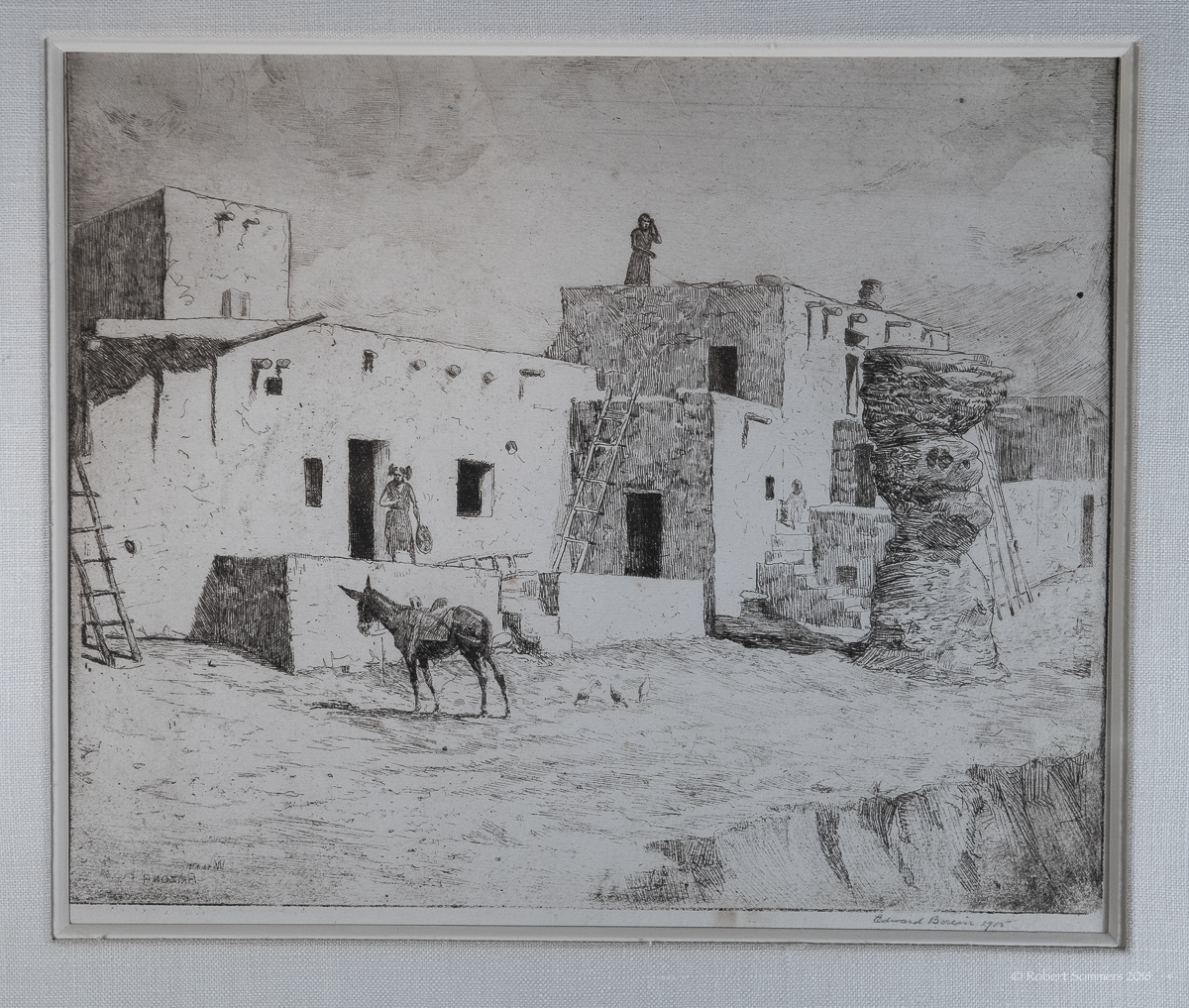 Edward Borein
Dance Plaza, Walpi
etching with drypoint
Galvin 218
inscribed in reverse 1916 in plate
pencil signed l/r
9 7/8 x 11 7/8″
matted, framed
sold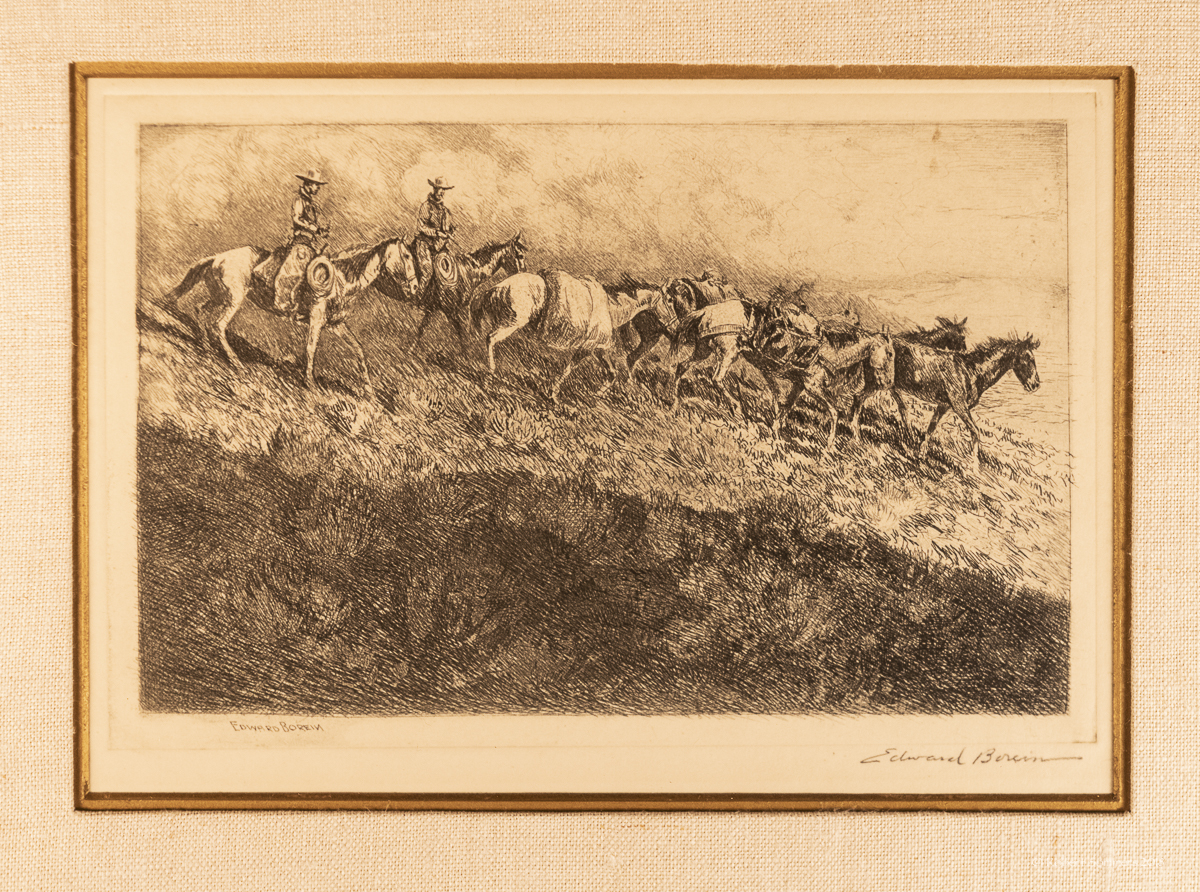 Edward Borein
Reps
etching with drypoint
Galvin 52
pencil signed l/r
matted, framed
5 3/4 x 8 5/8″
$2500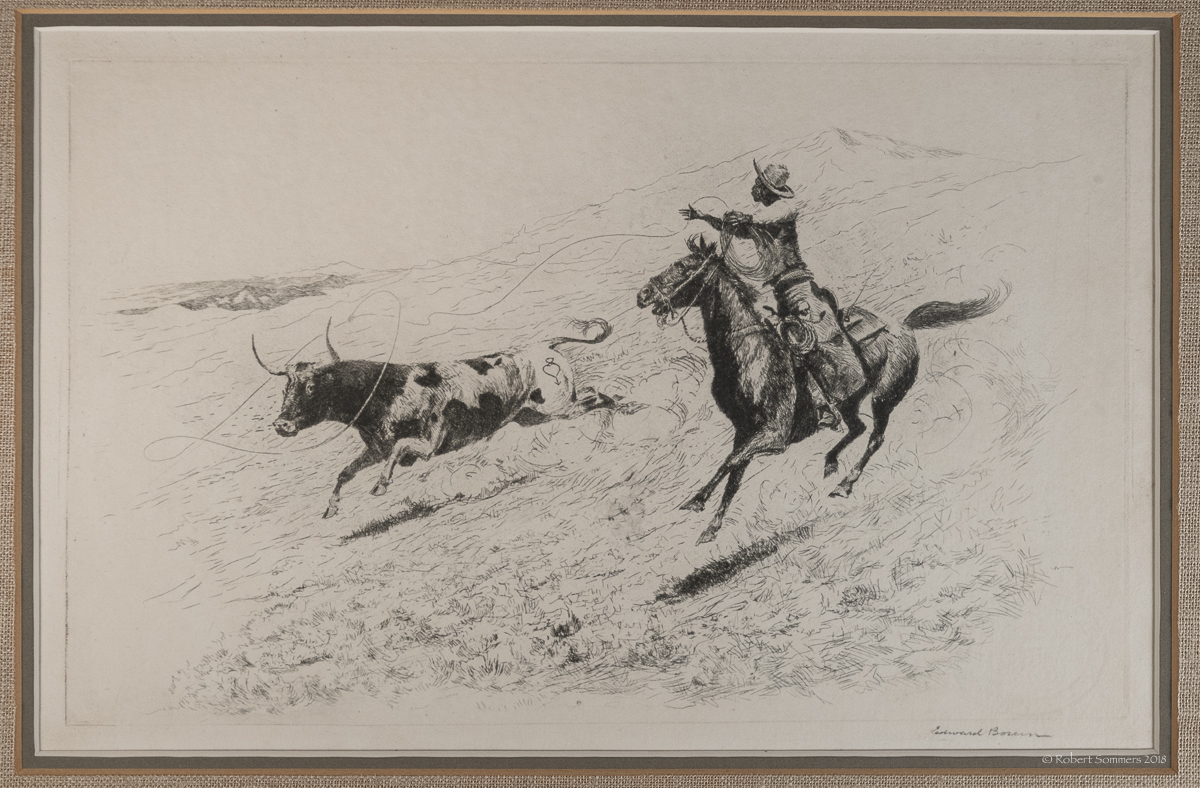 Edward Borein
End of the race
etching with drypoint
Galvin 131
Second state
7 9/16 x 11 7/8″
signed l/r
sold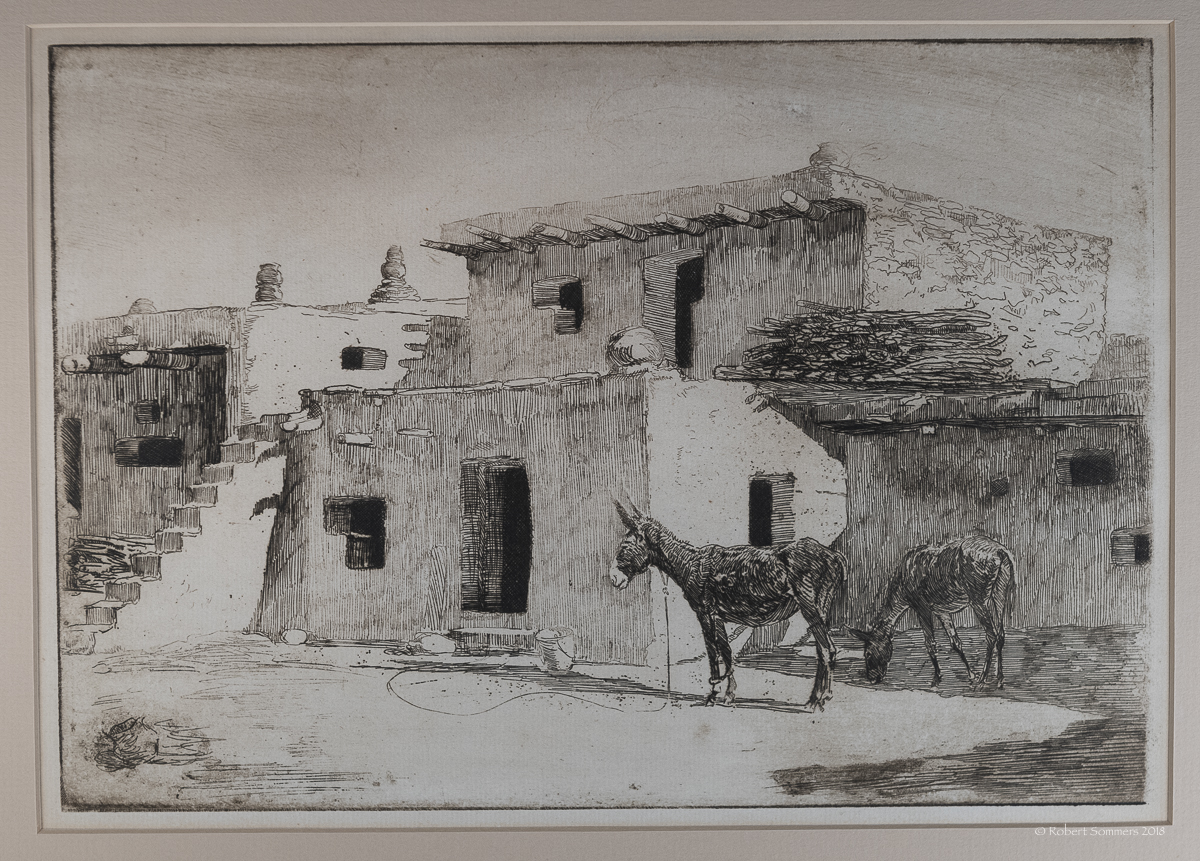 Edward Borein
Laguna, New Mexico
Etching with drypoint
Galvin 230
framed, matted
8 7/8 x 12 5/8″
alternate title Burros, Mishongnovi verso
Frederick Keppel  & Co., NY
$1600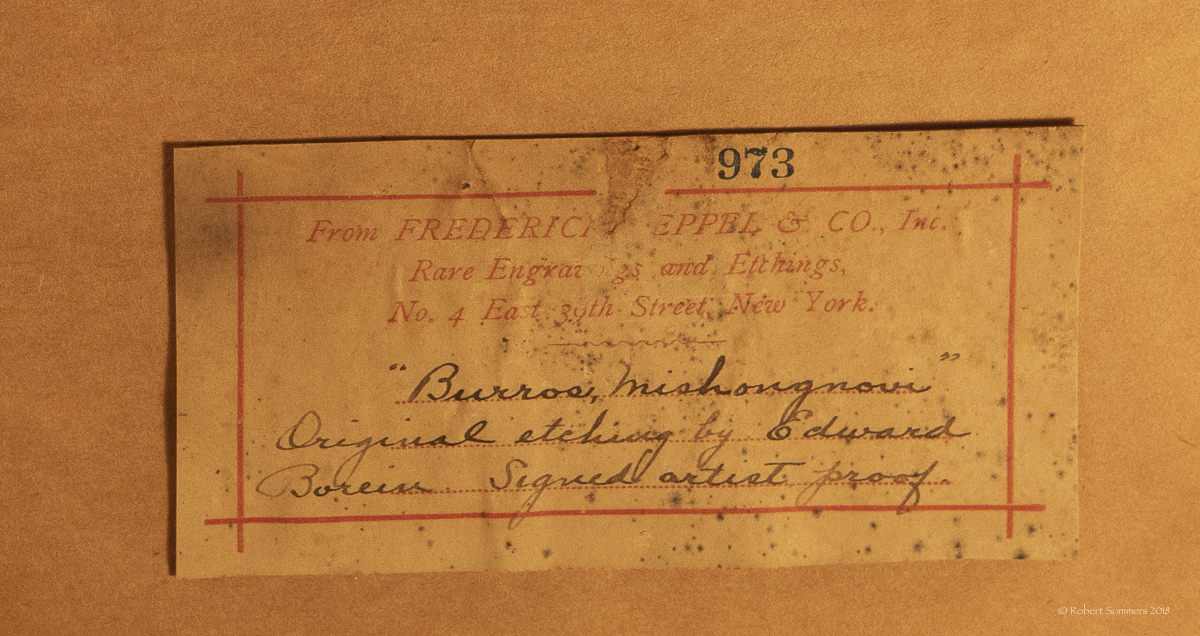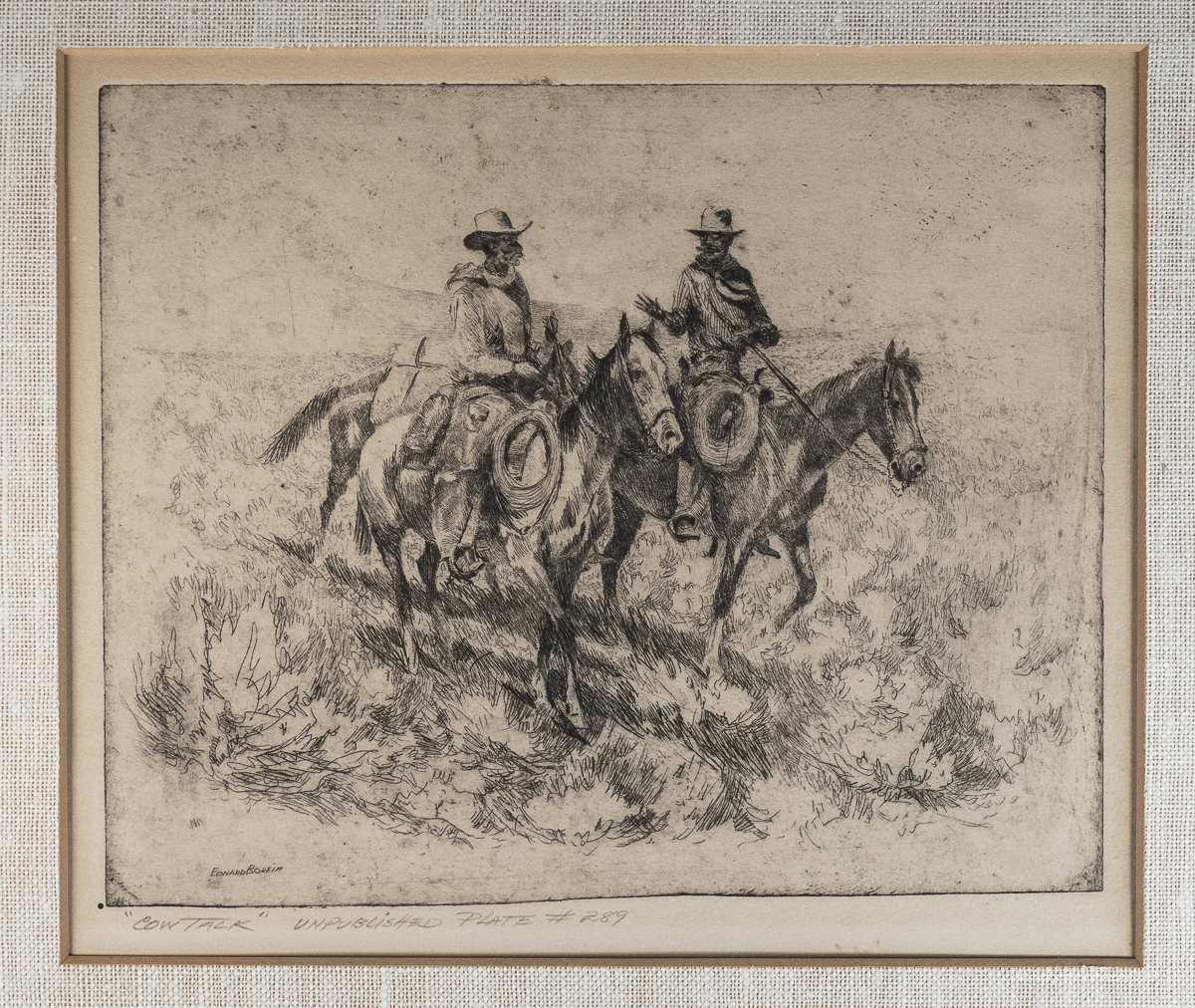 Edward Borein
Cowtalk
etching with drypoint
matted, framed
written in pencil, lower left
unpublished plate #289
7 5/8 x 9 3/8″
sold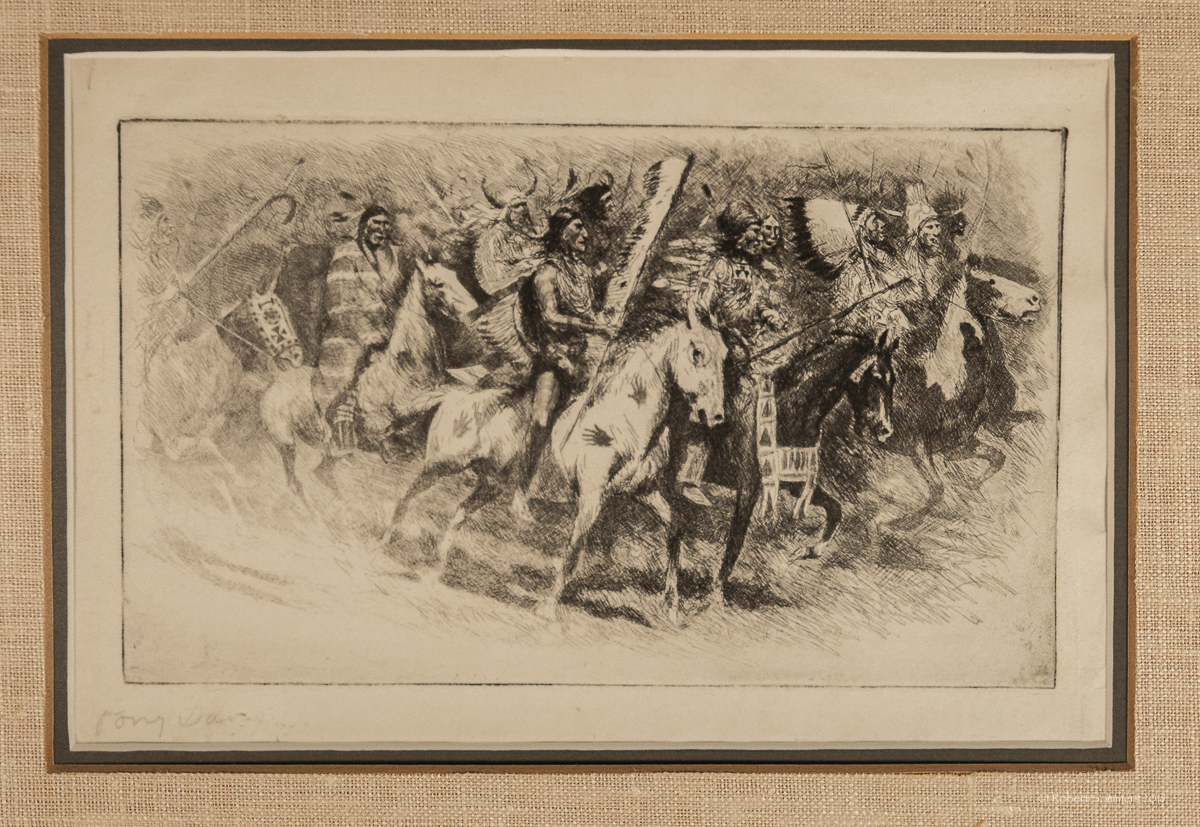 Edward Borein
Umatilla Horse Dance
etching with drypoint
Galvin 164
annotated lower left in pencil Pony dance
5 1/4 x 8 3/4″
matted, framed
$1600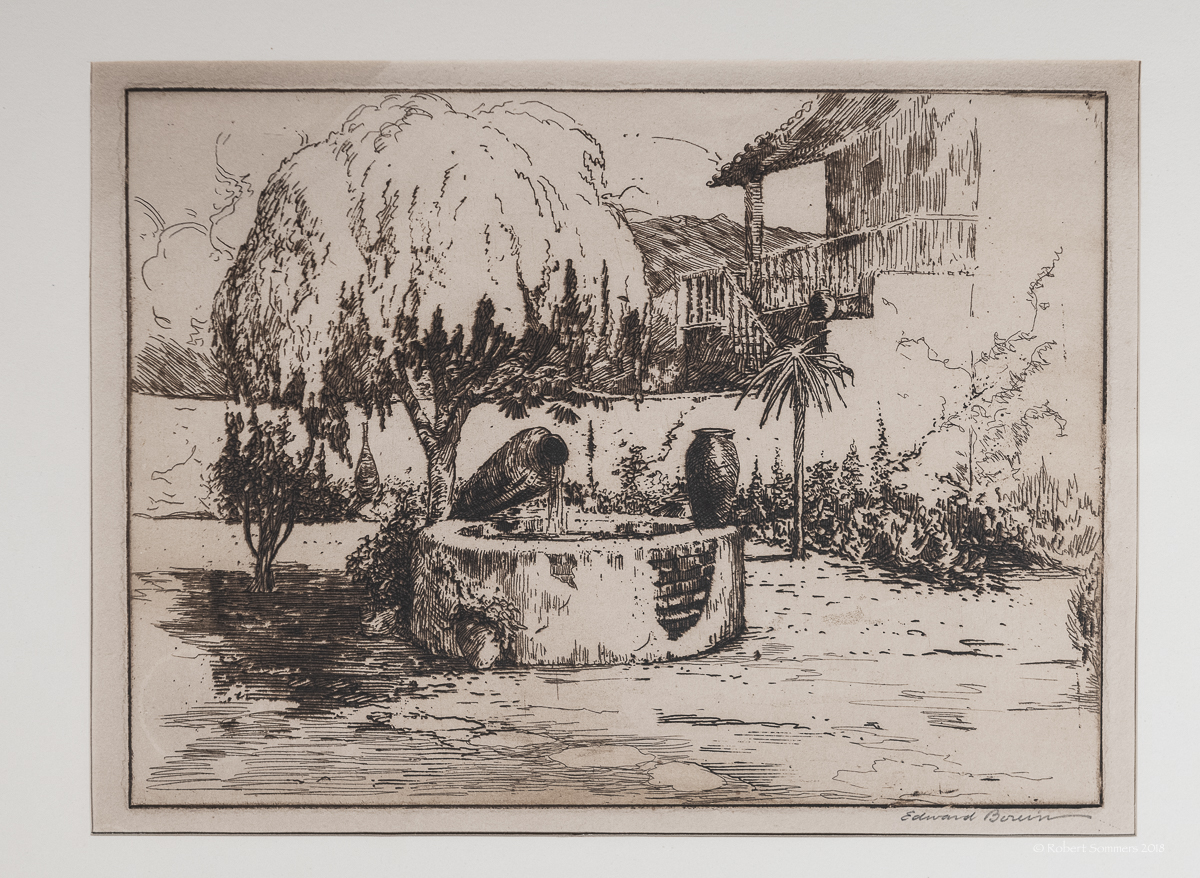 Edward Borein
Wishing Well
etching with drypoint
Galvin 275
Charles O. Middleton Home, Beverly Hills
7 1/4 x 9 7/8″
signed pencil l/r
framed
$1800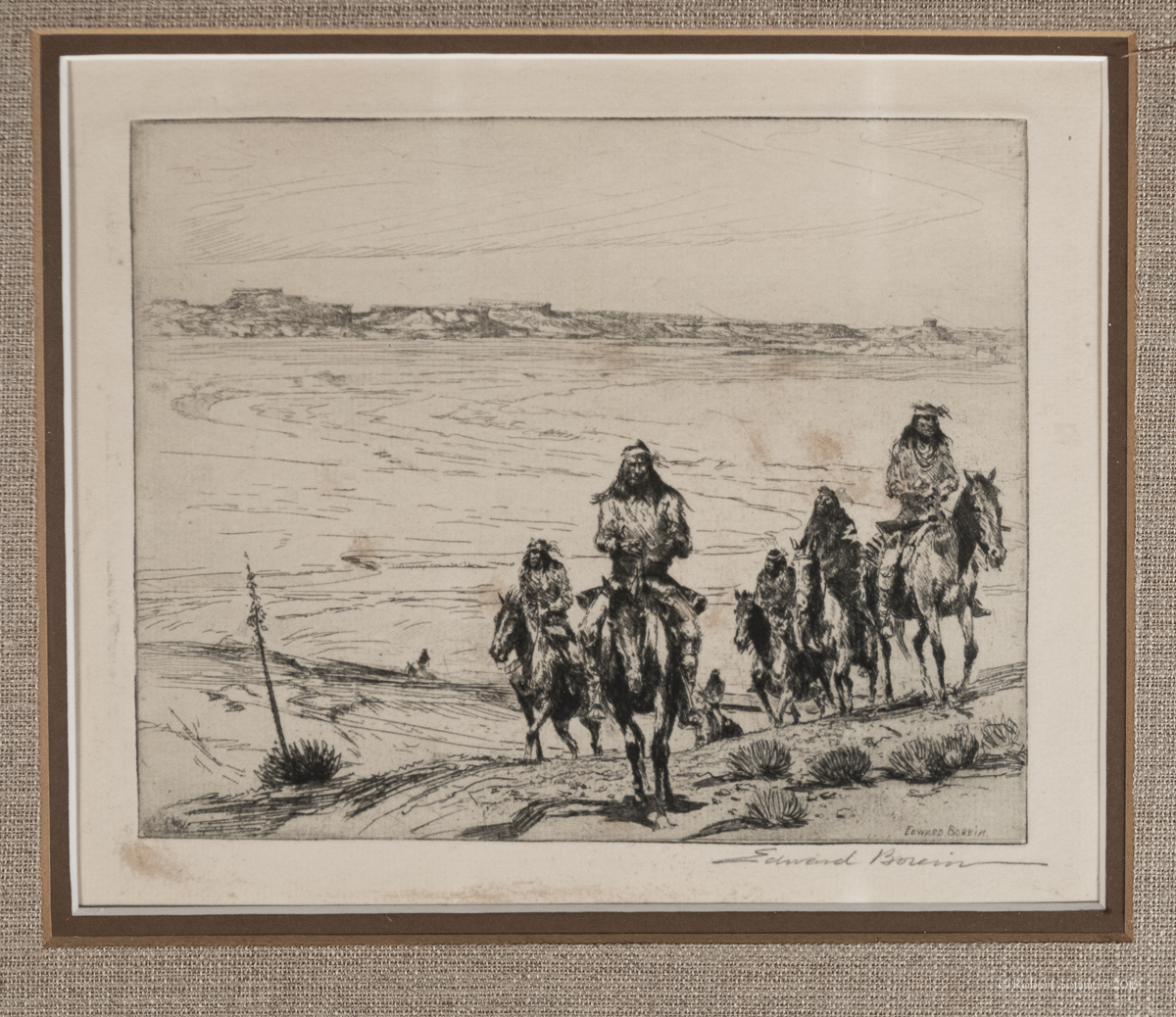 Edward Borein
Tonto Apaches
Etching with drypoint
signed pencil, l/r
Galvin 172
matted, framed
5 5/8 x 6 3/4″
$1600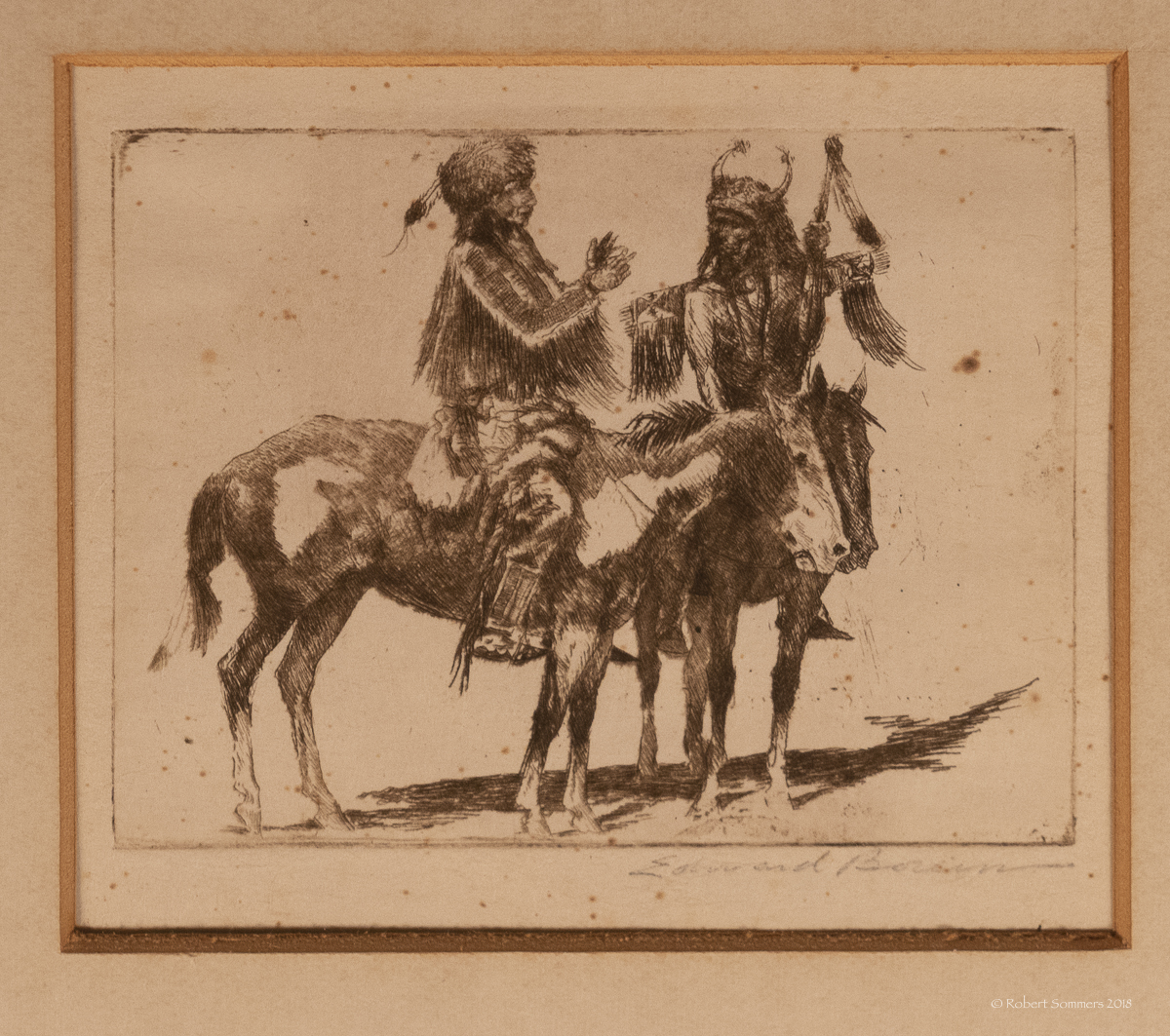 Edward Borein
Sign Talk No. 1
etching with drypoint
signed l/r
Galvin 175
2 9/16 x 3 3/8″
framed, matted
$2800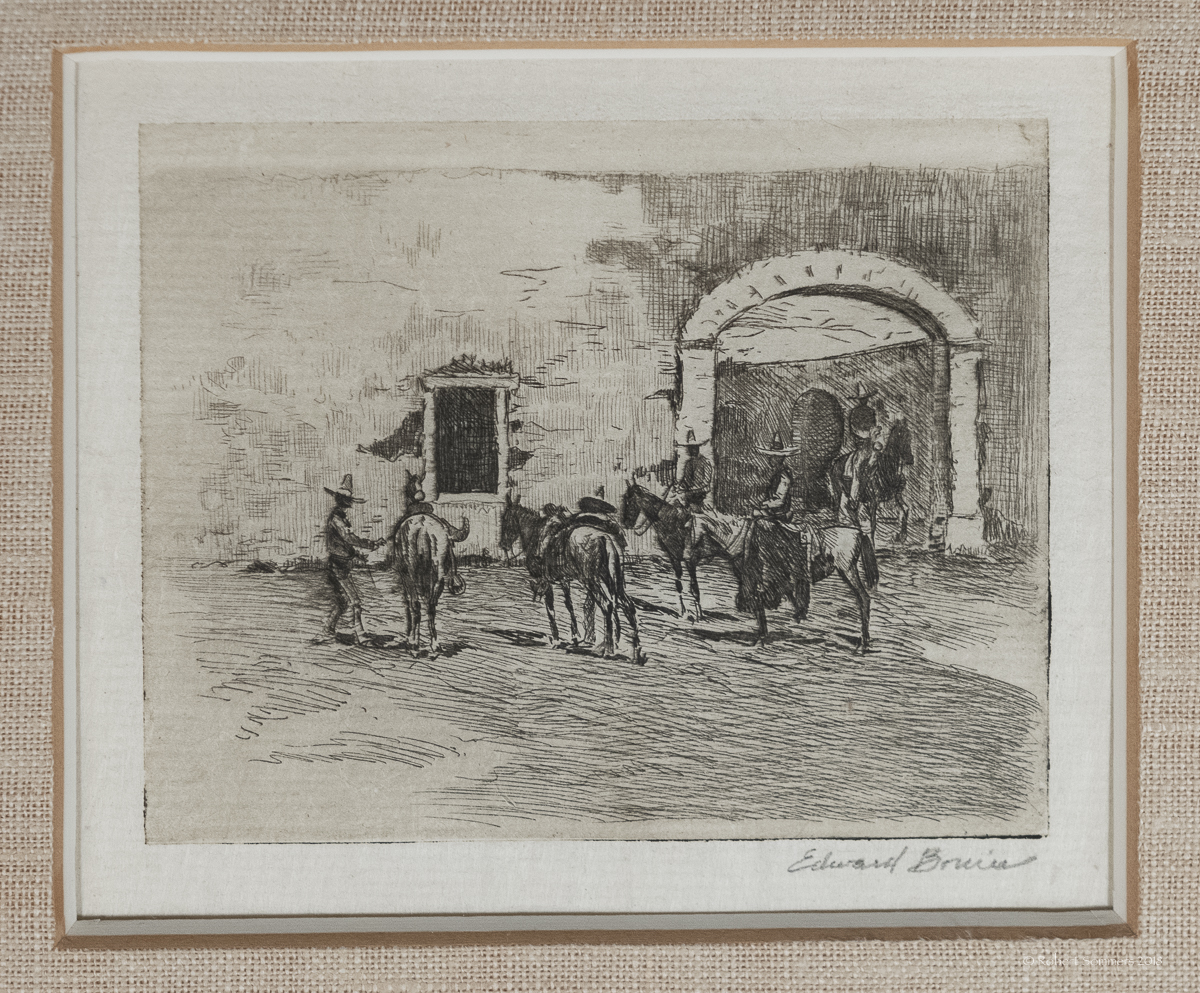 Edward Borein
Hacienda Gate
etching with drypoint
Galvin 269
Signed pencil l/r
4 x 5″
matted, framed
$1600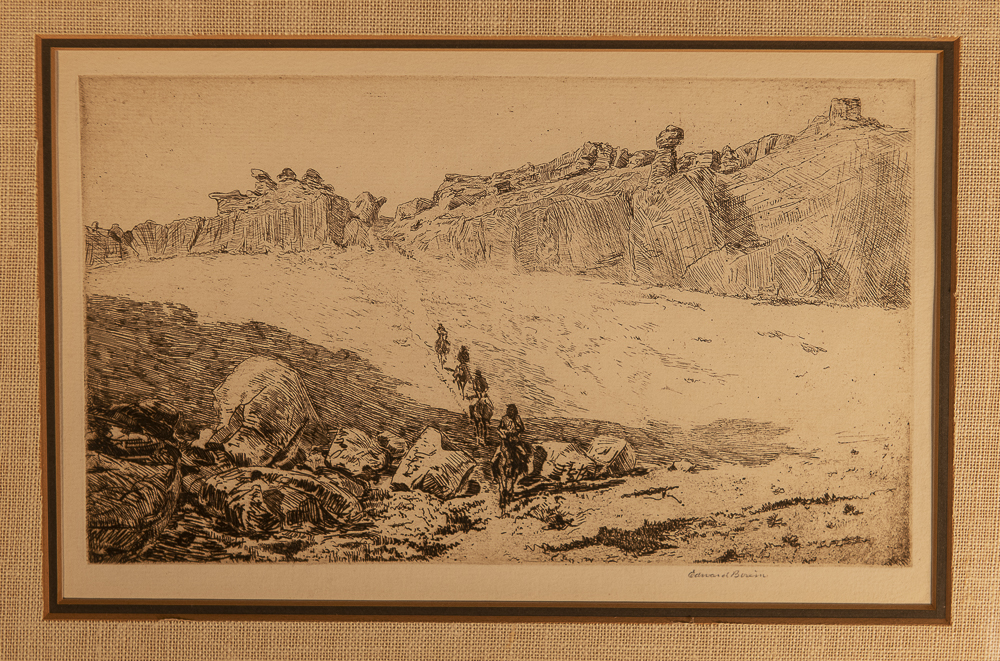 Edward Borein
Horse trail to Acoma, No. 2
etching with drypoint
Galvin 208
6 1/4 x 10 1/2″
pencil signed l/r
matted, framed
sold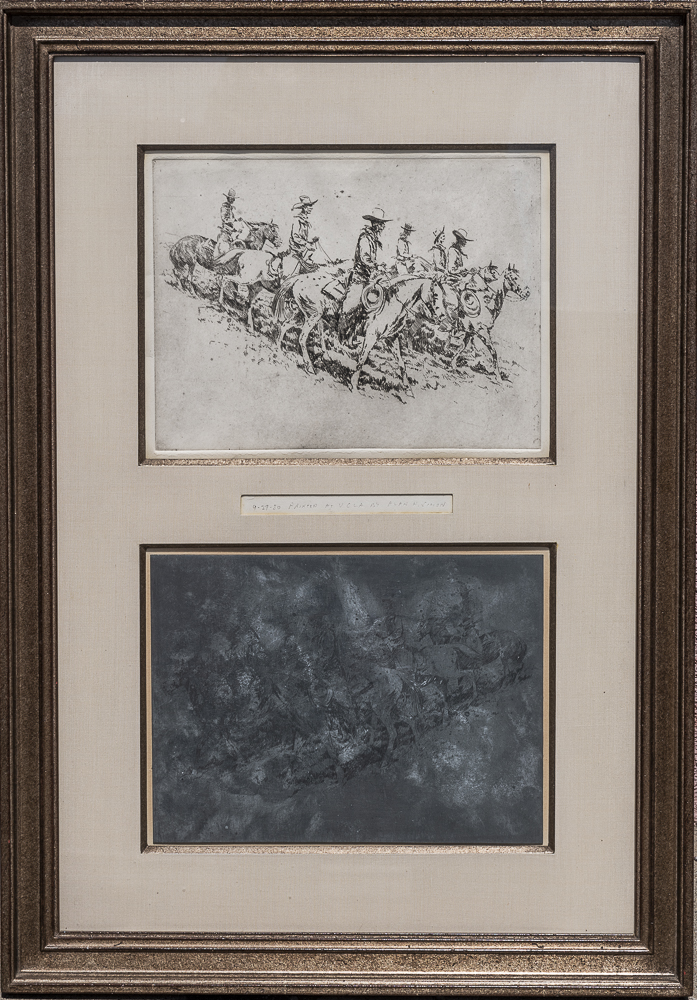 Edward Borein
Cowboys – Galvin 34
Original plate with restrike etching
restrike printed at UCLA by Alan Simon 9/29/80
total framed dimension 30 x 21″
sold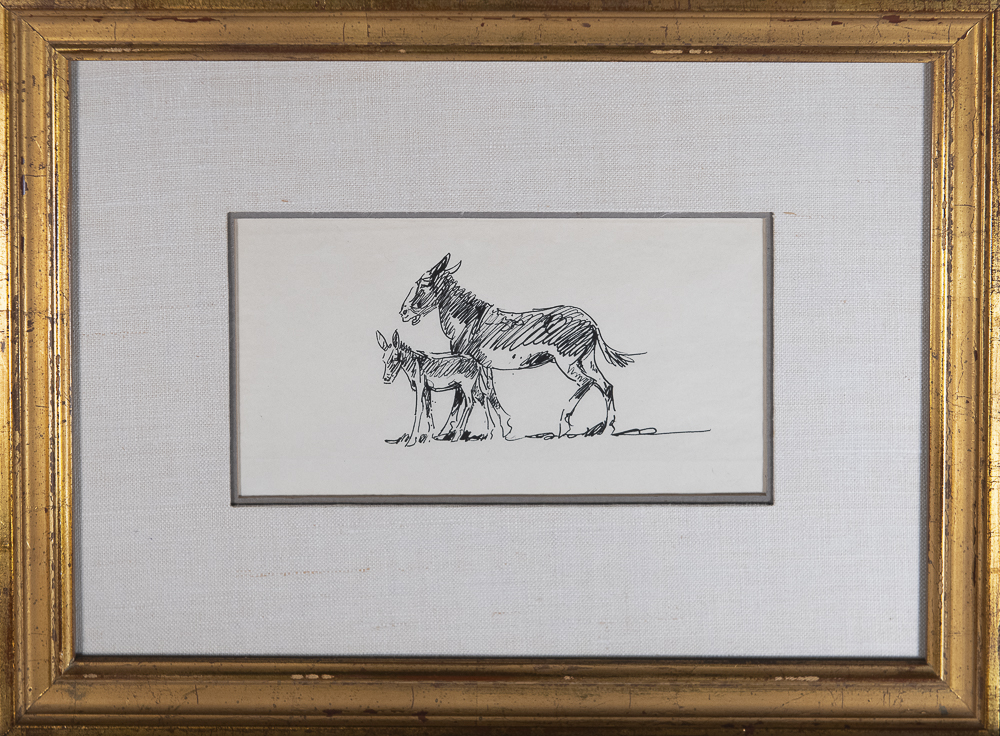 Edward Borein
Donkeys
Ink on paper 4 x 7 1/2″
framed, matted
sold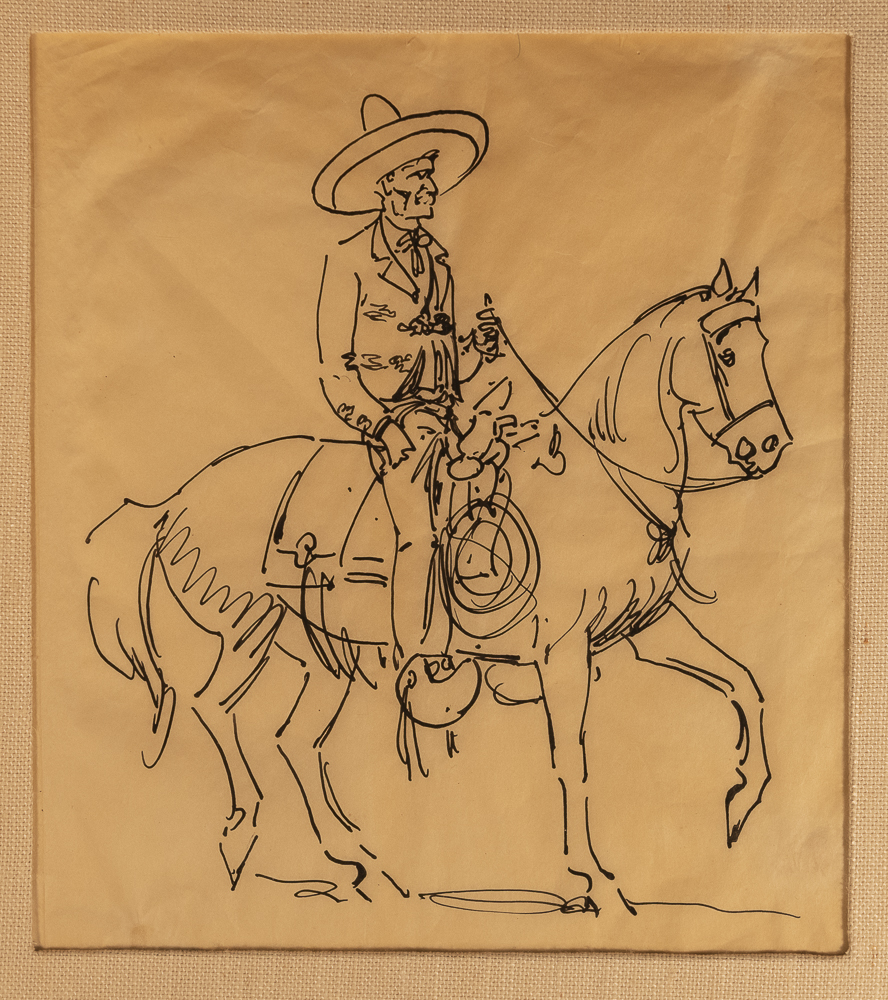 Edward Borein
Mexican Charro on horse
ink on paper
9/3/4 x 8 1/2″
illustrated in Edward Borein Vol 2, the cowboys
pg. 44
$1600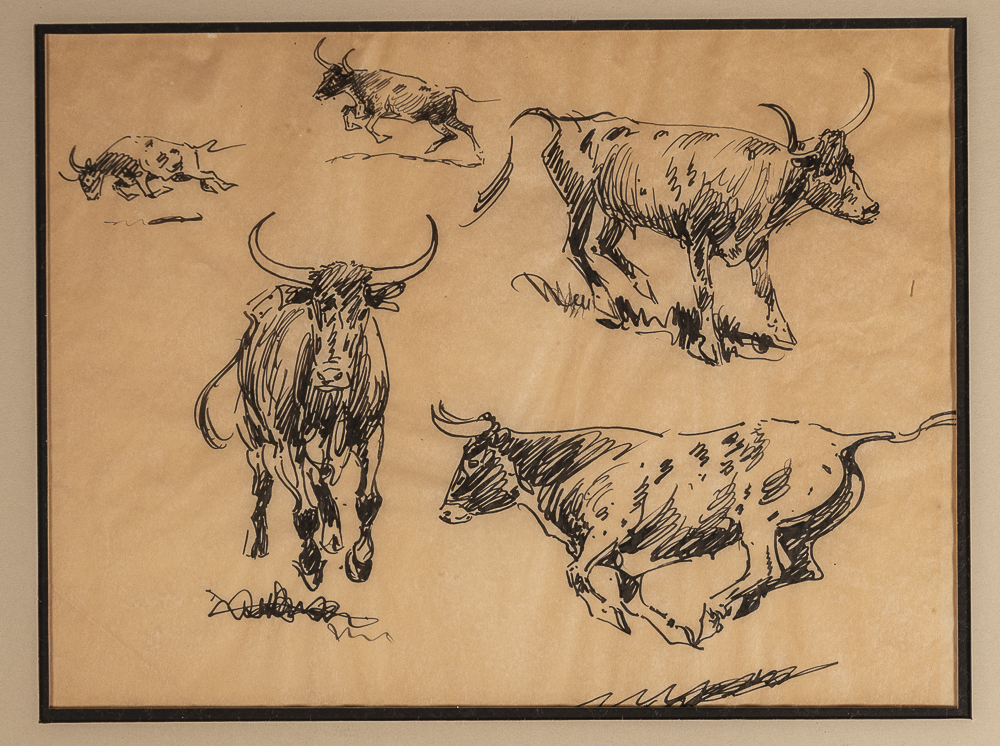 Edward Borein
Five steers
ink on paper
8 x 10
$1200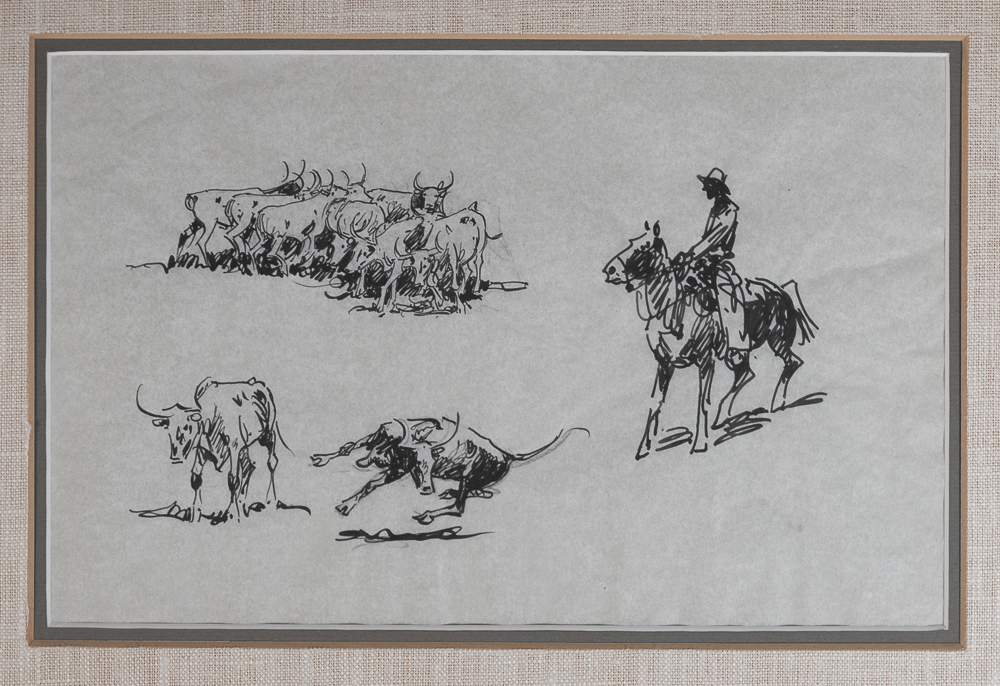 Edward Borein
Mounted cowboy and steers
ink on paper
8 1/2 x 11″
framed
Harold Davidson authenticity letter affixed verso
$1600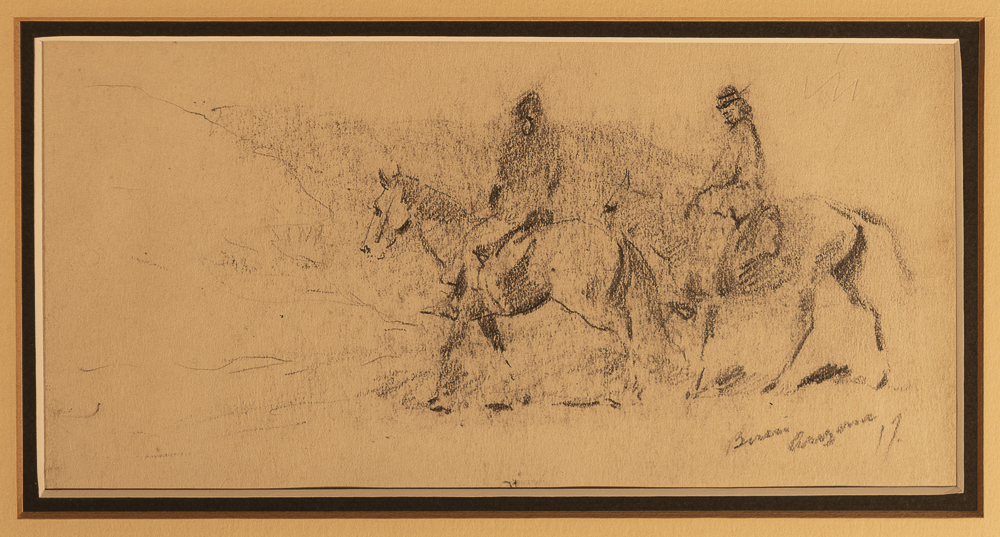 Edward Borein
Two mounted indians
graphite on paper
pencil signed Borein, Arizona '17.
approx 6 x 8″
$800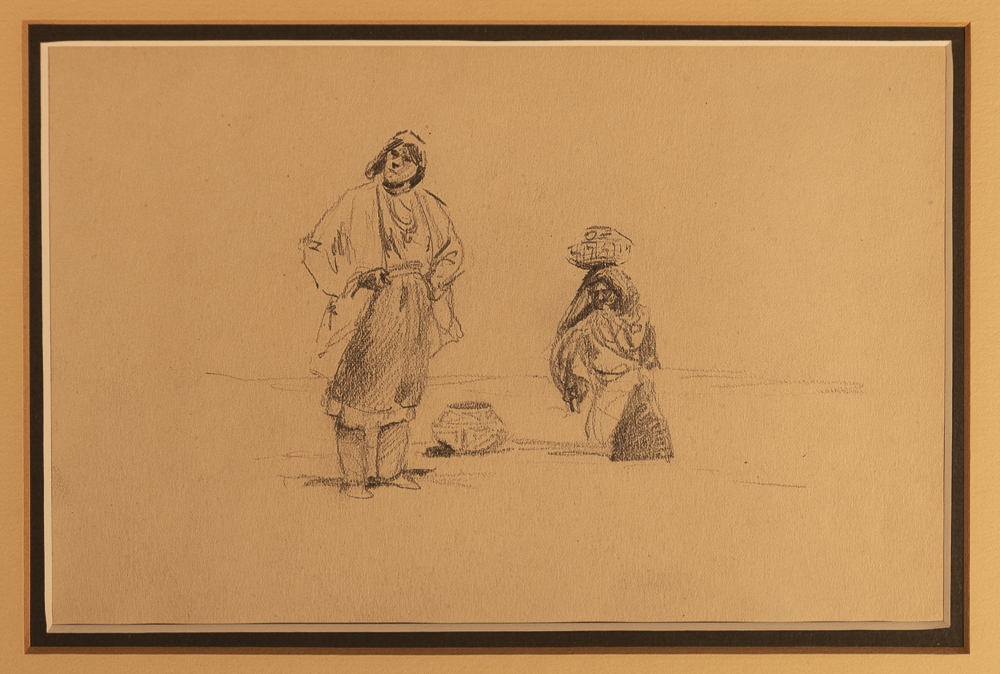 Edward Borein
two pueblo women with ollas
pencil on paper
approx. 6 x 10″
matted, framed
$1000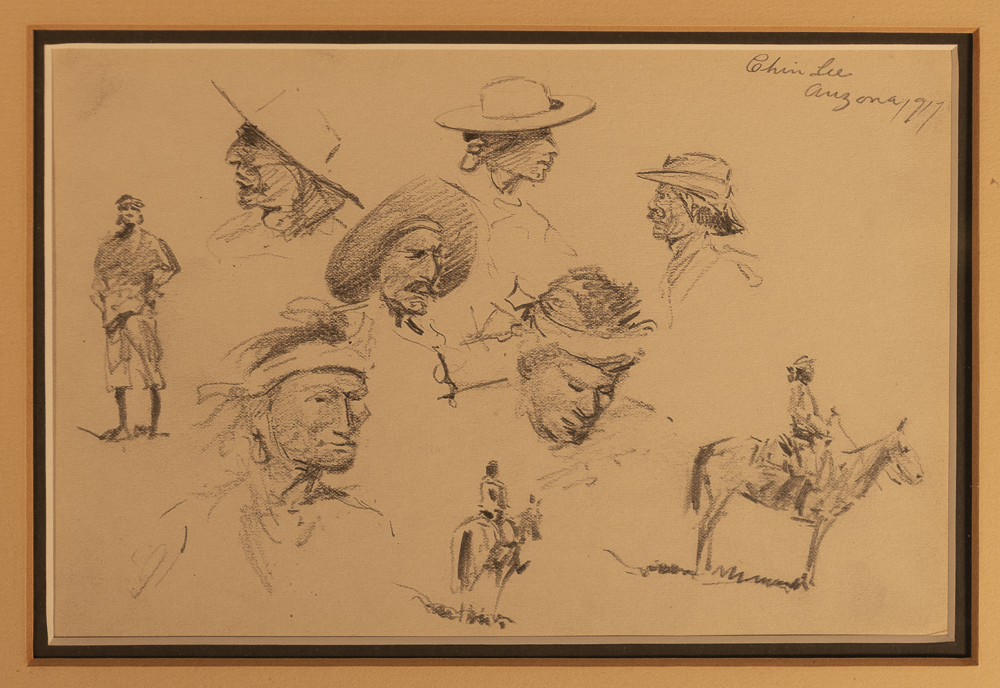 Edward Borein
nine figures, head studies
pencil on paper
annotated Chin lee (sic), Arizona 1917
remarkably well done figure and gesture drawing
6 x 8 1/2″
$1200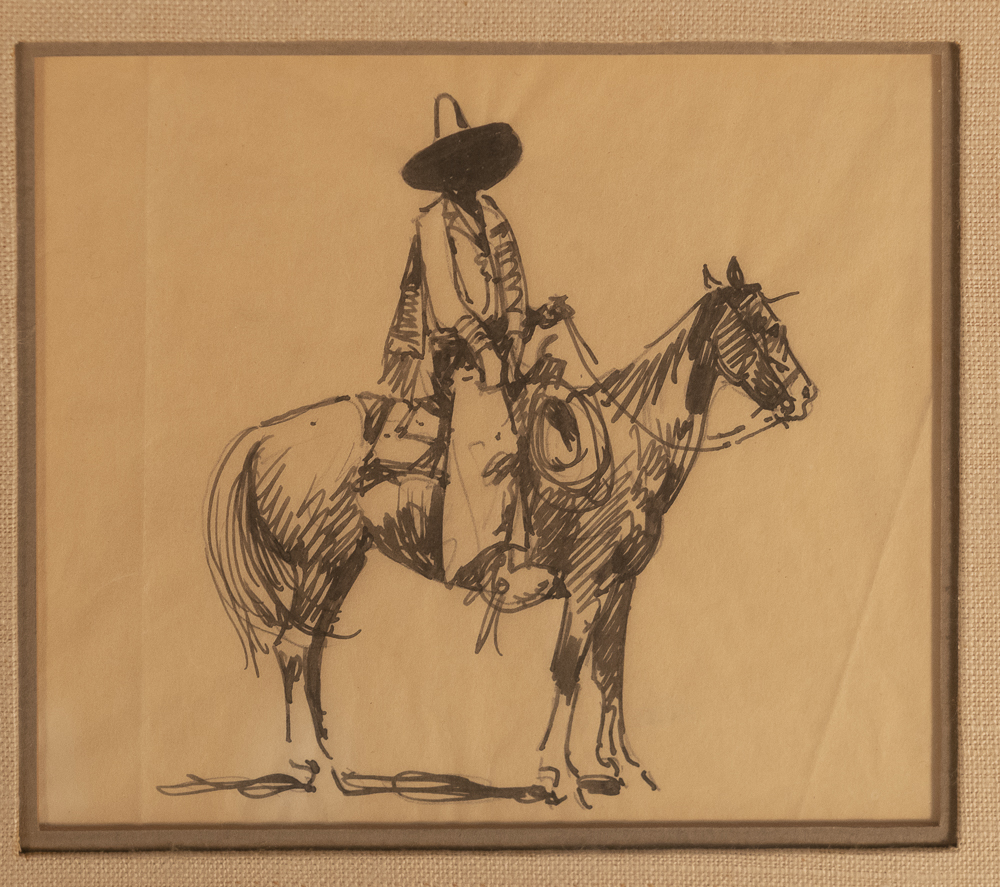 Edward Borein
Mexican cowboy on horse
ink on paper
4 3/4 x 5 1/2″
matted and framed
$1600
Edward Borein
Cowboy on bucking steer
pencil drawing on paper
annotated in pencil Borein, Las Vegas, New Mexico
6 x 8 3/4″
$1400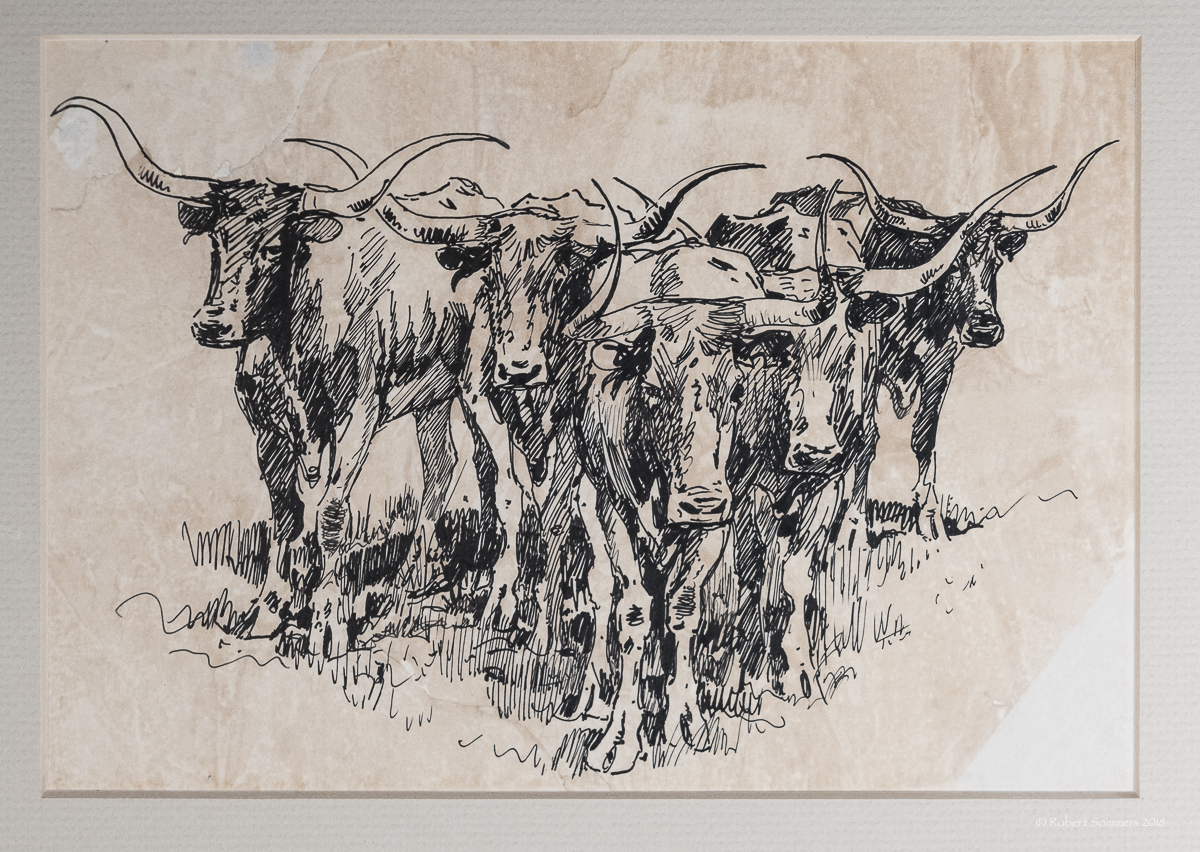 Edward Borein
Five longhorns
ink on paper
7 1/2 x 10 1/4″
matted, framed
sold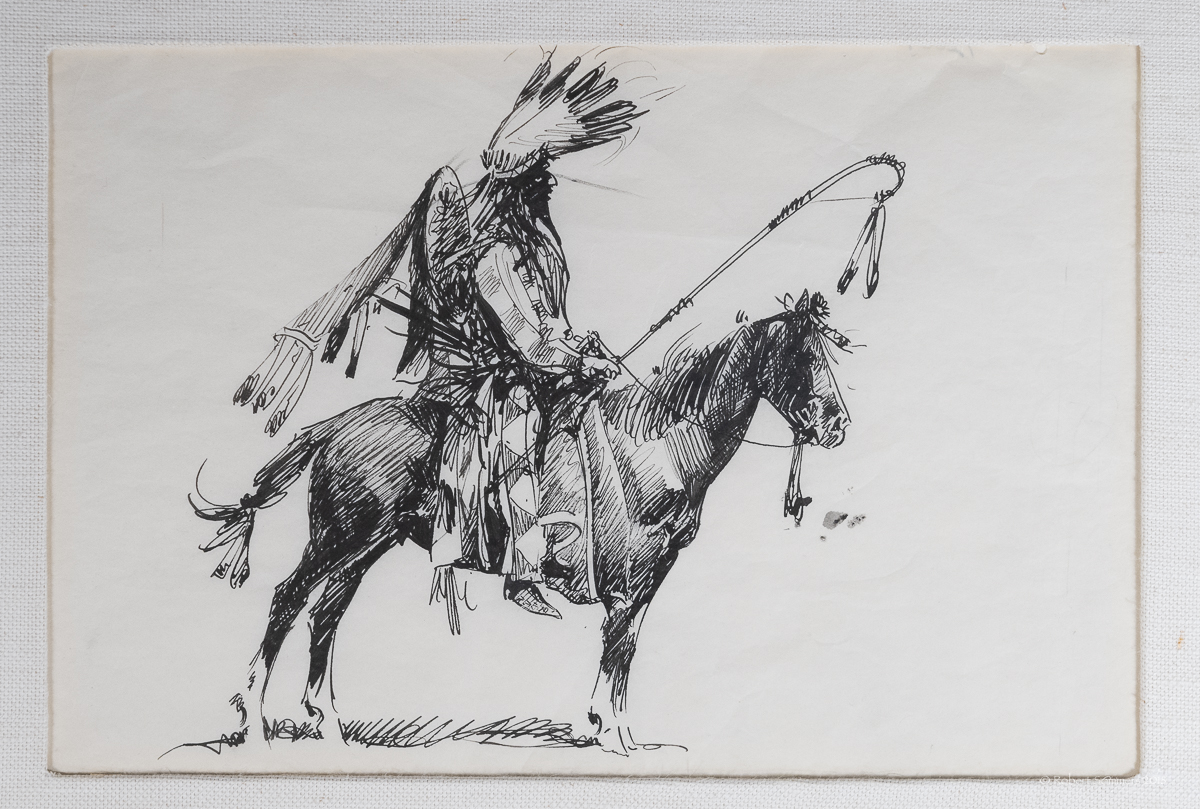 Edward Borein
Blackfoot Indian Chief
ink on paper
illust. in Edward Borein Vol 1, The Indians pg 90
7 3/4 x 12″
remarkably good drawing
sold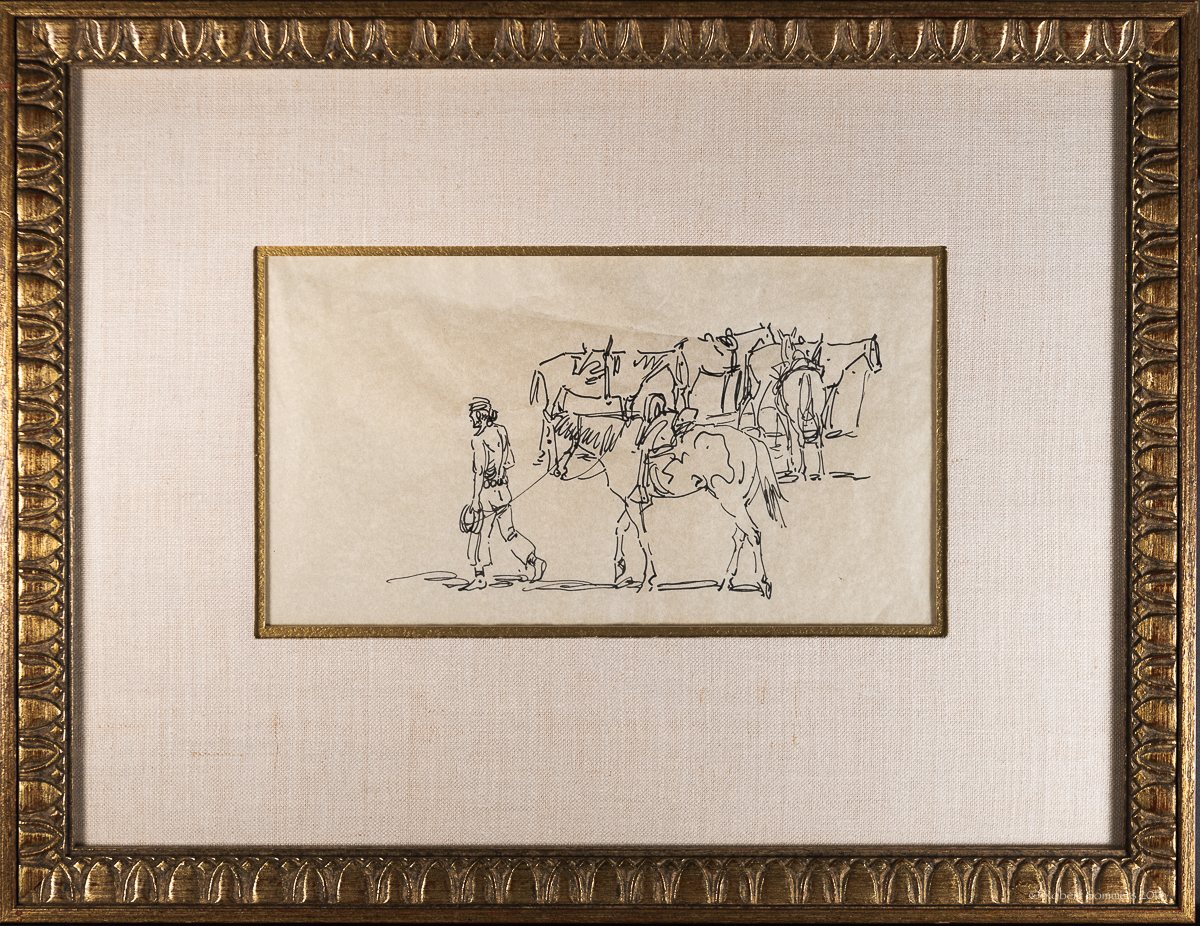 Edward Borein
Navajo leading horses
ink on paper
5 1/2 x 9 1/2
matted, framed
$800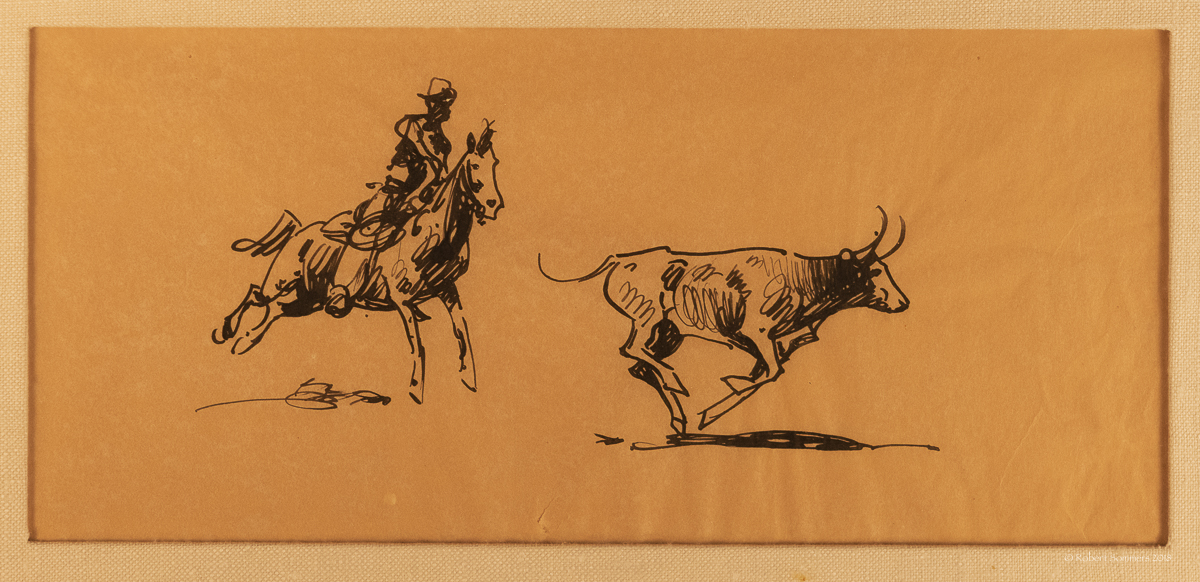 Edward Borein
Cowboy chasing steer
ink on paper
approx. 5 x 10″
matted, framed
$1200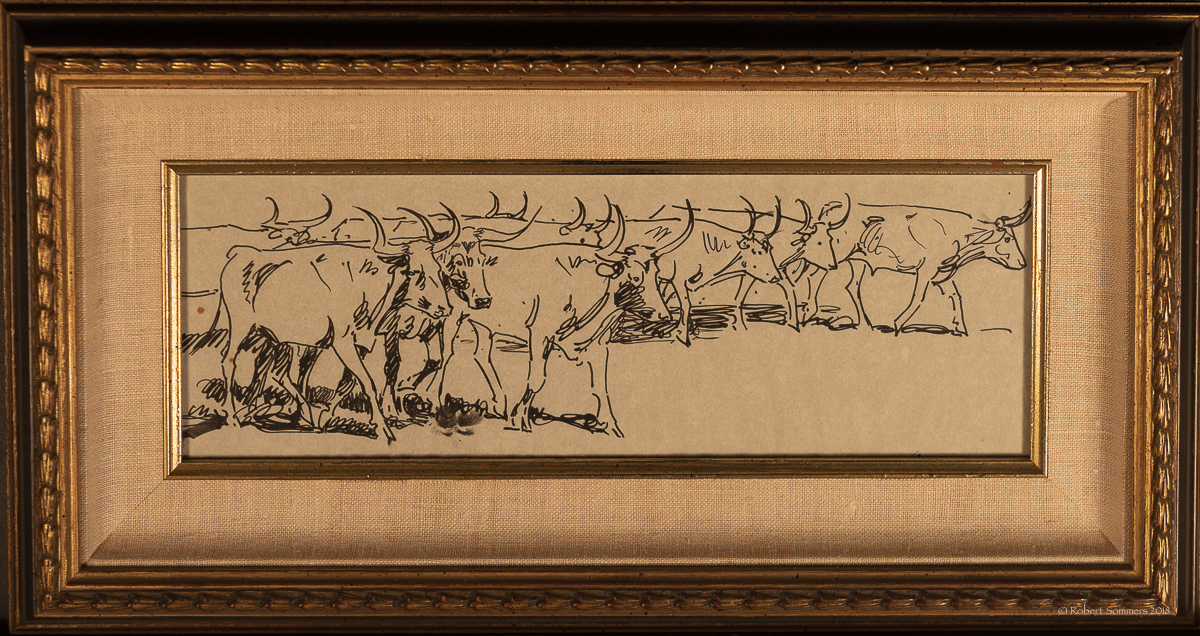 Edward Borein
Steers moving to the right
ink on paper
w/Davidson letter
approx. 4 x 12″
sold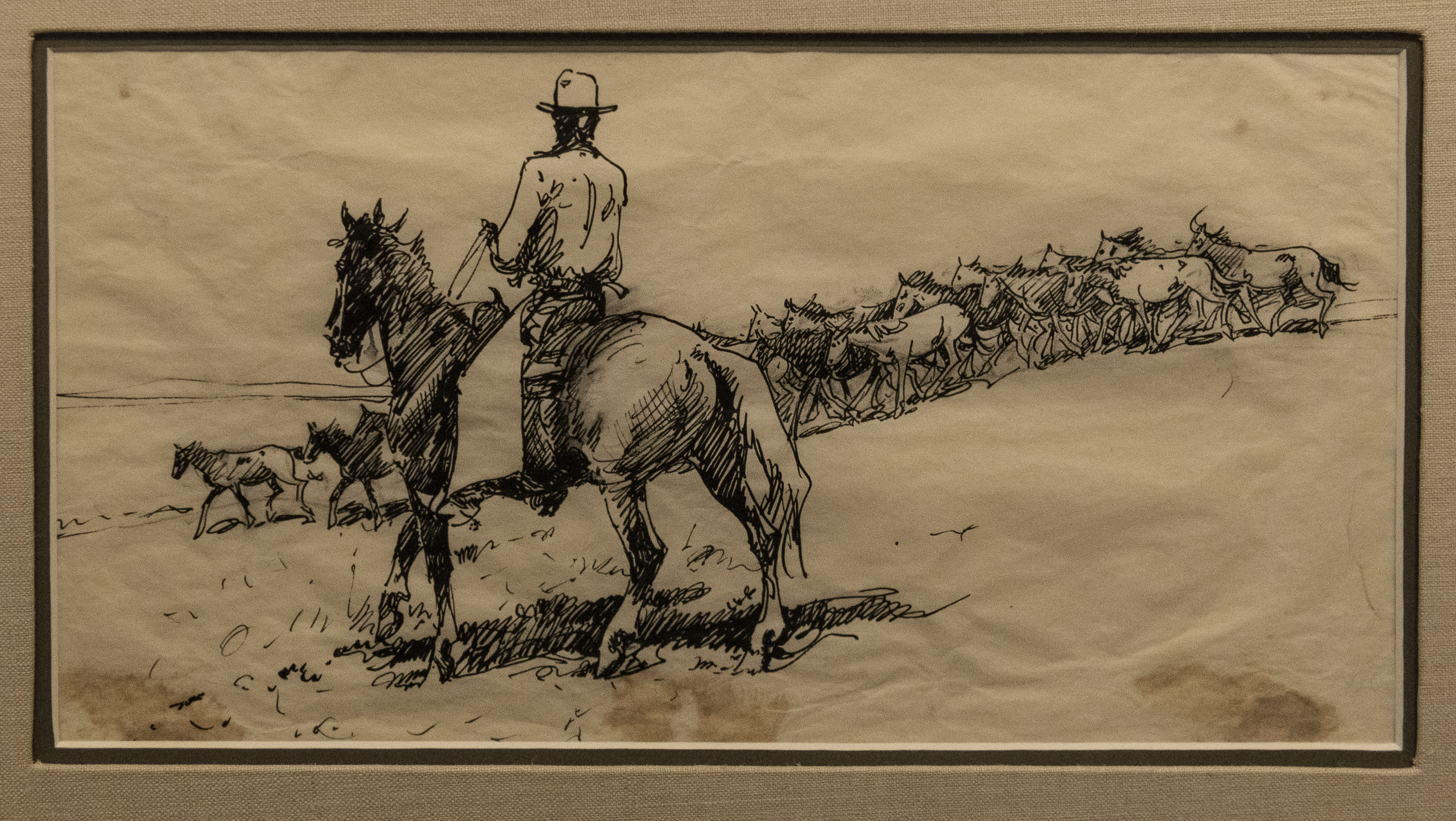 Edward Borein
Mounted cowboy herding horses
pen and ink on vellum 6 1/2 x 11″
Davison letter
matted, framed
$1500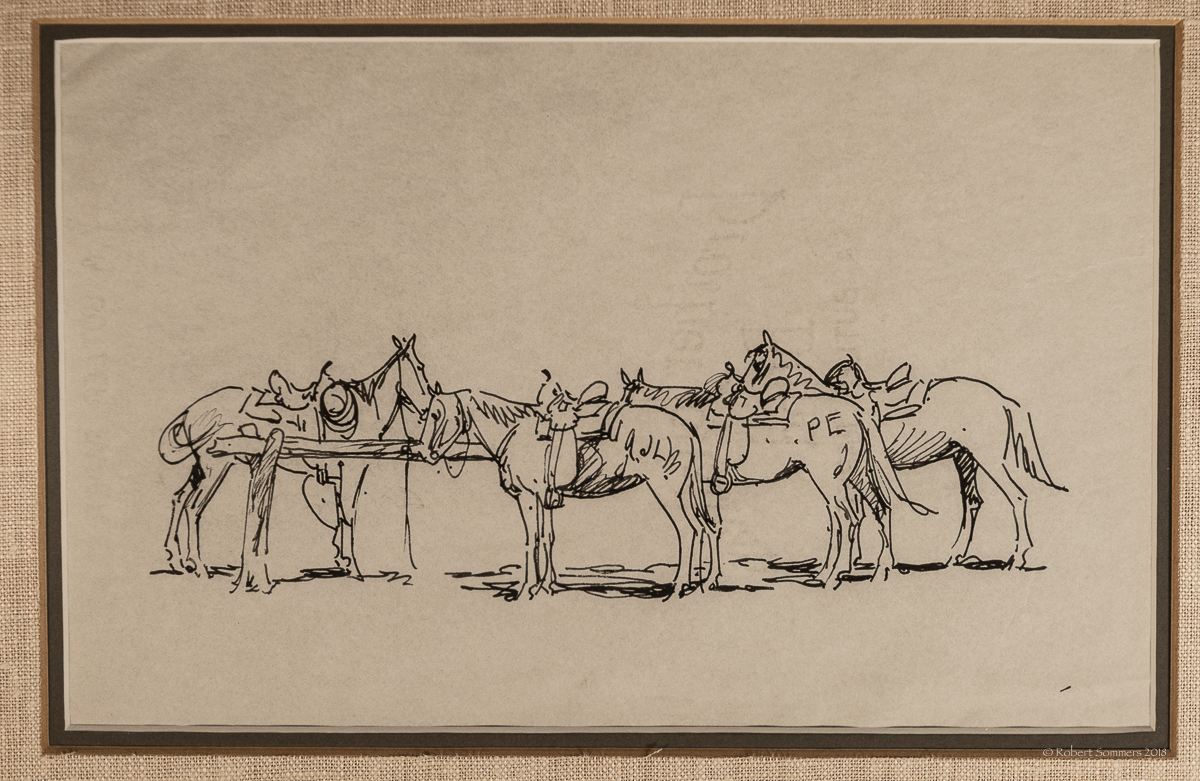 Edward Borein
Four saddled horses
ink on paper
matted, framed
7 1/4 x 11″
$1000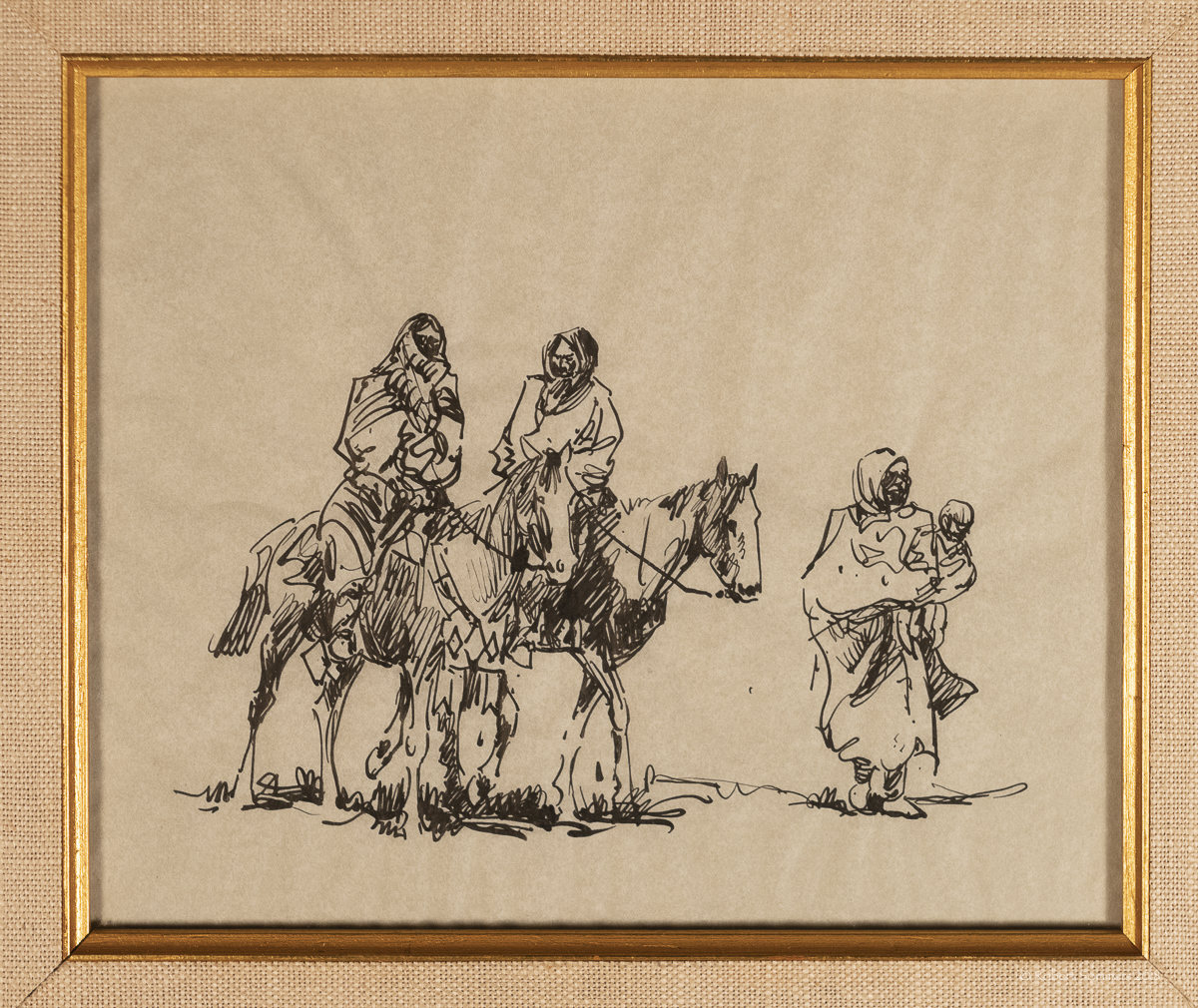 Edward Borein
Three squaws, two horses and papoose
ink on paper
approx. 8 x 10″
illust. in Edw. Borein Volume I The Indians
$2200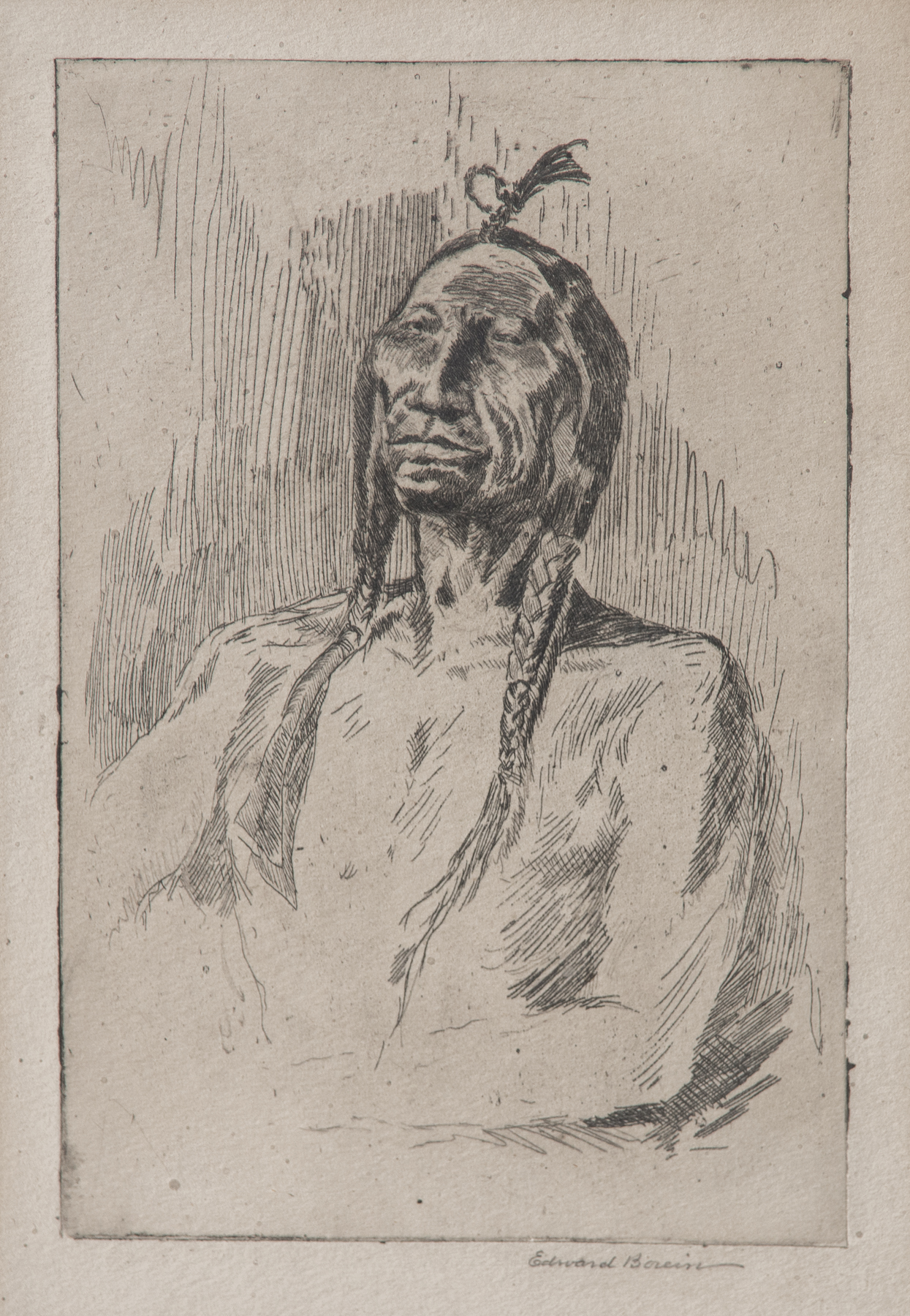 Edward Borein drypoint etching  7 7/8 x 5 1/8 inches
A blackfoot warrior g. 167 – sold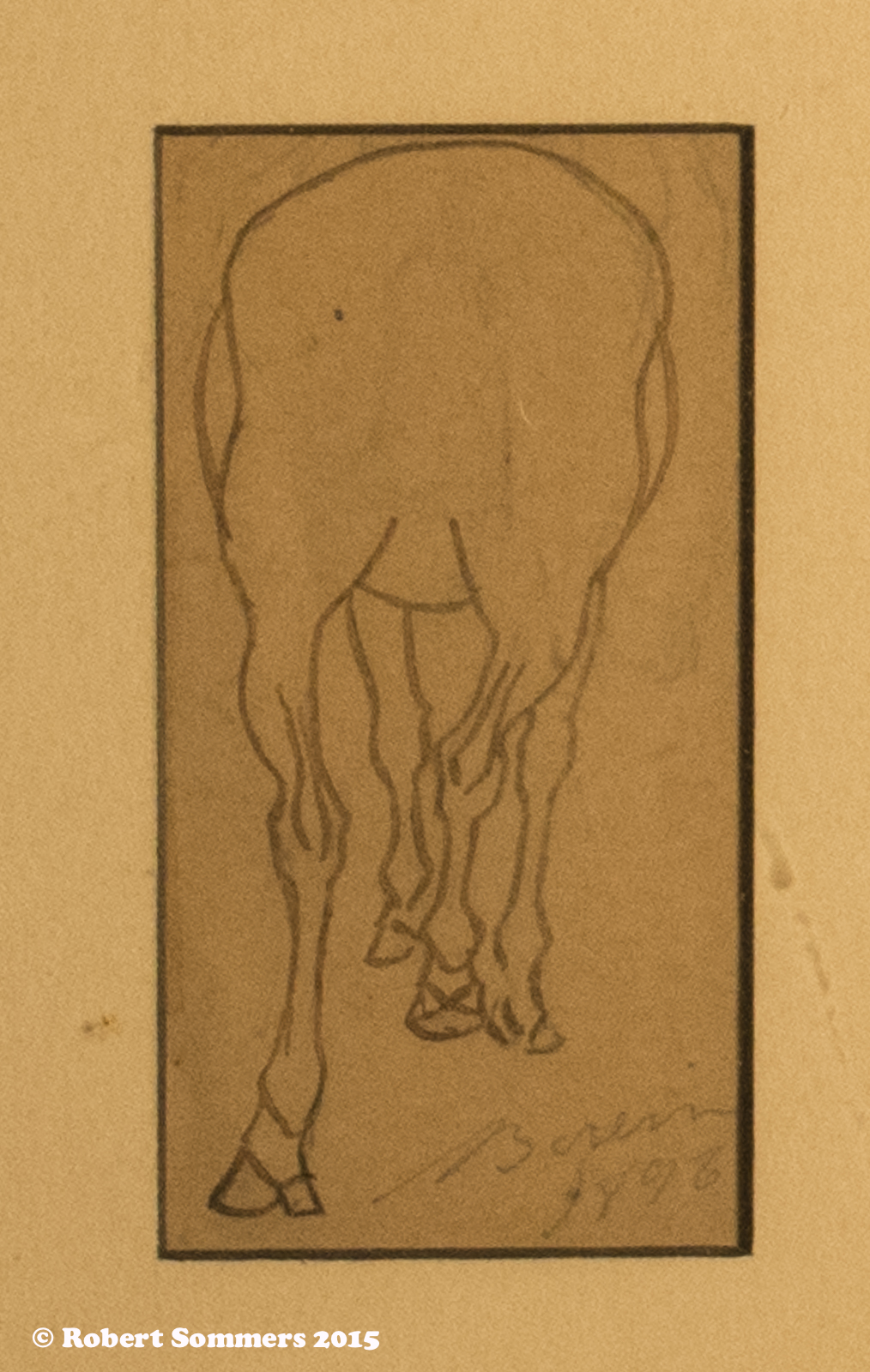 Edward Borein – equine verso view ink on paper, 3&7/8″ x 2″ signed and dated 1896, framed sold
Edward Borein (1872-1945) was born in San Leandro, California. He began sketching horses, cowboys and steers at an very early age. By the time he was seventeen, he achieved the main ambition of his youthful life and became a working cowboy drifting through most areas of the West, from Mexico to Montana.
In 1907 Borein went to New York to learn etching techniques. He opened a studio so typical of the West in its atmosphere that he soon attracted the companionship of other homesick Western artists working in the East at that time. Charles Russell came to regard him as a brother. Borein was one of the most popular figures on the Western scene. The fact that he became the intimate friend of such men as Will Rogers, President Theodore Roosevelt, Leo Carillo and others of equal prominence testifies to his attractive personality as well as his talent.
Feeling uncomfortable in New York City, and electing not to return to his more familiar Oakland surroundings, Borein took his new bride, Lucille Maxwell, to Santa Barbara in 1921 and established a studio there. His old cronies and new friends found this studio a delightful place to gather.Watercolors, especially in his later life, was a favorite medium of Edward Borein. He was equally adept at pen-and-ink drawing, and his etchings were of such vigorous, realistic quality that no Western artist has surpassed him in this field.