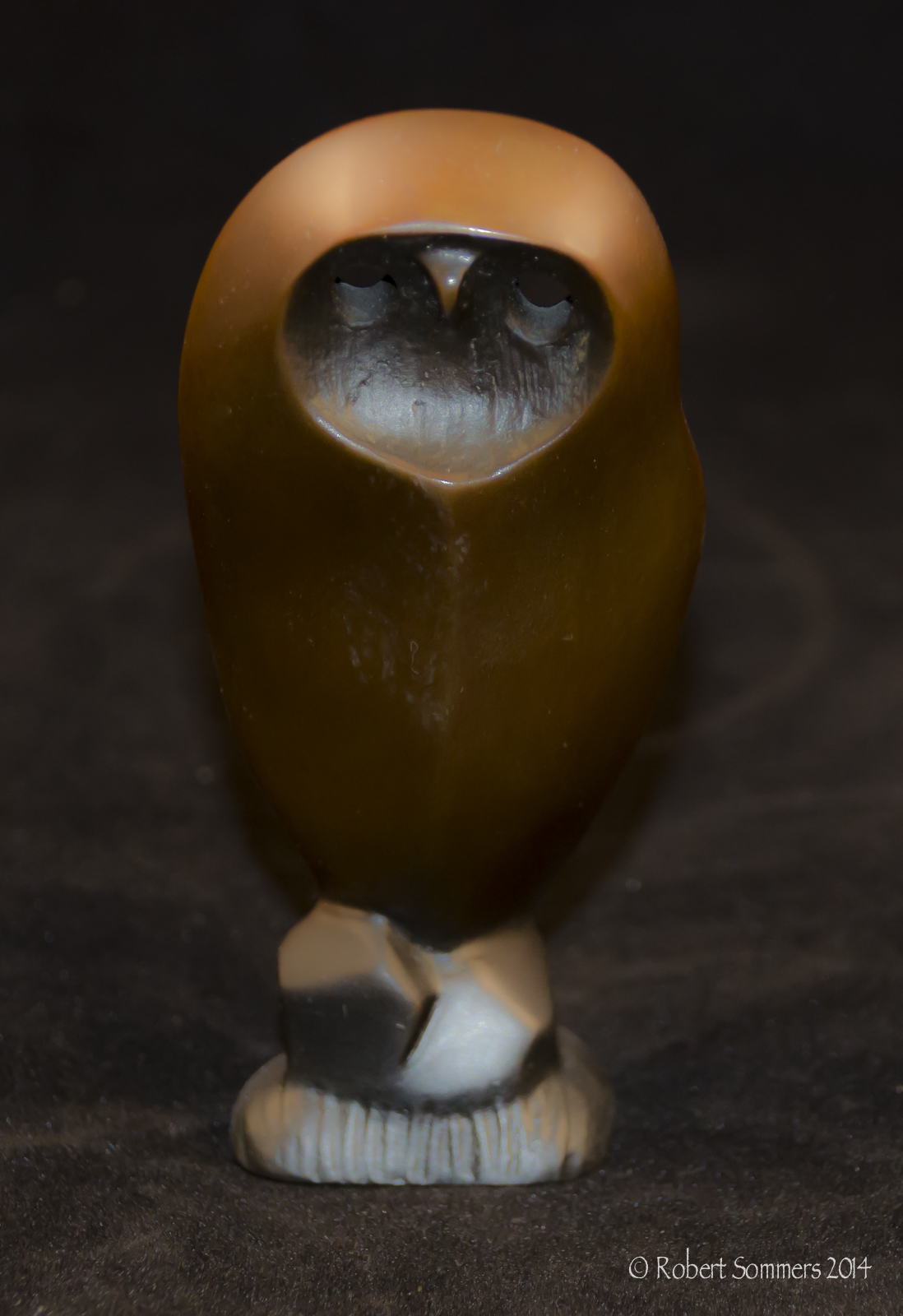 Allan Houser (1914-1994) Standing Owl bronze 4&1/2″ tall, inscribed A Houser verso sold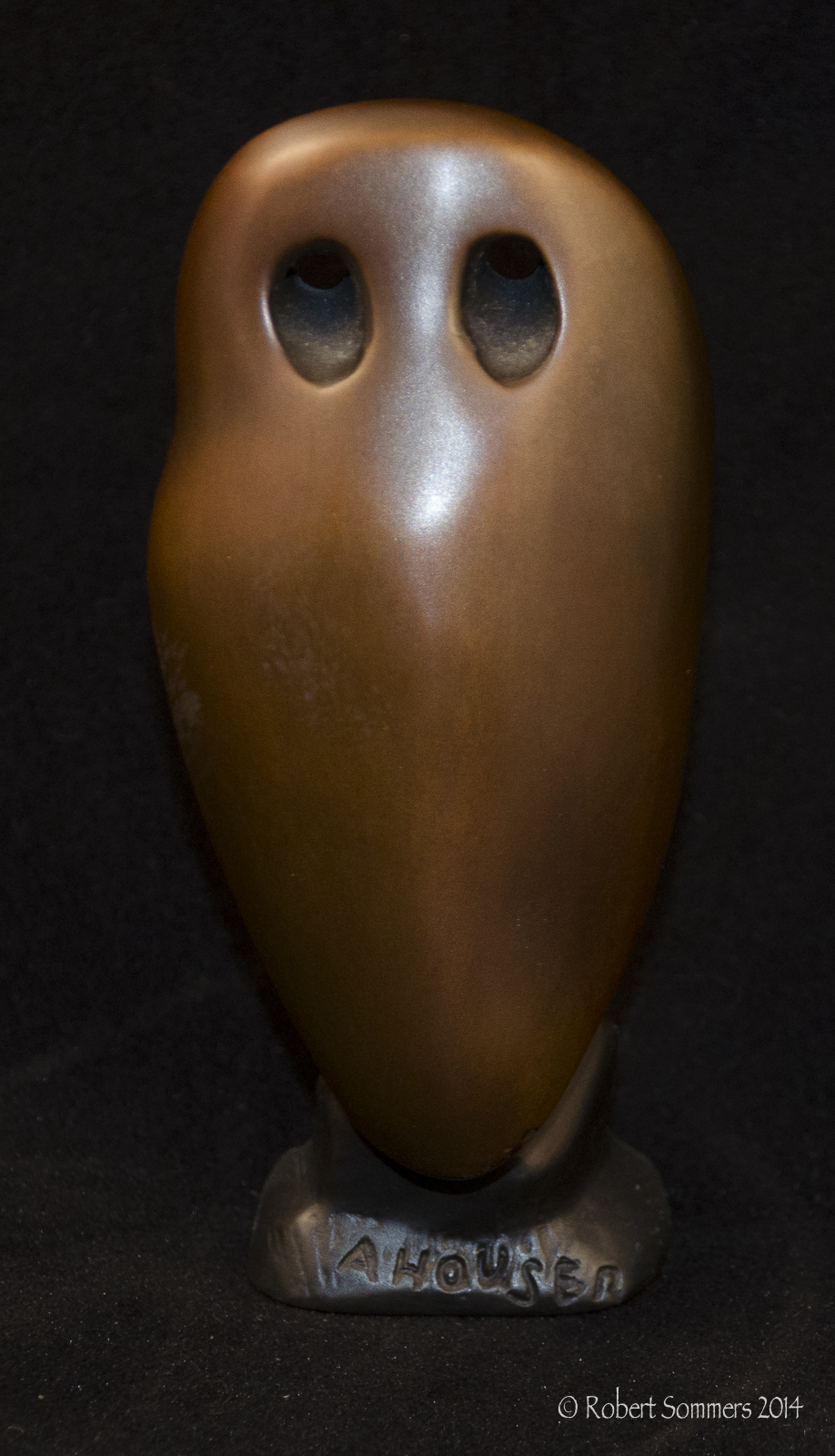 Born on the family farm near in Apache, Oklahoma, Allan Houser became one of the Southwest's most famous and financially successful twentieth-century sculptors, known for his abstract Indian subjects.  In his book, Masters of American Sculptors, Donald Martin Reynolds referred to Houser, who was Chiricahua Apache, as the "patriarch of American Indian sculptors. . . .Through his prodigious output and a generation of students and followers, Houser has been a formidable force in shaping contemporary Indian sculpture". (205).  In 1993, the Institute of American Indian Arts in Santa Fe, New Mexico, opened a sculpture garden in his honor.
With close ties to Arizona, Houser was the grandson of the chief who served as Geronimo's interpreter and a great nephew of the Apache Chief, Geronimo.  Houser had the Apache name of "Haozous", translated in English as 'The Sound of Pulling Roots'.
At age 15, in 1929, he left high school to help his father run the farm, but five years later enrolled in the Santa Fe Indian Art School founded by Dorothy Dunn.  He said because it was free, it was the only art school an Indian could afford.  His family were farmers, and he could only go to school when he wasn't needed at home for farm labor.  However, his talent was soon recognized, and the first year of his enrollment he was named the school's outstanding artist.  He also studied mural painting with Olaf Nordmark at Fort Sill, Oklahoma, and he began his art career as a muralist and painter and then focused on stone and wood carving and sculpting in steel and bronze.
He worked in Santa Fe from 1936 to 1938, the only Indian specializing in sculpture, and he also painted murals in Washington D.C for the Department of the Interior; Fort Sill, Arkansas; and Riverside, California.  As a painter, he did the official portrait of Stuart Udall, Secretary of the Interior and Apache Chief Geronimo for the Arizona State Capitol Building in Phoenix.
During World War II, he was a factory hand and ditch digger in California. In 1948, he won a scholarship to the Haskell Institute in Kansas, followed by a Guggenheim Fellowship.  There he did his first large sculpture, Comrades in Mourning.  Carved from marble, it is eight-feet tall and weighs four and a half tons and remains at the Institute.
From 1951 to 1975, he taught art in Indian Schools, and also served as instructor at the Institute of American Arts.  From 1962, he lived in Santa Fe from where his work was collected all over the United States.  The Phoenician Hotel in Scottsdale, Arizona, has one of the largest collections of his sculpture.
Source:
Peggy and Harold Samuels, Contemporary Western Artists and The Illustrated Biographical Encyclopedia of Artists of the American West
Donald Martin Reynolds, Masters of American Sculpture
Patrick Lester, The Biographical Directory of Native American Painters