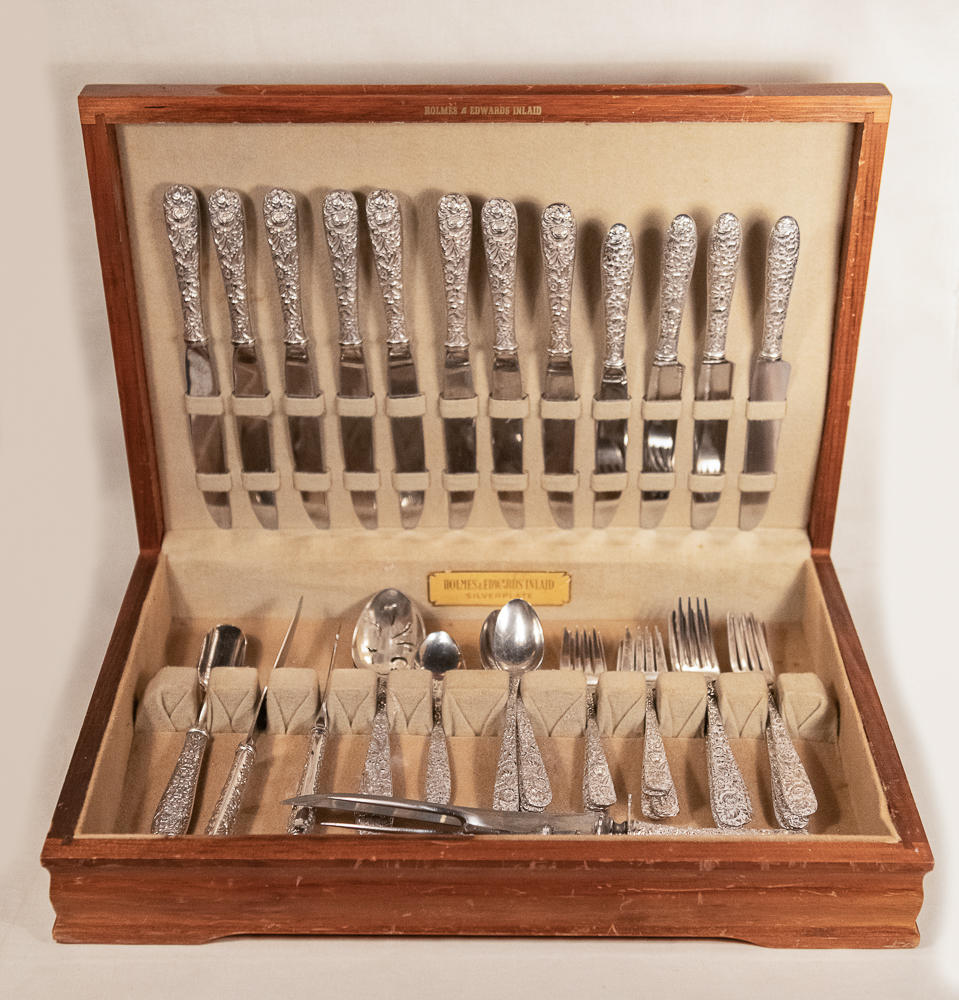 Kirk Repousse sterling silver flatware – 43 pieces service for eight with serving pieces
sold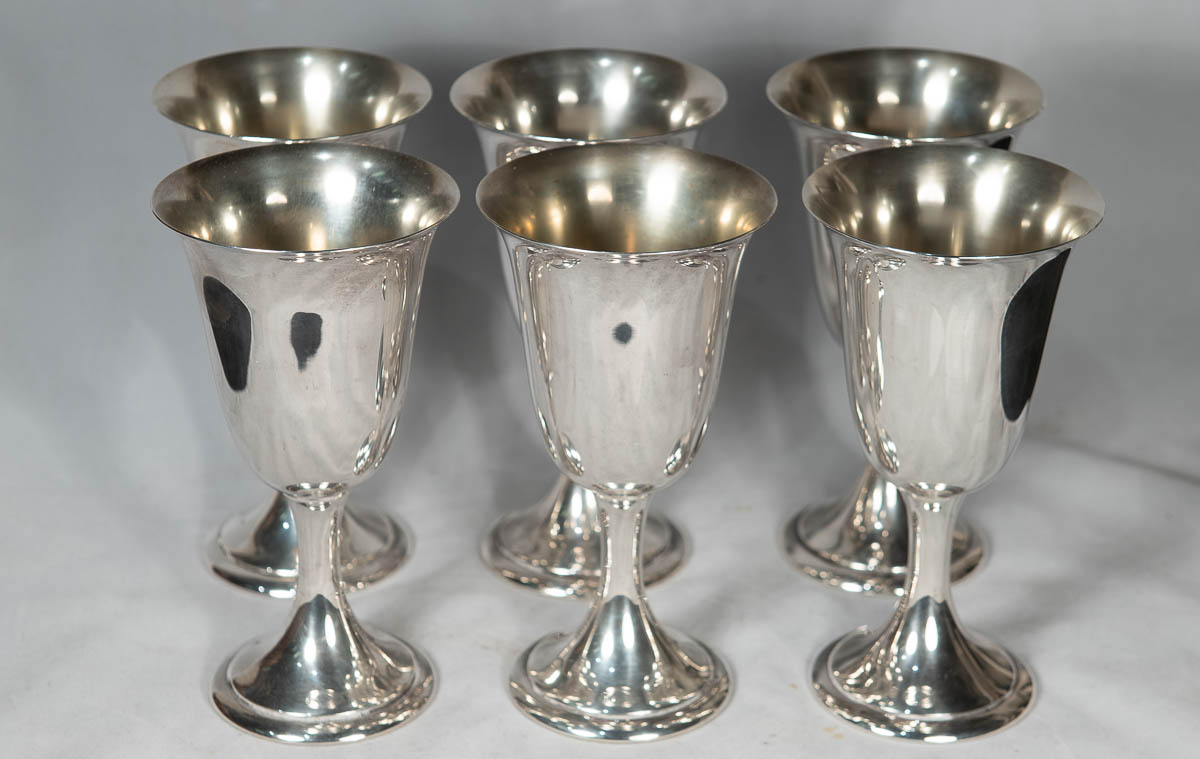 Six Alvin Sterling Silver Goblets #S249  6 & 5/8″tall sold No monogram, mint.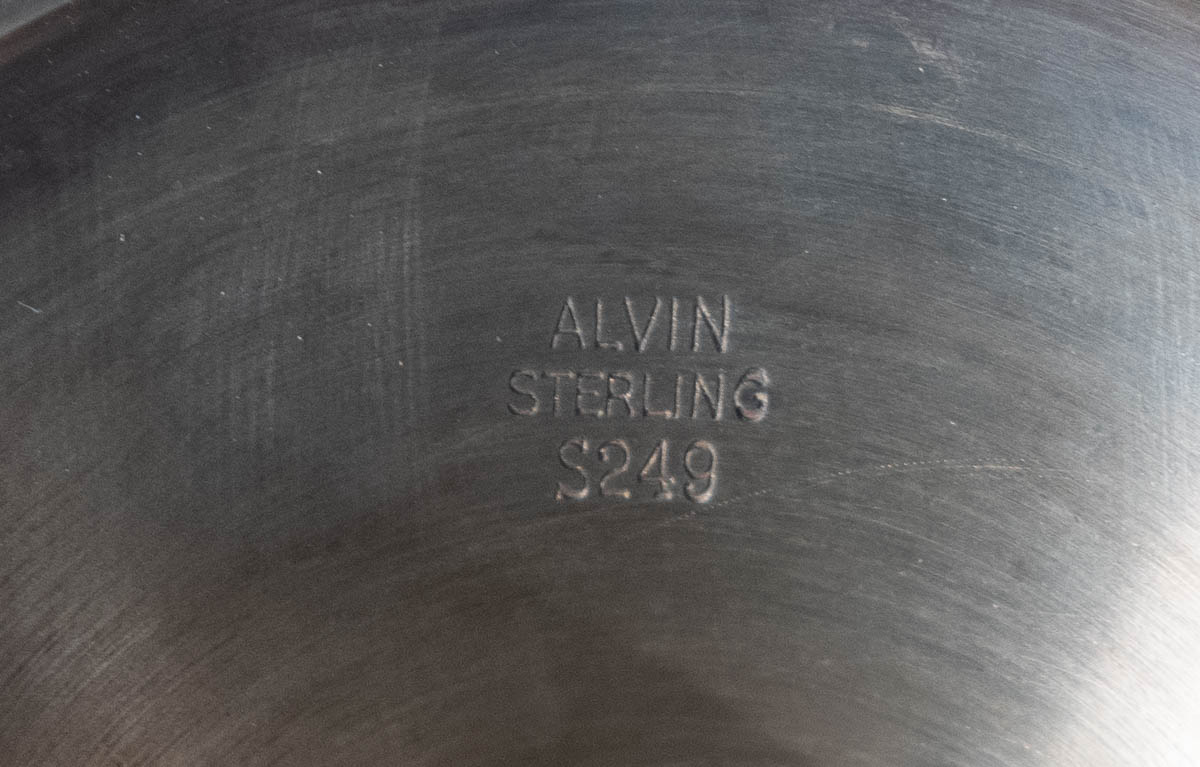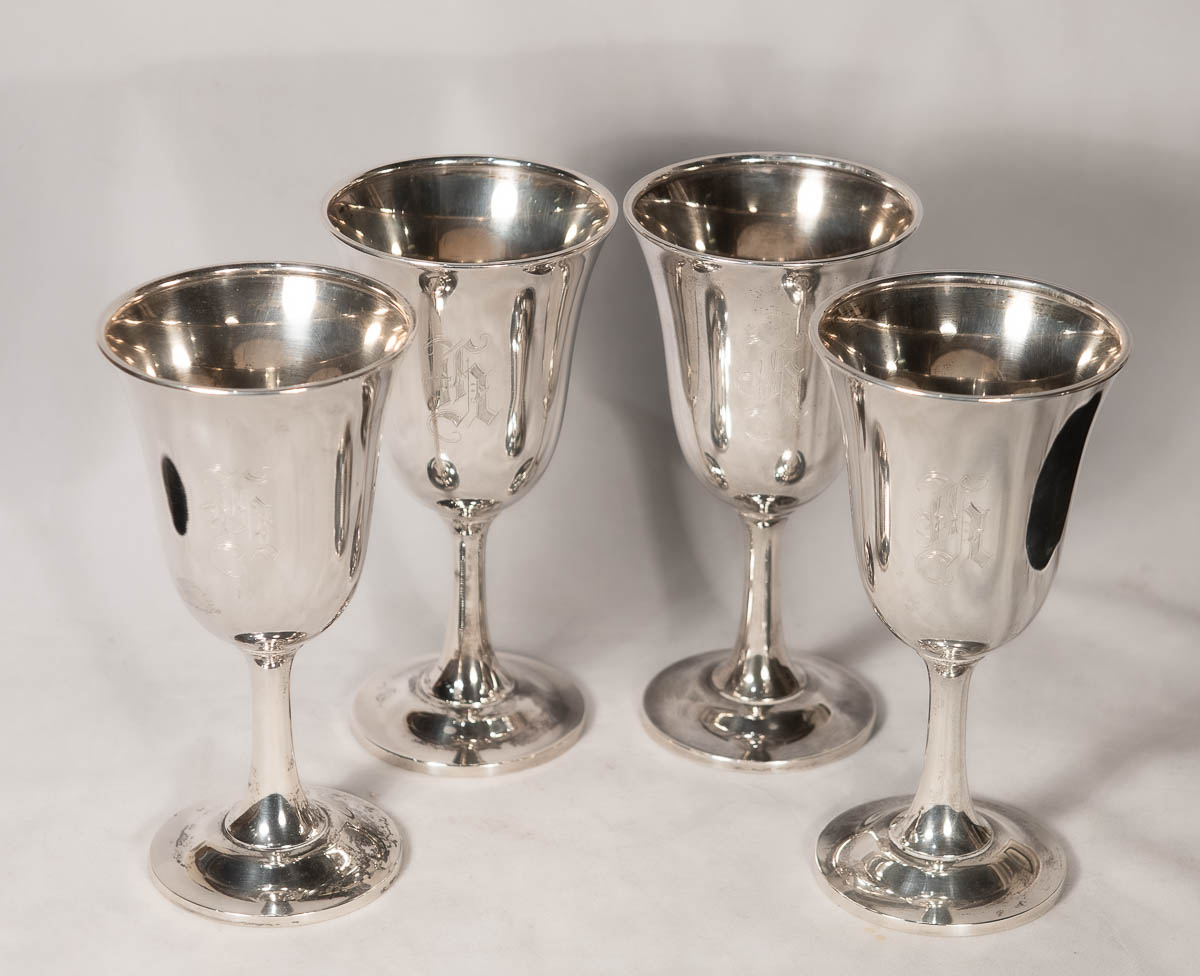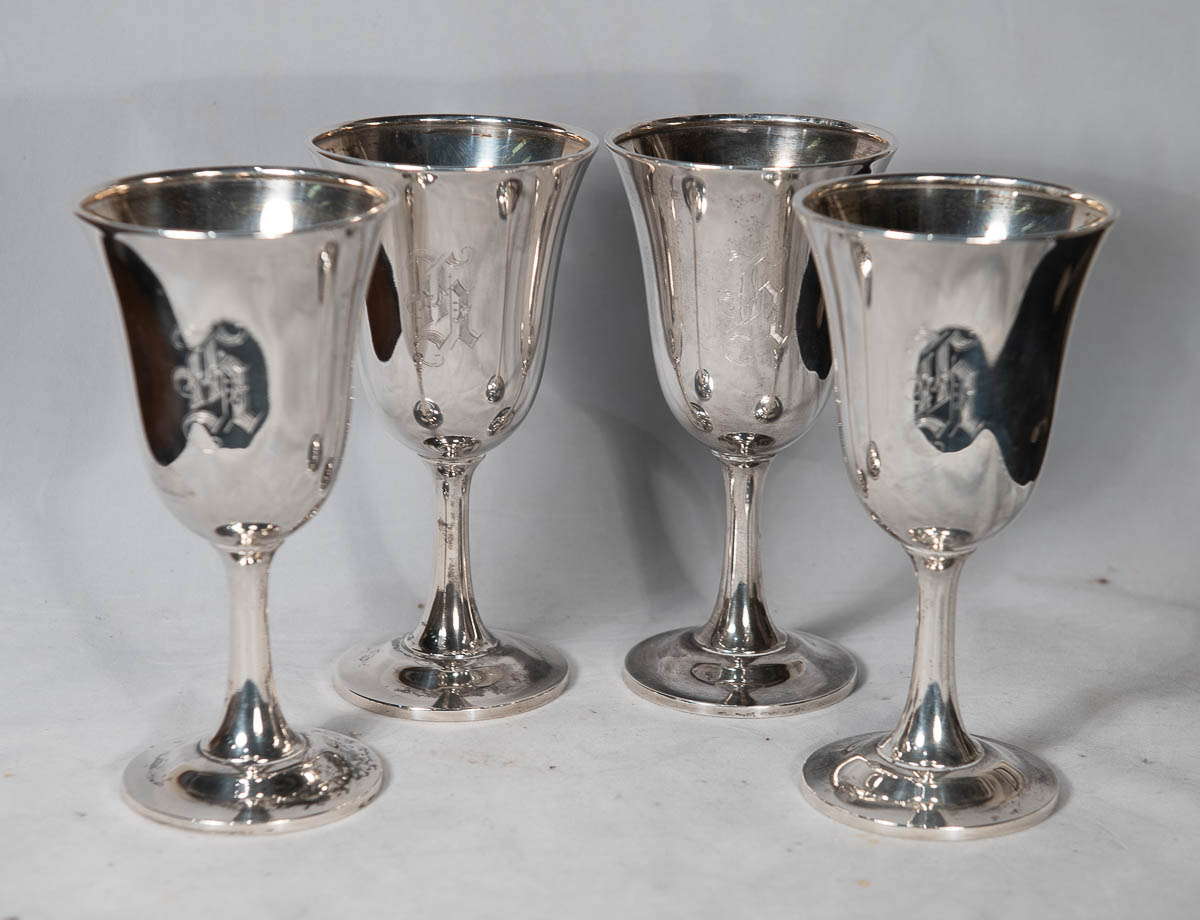 Four Wallace Sterling Silver Goblets with the letter H finely monogrammed. Gilt wash interiors. #16
6 & 5/8″ tall, excellent condition. sold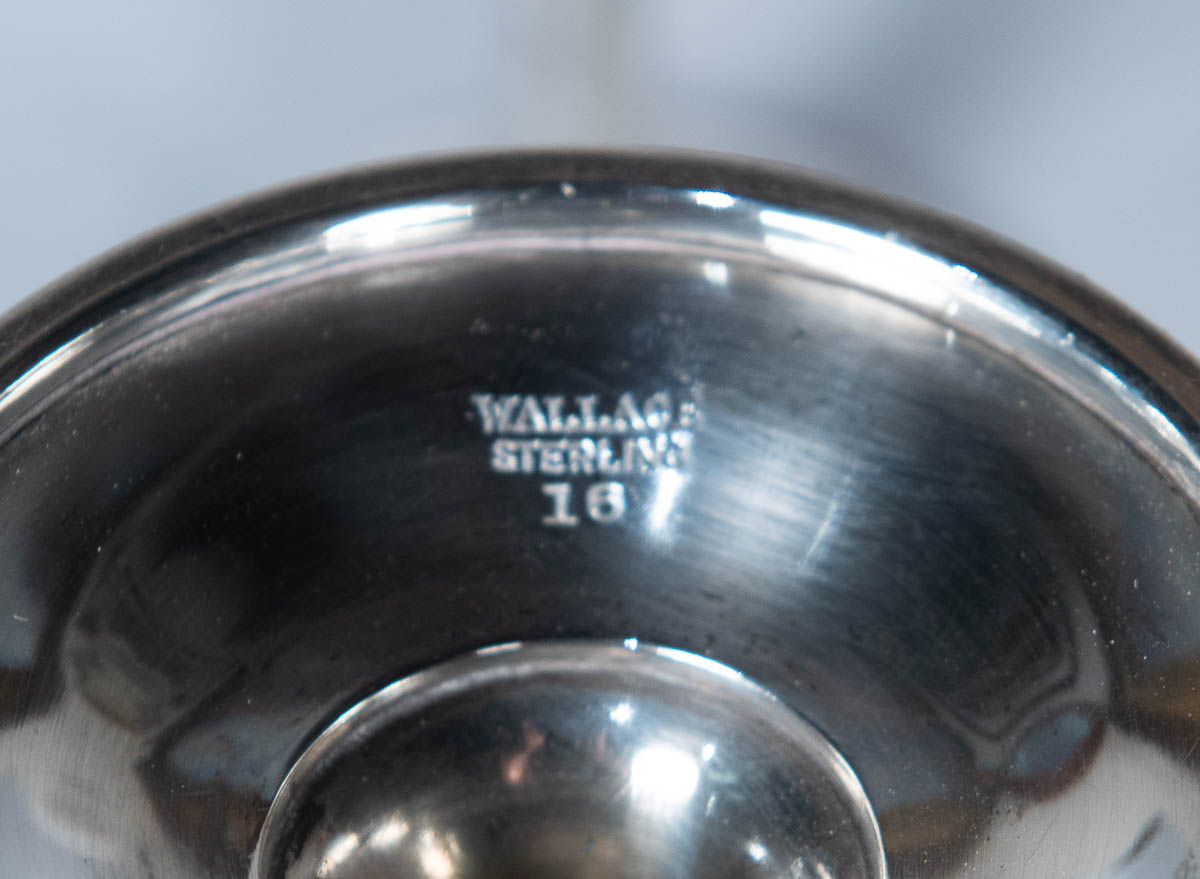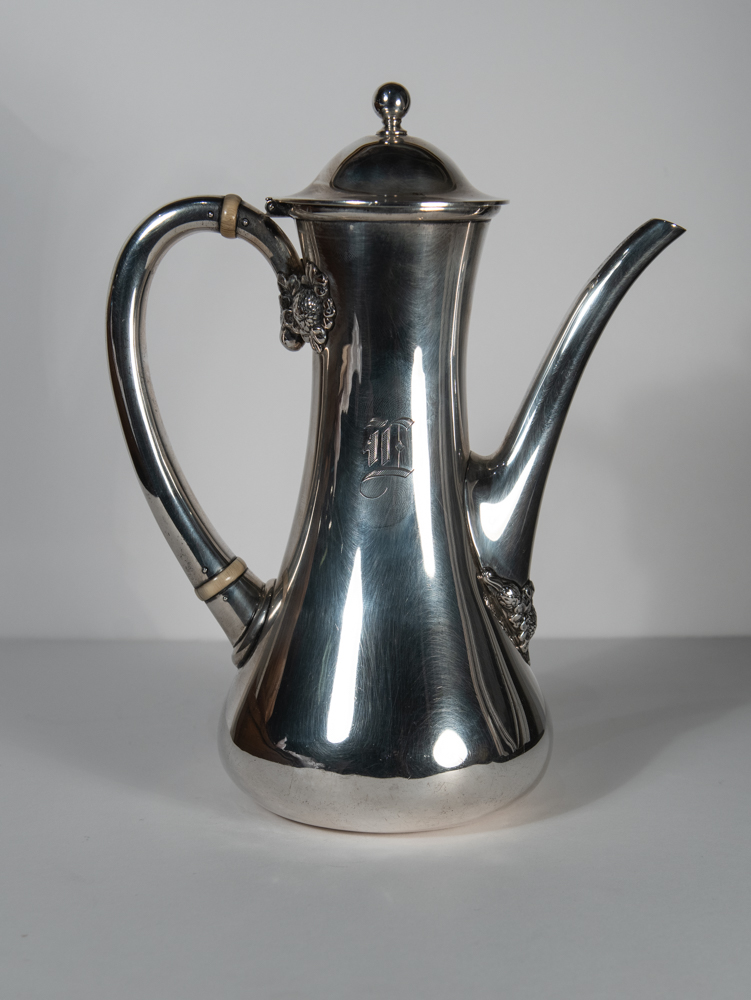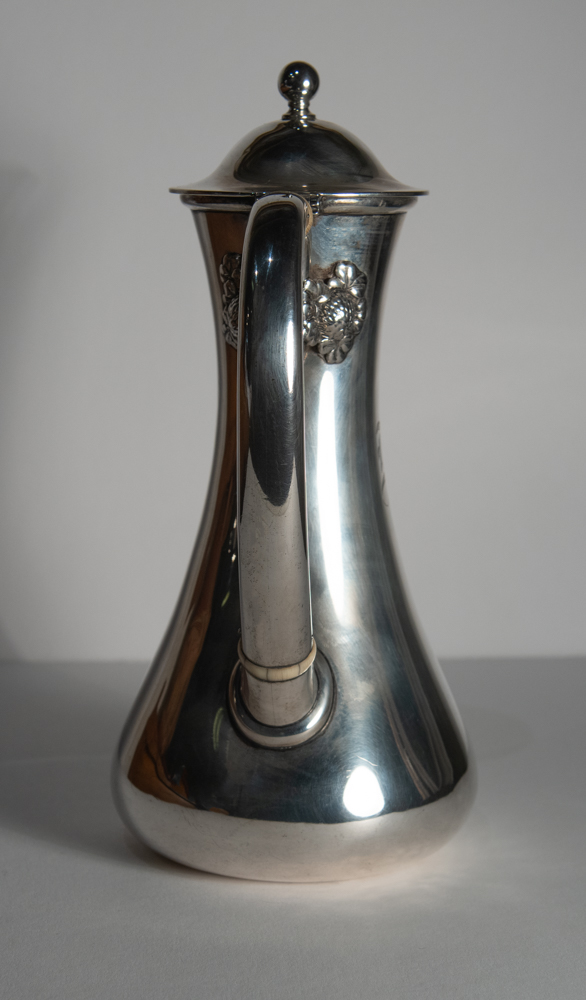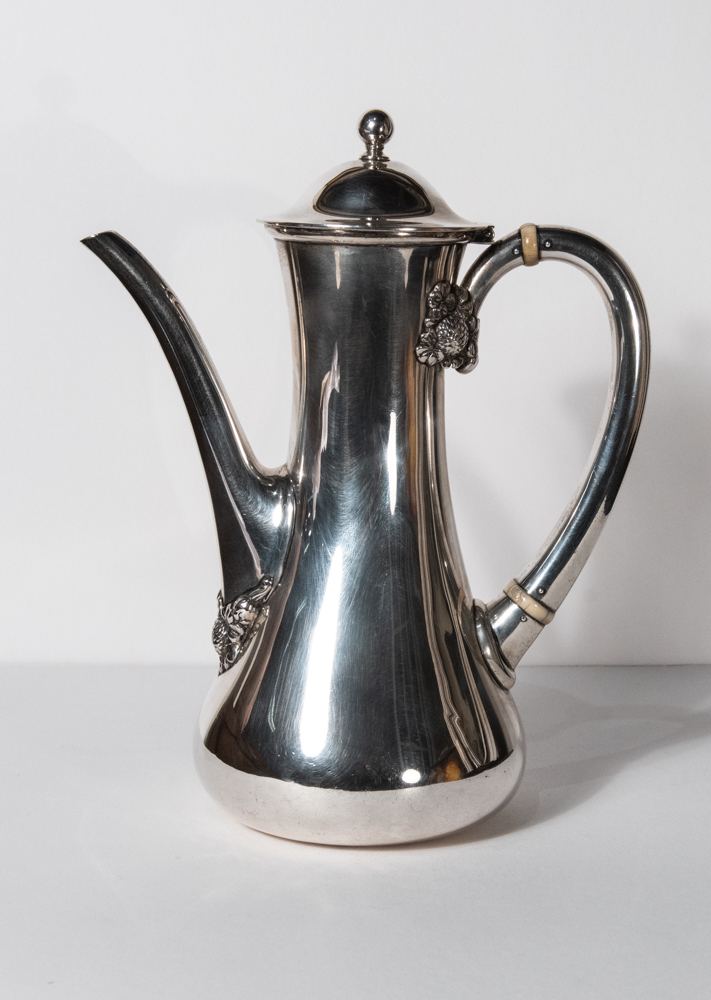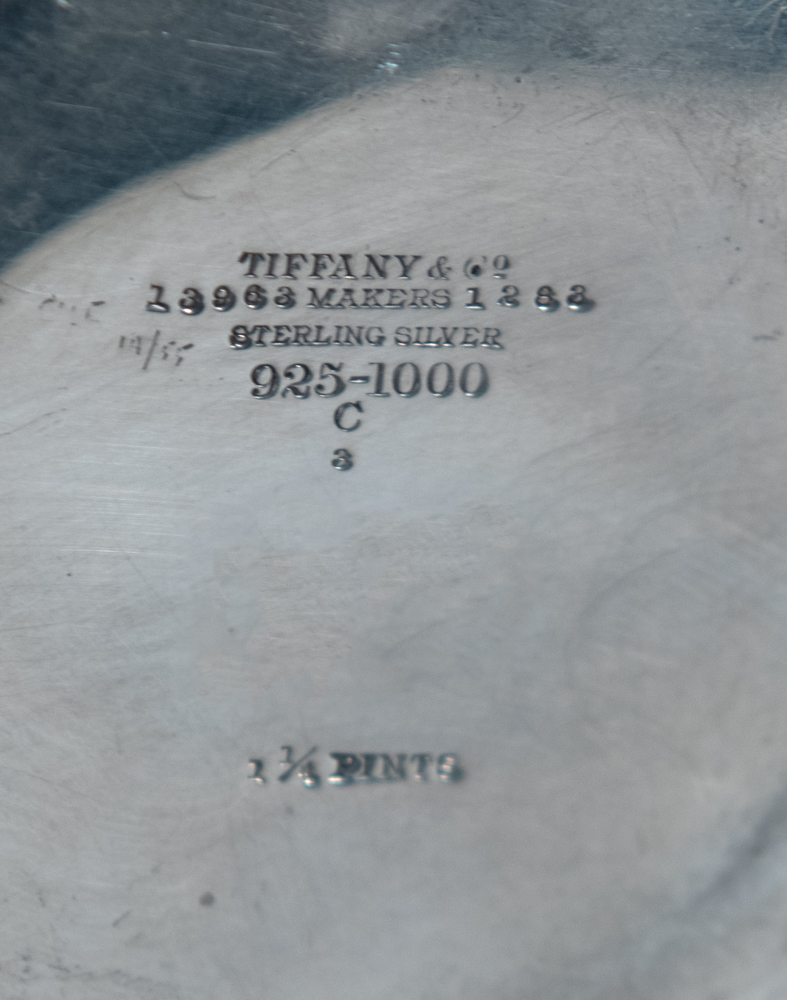 Tiffany sterling silver coffee pot in the clover pattern
Monogram. 440.9 grams. Lovely piece of hollowware. Approx. 8 & 1/2″ high, 7″ wide.
sold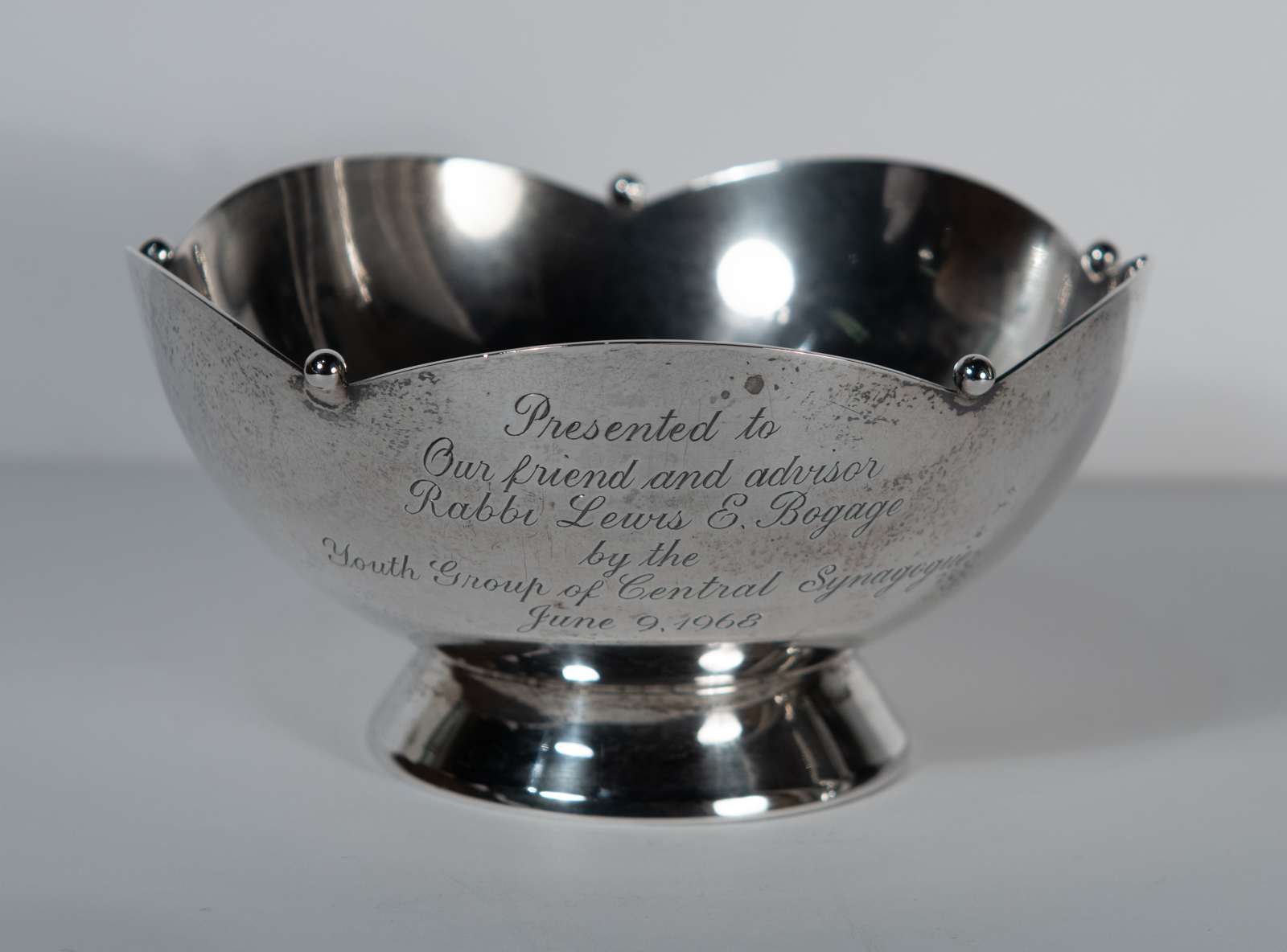 Currier and Roby sterling silver bowl with inscription. 159.8g.
5″d x 3″
$375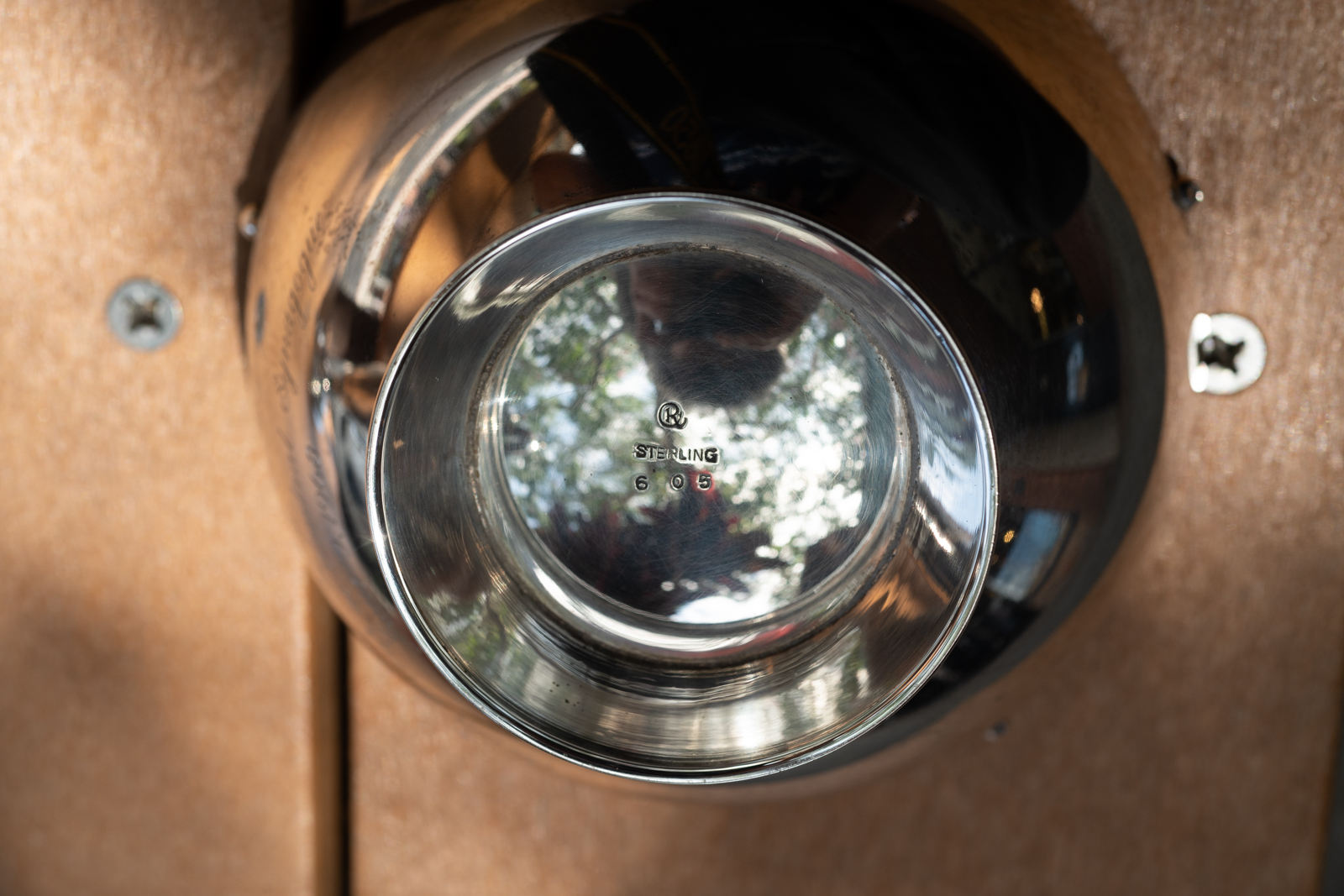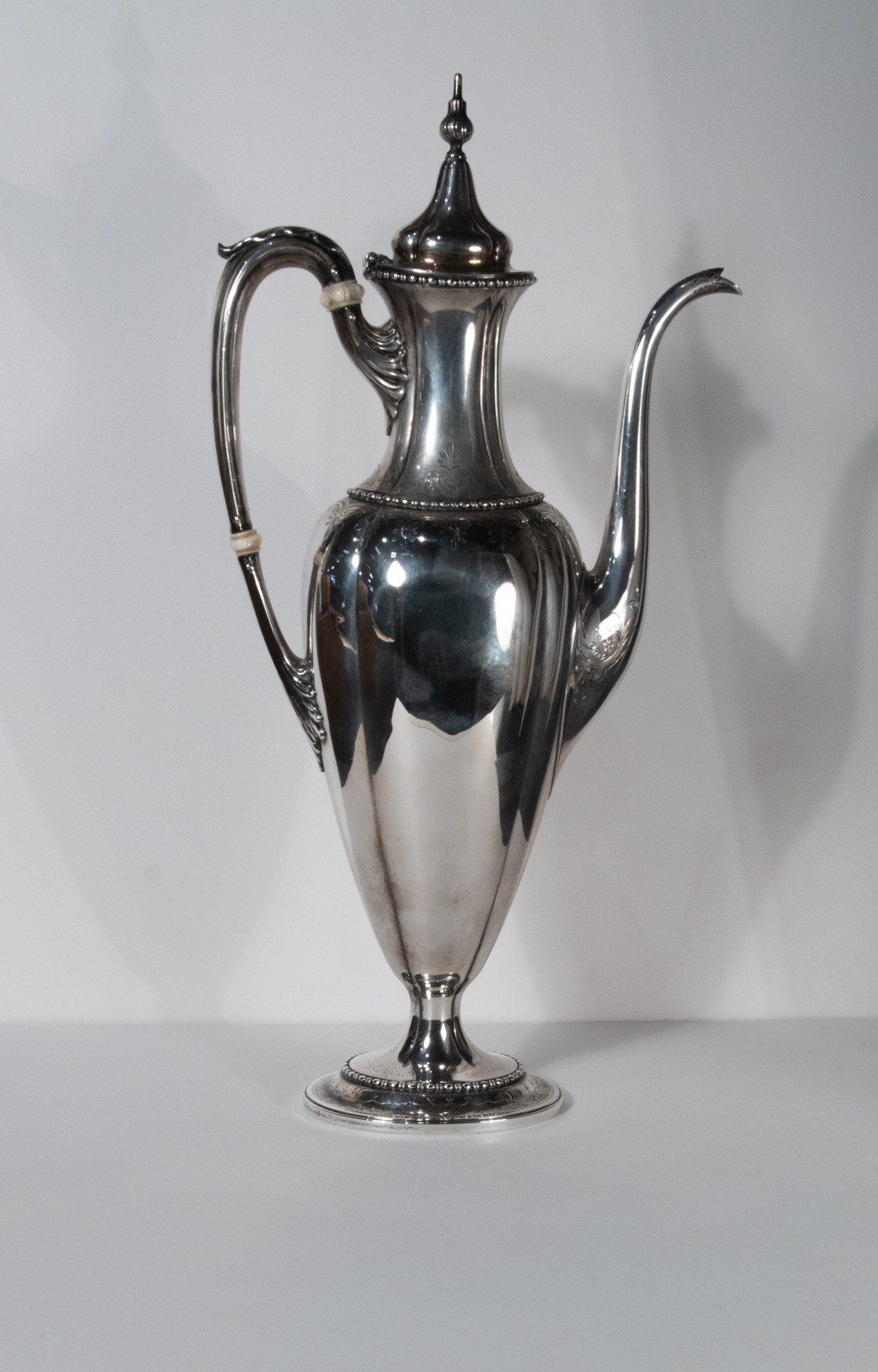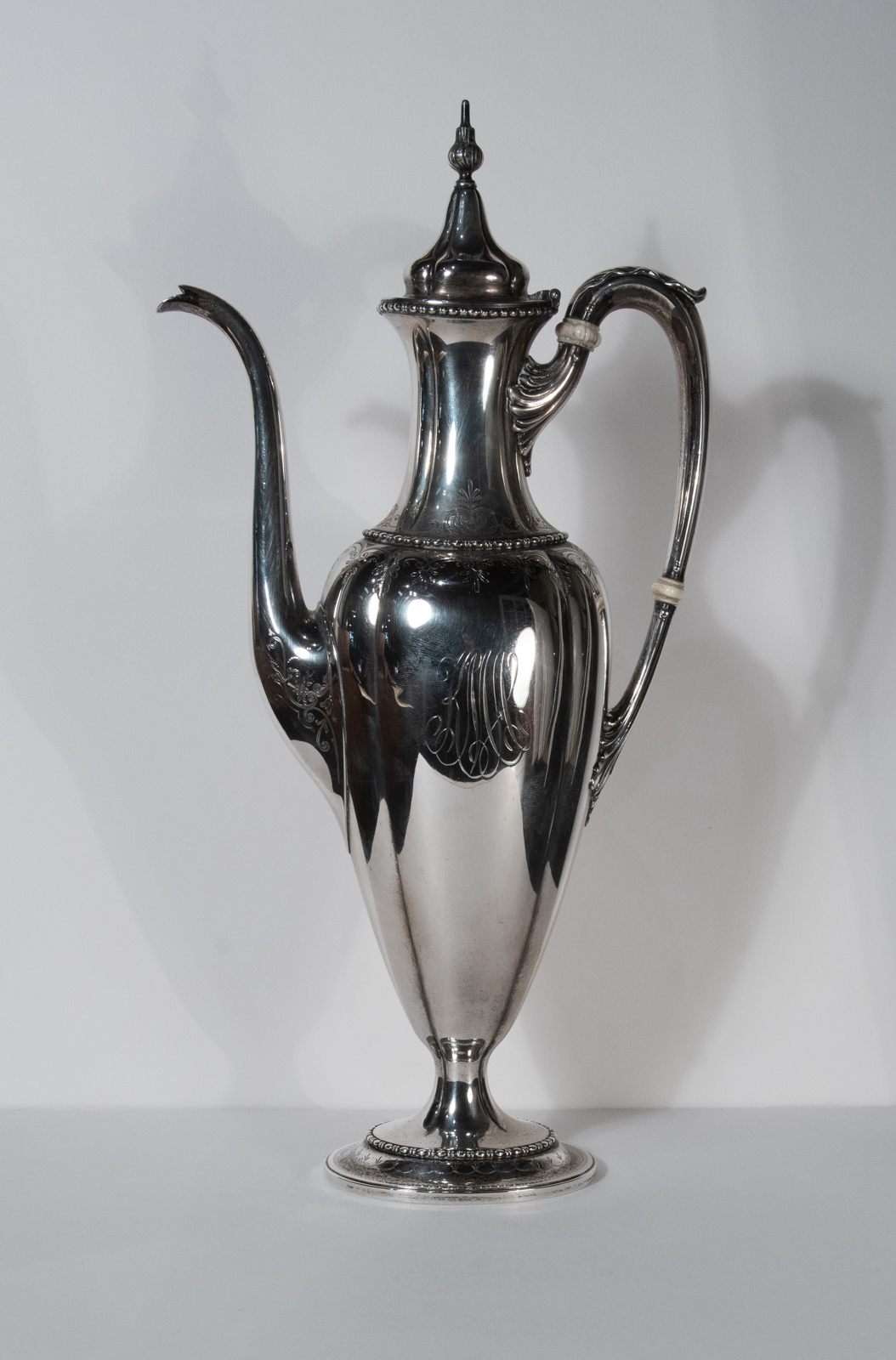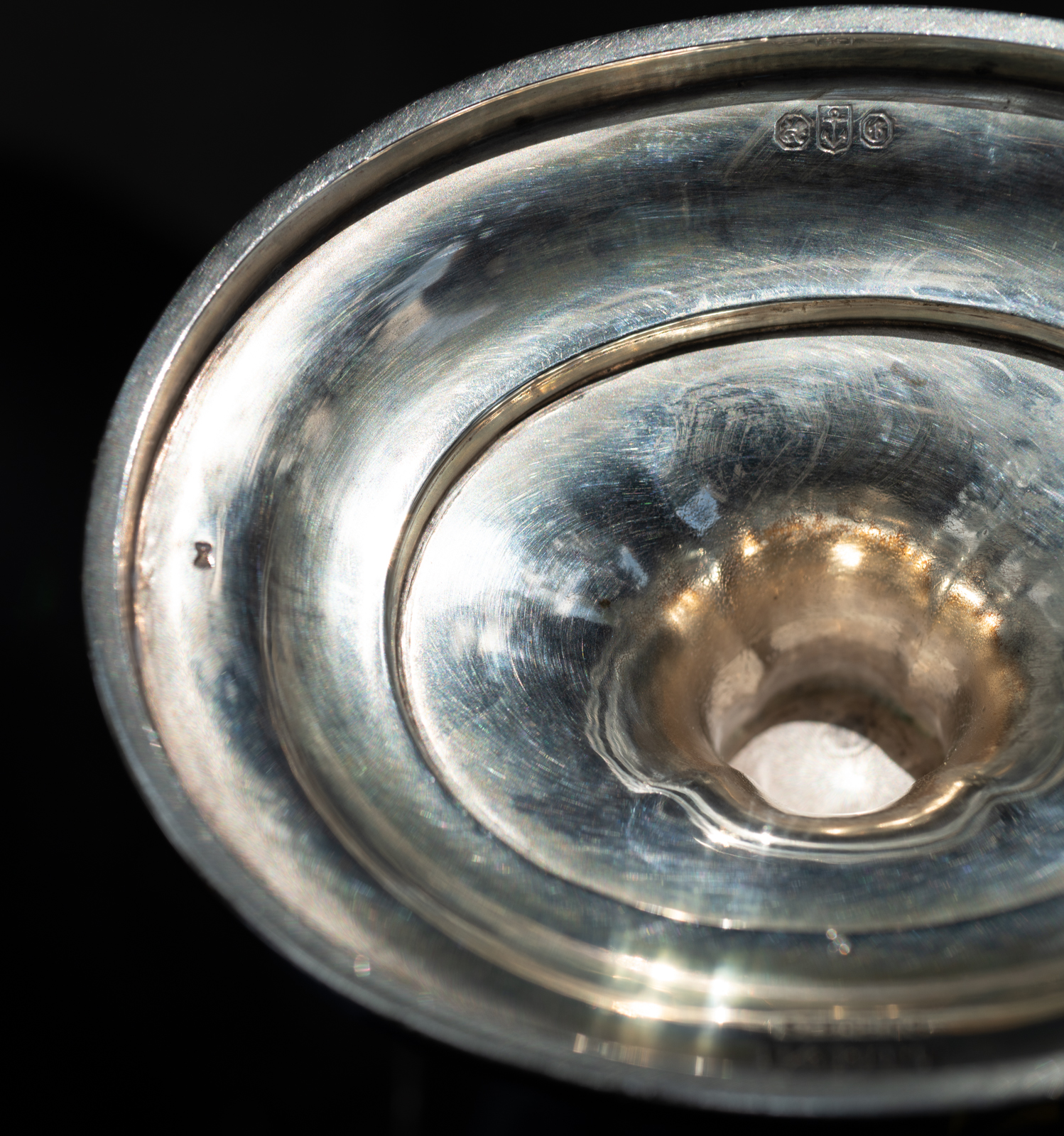 Gorham sterling silver coffee pot, date unknown
537 grams. elegant bright cutting.
13″ tall.
sold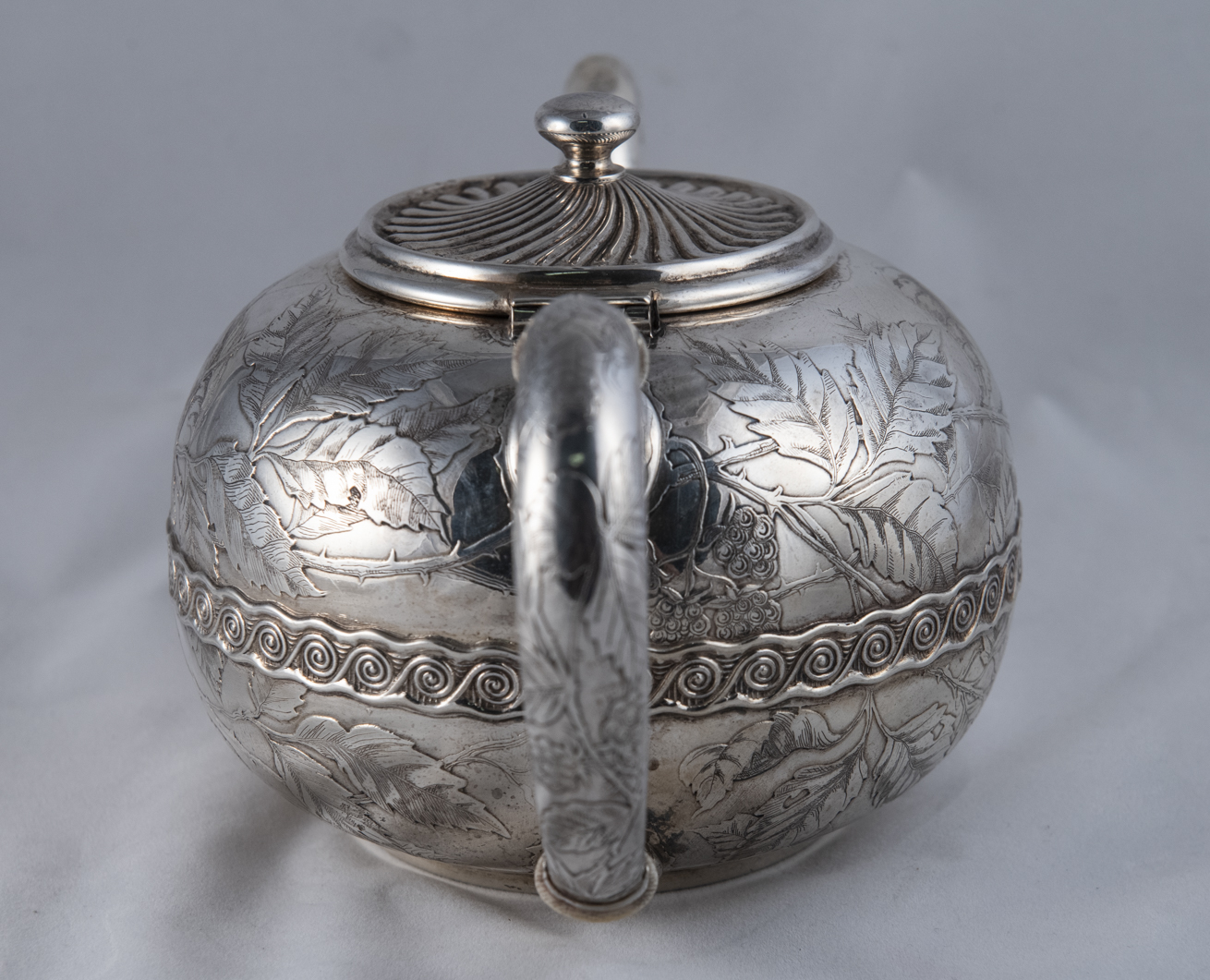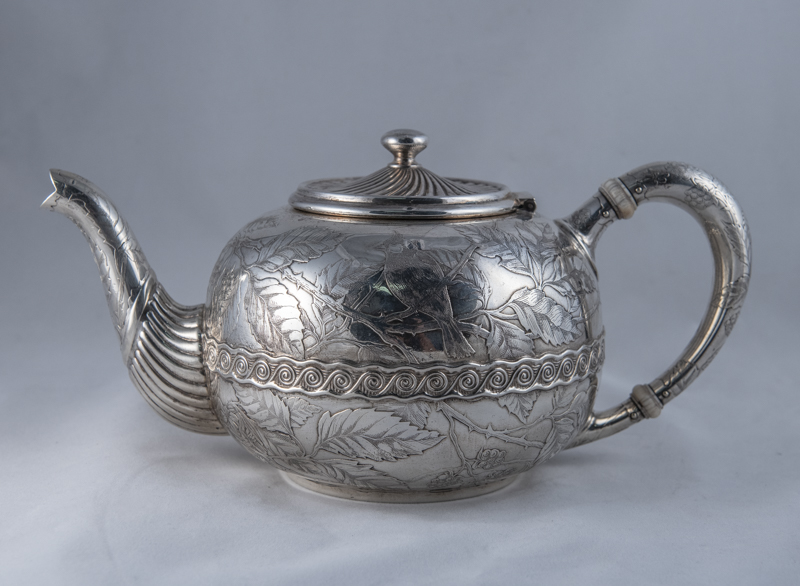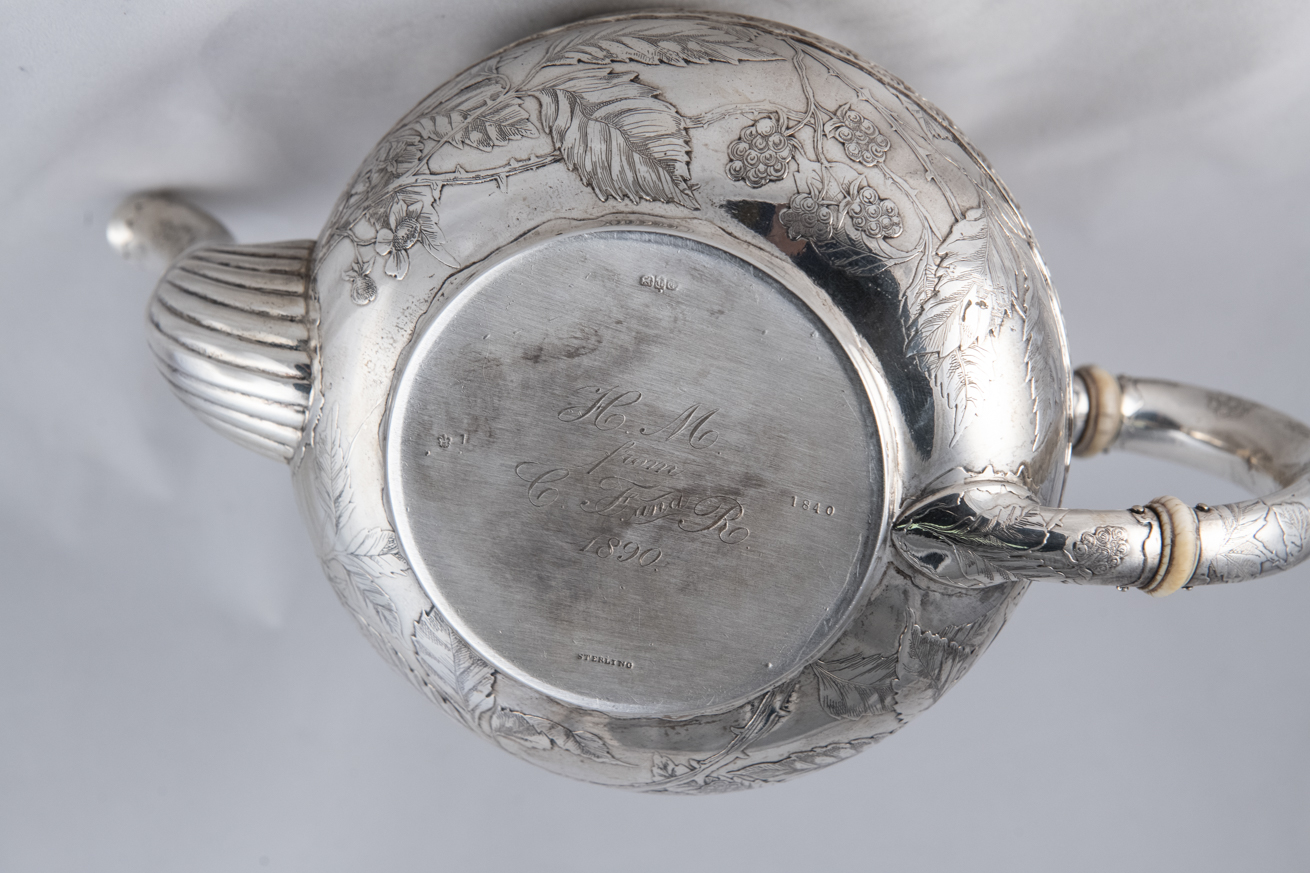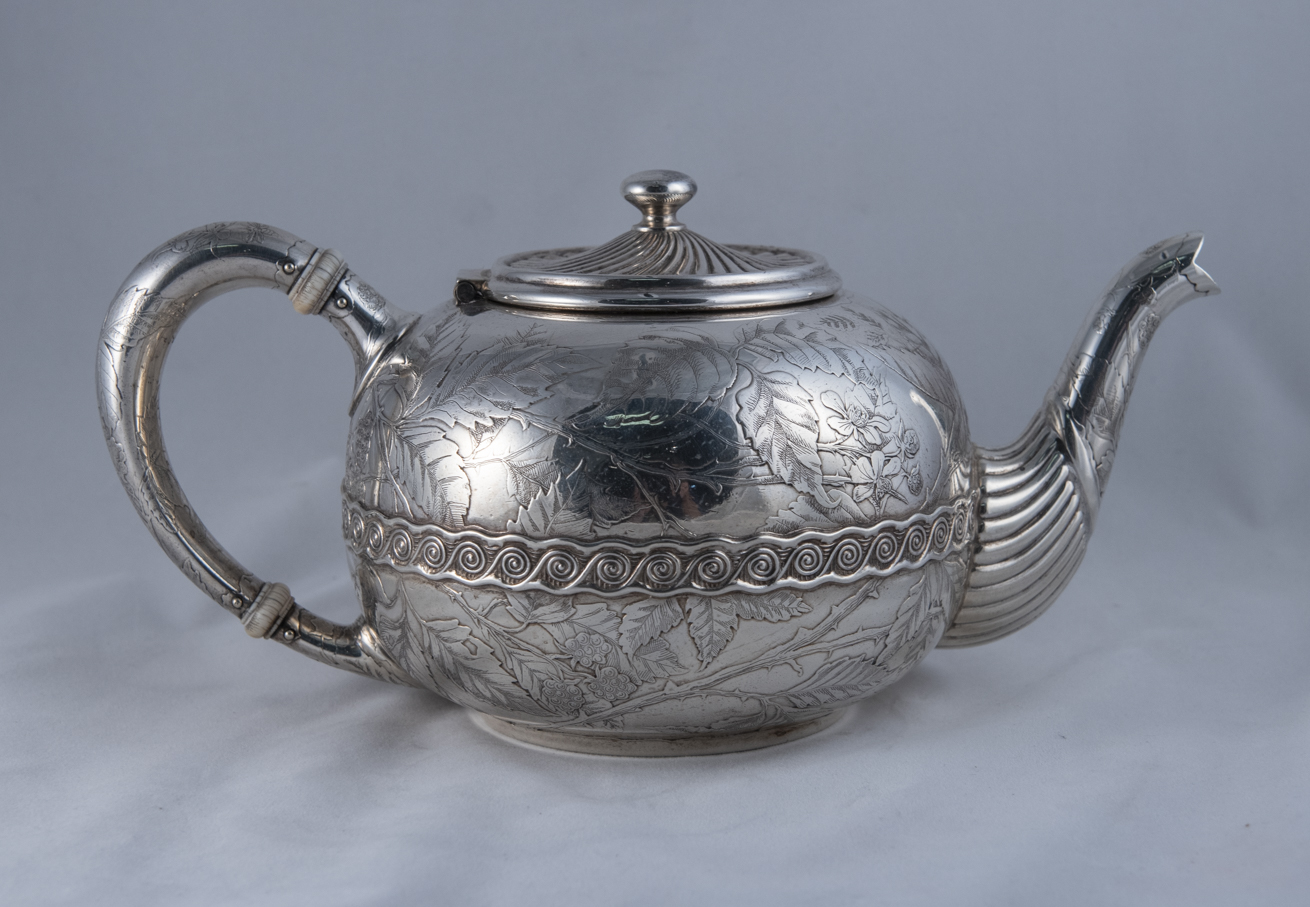 Gorham 1840 pattern sterling silver teapot
made in 1887
approx. 5.5″ x 6 x 10″
702g.
sold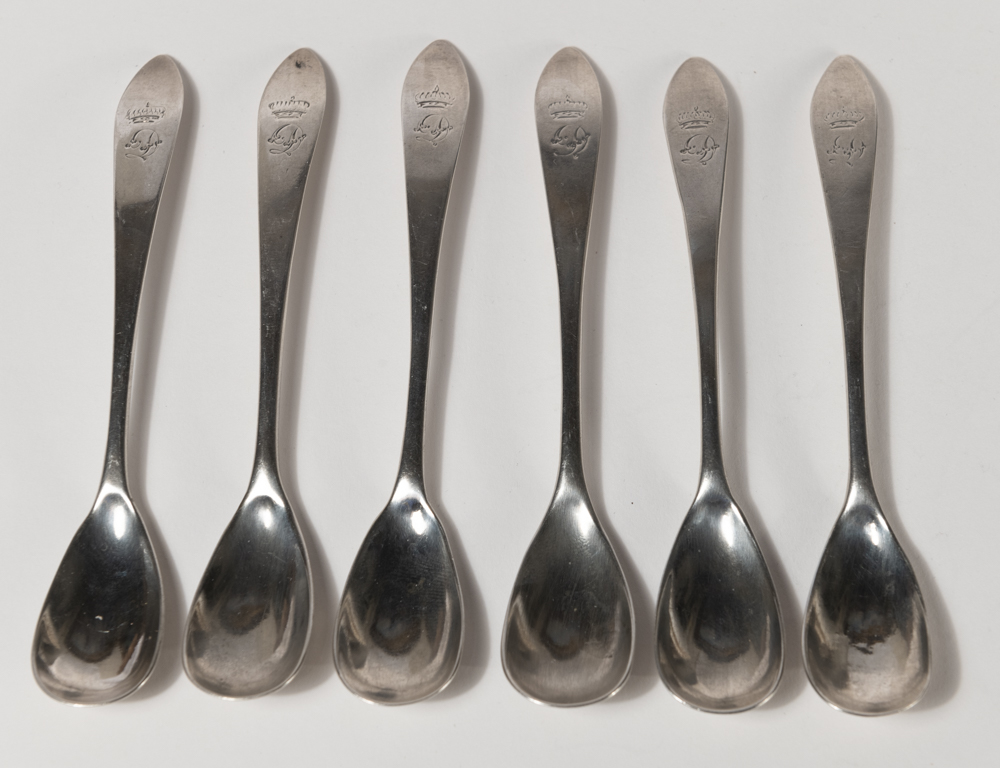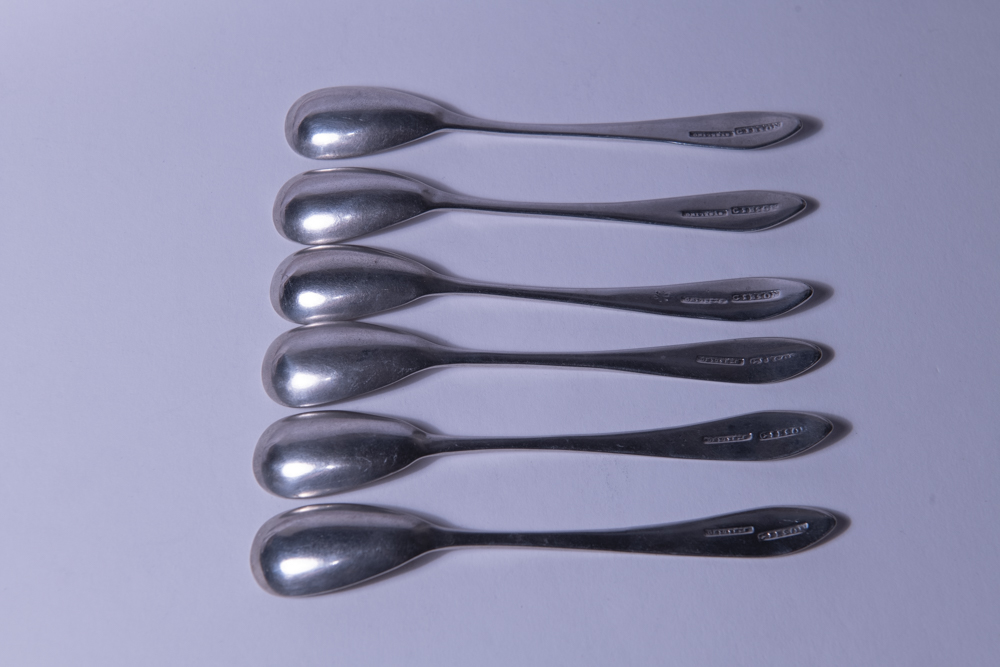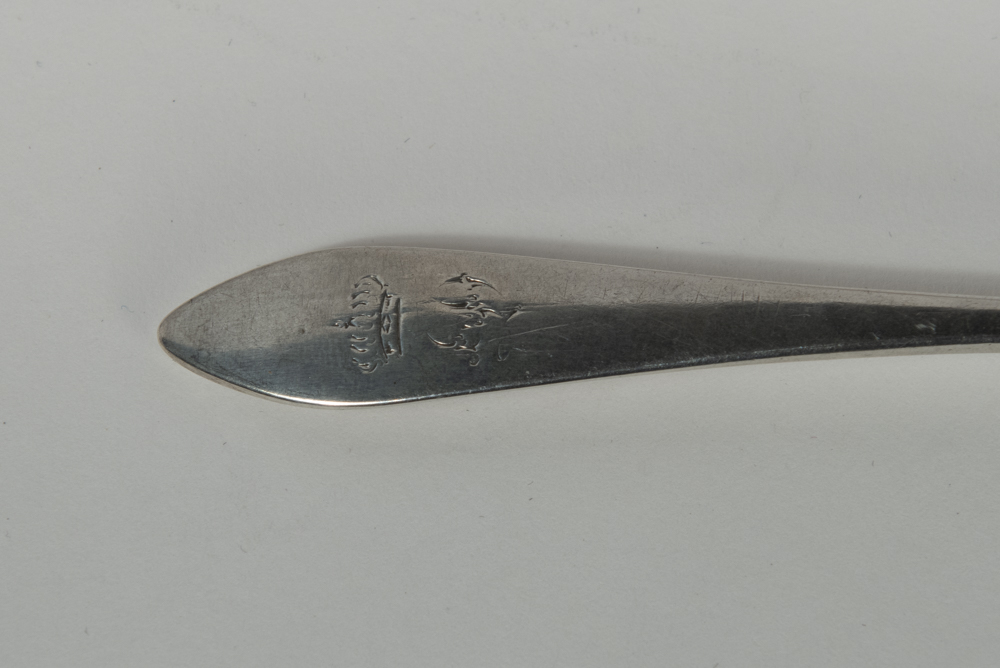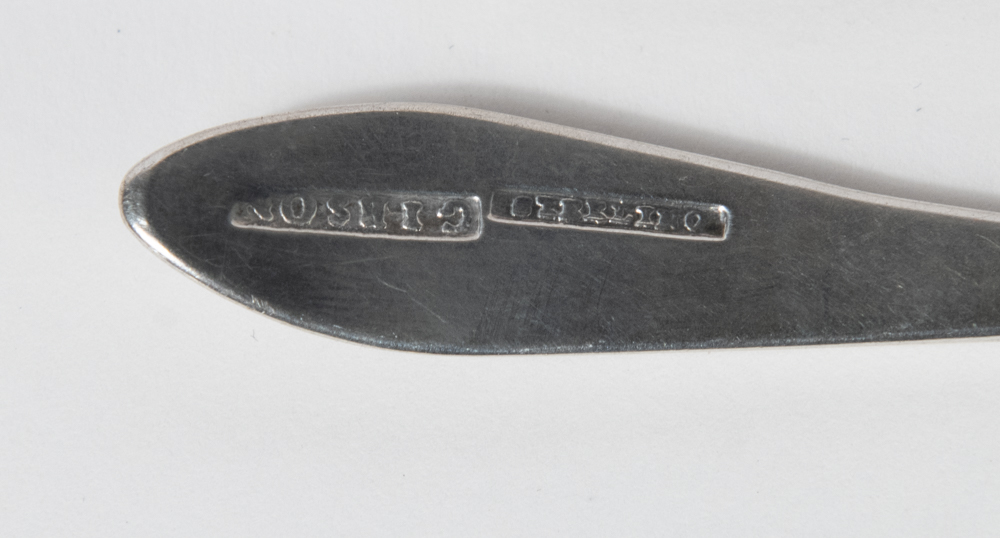 Six egg spoons
Joseph Gibson, Cork
circa 1800, marked Gibson, Sterling
5″ Long, approx. 15 gms. per spoon
monogram with crown
$800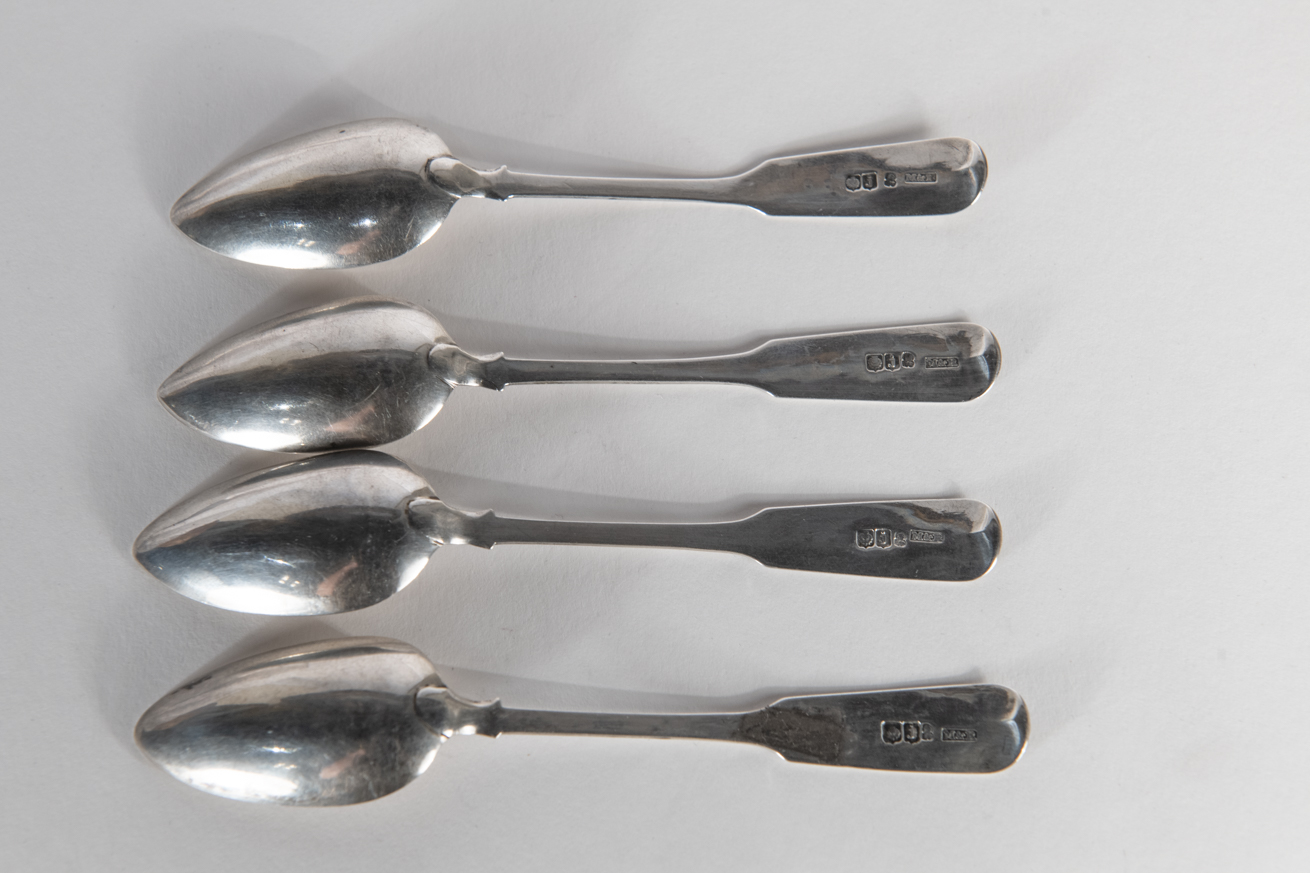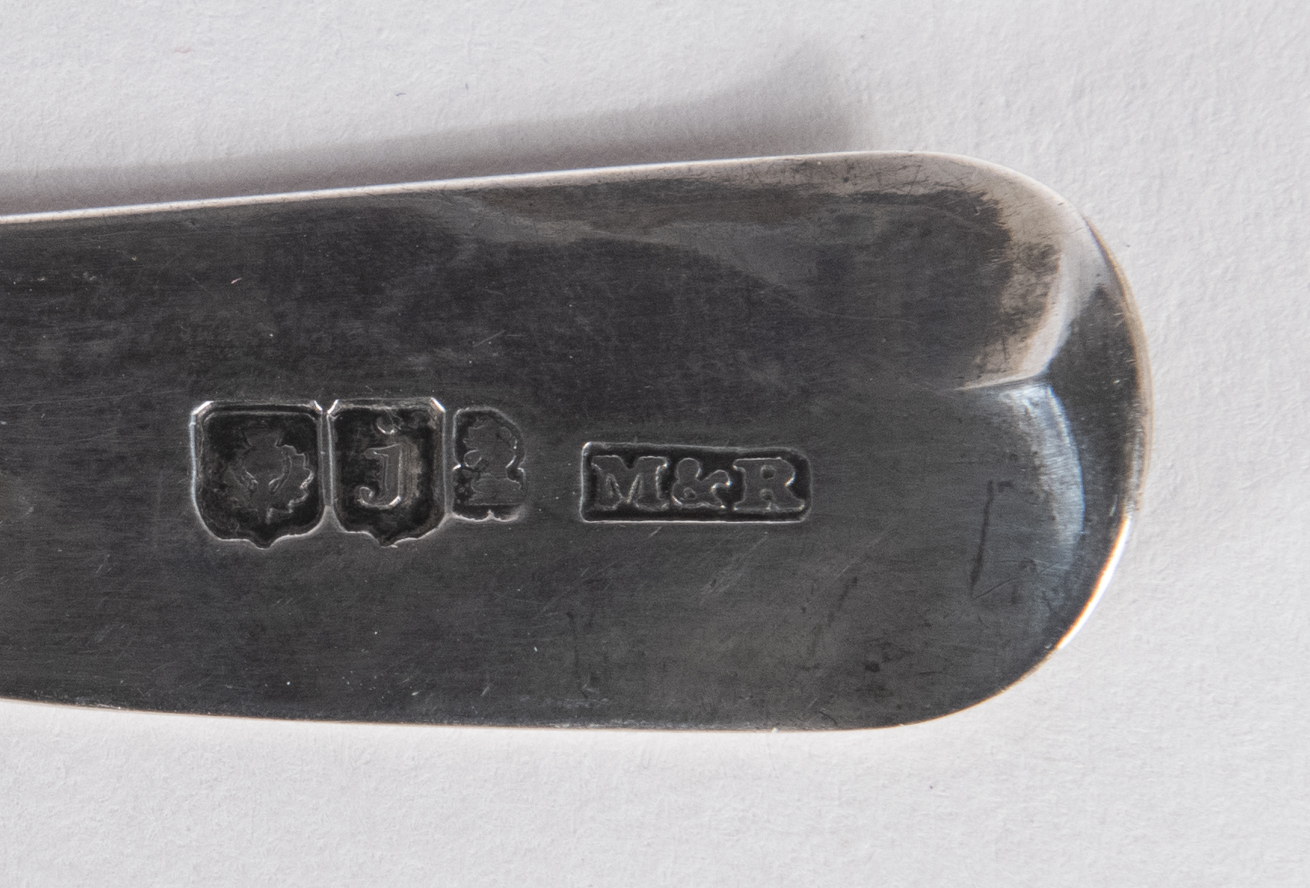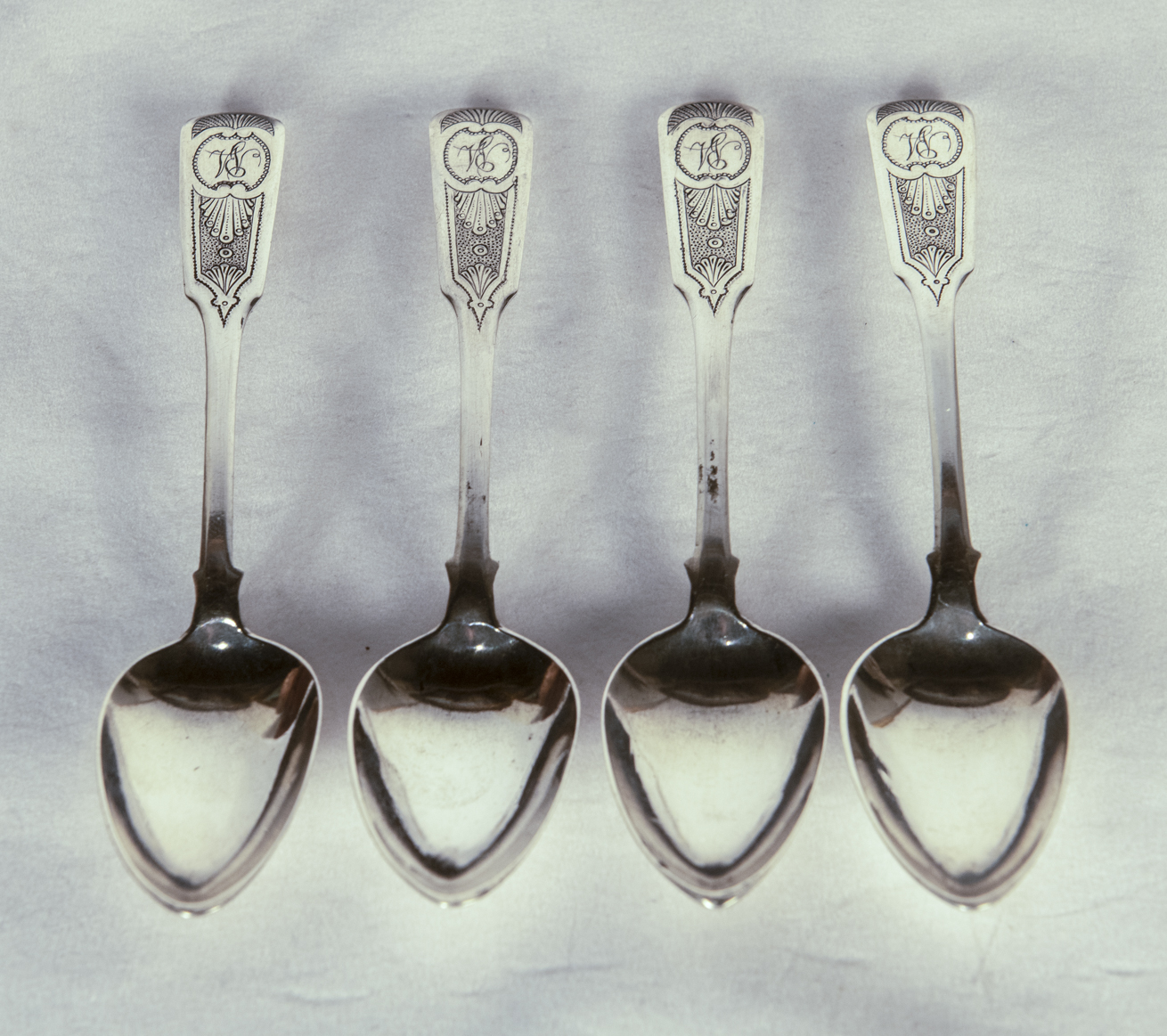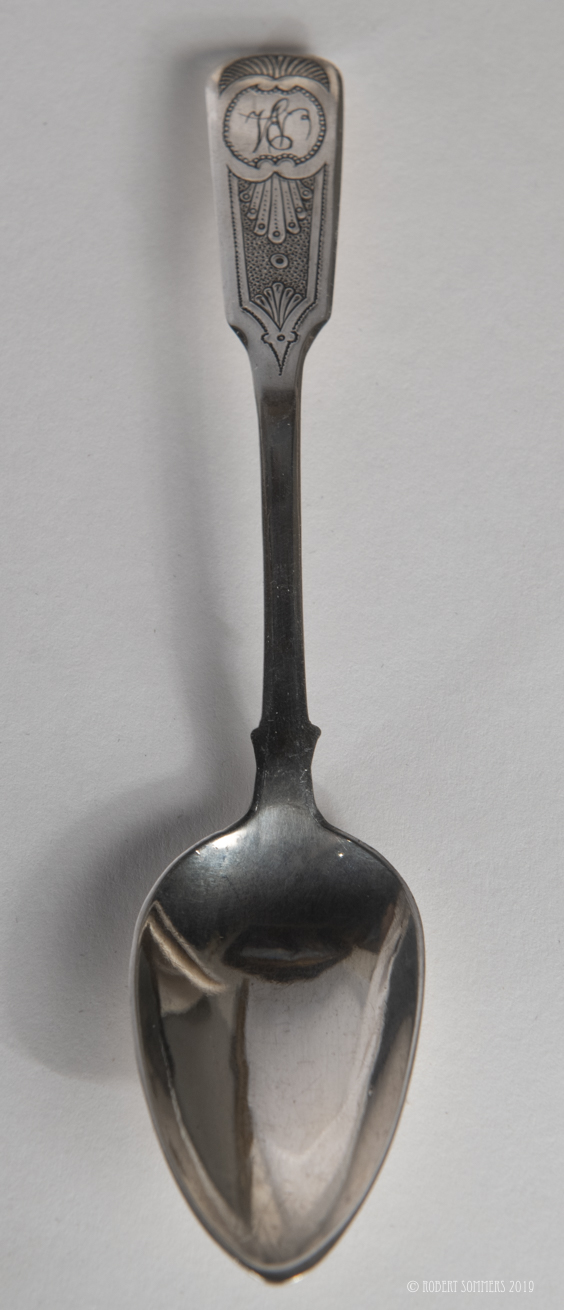 Four Mitchell and Russell brightcut sterling silver teaspoons
Edinburgh, 1815
with hallmark
approx. 5&7/16″ long
price on request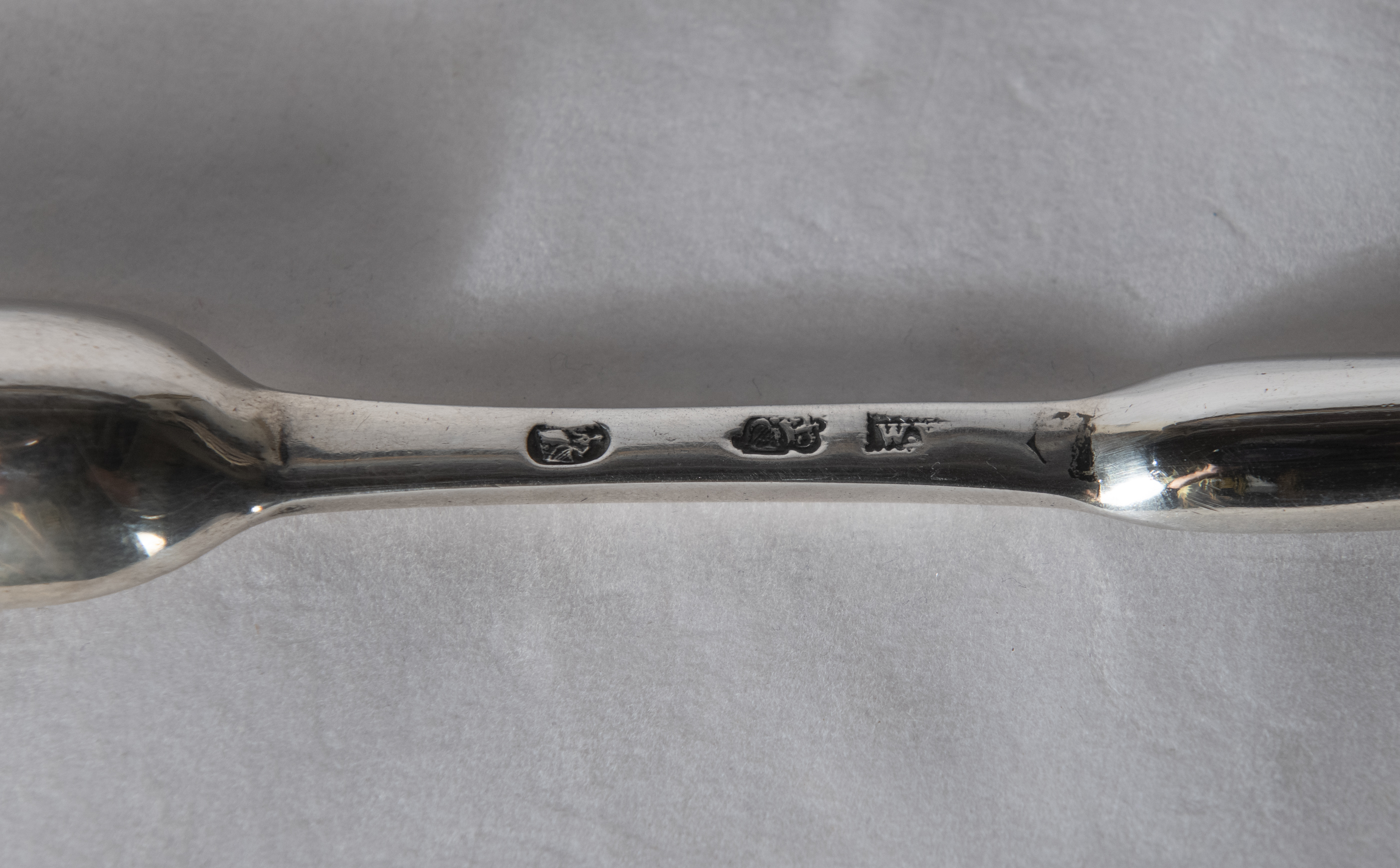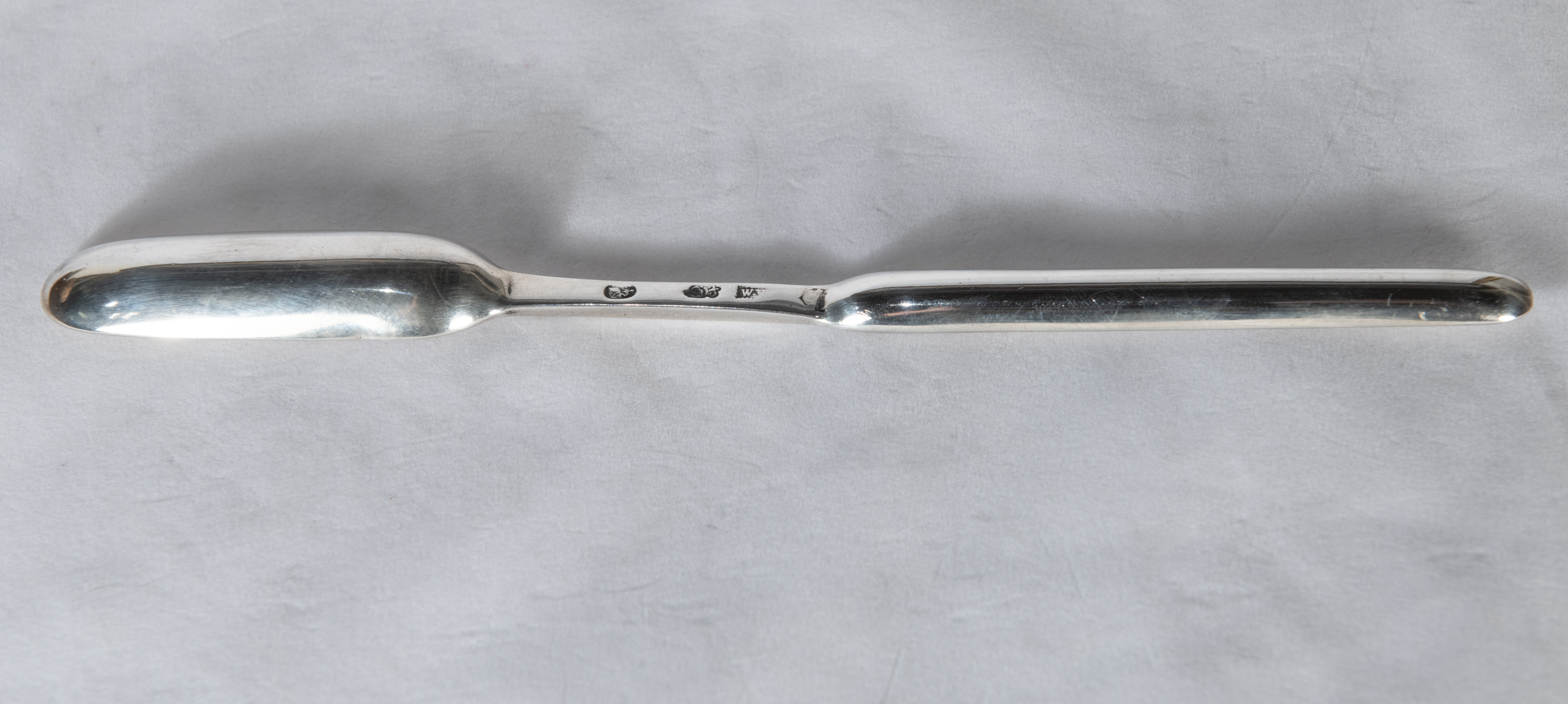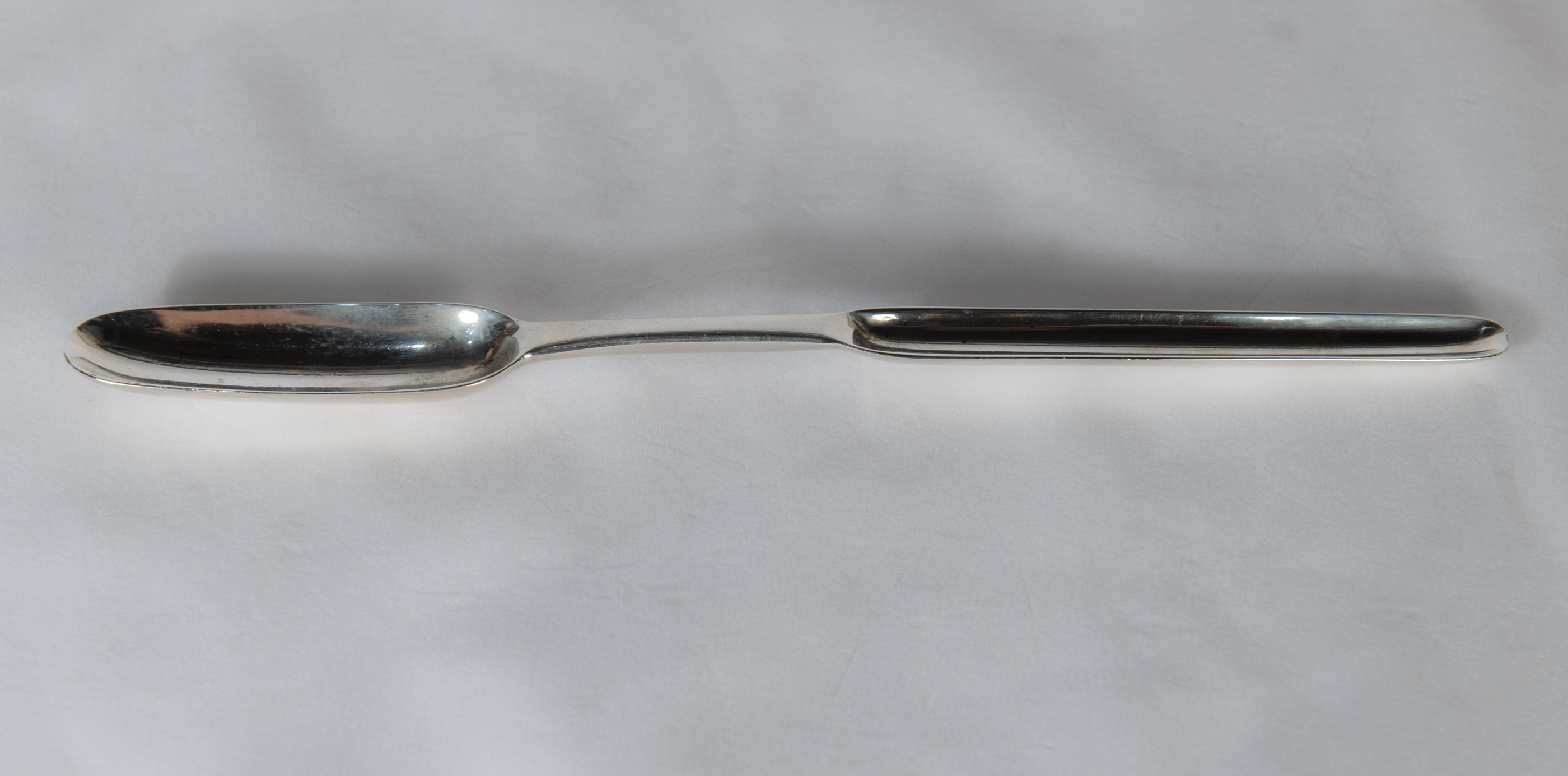 William Ward (1766-1826)
Sterling Silver Double Marrow Spoon, Dublin
9 & 3/8″ long, 54.4 grams
needs polish, gorgeous
date mark obscured
$475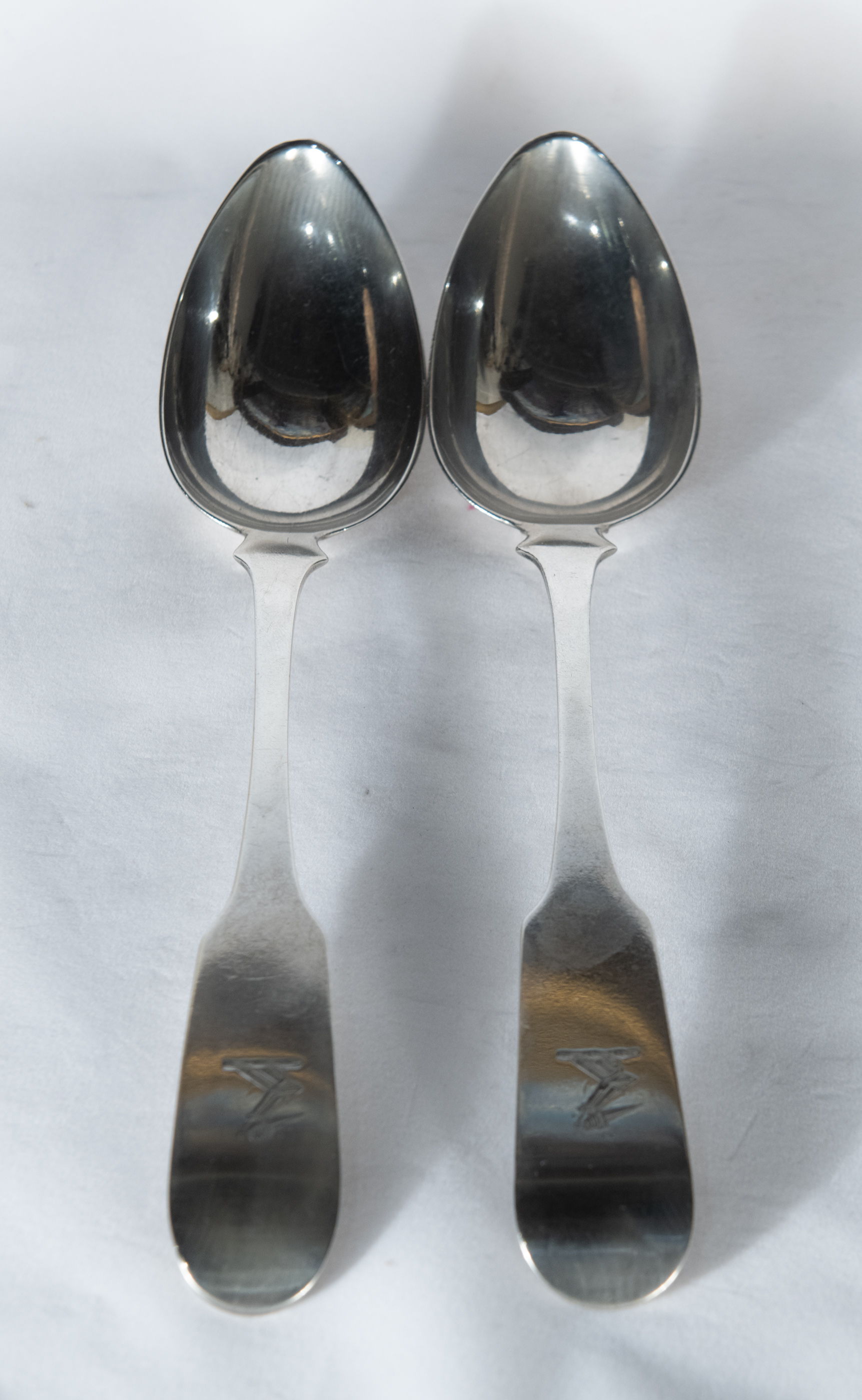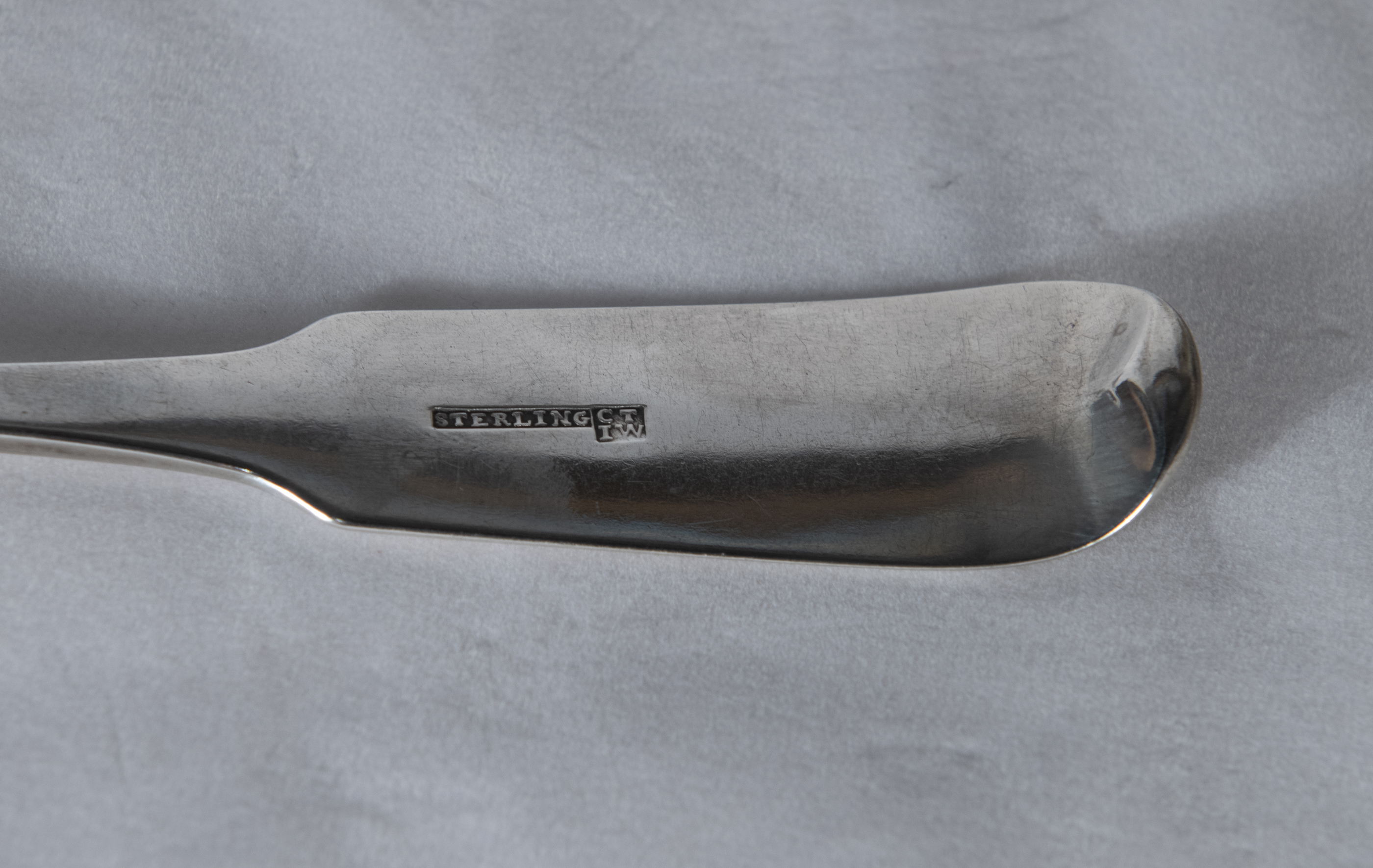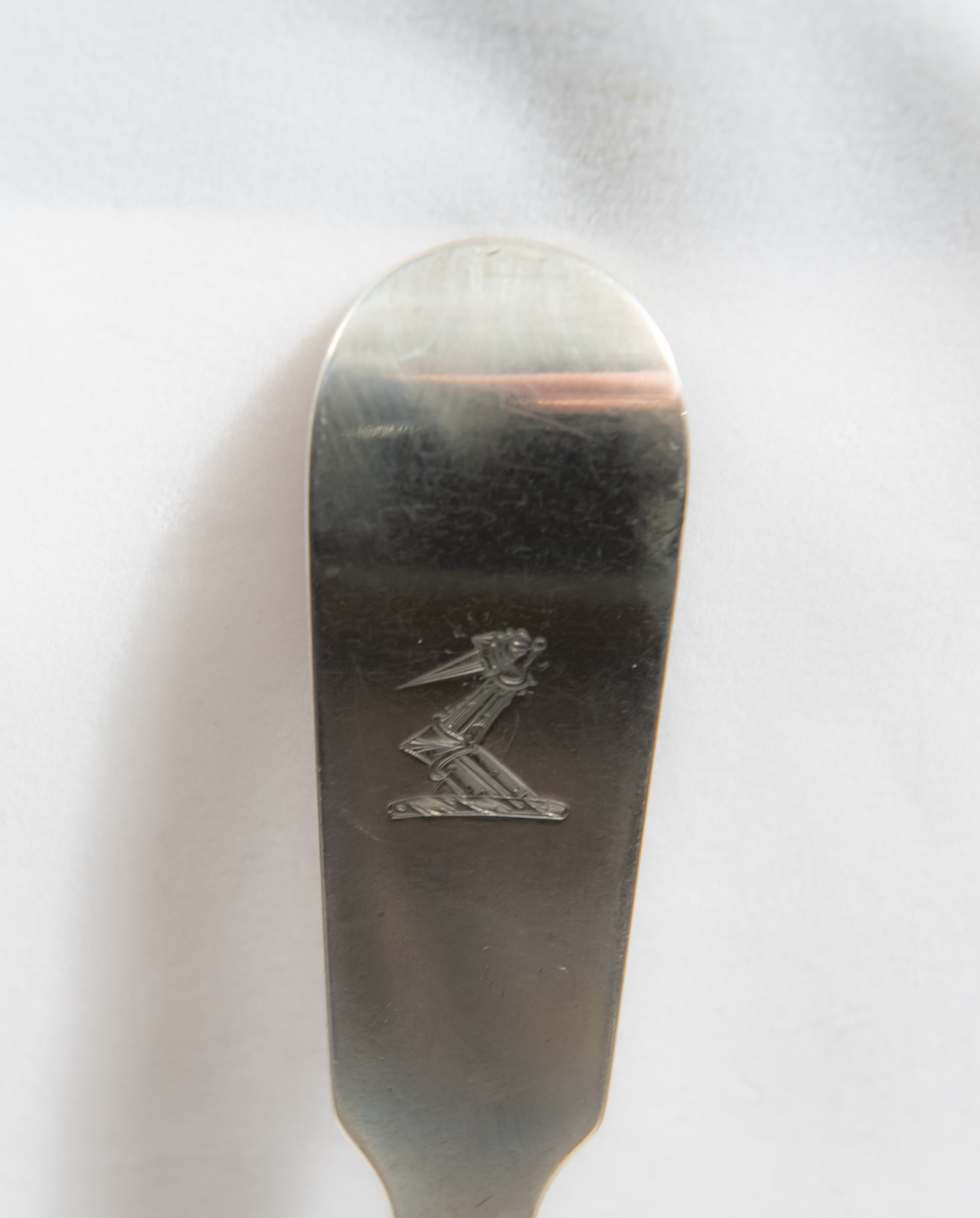 Carden Terry and Jane Williams, Cork
two sterling silver serving spoons
fiddleback
69 and 65 gms. respectively, 9 & 1/4″
1807 hallmark
engraved with mail and dagger family crest, possibly Puxley
$450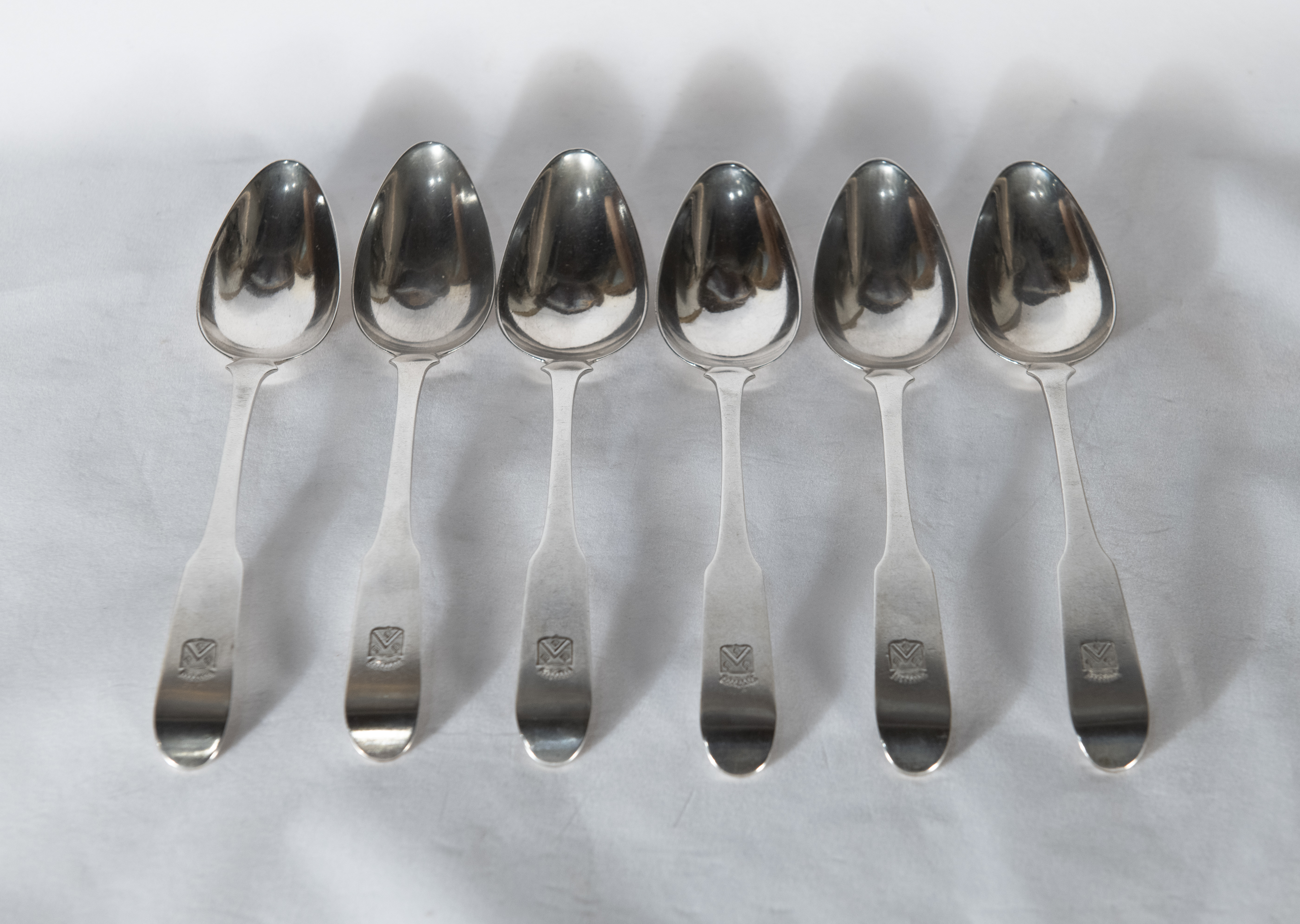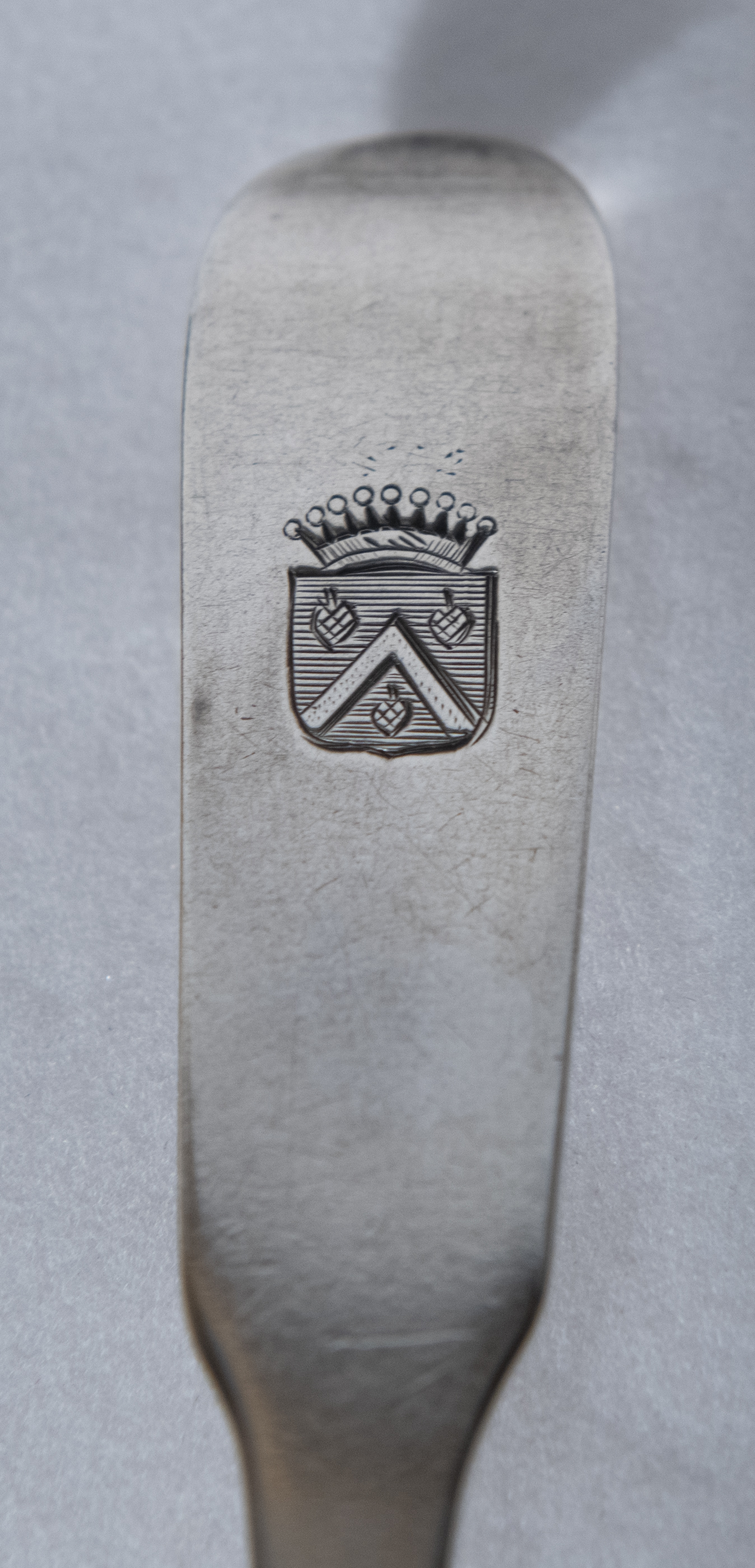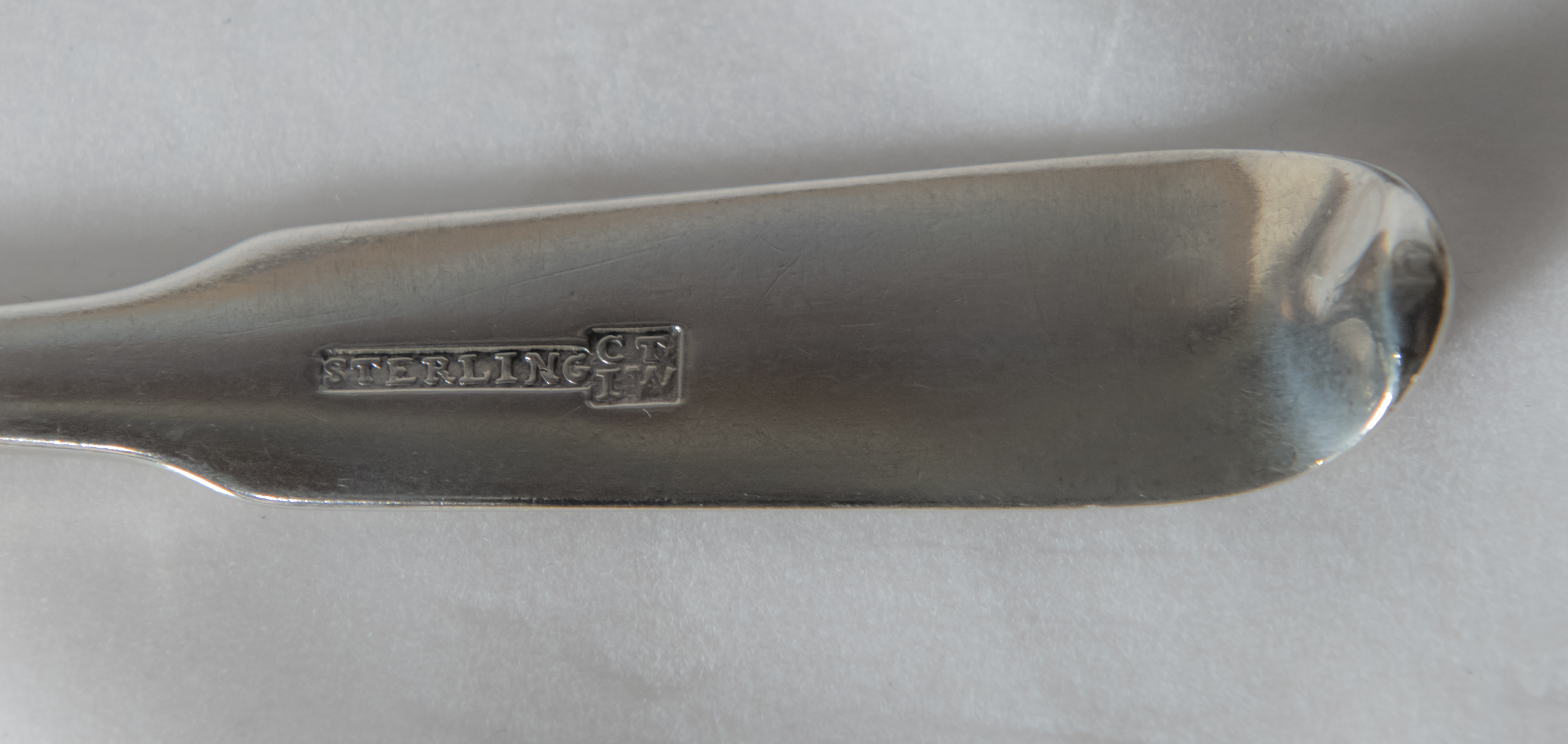 Carden Terry and Jane Williams
six sterling silver spoons in the fiddle pattern
with 1807 hallmark
7 & 1/8″ long, approx. 30 grams per spoon
needs minor polishing, excellent shape
Cork father and daughter
$650
Two salt spoons
Joshua Buxton, Dublin
1821
4″ long , 20.9 gms
one spoon's hallmark partially obscured
crown family crest monogram on handle
$300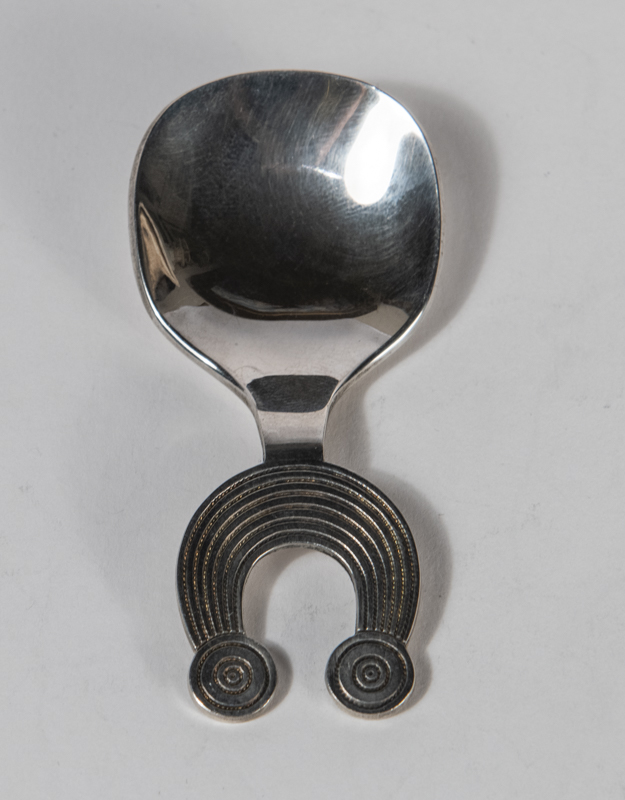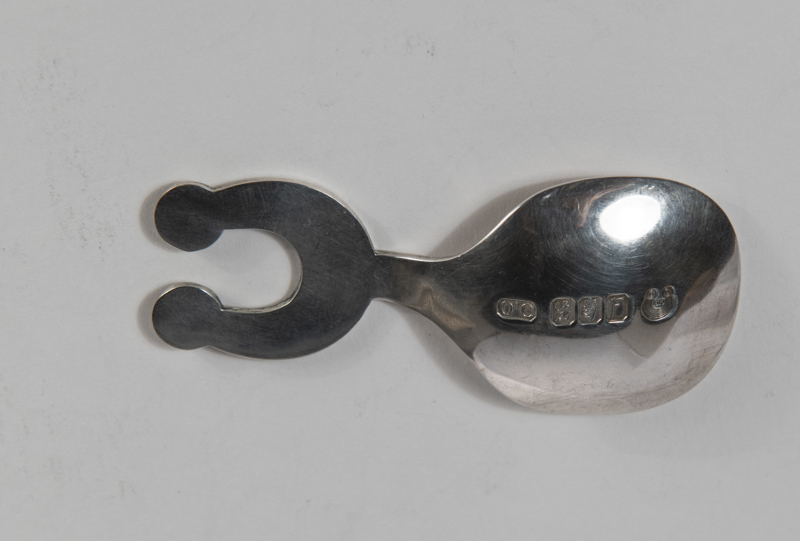 Thomas O'Connor
Gleninsheen collar sterling silver caddy spoon
1973
32.2 gms
approx. 3&1/8″
$175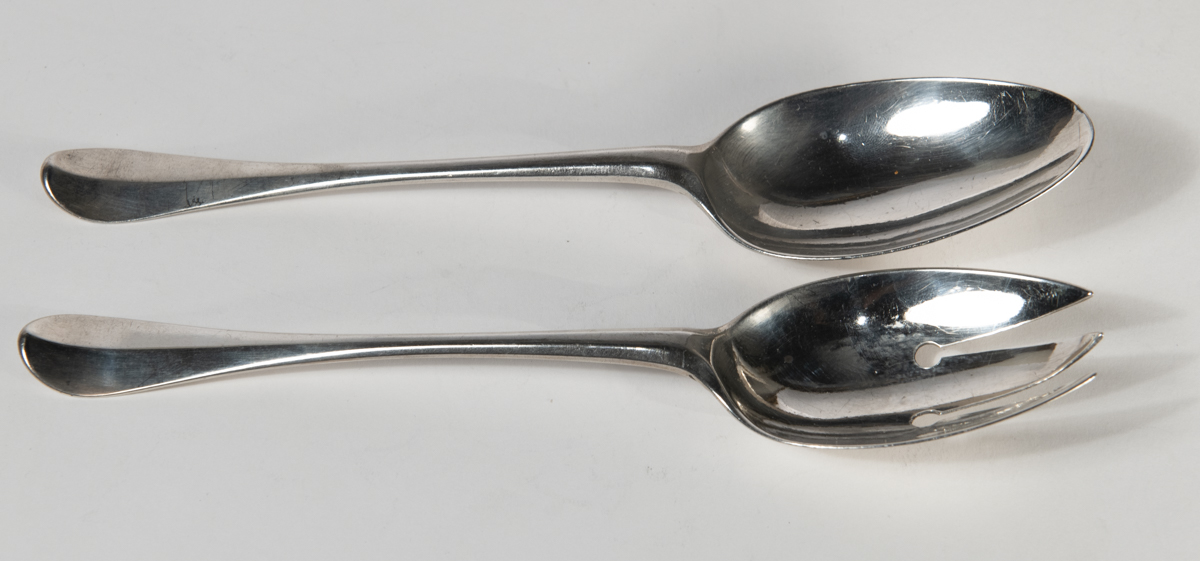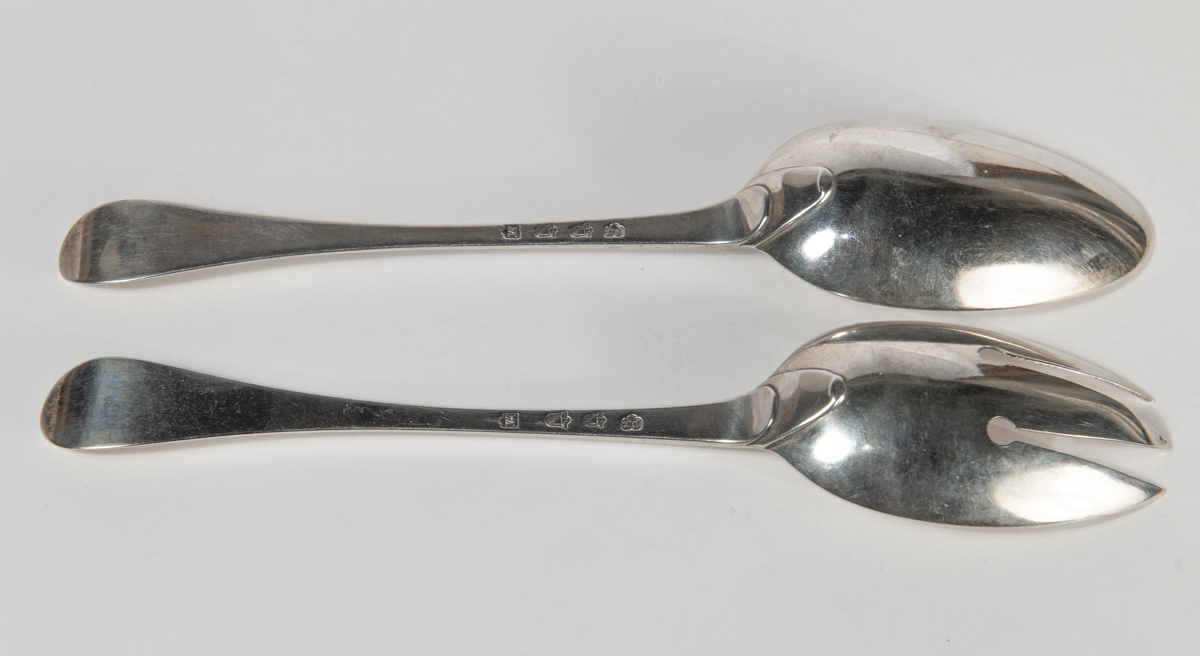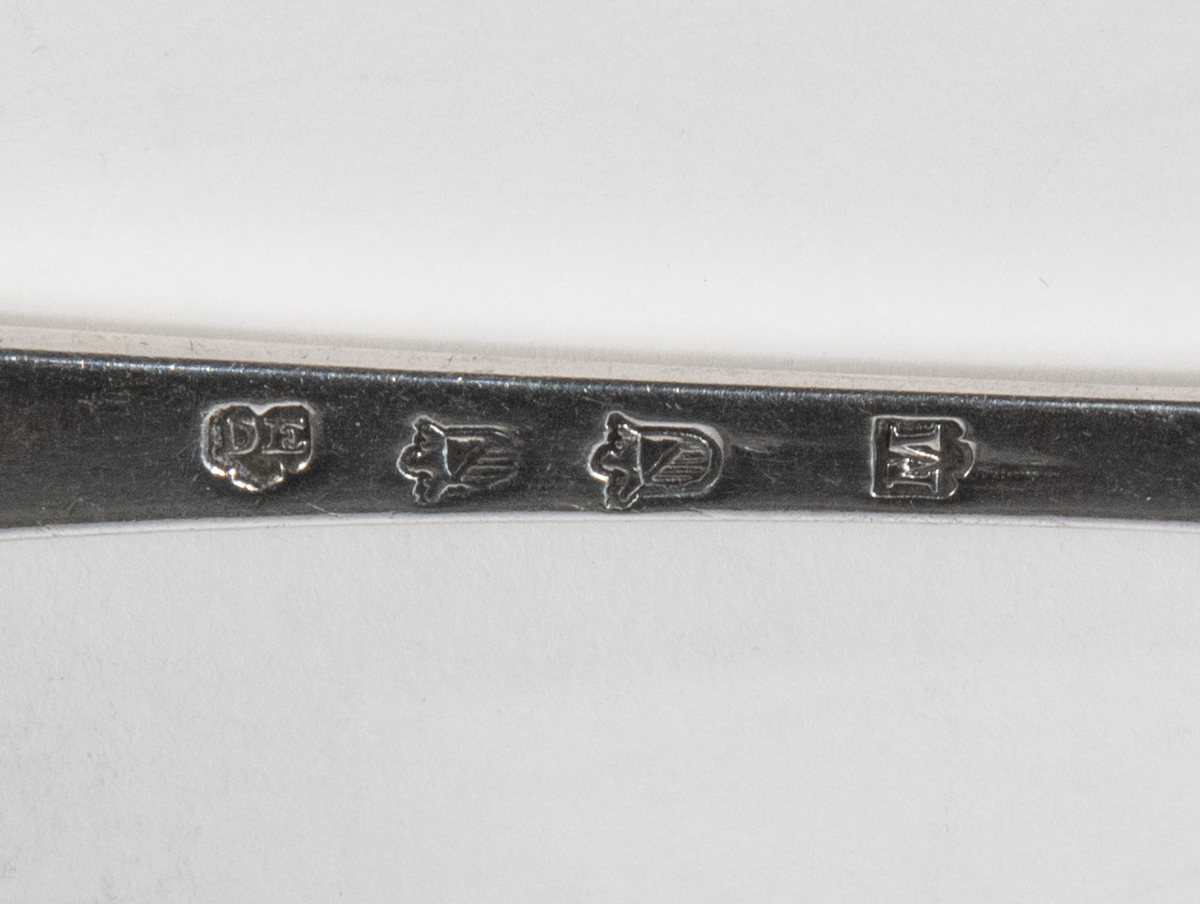 Two Dutch serving pieces, Dirk Egeling
Utrecht, 1795
934/1000 silver
125 gms.
8 & 1/4″
de in trefoil cartouche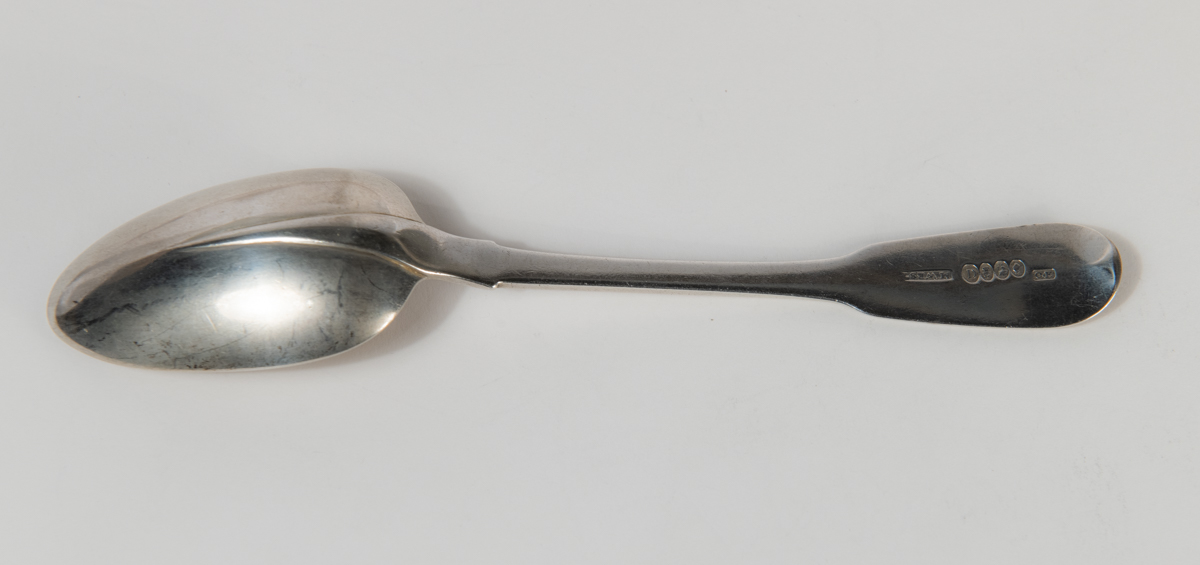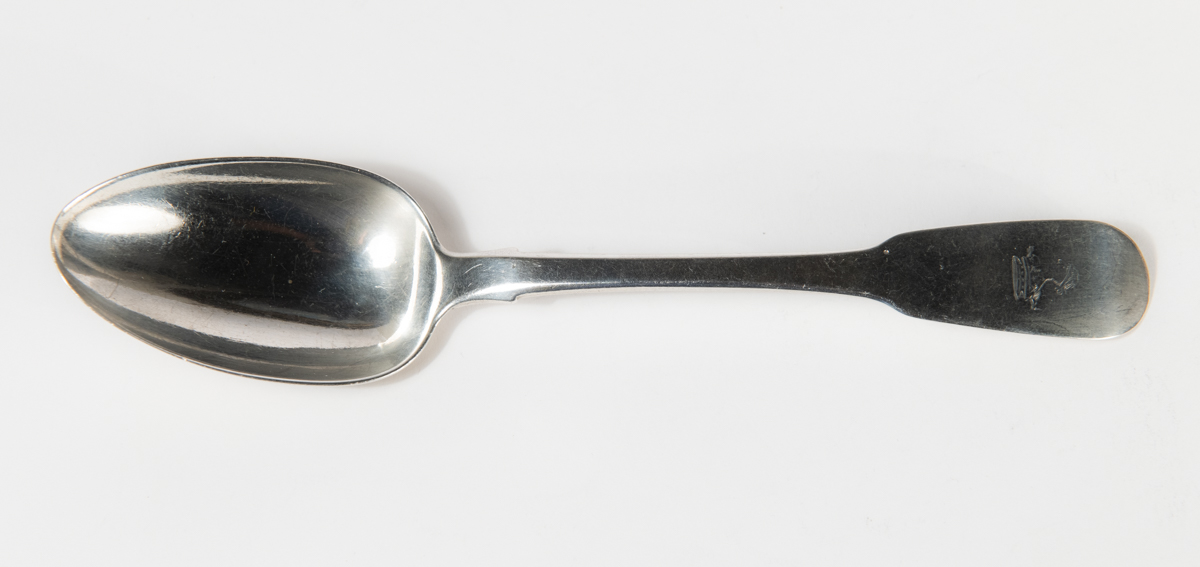 Christopher Eades sterling silver tablespoon
Dublin, 1824
sterling silver 41.5 gms.
M.West retailer mark
approx. 7 & 1/4″
$100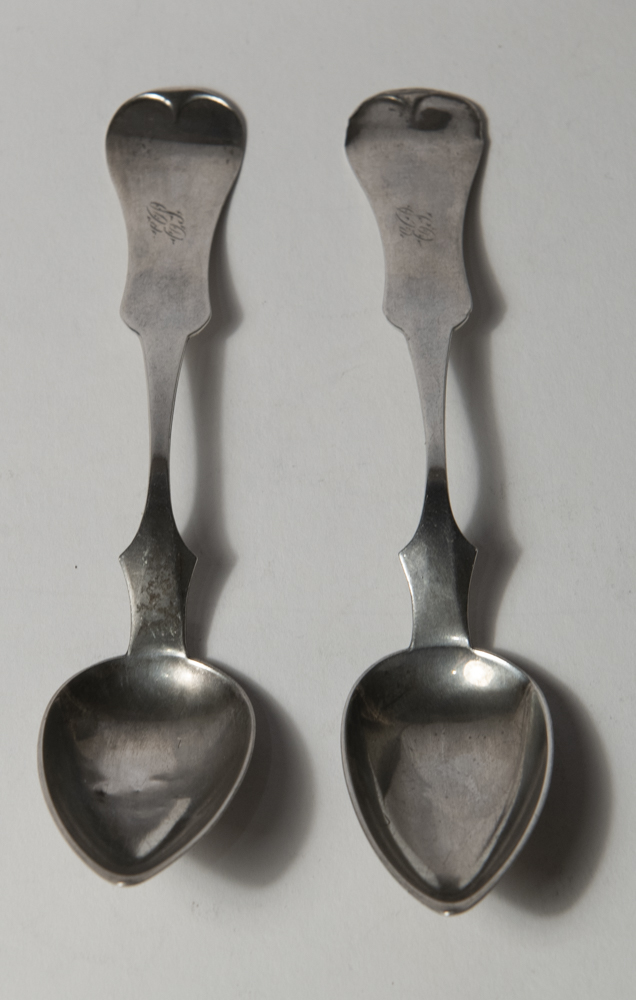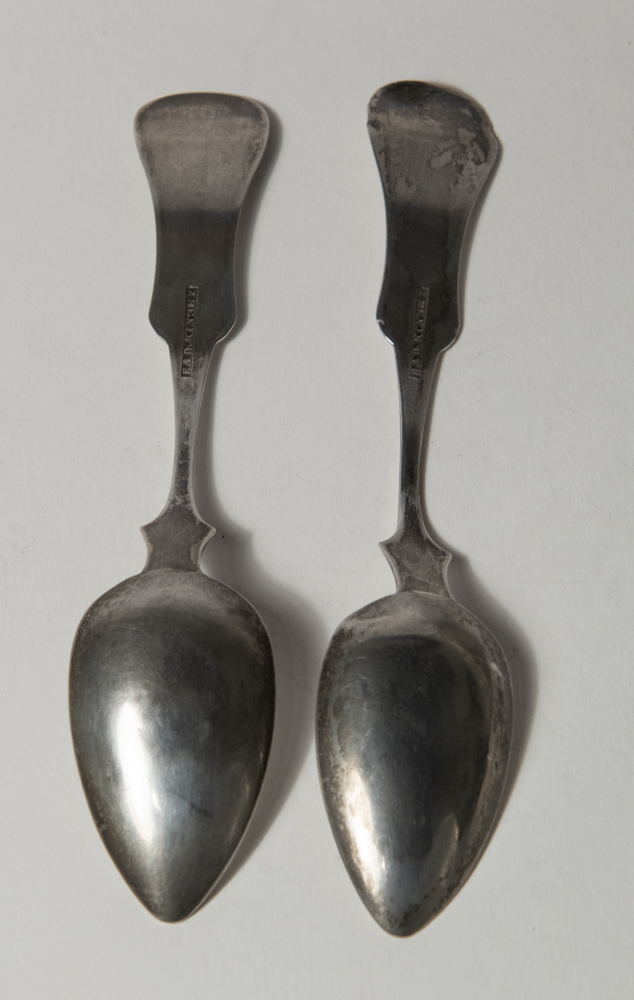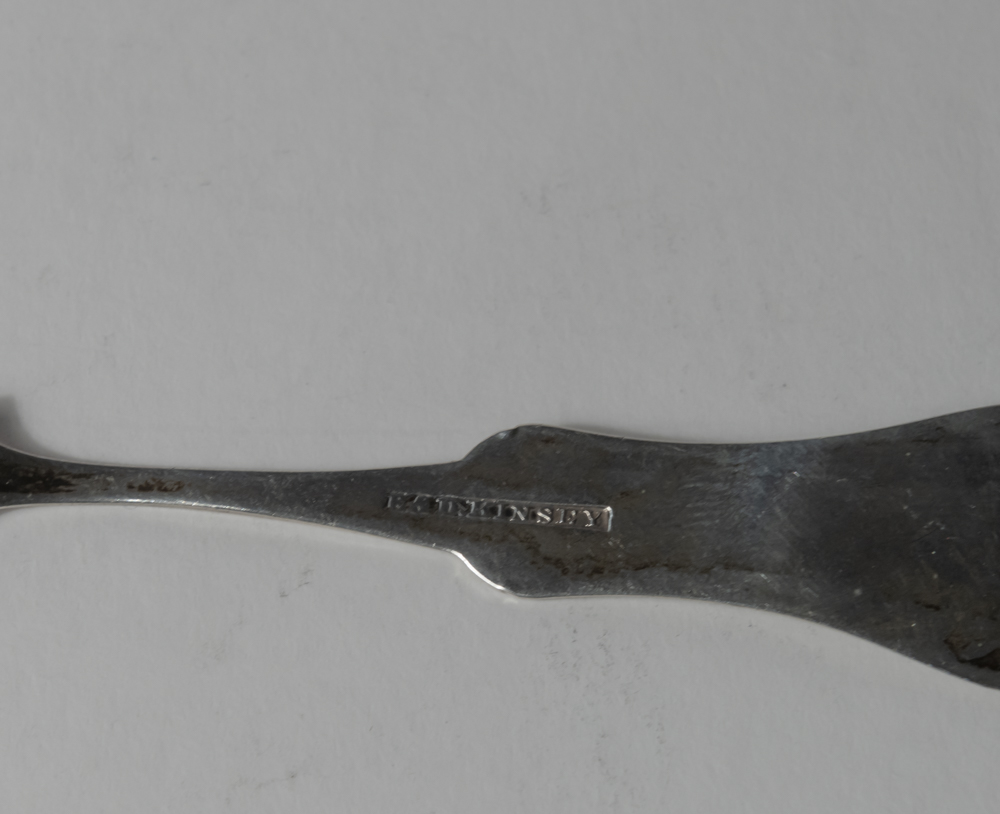 Edward and David Kinsey
two sterling silver teaspoons
circa 1850
6″ long, monogrammed
$200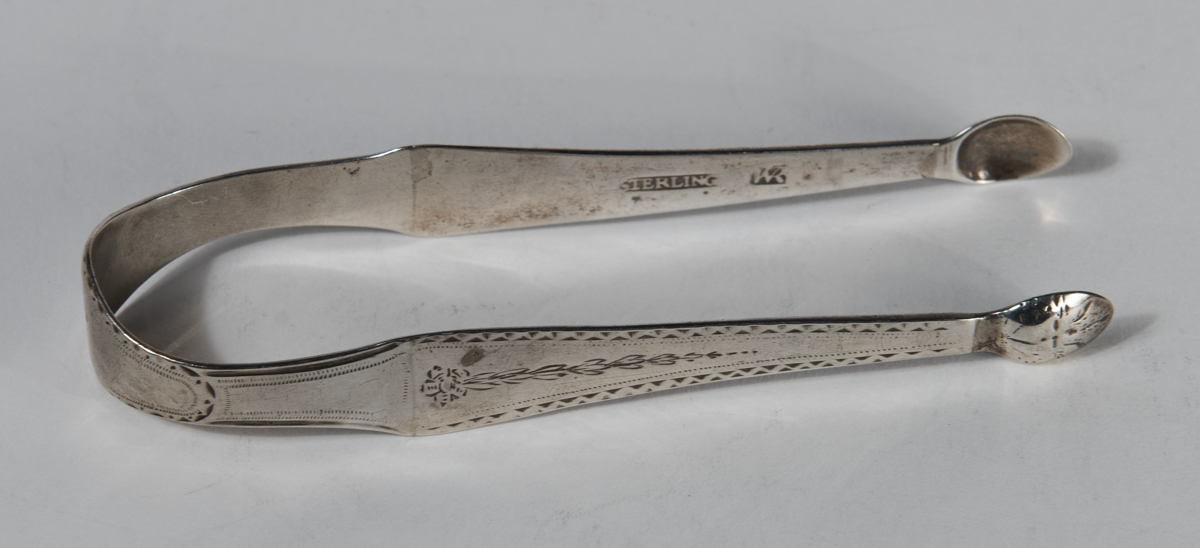 William Reynolds Jr., Cork
circa 1790
Sterling silver sugar tongs
4 & 3/4″ long
$275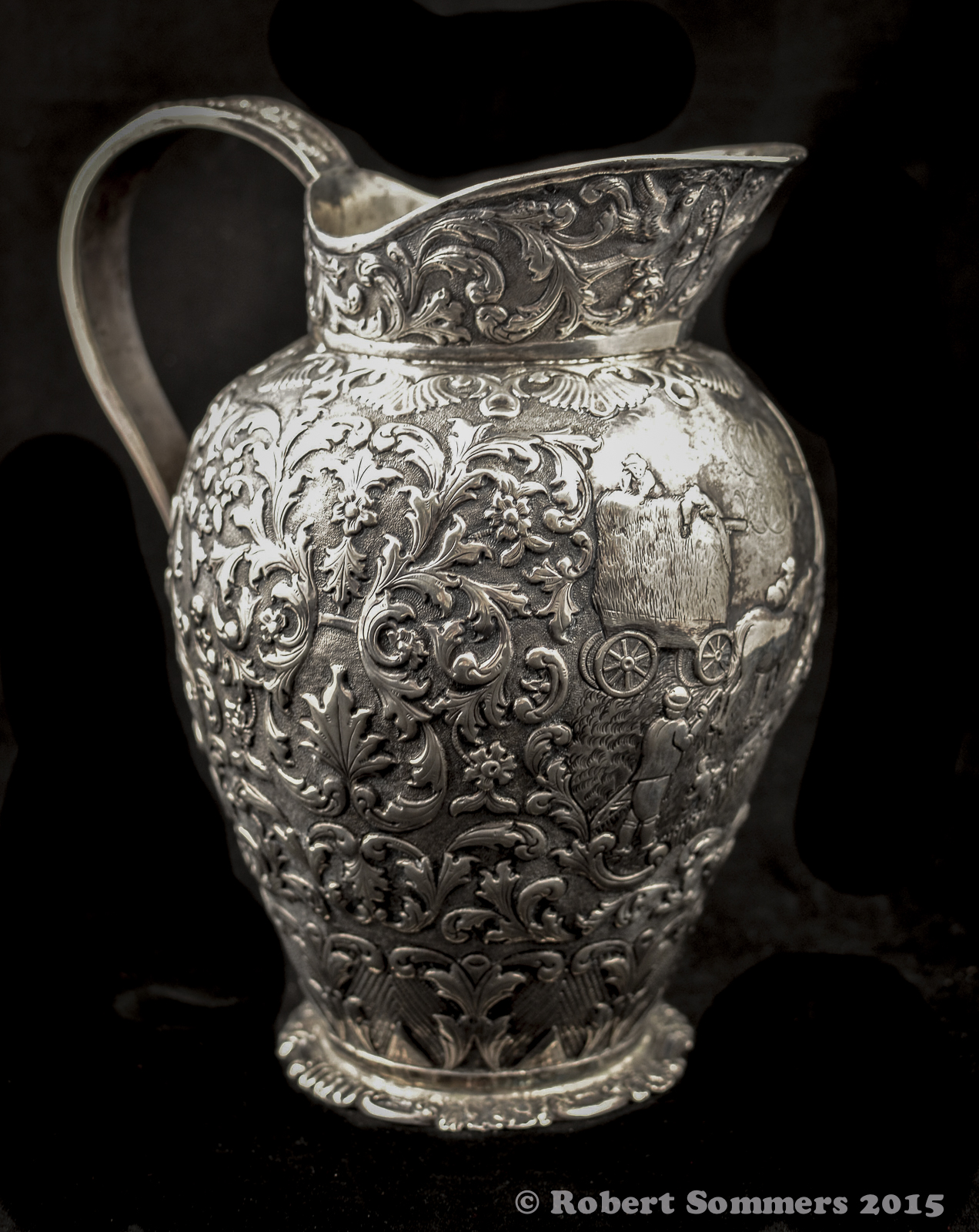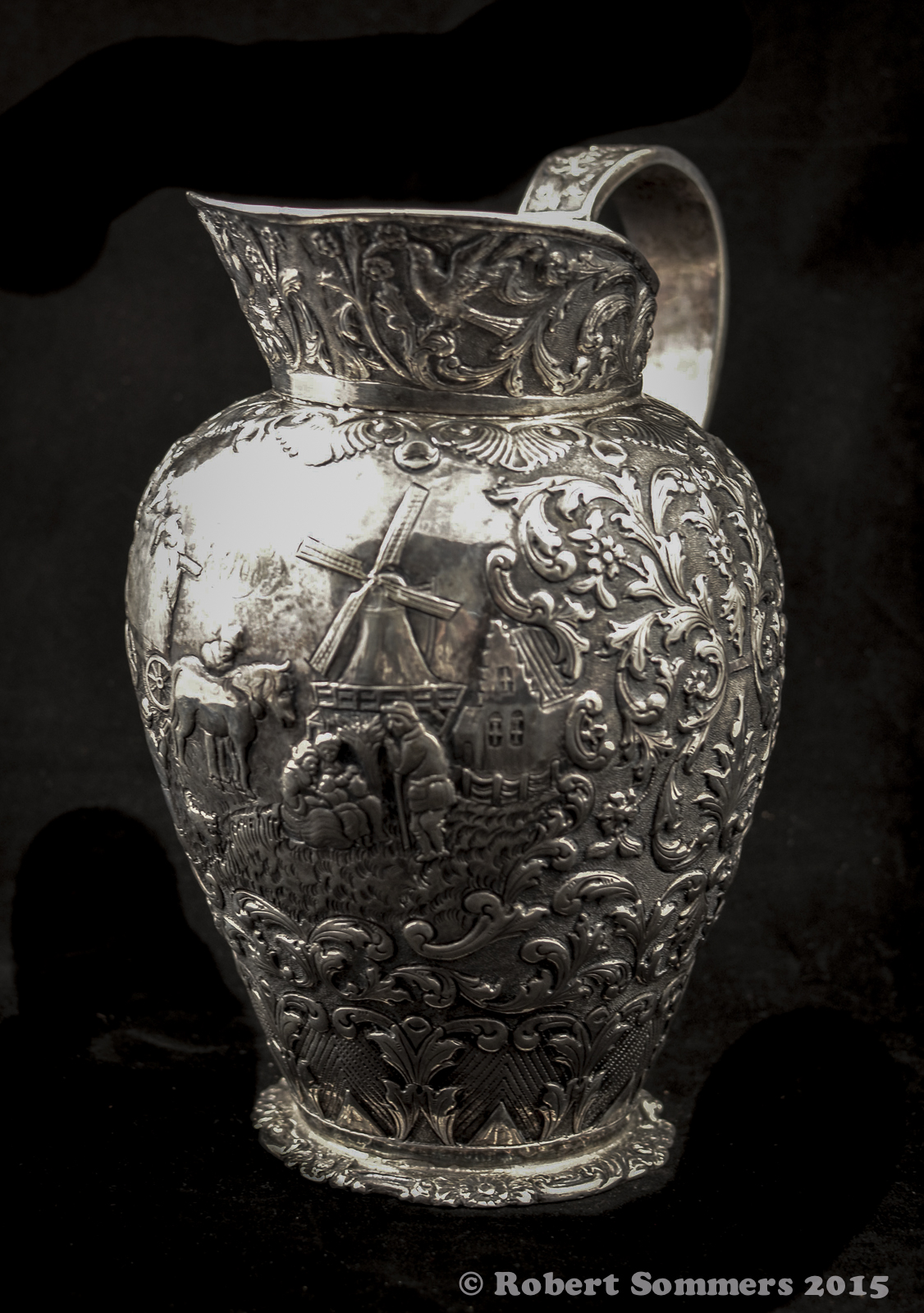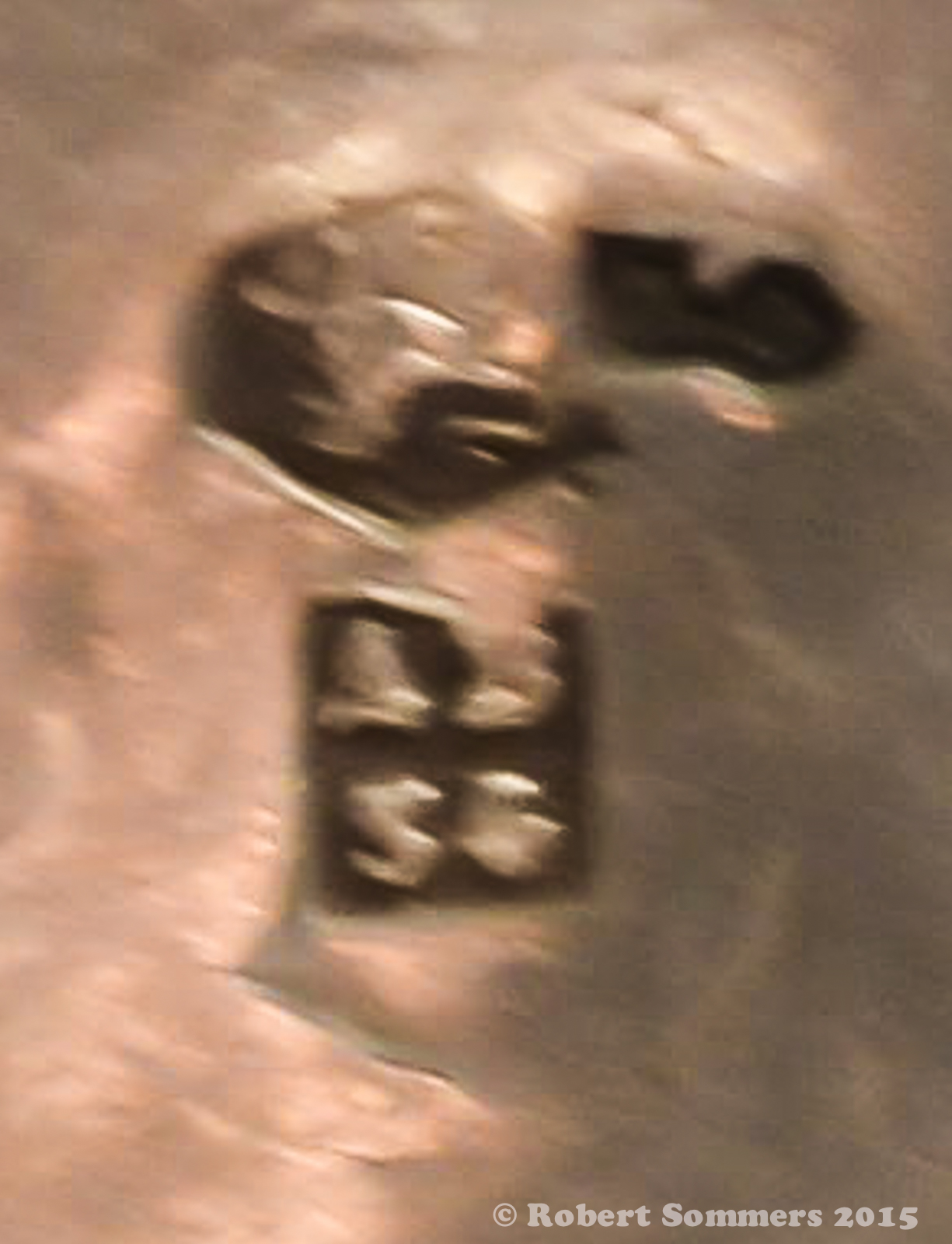 This is a wonderful new addition, a large and handsome 19th century dutch silver pitcher. It measures approximately 9 x 7″ and its workmanship is incredible and highly chased, worked and detailed. The pitcher was made in the town of Sneek, Netherlands by the maker Alte de Groot Boersma, sometime between 1875 and 1909.
At first it fooled me, I thought it was a pseudo hallmarked piece from Hanau. But the windmill bothered me a bit so I actually did some investigation. Has the lion key export mark on the bottom with an ab 34 in a square cartouche. 715 g. Very minor denting. Price is sold
Another new piece in the shop is this coin silver child's cup by the southern silversmiths Edward and David Kinsey. It dates to between 1836 and the shop's closing in 1861. About 3&1/2″ tall, faintly monogrammed to Joanna Wood.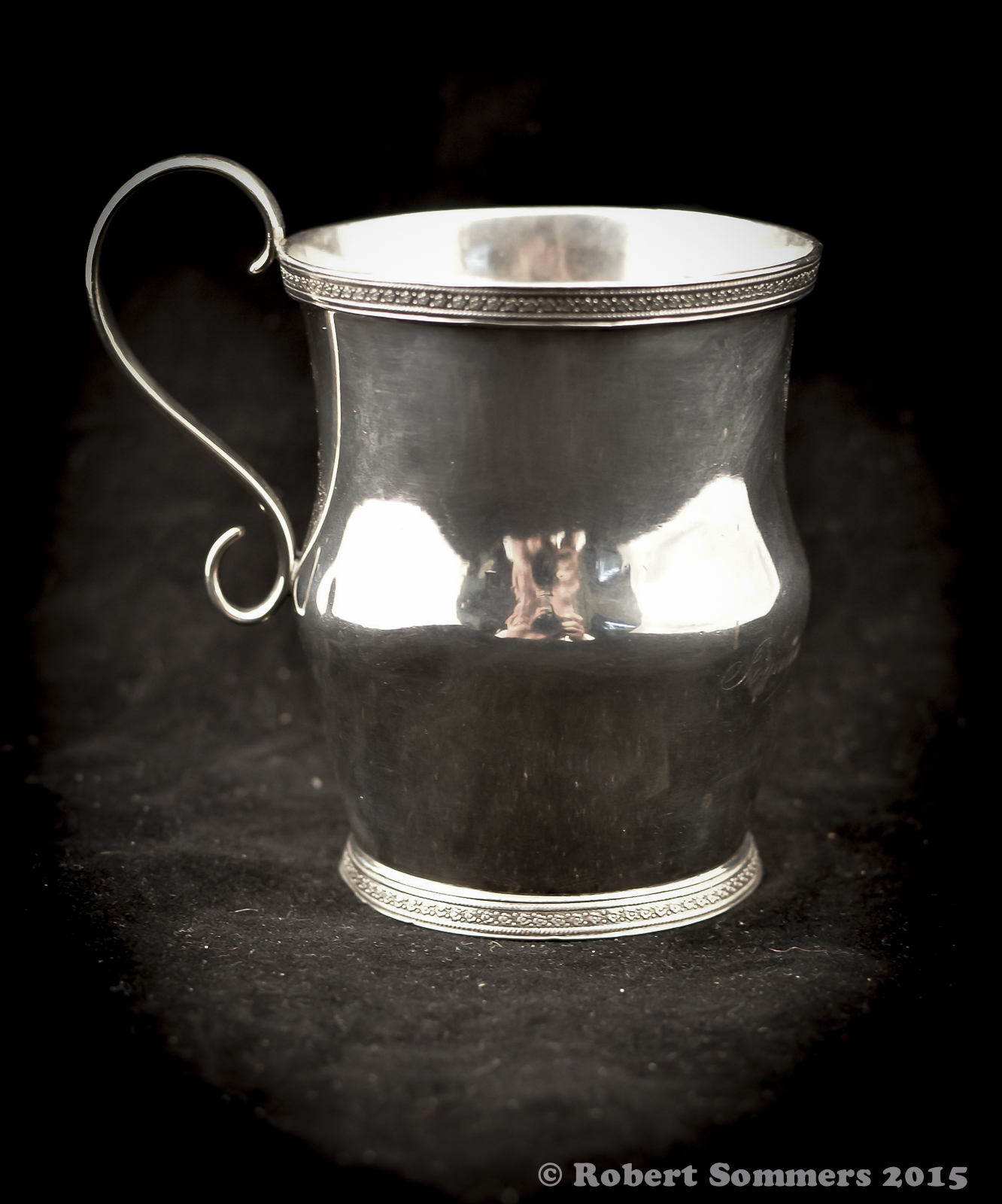 The Kinseys were silver makers in Cincinnati by way of Ashland, Kentucky. It is said that they were the largest silver makers in the entire midwest prior to the Civil War. This cup bears a beautiful eagle coin hallmark. Incredibly light and beautifully made, it exudes quality, from the silver itself to the tasteful and intricate foliate bands top and bottom. sold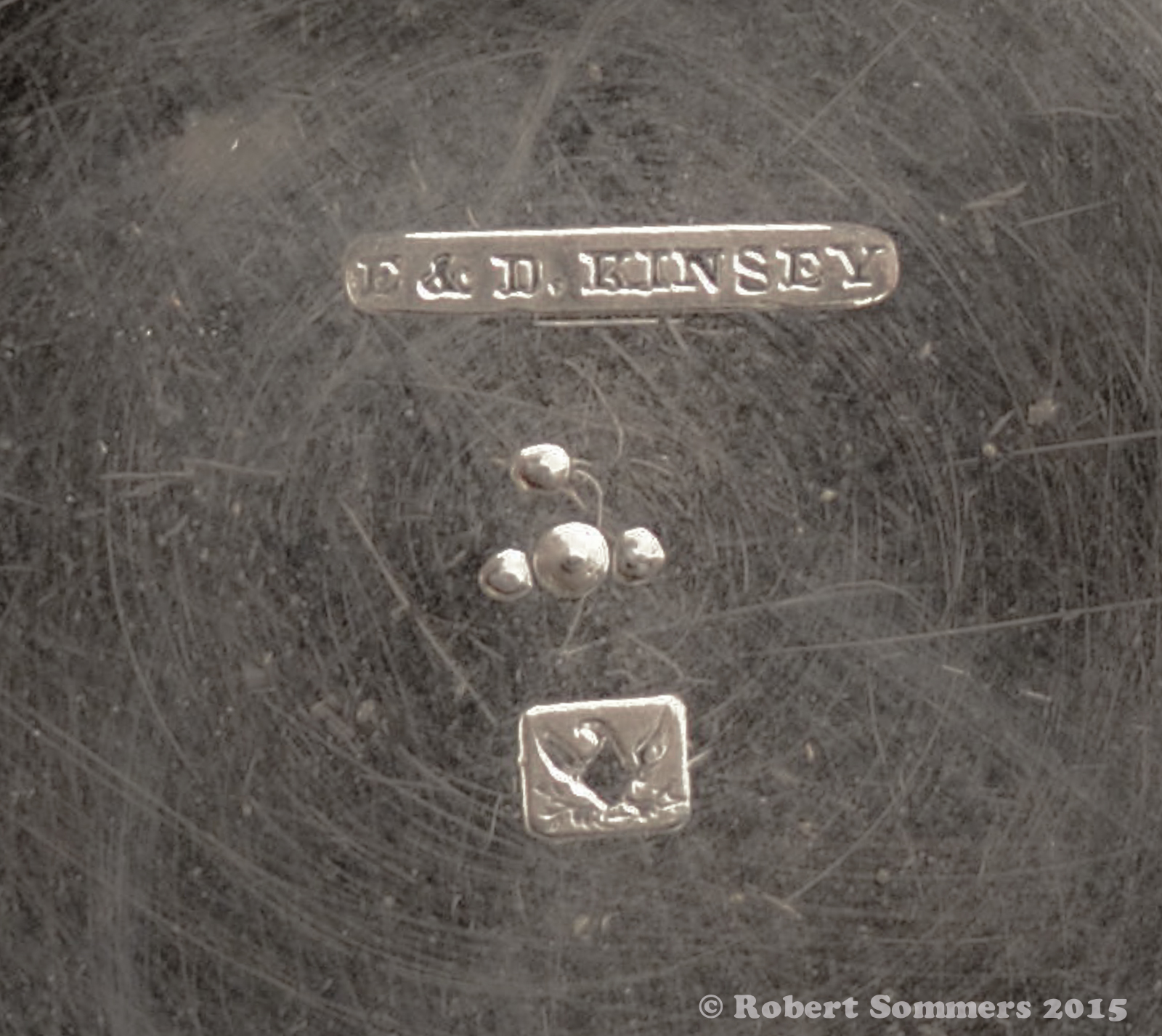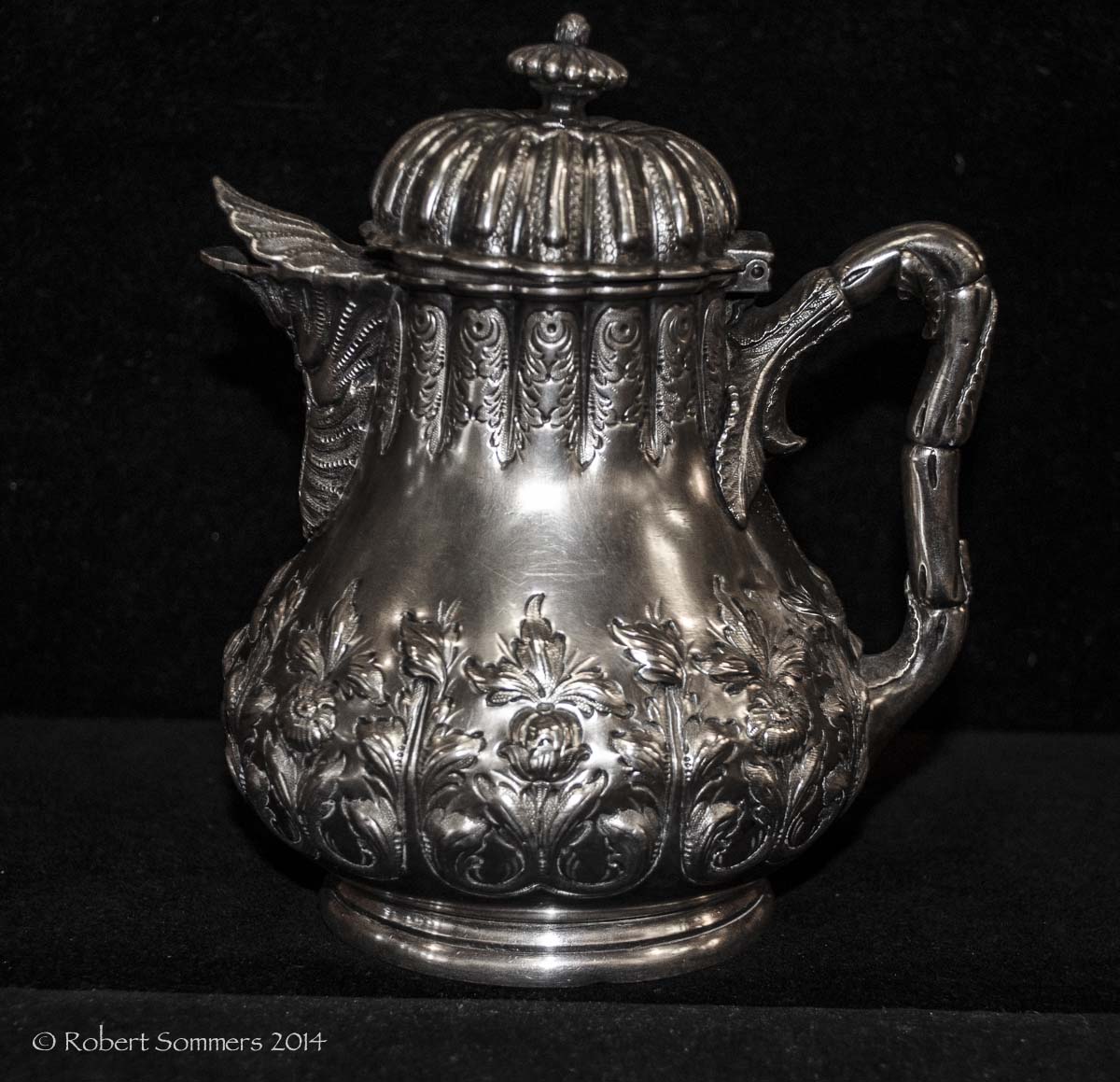 I lost this entire category to some black hole in cyberspace, give me a few  days to reconstruct. The milk pitcher that you see is coin, made by the  company Hayden and Whilden or at least retailed by them. They were a southern company most famous for making confederate swords. They were put out of business by the union blockade of Charleston in 1864. It is possible that the piece was actually made by the New York firm Grosjean and Woodward.
This vessel stands about 6&1/2″ tall. It is covered with wonderful foliate ornamentation and chasing. Perhaps the truncated handle is a palmetto? The spout has a wonderful green man, north wind type form. Just an outstanding piece of period American silver. sold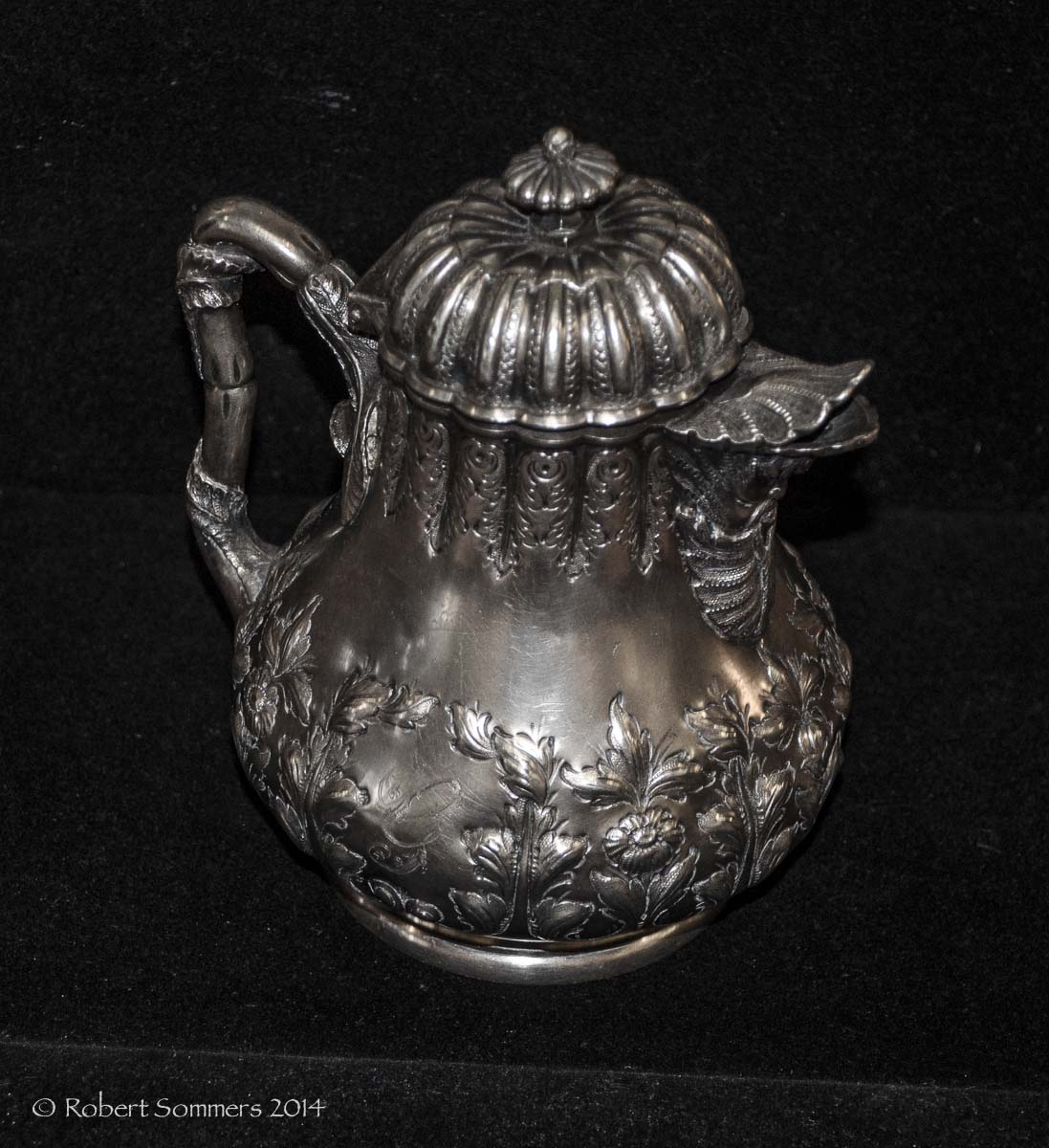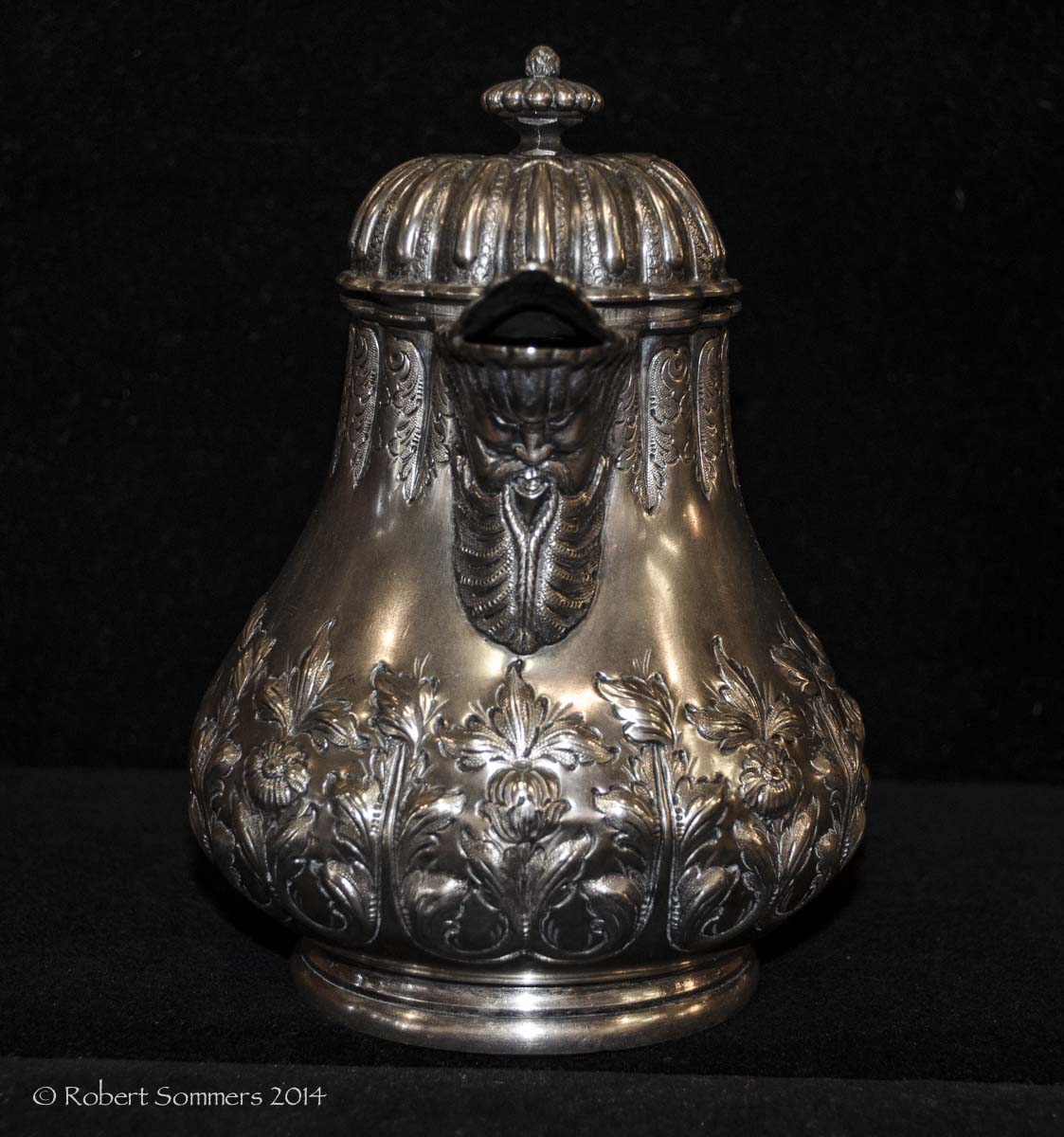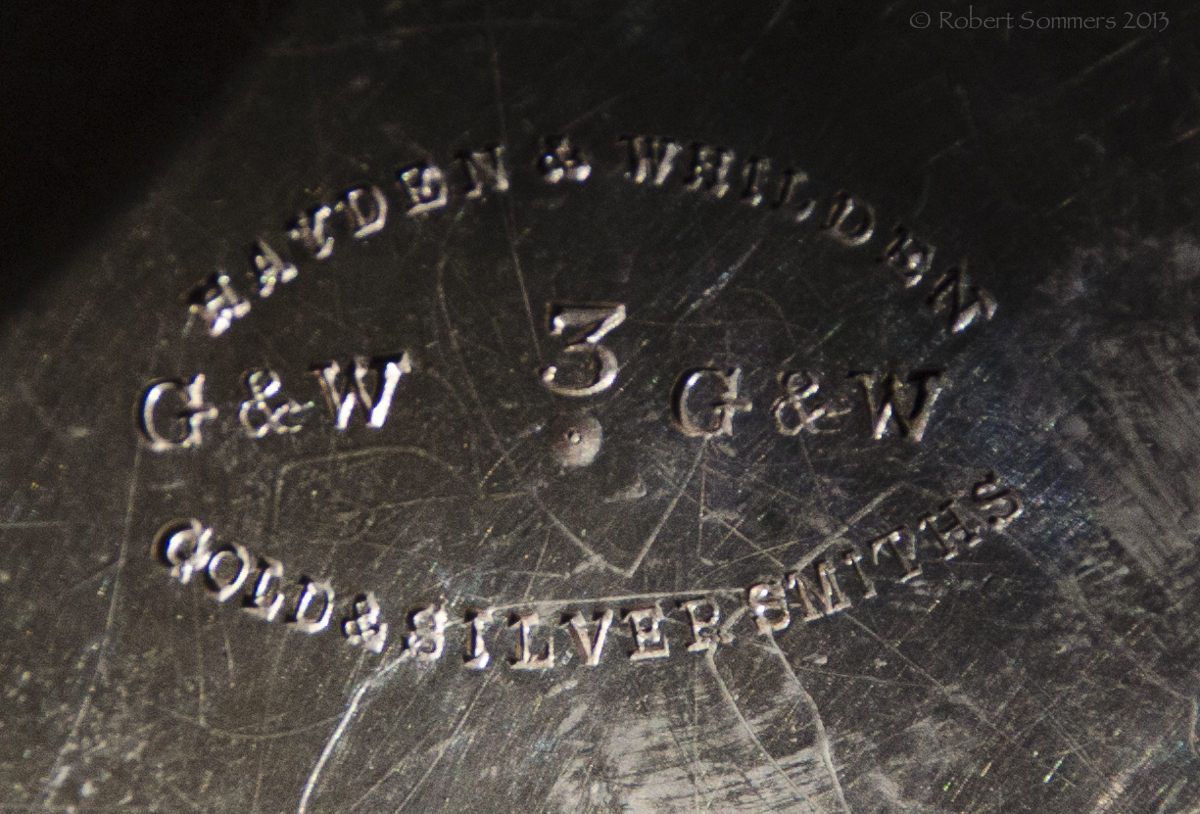 Gorham Versailles gilt vermeil fish service. Fork – 8″ knife 10&1/2″ sold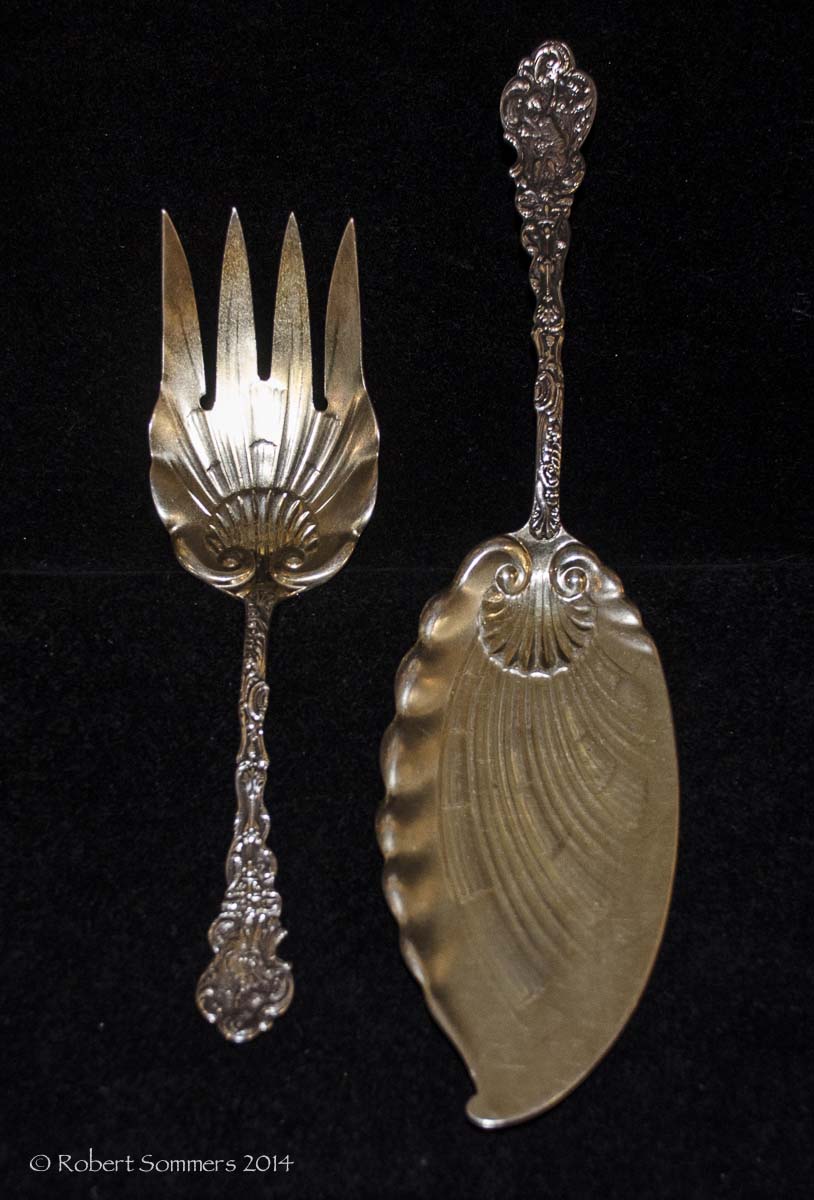 Shiebler sterling aesthetic period hand hammered napkin ring with bug sold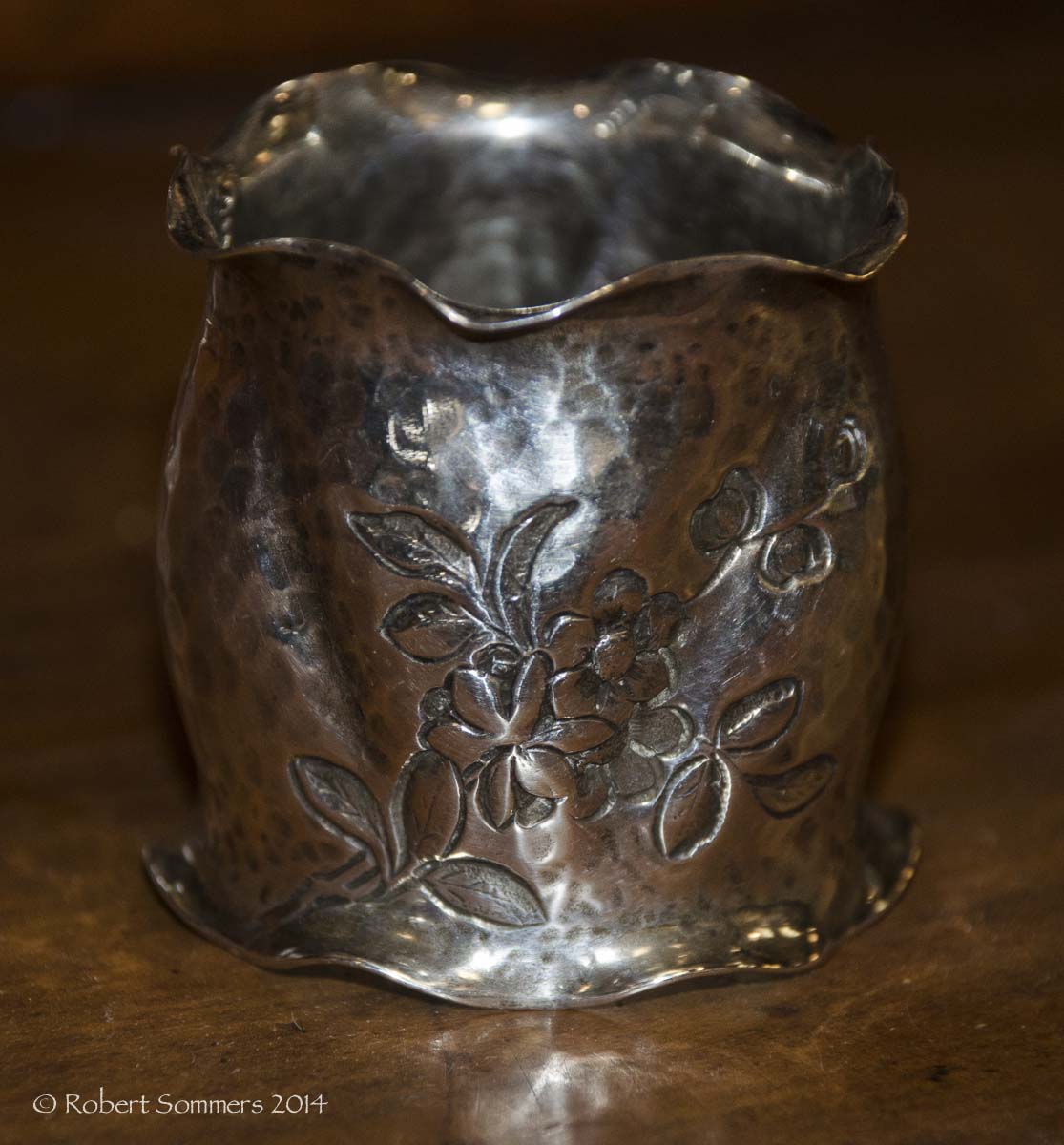 Chinese export silver cigarette case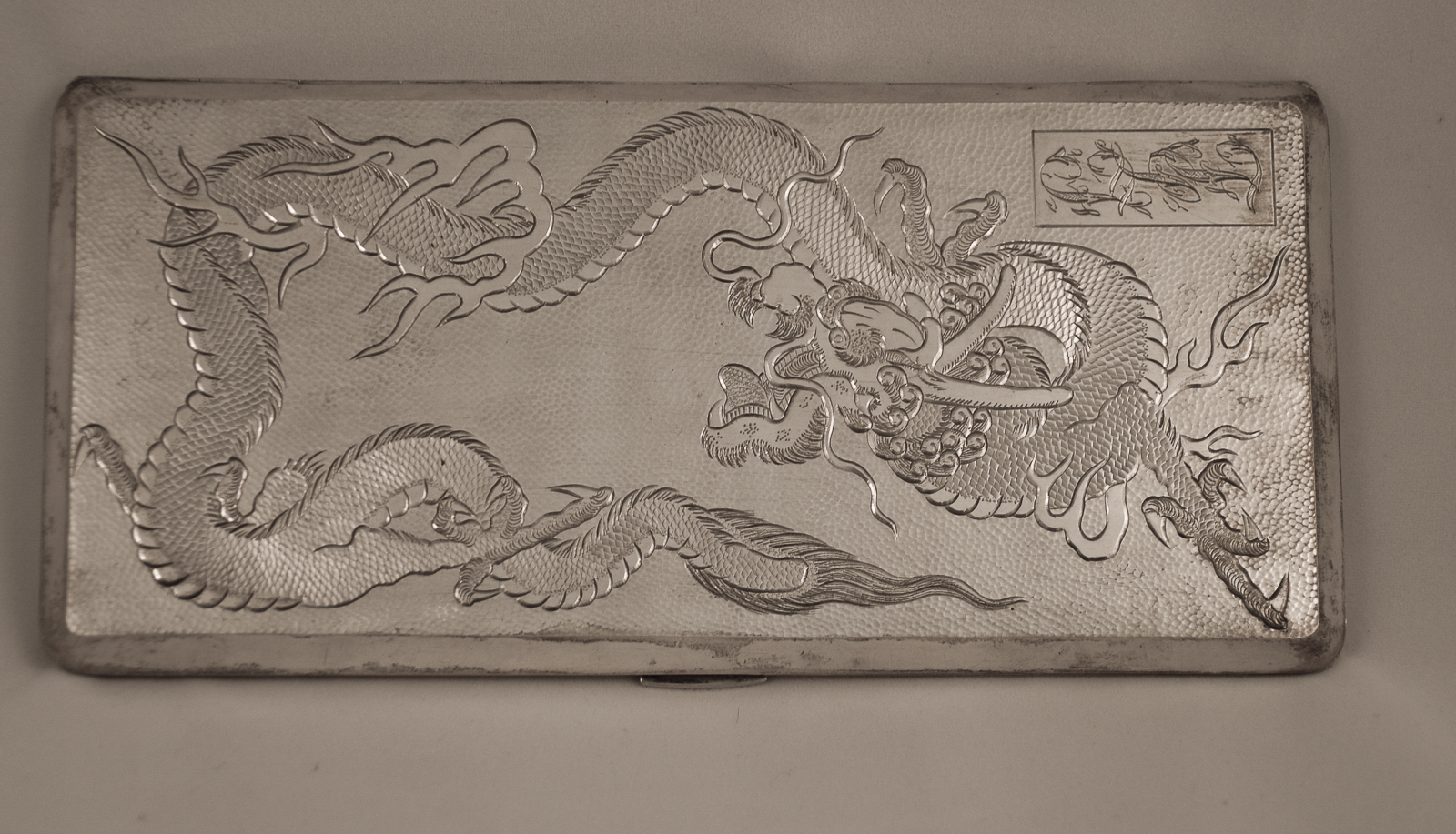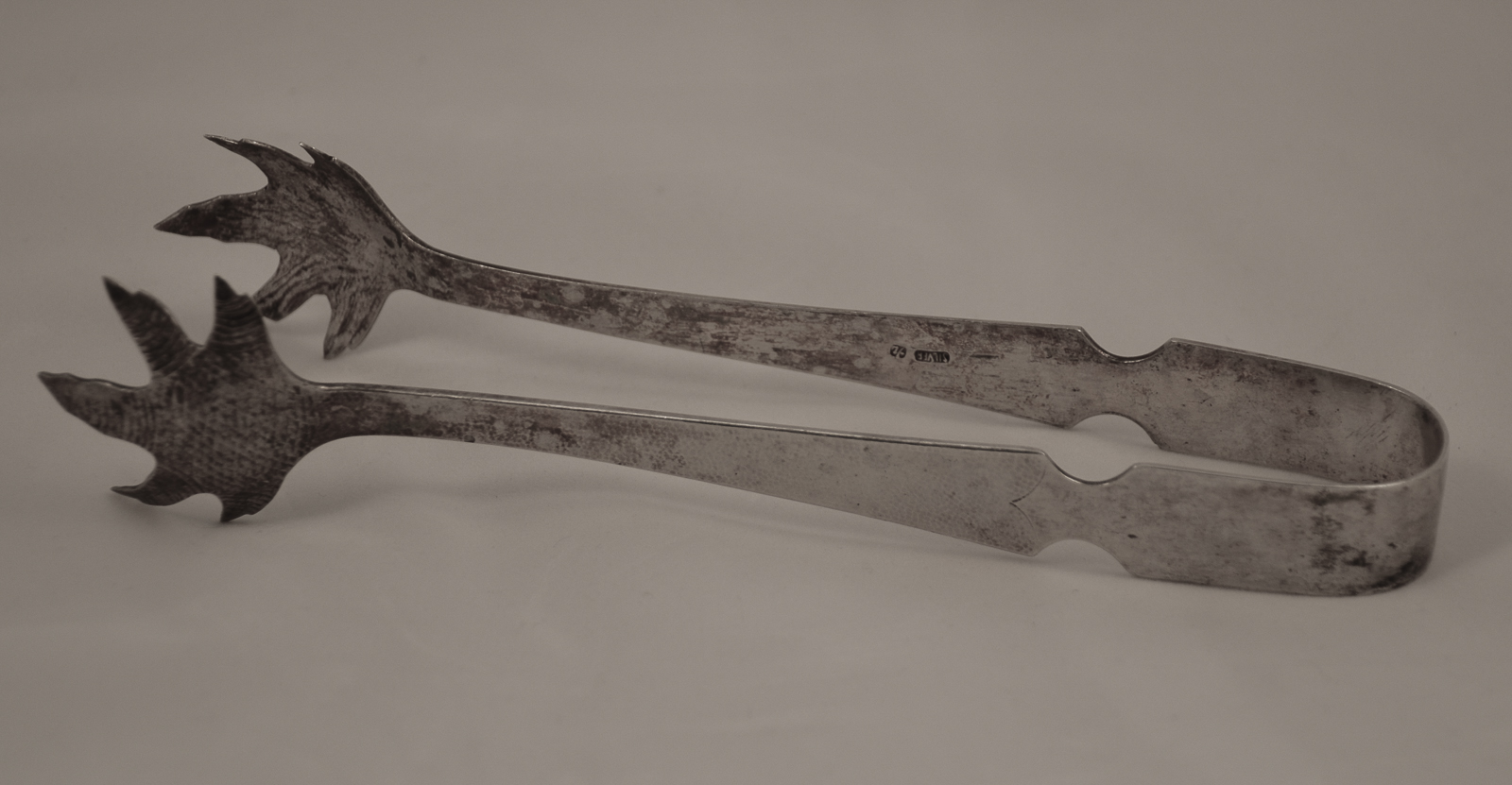 Chinese Export silver ice bucket with tongs