Sioux pipe or tobacco bag, circa 1880, tanned deerhide, woven with sinew, with glass beads, porcupine quilled slats and additional tin cone vertical strands. Teepee designs in both beads and quill panel with two H shapes and four small cross design elements. 38″ overall length.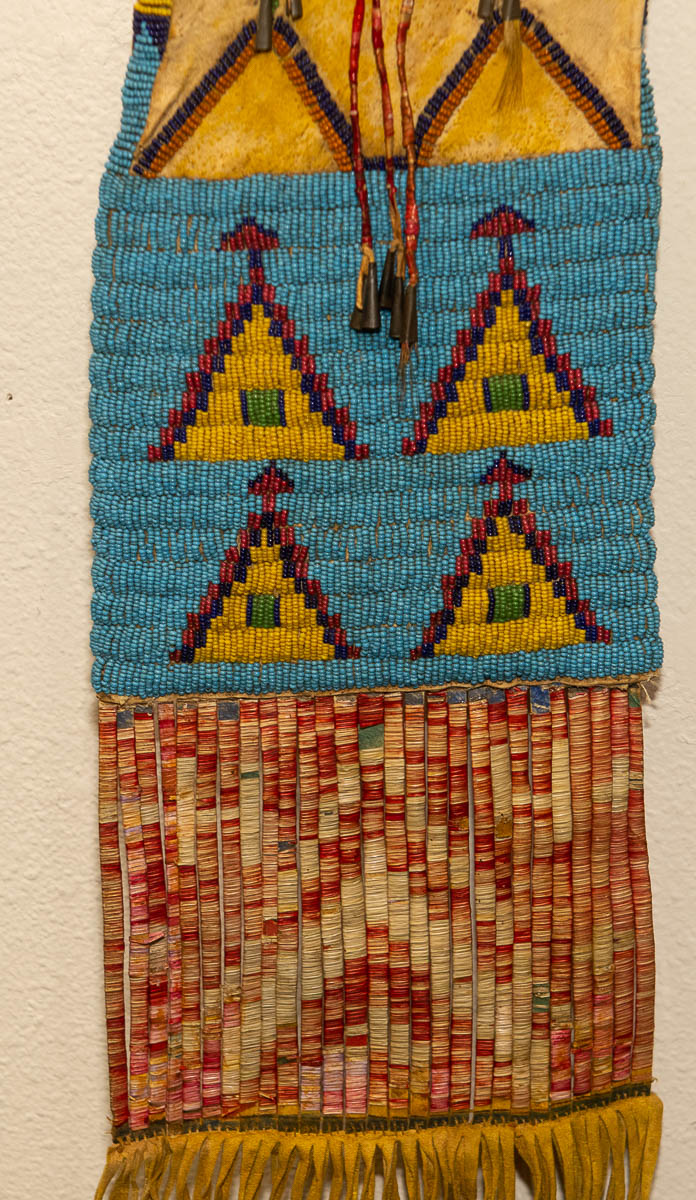 This bag was deaccessioned from a Northern California museum and has an ink registration number inside the lip. Minor restoration to quills, new fringe. sold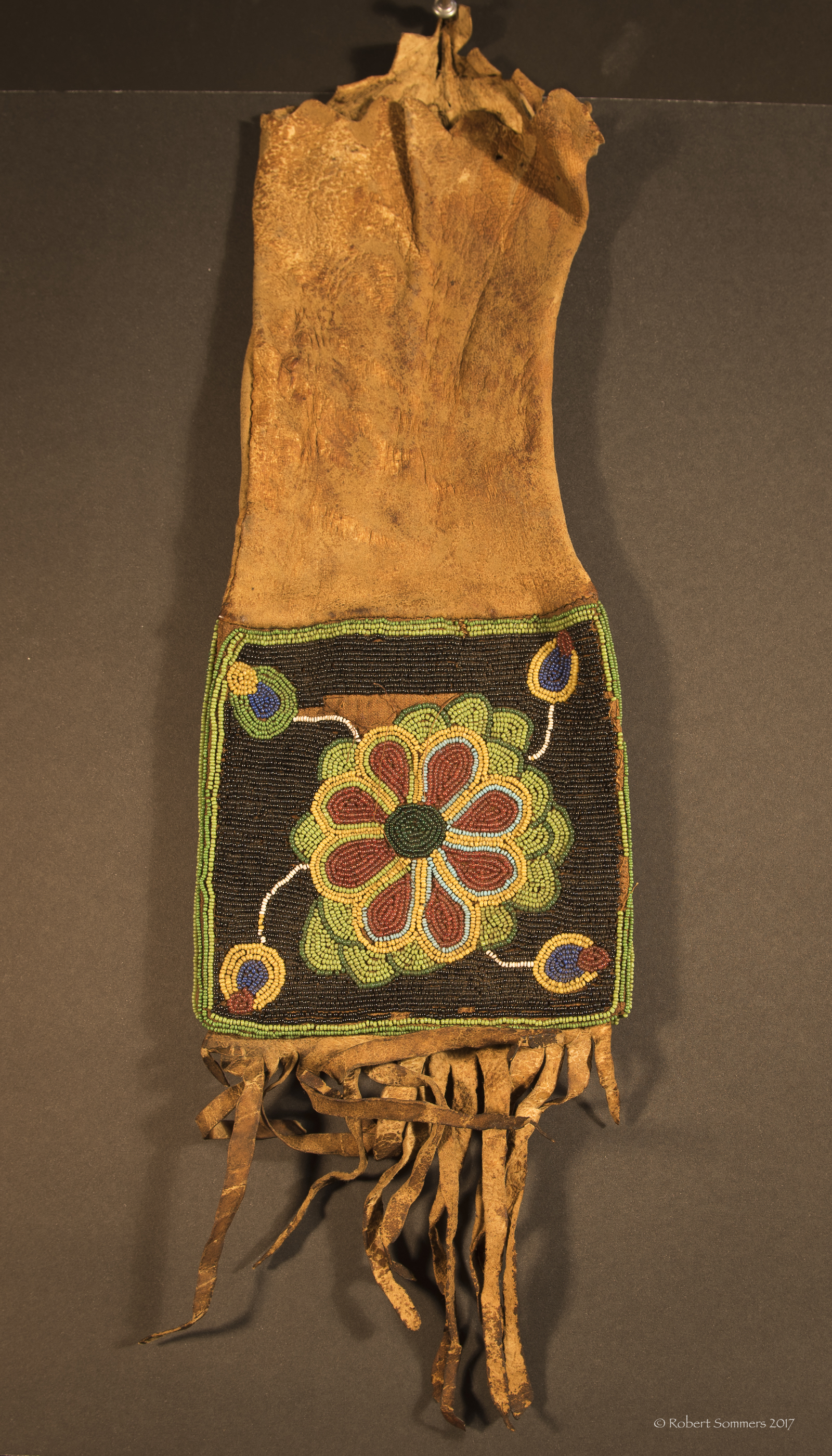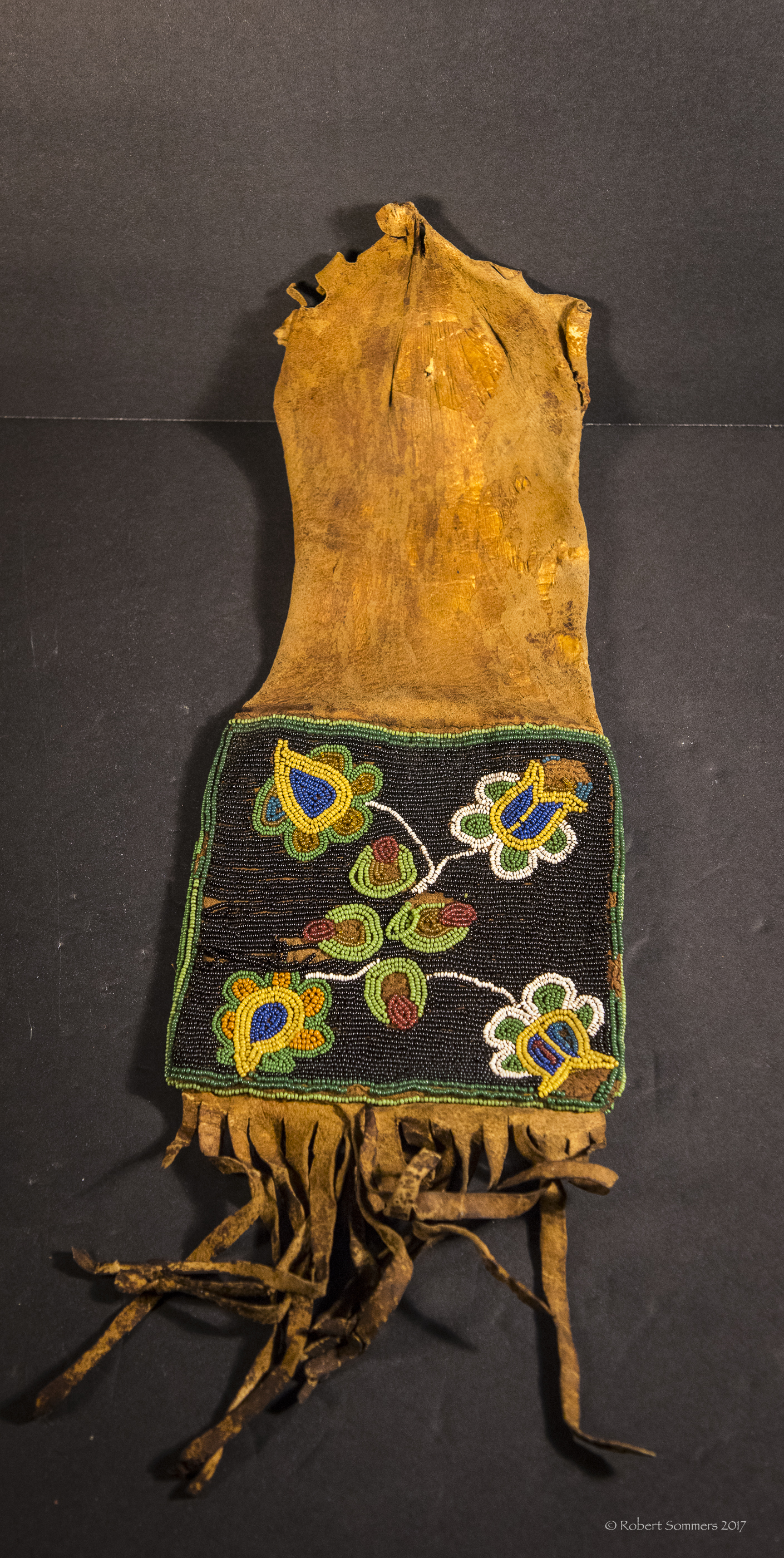 Cree Pipe Bag, circa 1870-1880, some bead loss but very wonderful. sold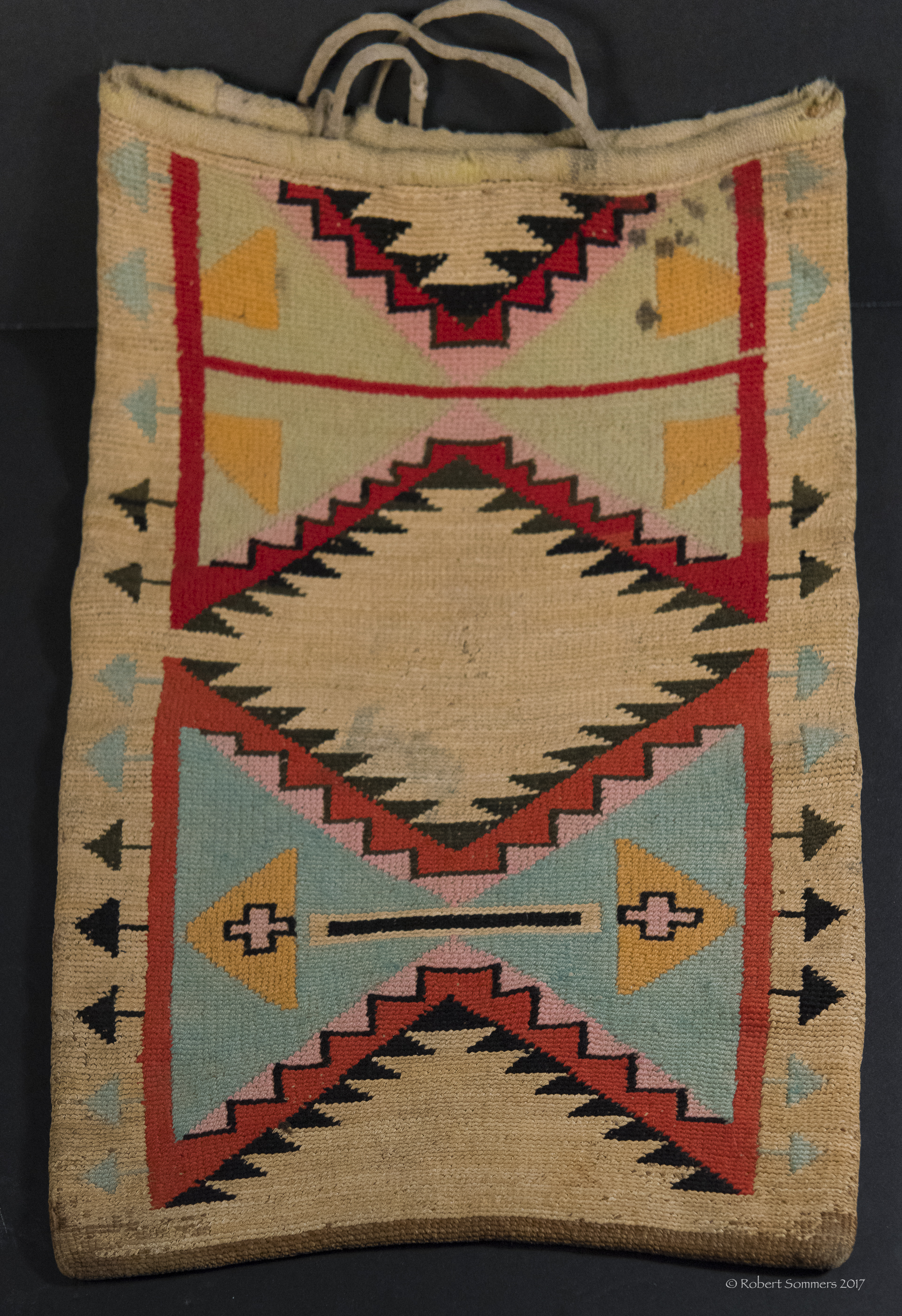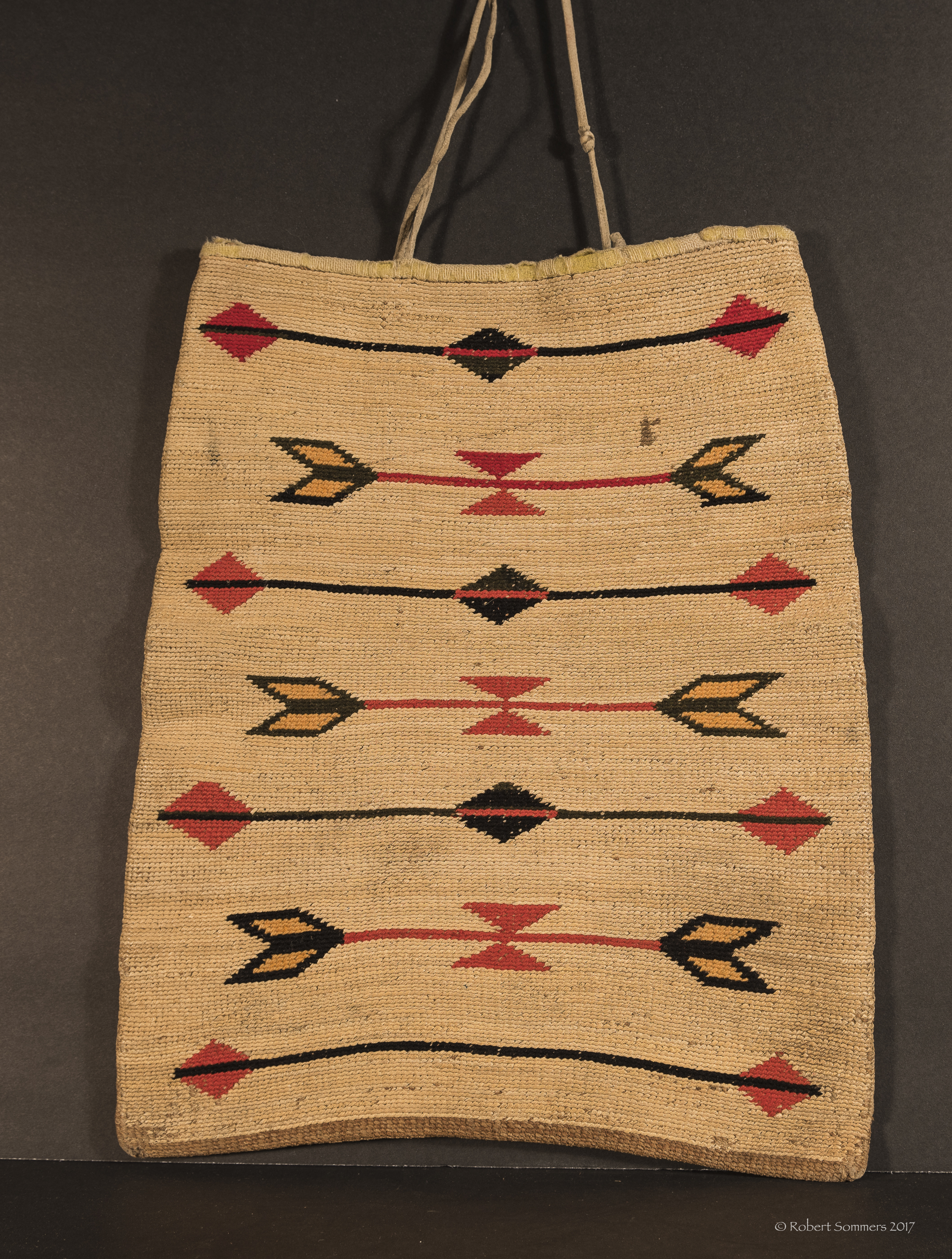 Early Nez Pierce corn husk bag 11 x 15″ As shown in Maine Antiques Digest sold
Beautiful and large acoma olla, circa 1910-20, original patina, no restoration 10 & 3/4″ x 12″ sold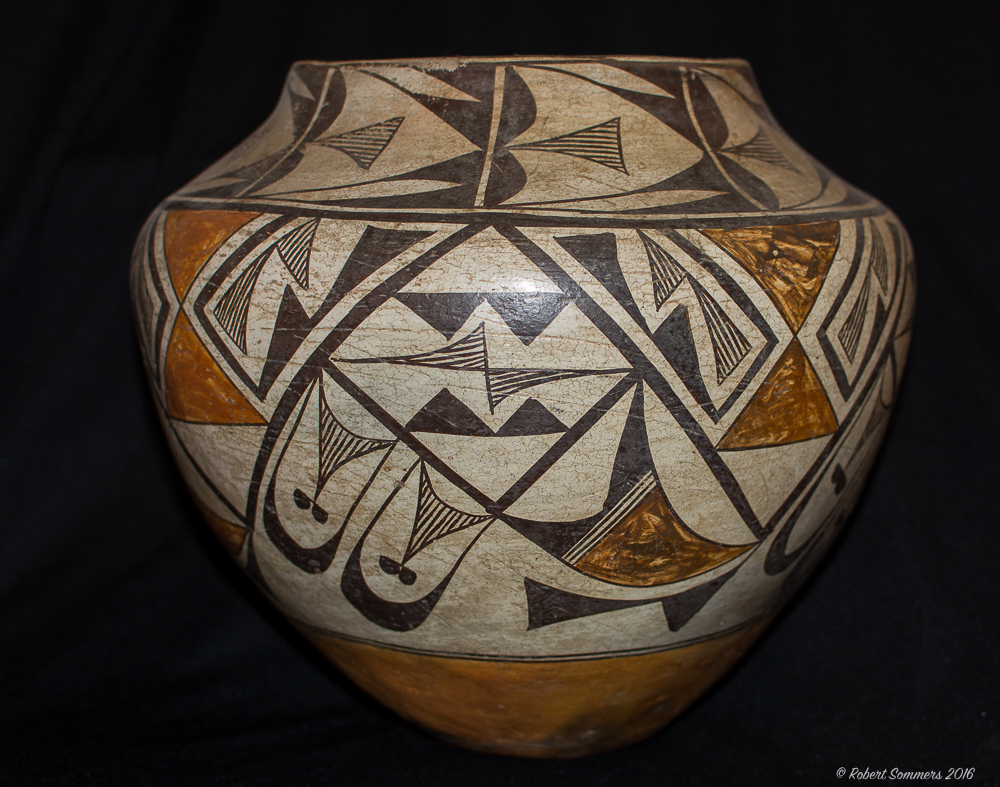 This is a fantastic navajo rug. 1930's/40's Bisti region black background with valero stars and shell scallops. 111″ x 68″ sold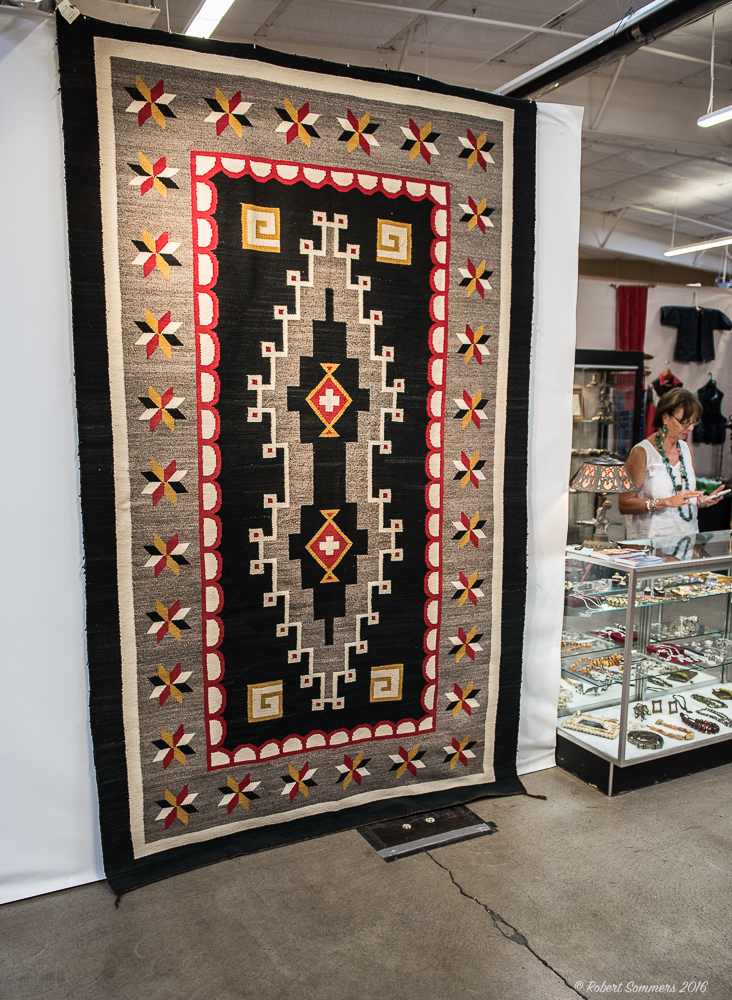 This is an incredibly well woven 1920's/30's era navajo blanket. Very fine, incredible handle. 74 birds of all sorts. 68 x 52″ Absolutely gorgeous, best of class.sold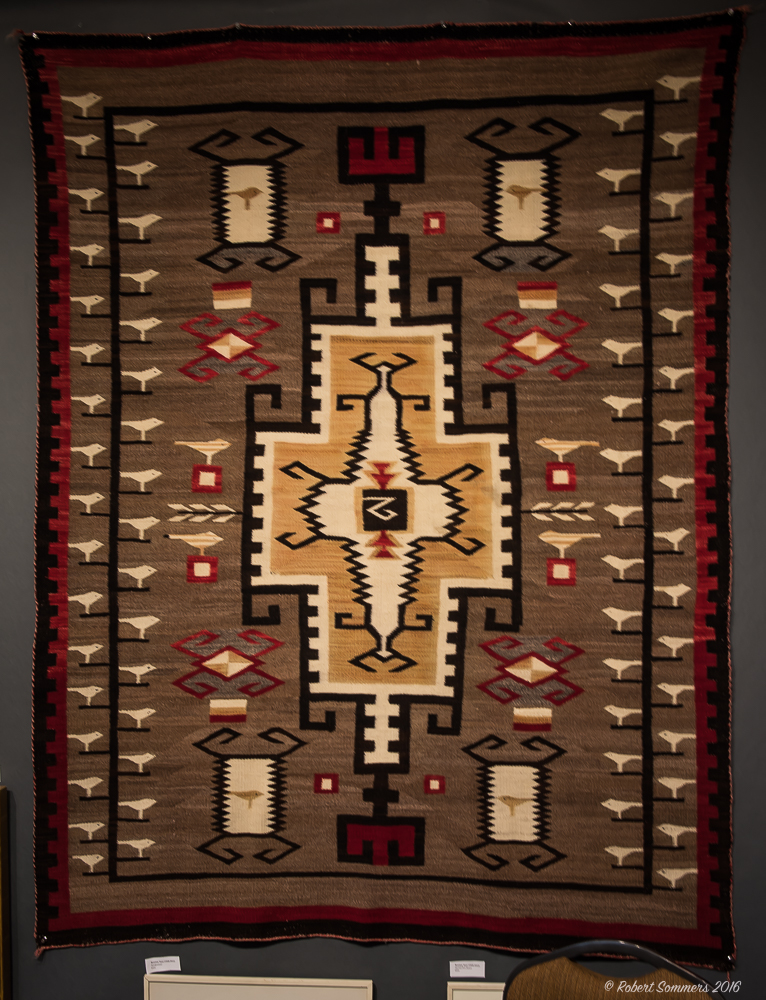 Early plains moccasins, possibly Ute. Lovely and supple, sold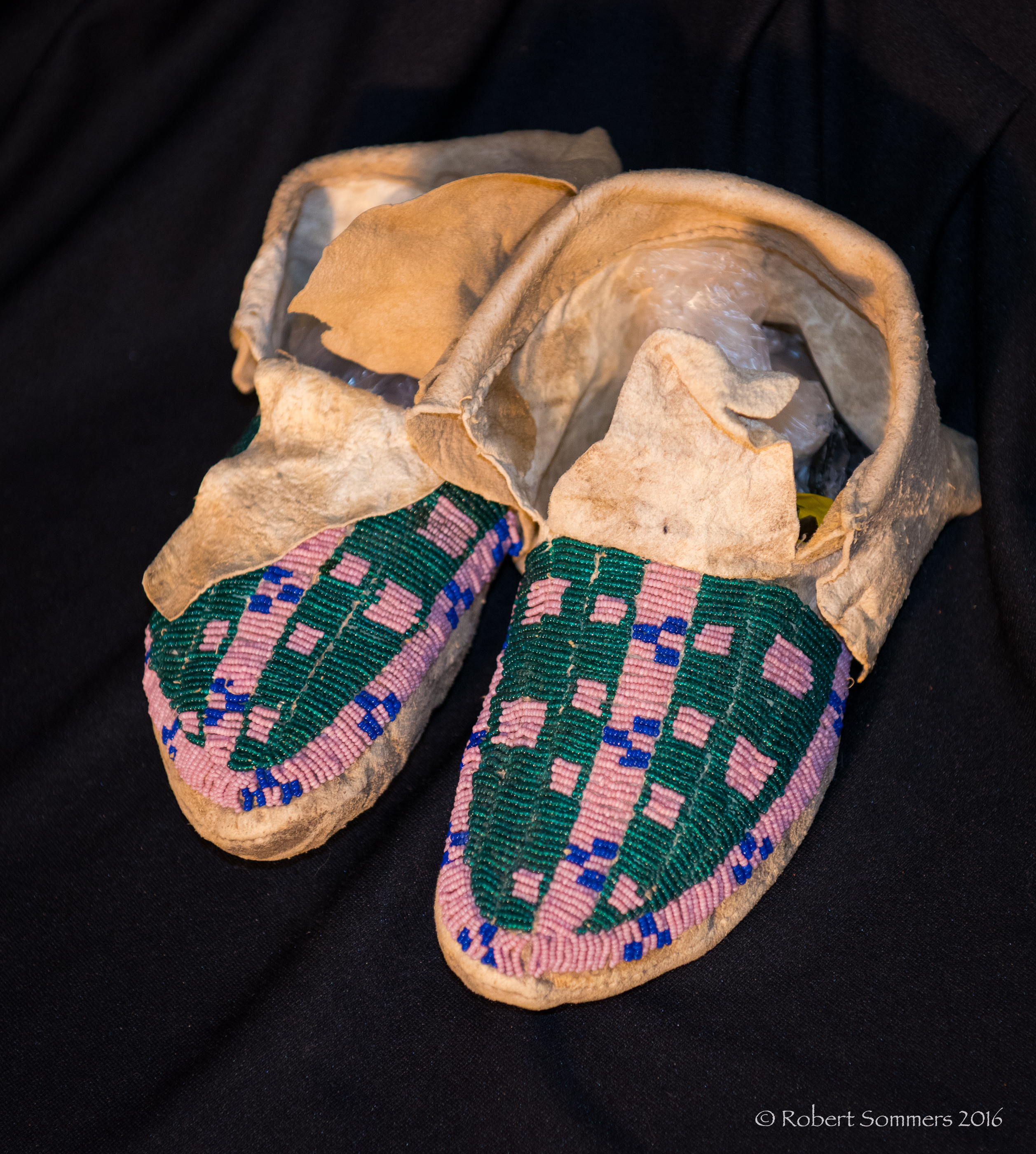 Gigantic Zia Olla with parrot figures  – Seferina Bell 19″ diameter at girth, signed, p.o.r.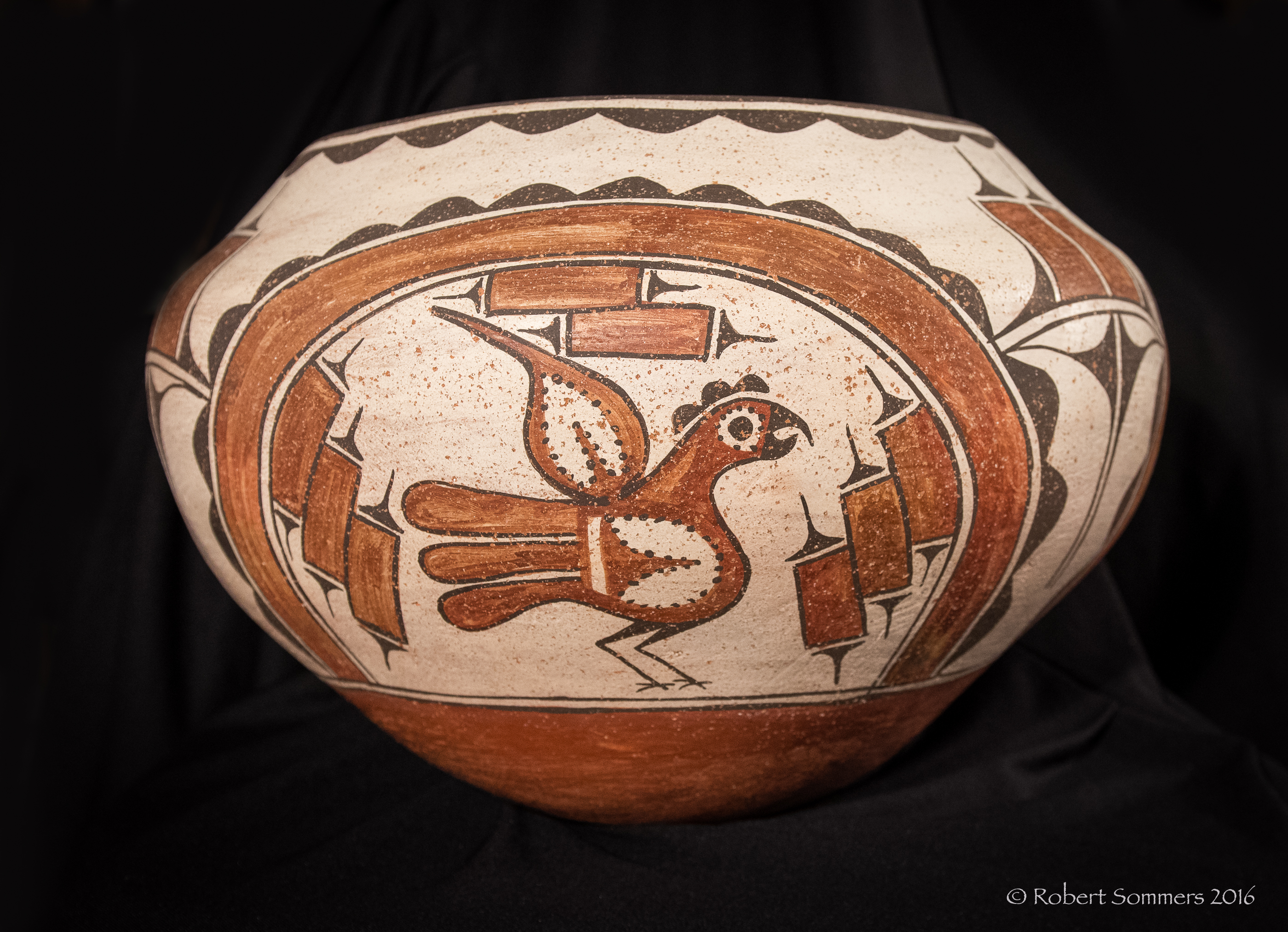 Early Apache basket with multiple dogs and crosses, rare cross and circle iconography, possibly from daagadigha. 16″ diameter sold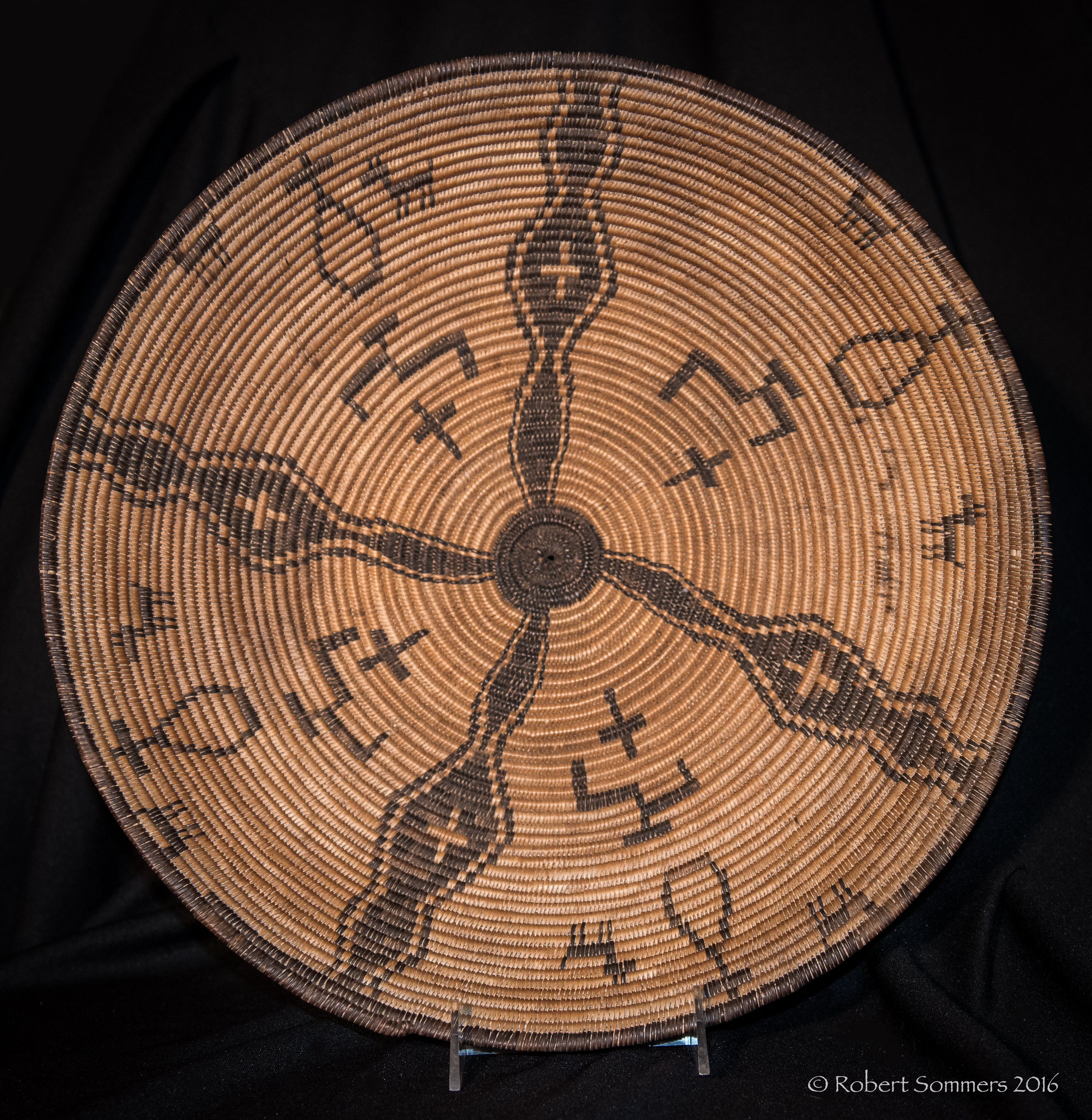 Early Mission rattlesnake basket 16 &3/4″ d. Two broken stitches at rim.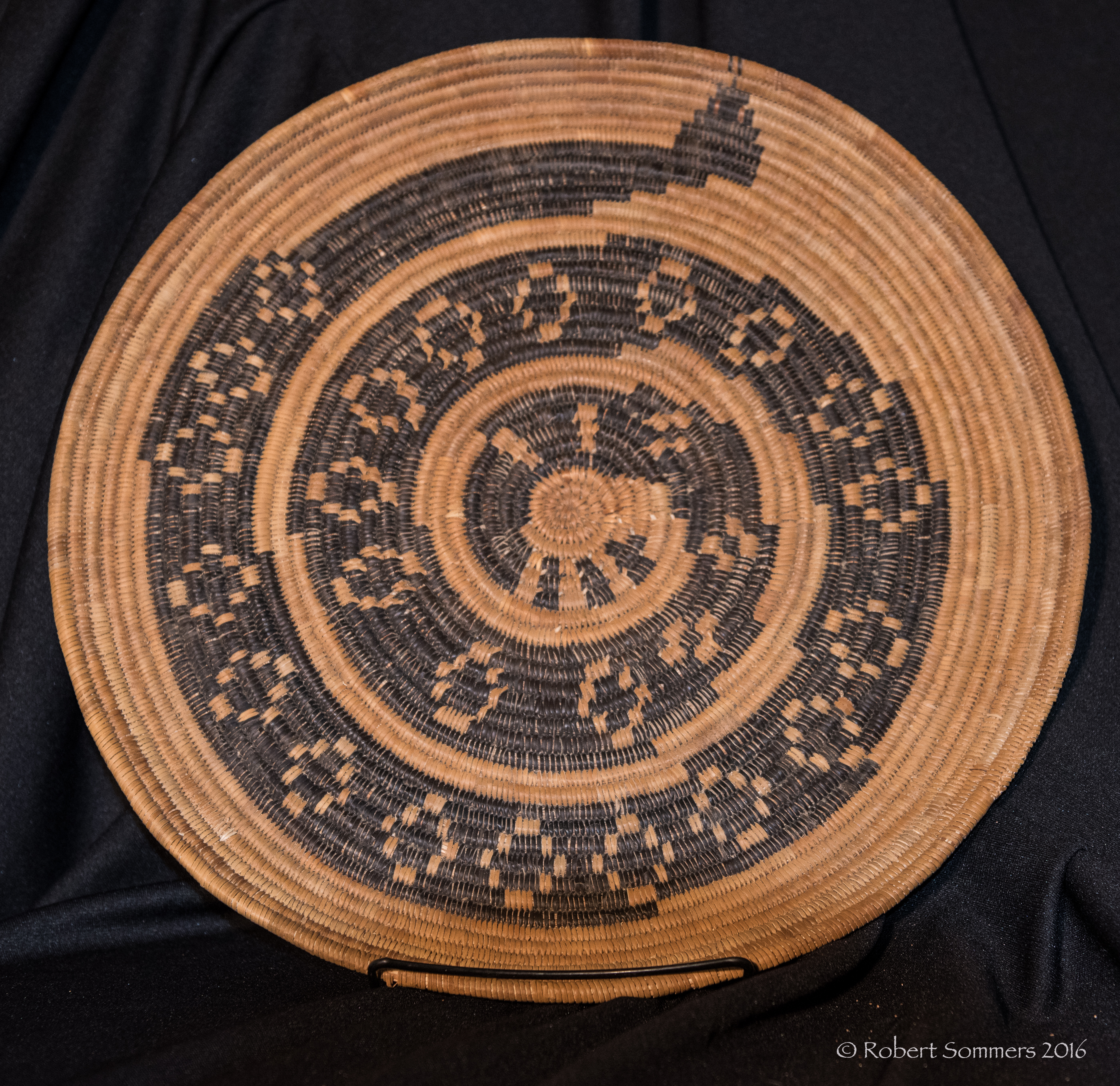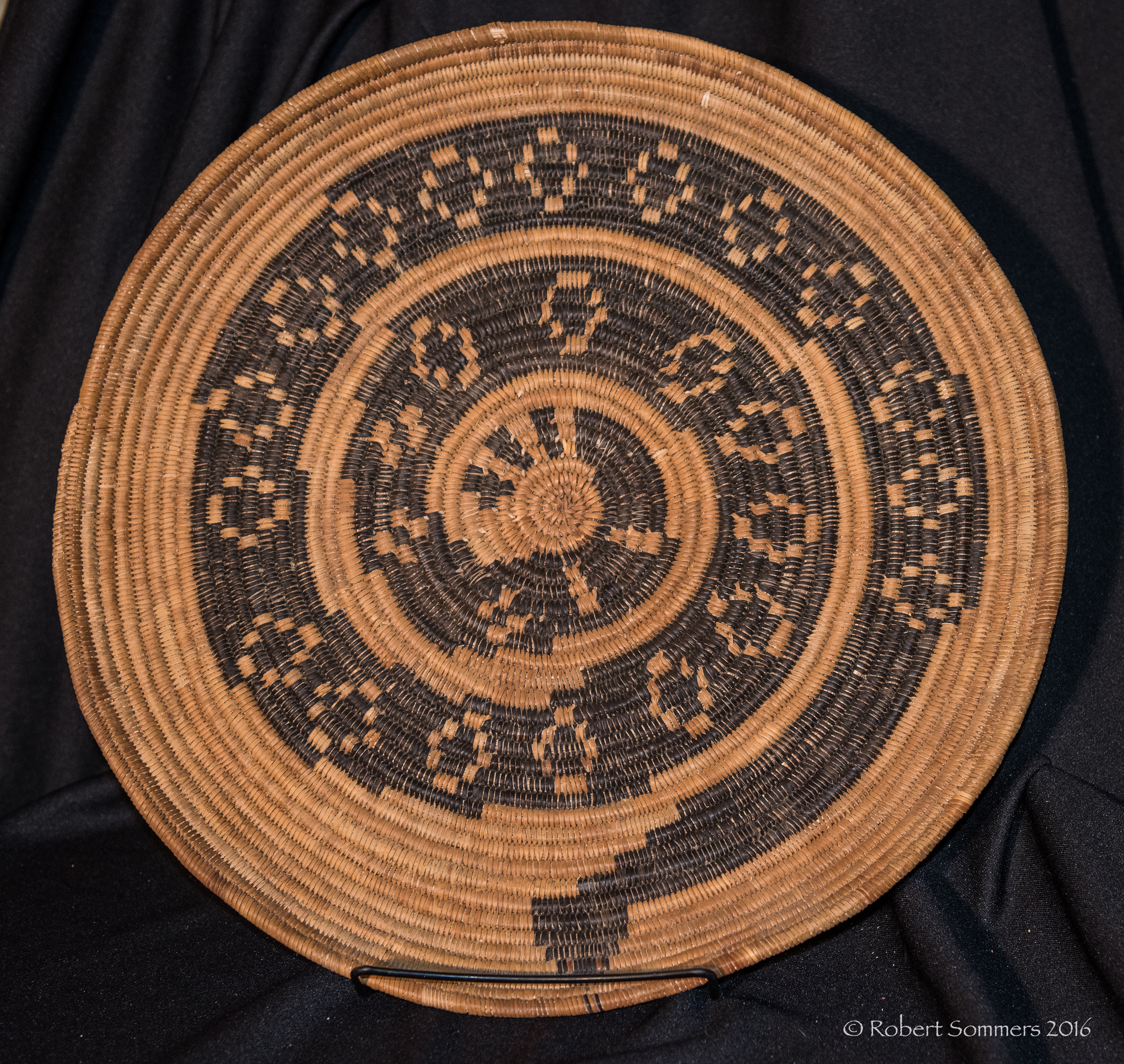 early mission pictorial basket with condors, arrowheads and arrows, variegated juncas and sumac. 4 x 6″ From Don Bennett collection, sold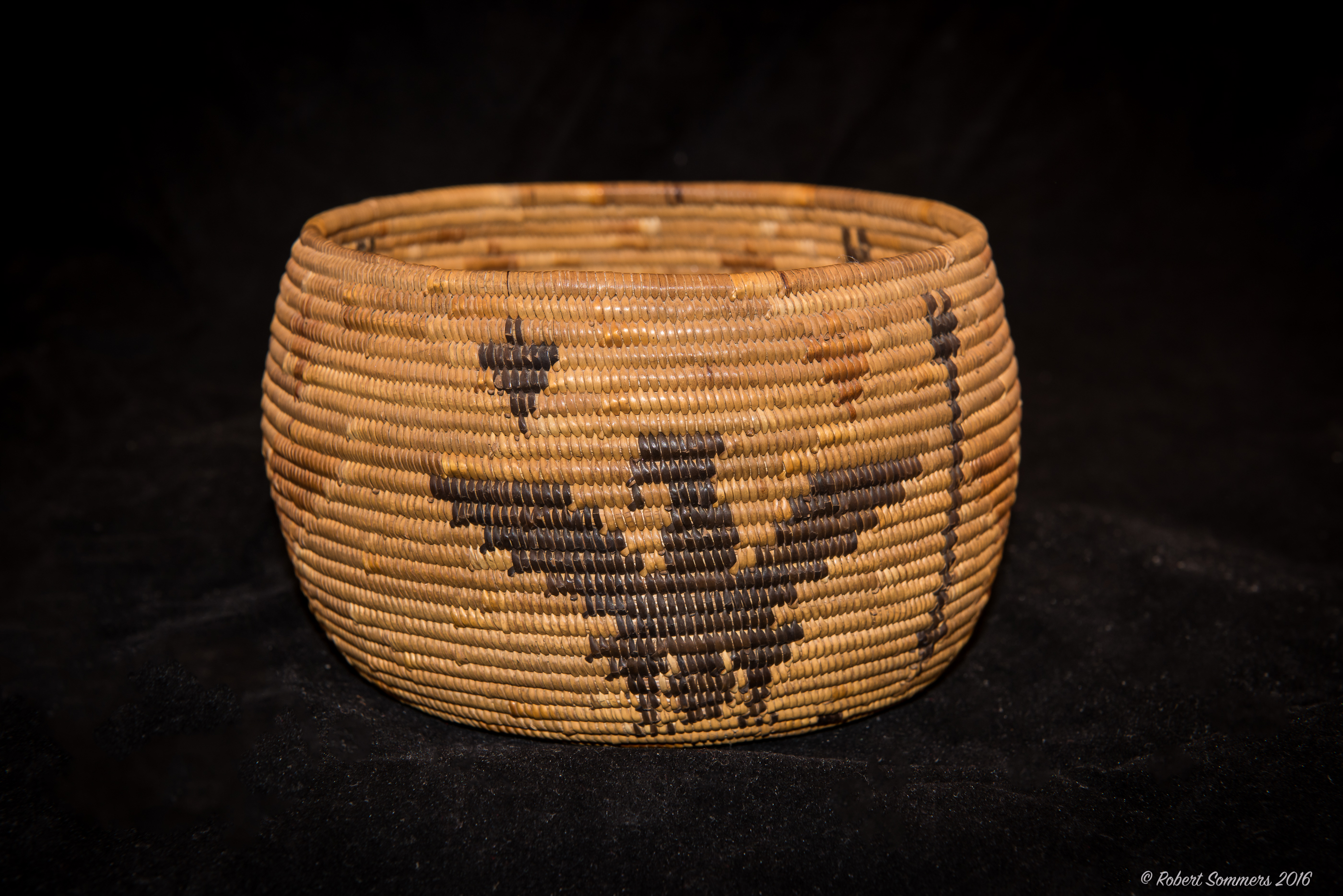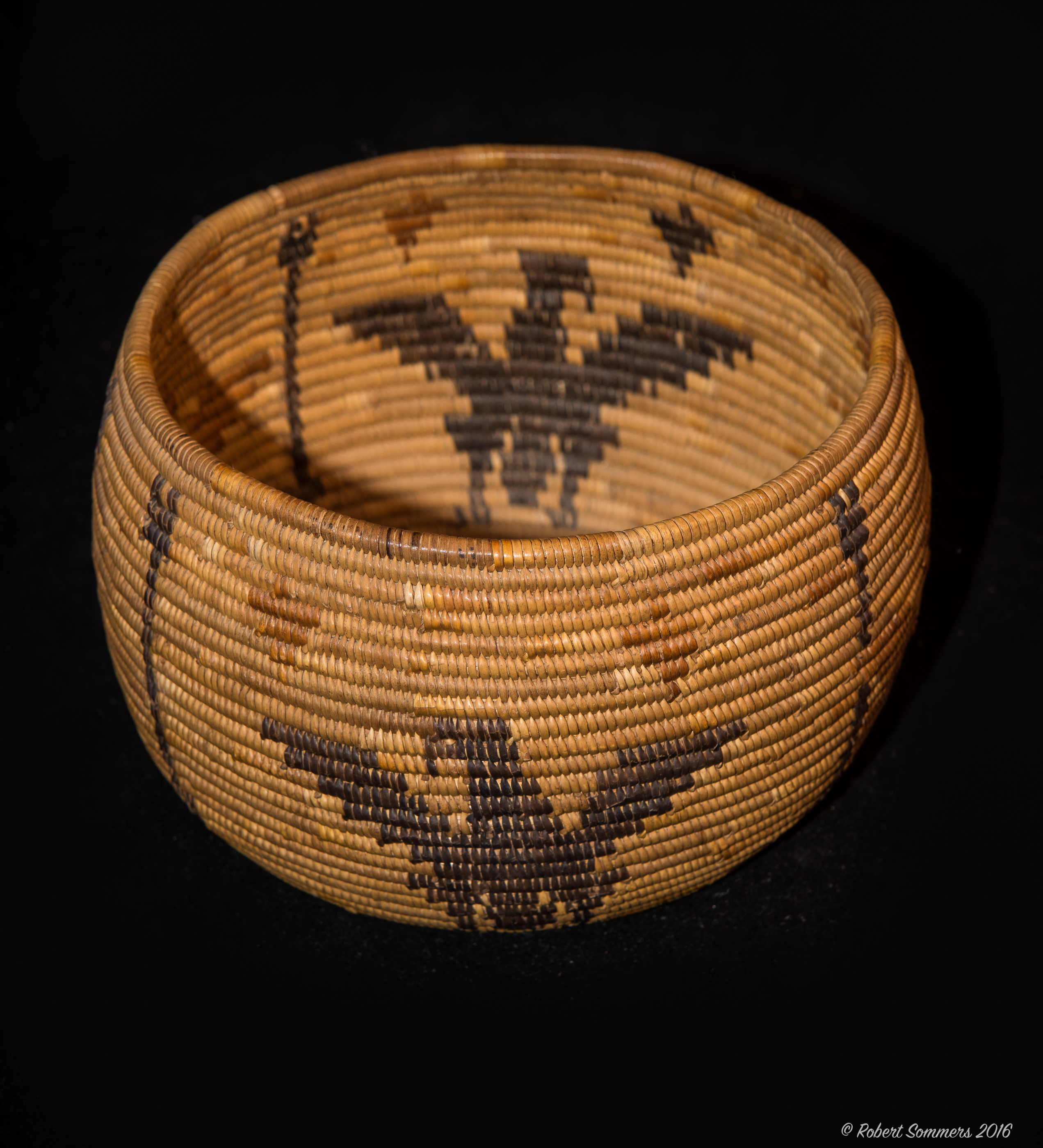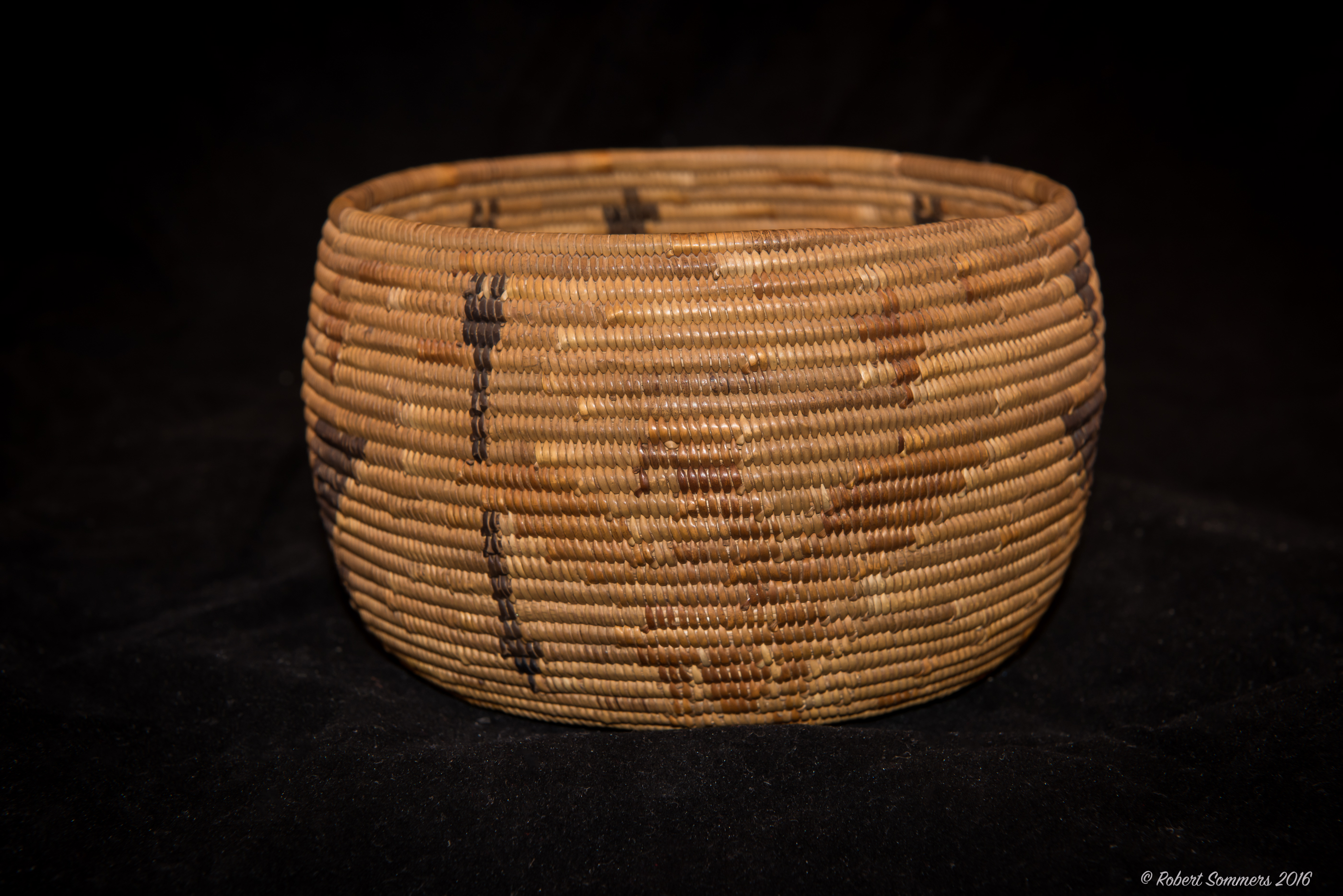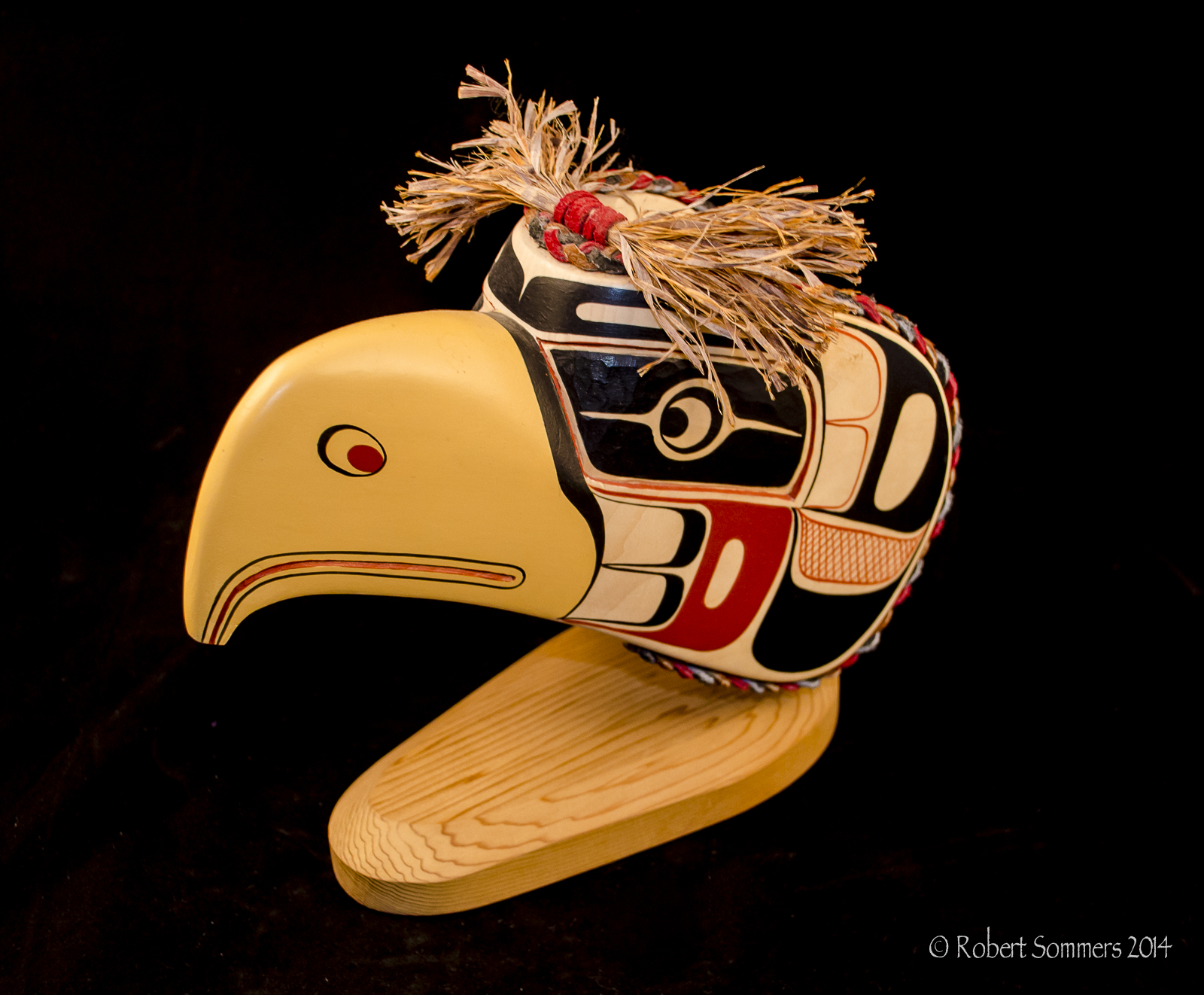 Harris Smith "Lalkawilas" (1942-2005) Bird mask (osprey?) cedar, maple and paint 9 x 8″ signed internally, mint sold
Lalkawilas was the grandson of the Hereditary Chief of the Campbell River Band. He inherited his Grandfather's name and signed all his work Lalkawilas (Chief who feasts the People till morning).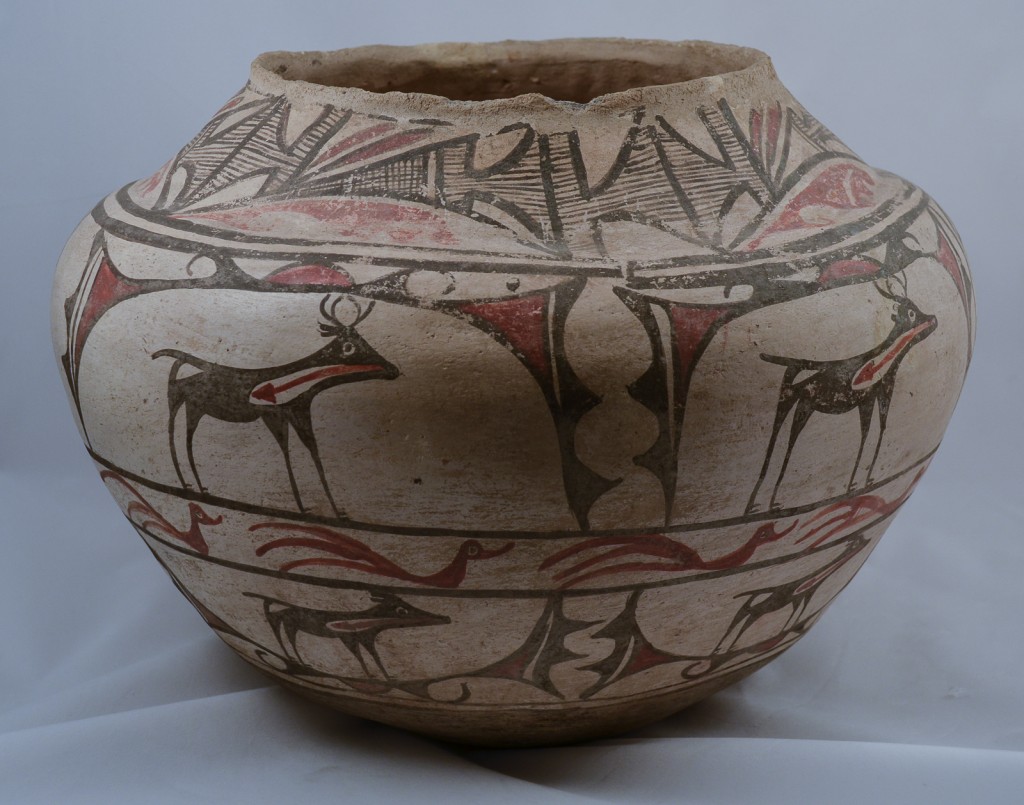 Large Zuni polychrome Olla, circa 1890-1910 with heartline deer , foliate medallion and bird  iconography. 10 x 14″, indented base. This is an honest jar with original wear and paint. Two cracks were stabilized by Andy but it has not been otherwise monkeyed with. Ladle wear on the rim is intact.  I bought this out of a central California Valley estate and was shocked when I saw how big it actually was. A great example for those who appreciate ethnographic pueblo pottery. sold
Early Apache basket tray, possibly White Mountain. 13&1/2″ diameter, 23 animal figures surrounding a central seven pointed star. Circa 1900. Willow and Devil's claw. Very fine condition. sold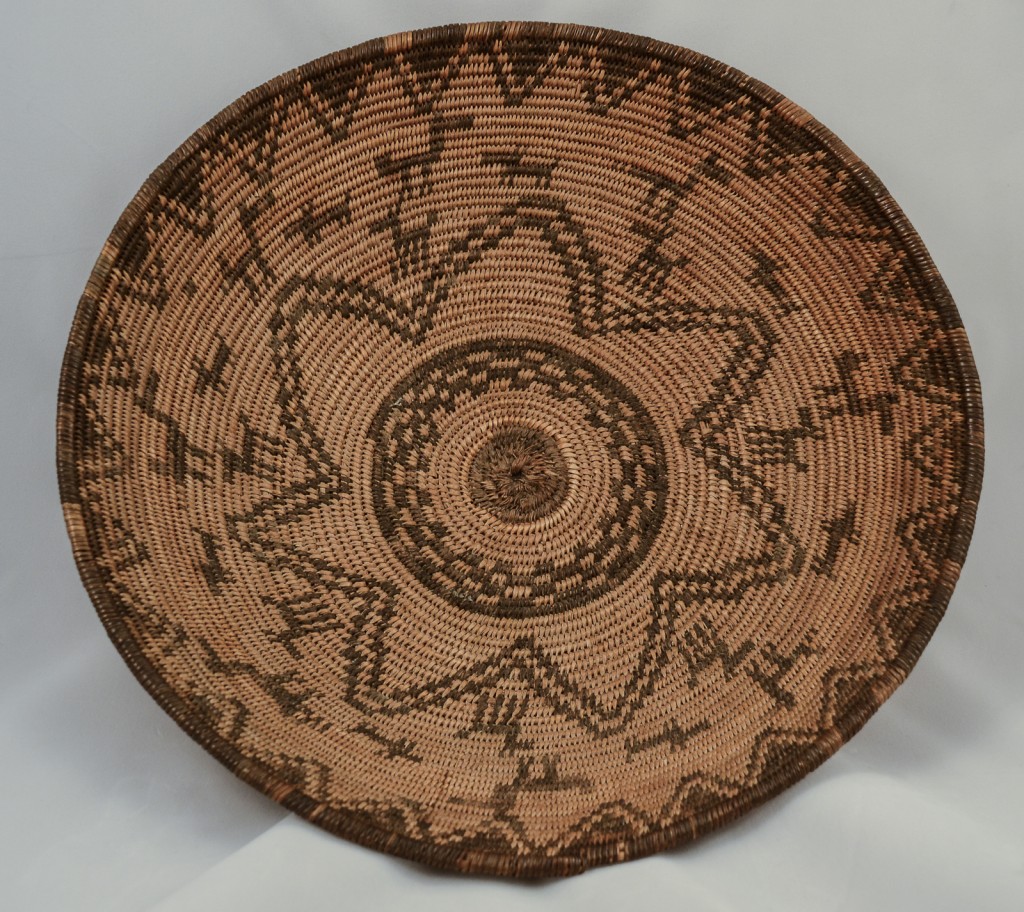 *
Large Yavapai Apache basket tray with radiating negative four pointed star design, tightly woven, willow and devil's claw. 16&1/2″ diameter. 16 stitches to the inch. Circa 1900-1910, very fine condition.sold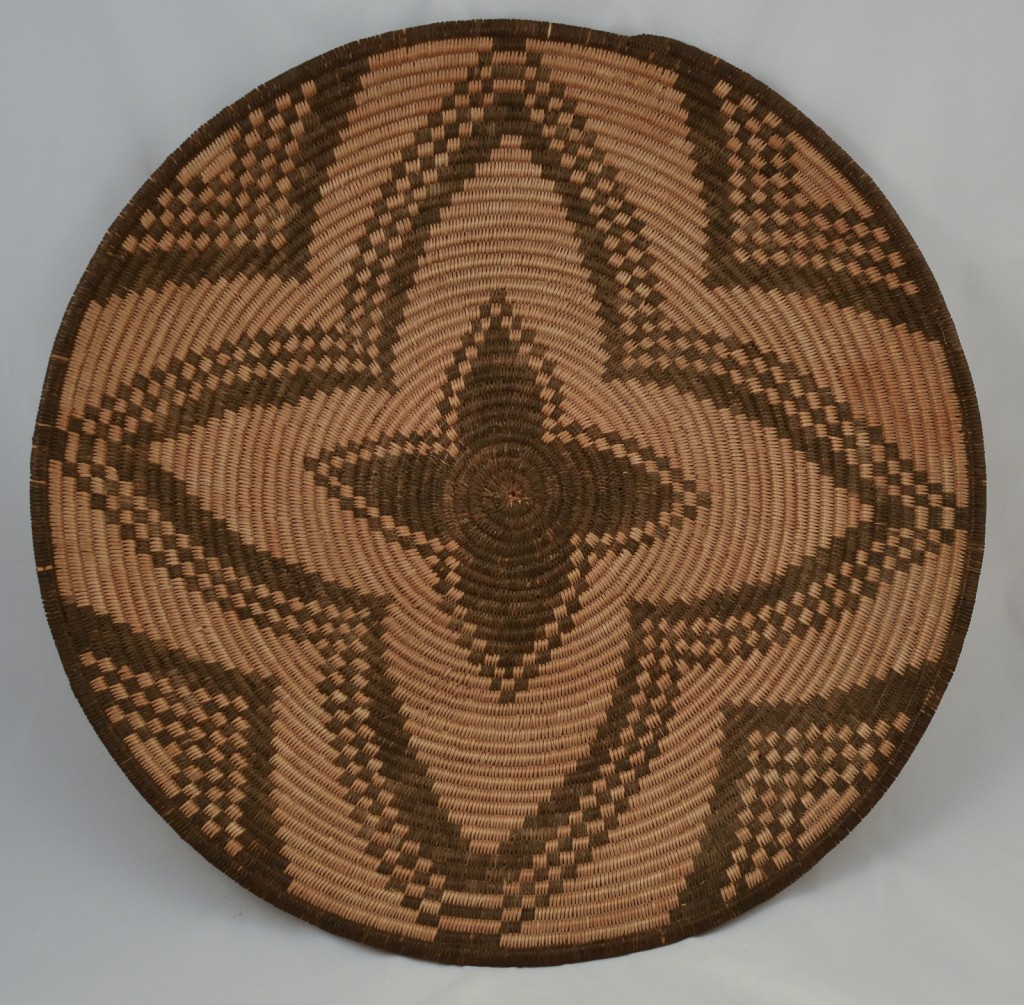 *
Laguna polychrome olla, circa 1900 – 1920. Fine original condition, no restoration, 9&1/2″ x 11″. Indented bottom. Slanted geometric and foliate decoration. This jar has a lovely chestnut slip color. At first I thought that it was from Acoma but later learned that it was probably indeed from Laguna although the ollas from the two pueblos are very similar and hard to distinguish. sold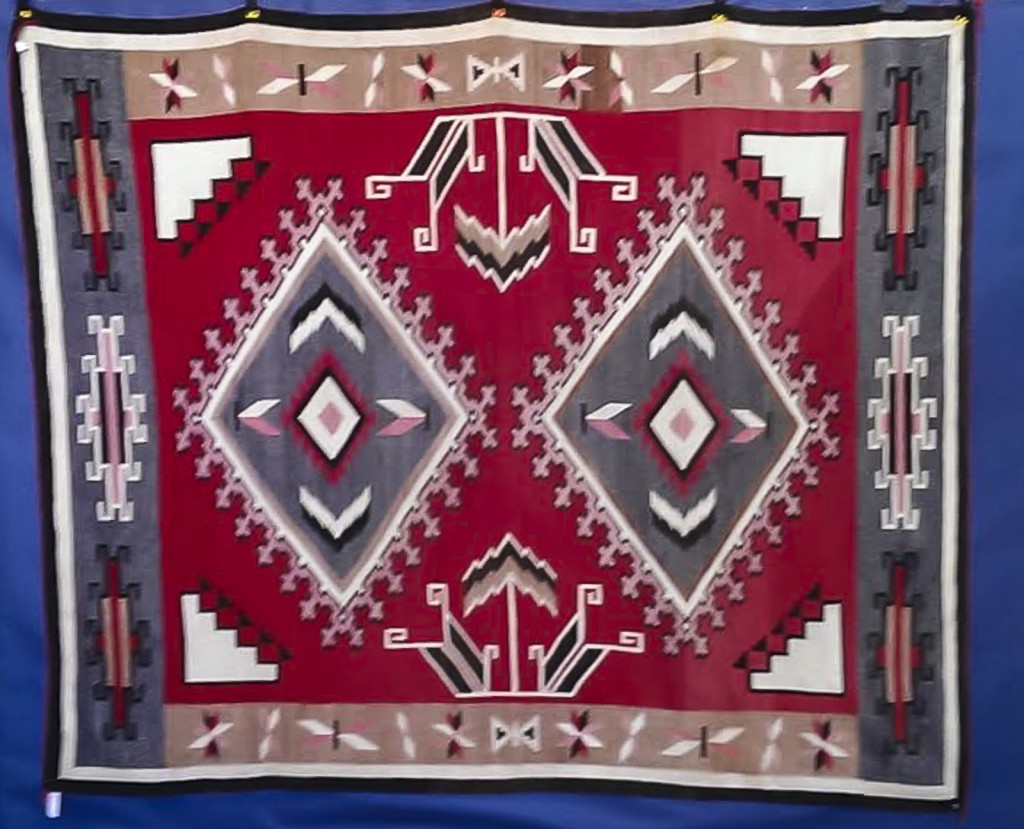 This is a horrible cell phone picture of an incredible navajo rug! Email me if you would like to see a better picture and I will try to take one.
This is a 1920's era Teec nos pas style weaving. It is a large lodge rug. Ron Munn told me that it had to be a special order for its size and quality. The border has valero star elements, the interior festooned with crystal hooks and a myriad of other design elements. The rug measures 7 x 9′. The interior is a rich red while the rug bears many other colors including a wonderful and idiosyncratic pink. The top and bottom bands are a hand carded variegated gray color.
It has a b side with an even richer red color but some carbon or mildew staining which I chose to leave while the rug was cleaned and restored. This side looks perfect!
The best large weaving I have ever had! A perfect rug for a lodge, cabin or dining room. Built well enough to use.
Price on request.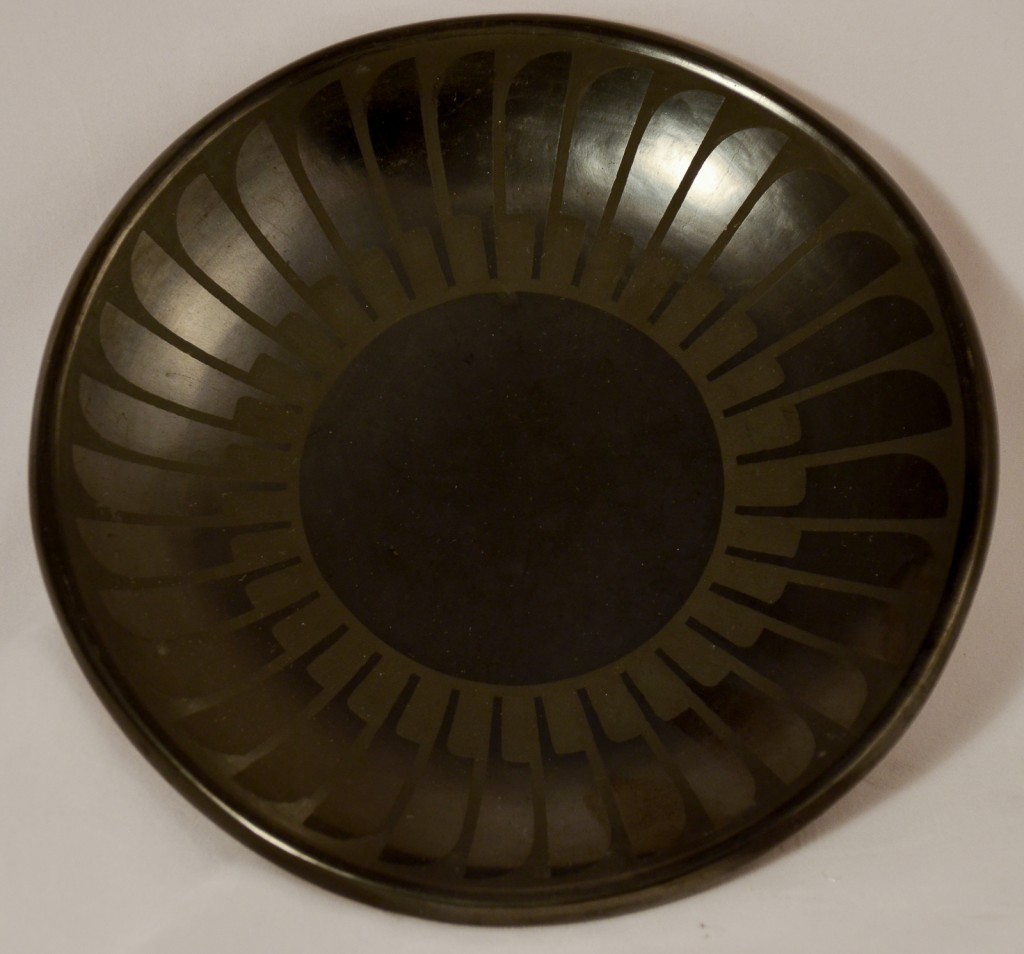 Maria Martinez  – Popovi Da feather plate  6&3/4″ diameter. nice condition but there is a faint, near indiscernible hairline fracture at the rim that does not seem to extend into the body. Beautiful and consistent paint on the feathers by Popovi. Executed in february of 1956.
I believe that this piece could be easily repaired by a competent restorer but believe in full disclosure. sold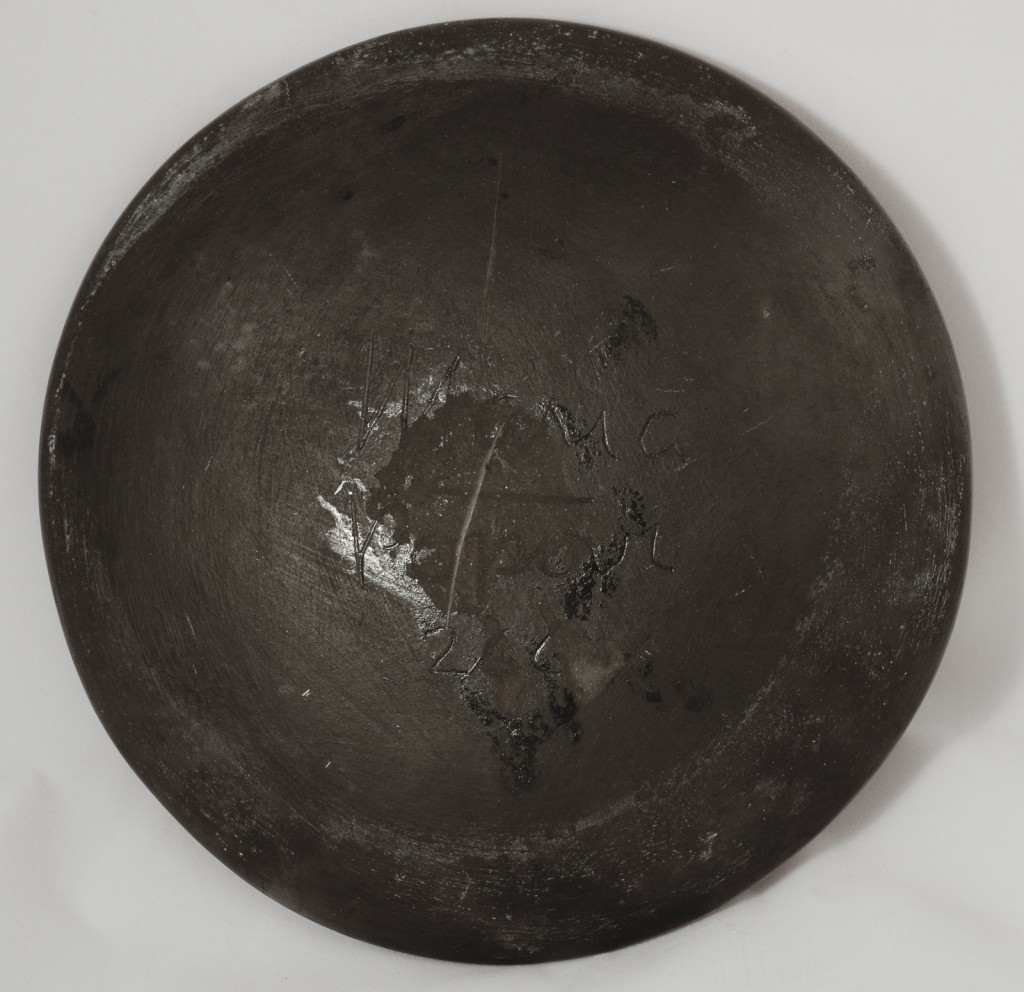 Teresita Naranjo (1919-1999) Santa Clara Pueblo – deeply carved redware pot in a stepped geometric cloud? pattern. signed Teresita on bottom. 5″ x 6″ $850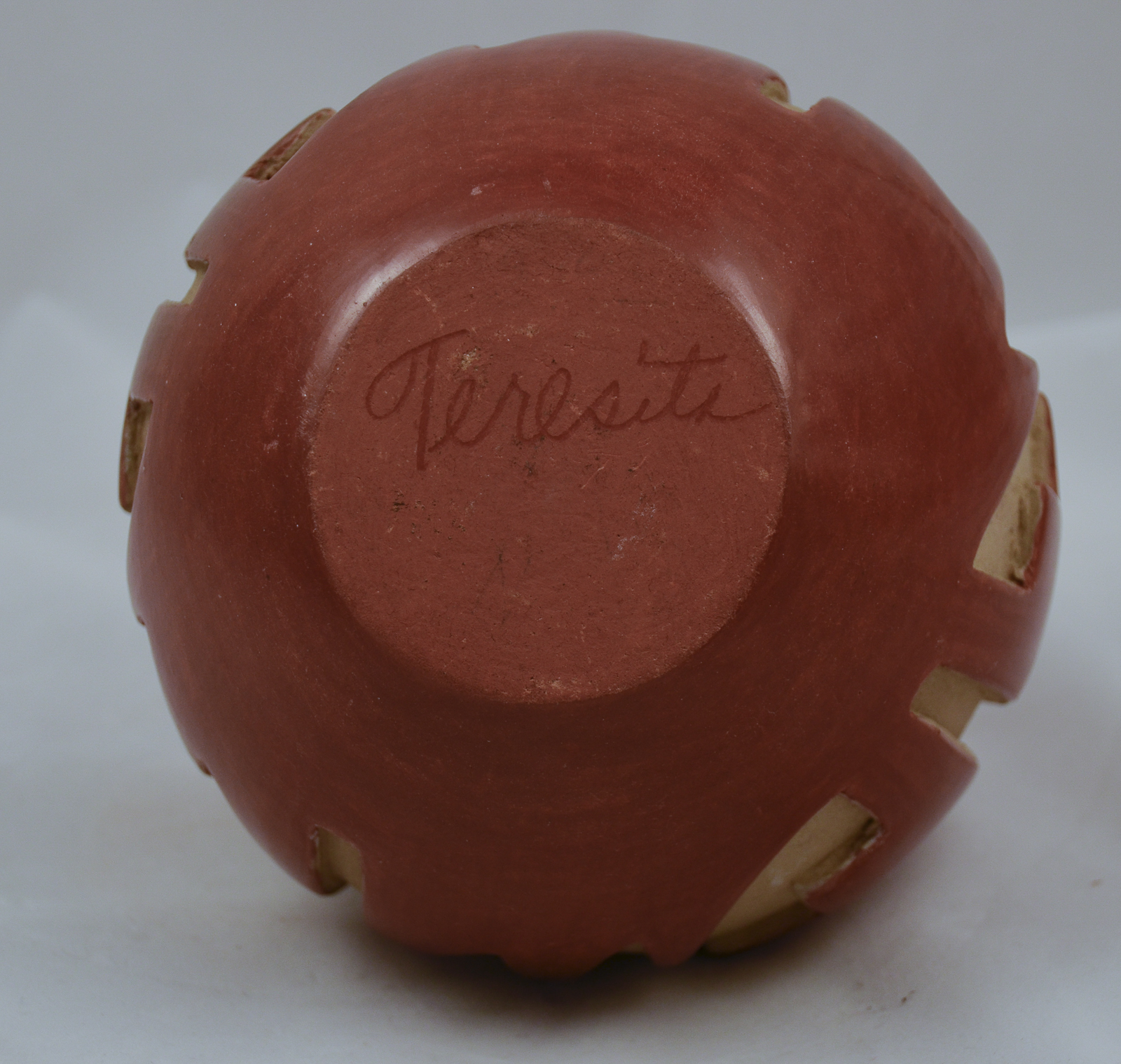 A very wonderful clay turtle from the renowned brother and sister team of Margaret and Luther Gutierrez of Santa Clara Pueblo. Approx. 4&1/4″ x 3&1/2″. $225