Boots DeKeyser was a baseball fan. In fact he may have been the greatest fan one could ever meet. The owner of the tavern Boots' Club was known as Mr. Baseball in the central California town of Reedley. He sent boxes of fruit to the major league clubs, on his own dime. A fierce San Francisco Giants fan, he was personal friends of many big leaguers including Don Larson and Joe Di Maggio.
I am privileged to be selling some of the more than eighty signed baseballs and bats in the family collection. They have balls from every team and some wonderful balls from the Old Timers Games as well.
I asked them to give them to me at random, five at a time. I am selling them as 100% guaranteed authentic or your money back but it is academic, they are all the real McCoy. Later I will be adding bats and signed photos.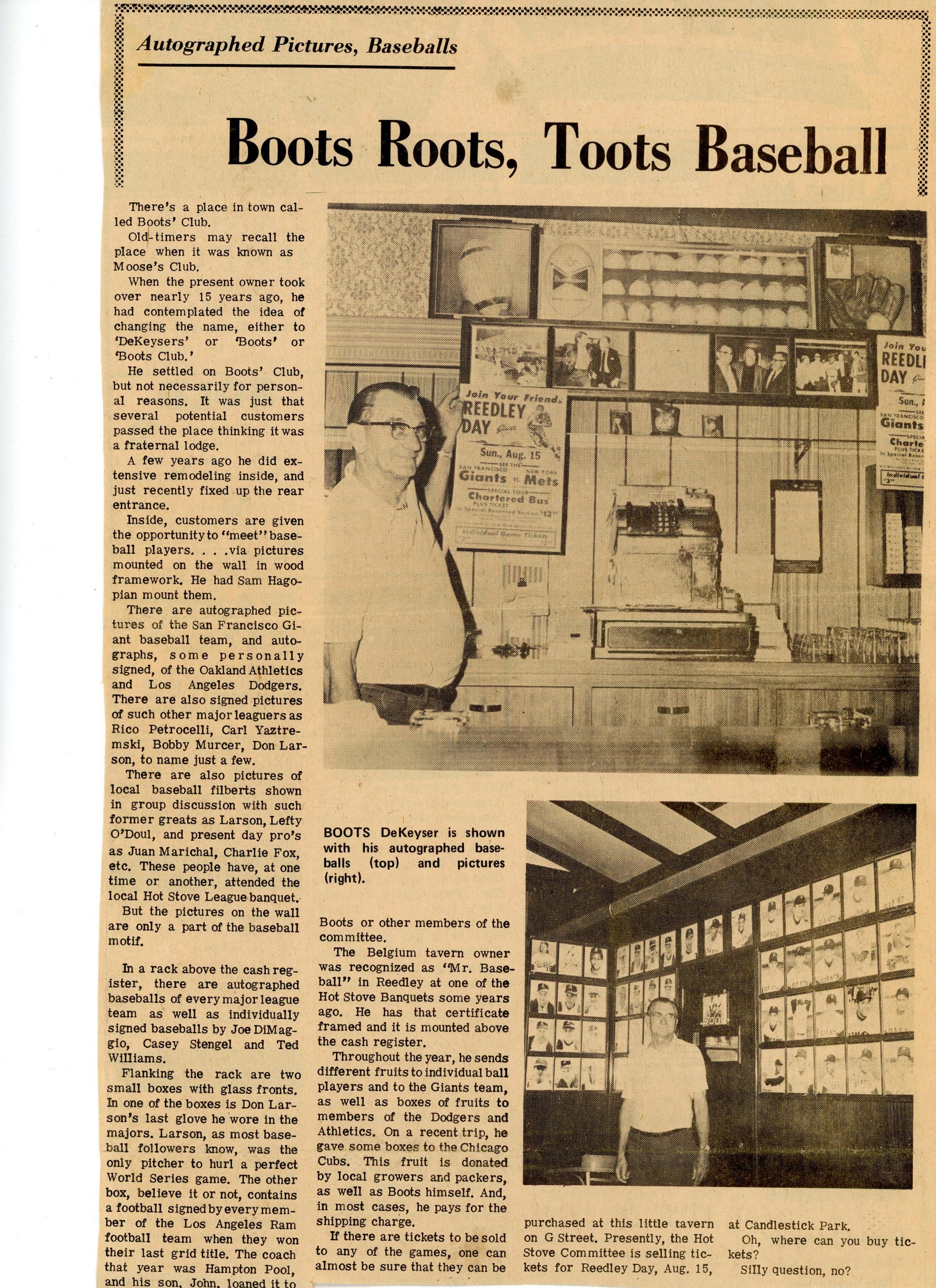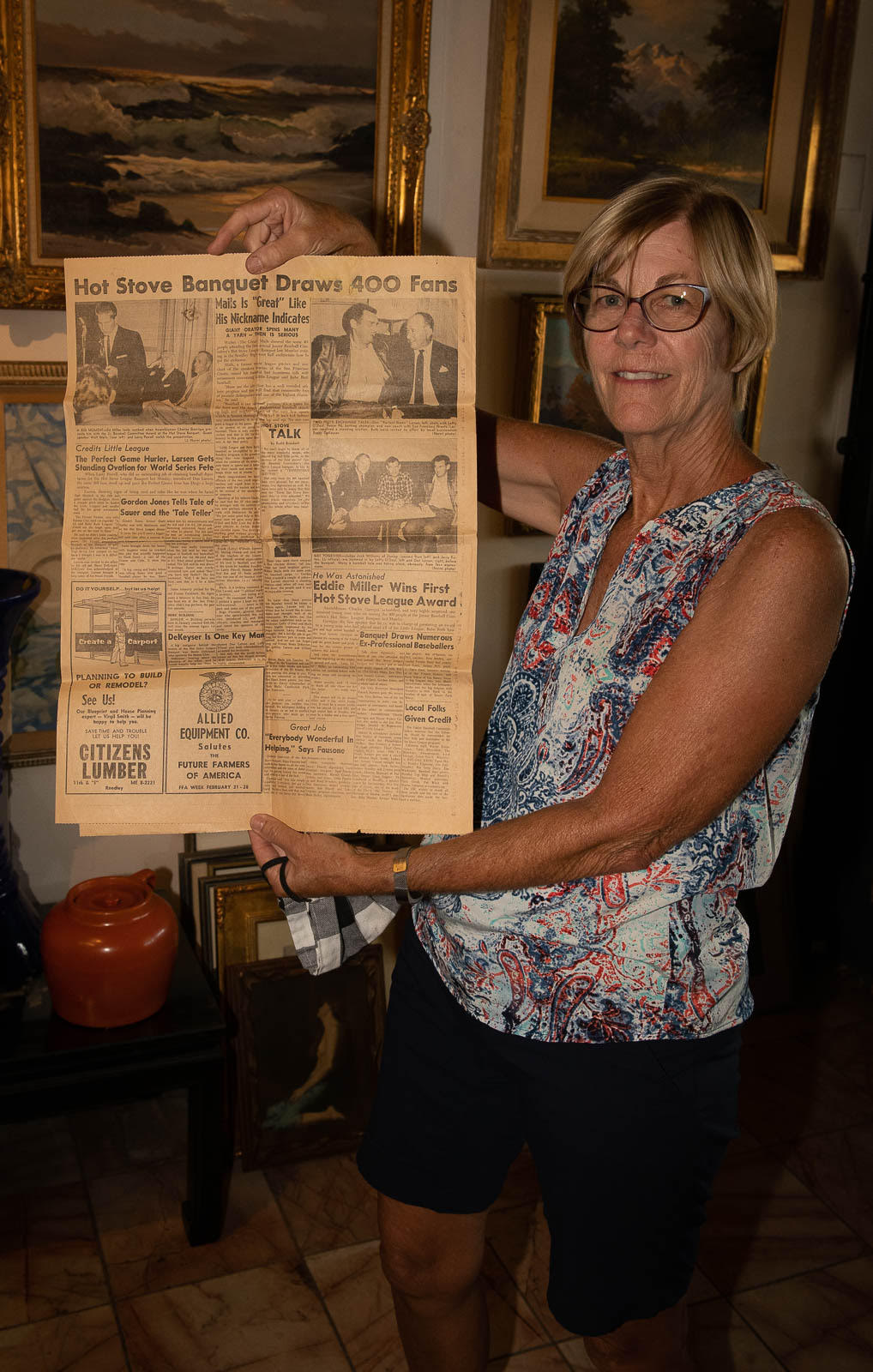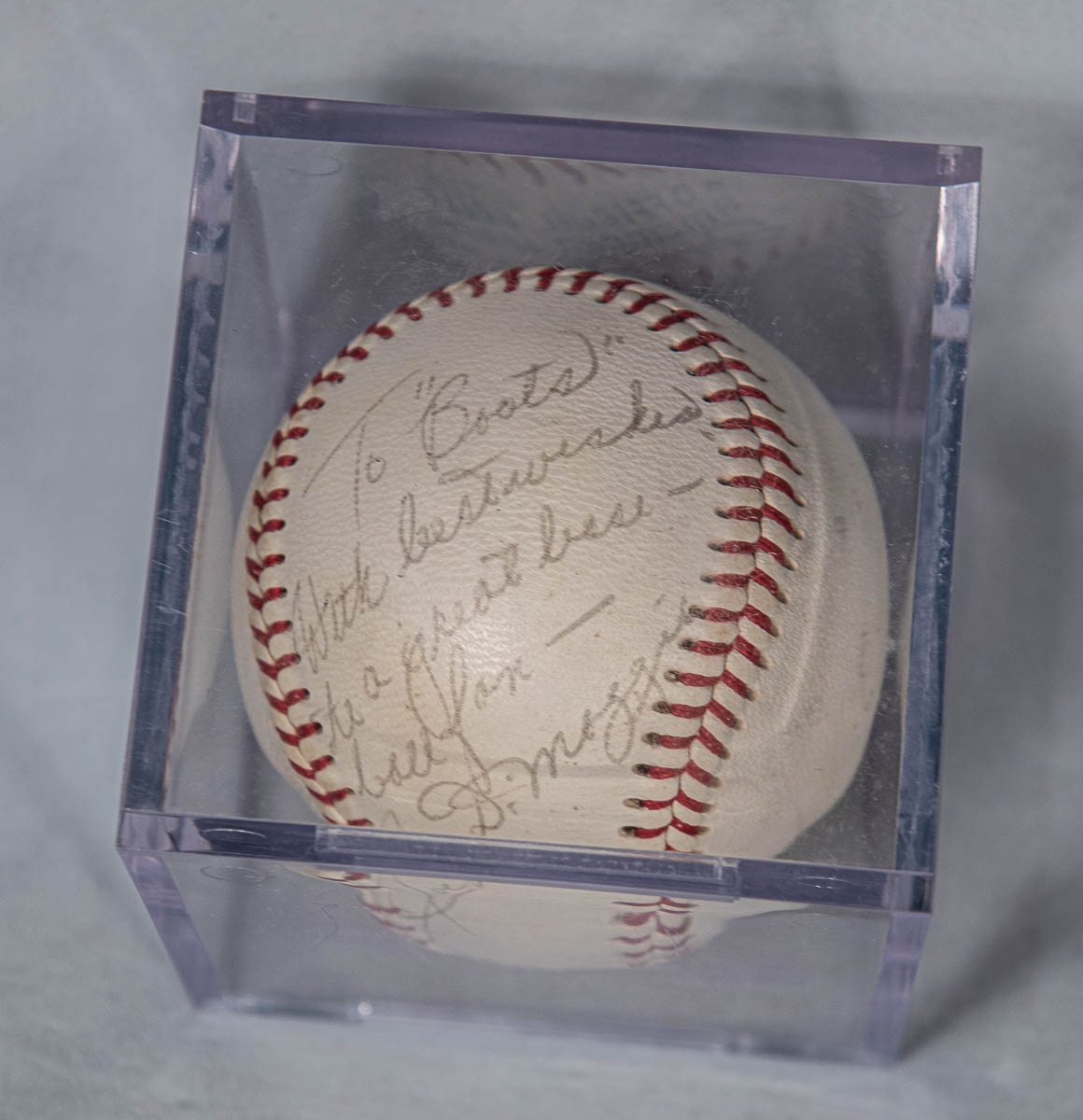 Below are the first five balls I am selling.If you need more shots or info, just ask!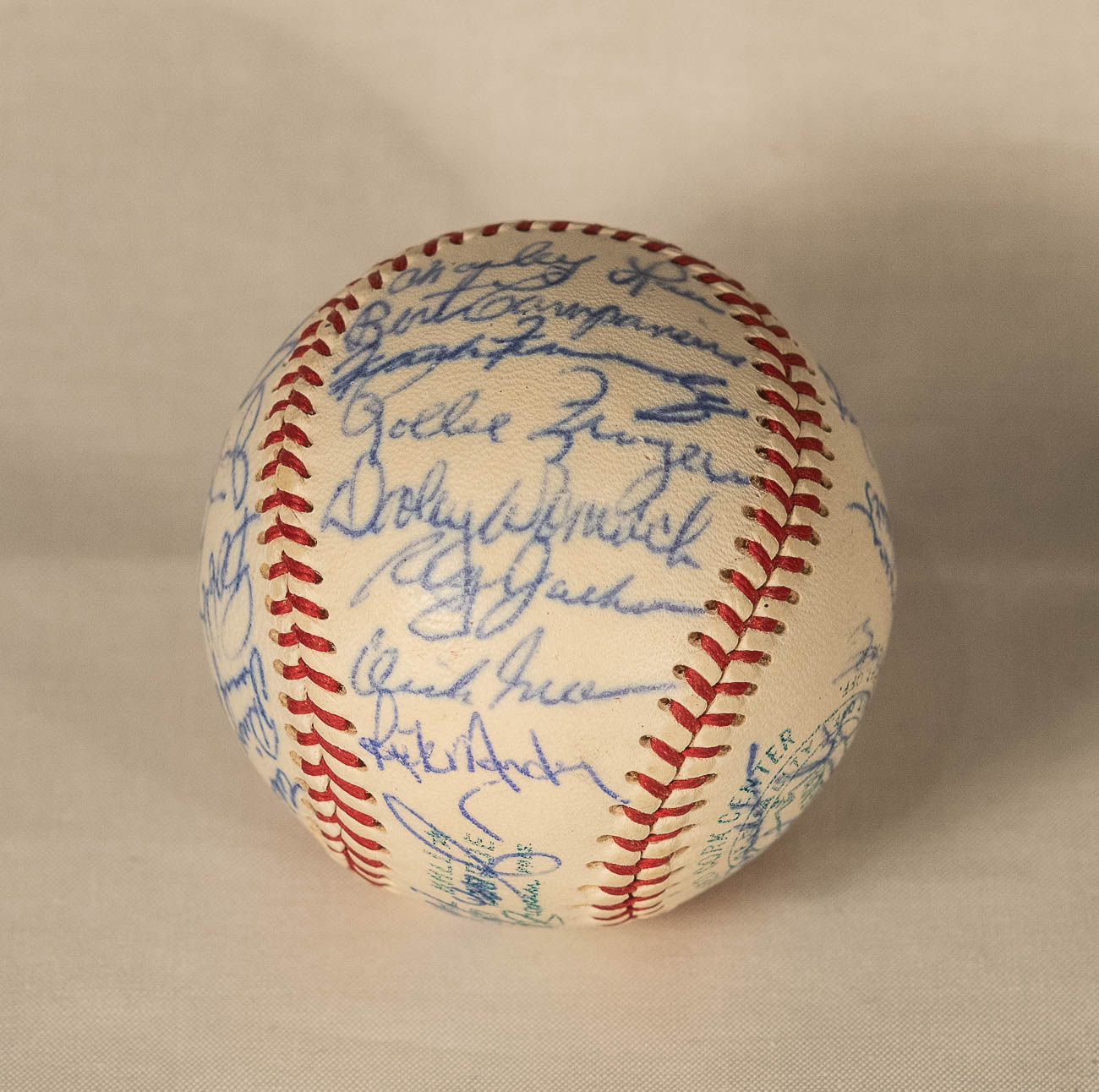 1970 Oakland Athletics Team Signed baseball
Signatures include: Felipe Alou, Sal Bando, Vida Blue, Bobby Brooks, Bert Campaneris, Tommy Davis, Chuck Dobson, John Donaldson, Jim Driscoll, Dave Duncan, Frank Fernandez, Rollie Fingers, Mudcat Grant, Dick Green, Steve Hovley, Catfish Hunter, Regie Jackson, Marcel Lachemann, Tony LaRussa, Allan Lewis, Paul Lindblad, Bob Locker, Don Mincher, Rick Monday, Blue Moon Odom, Jim Roland, Joe Rudi, Diego Sequi, Gene Tenace, Dooley Womack. Coaches signed Bobby Hoffman, Charlie Lau, Vern Heschheit
$200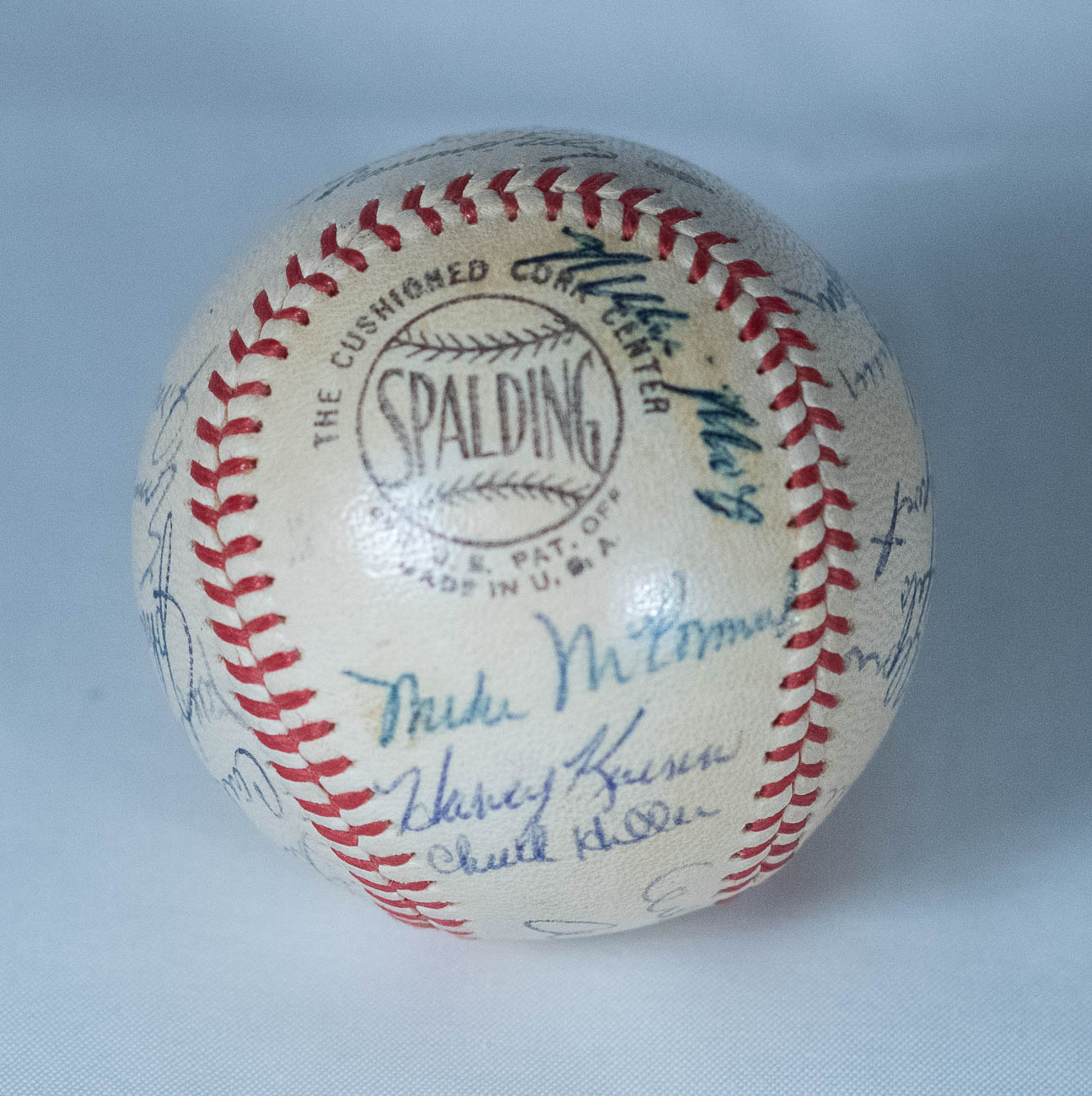 1962 San Francisco Giants Team signed baseball
Signatures include: Felipe Alou, Matty Alou, Ed Bailey, Carl Boles, Bobby Bolin, Ernie Bowman, Orlando Cepeda, Jim Davenport, Jim Duffalo, Bob Garibaldi, Tom Haller, Chuck Hiller, Harvey Kuenn, Don Larsen, Juan Marichal, Willie Mays, Mike McKormick, Willie McCovey, Stu Miller, Bob Nieman, Billy O'Dell, John Orsino, Jose Pagan, Jack Sanford – Alvin Dark stamped, as always
$700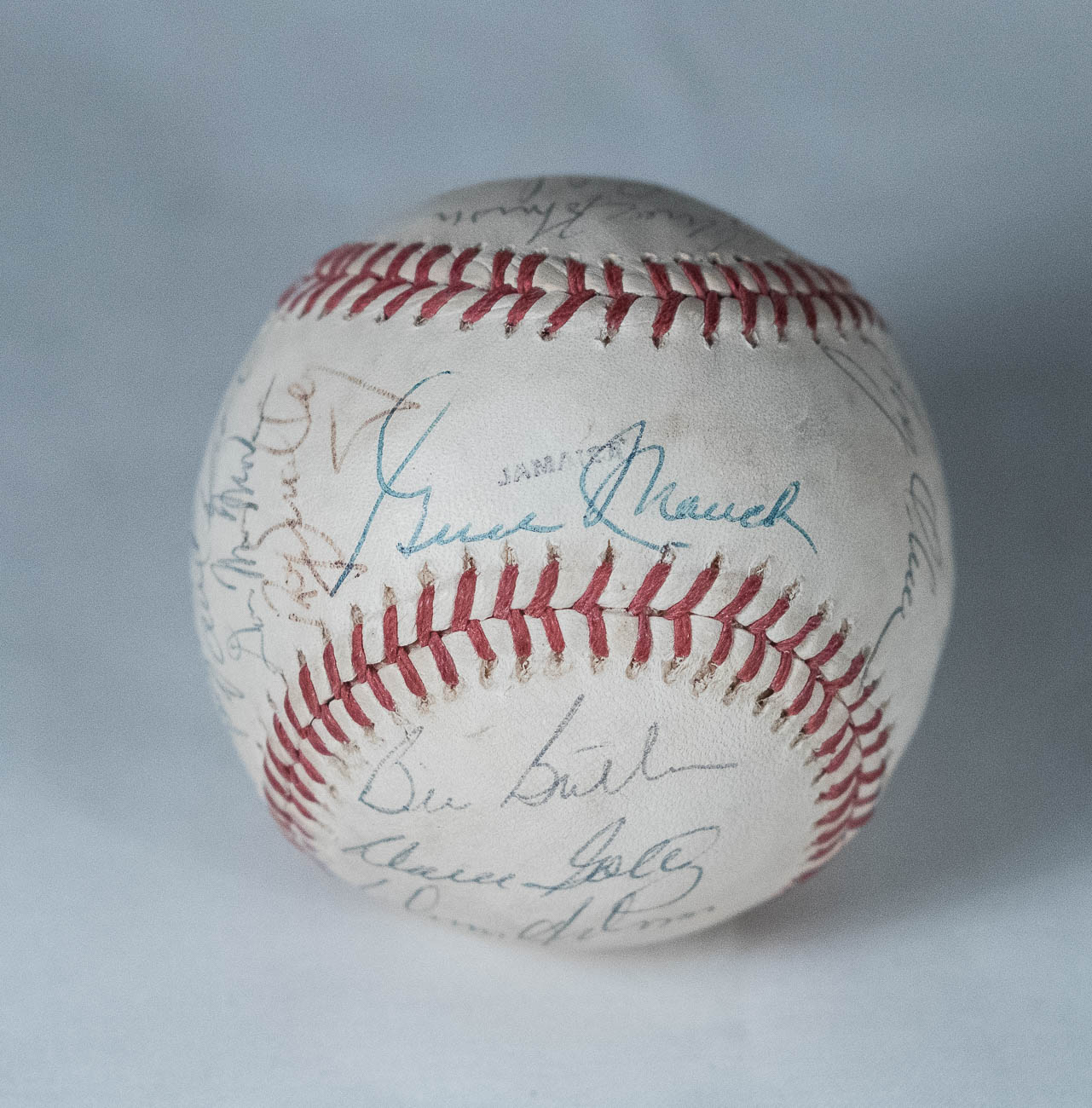 1977 Minnesota Twins team signed baseball
Signed by Glenn Adams, Bud Bulling, Tom Burgmeier, Bill ButlerRich Chiles, Dave Goltz, Luis Gomez, Dave Johnson, Tom Johnson, Craig Cusick, Bob Randall, Pete Redfern, Ron Schueler, Roy Smalley, Jerry Terrell, Paul Thormosgard, Rob Wilfong, Butch Wynegar, Geoff Zahn, Gary Serum. Coaches signed, Gene Mauch, Tony Oliva, karl Kuehl, Don McMahon,
$75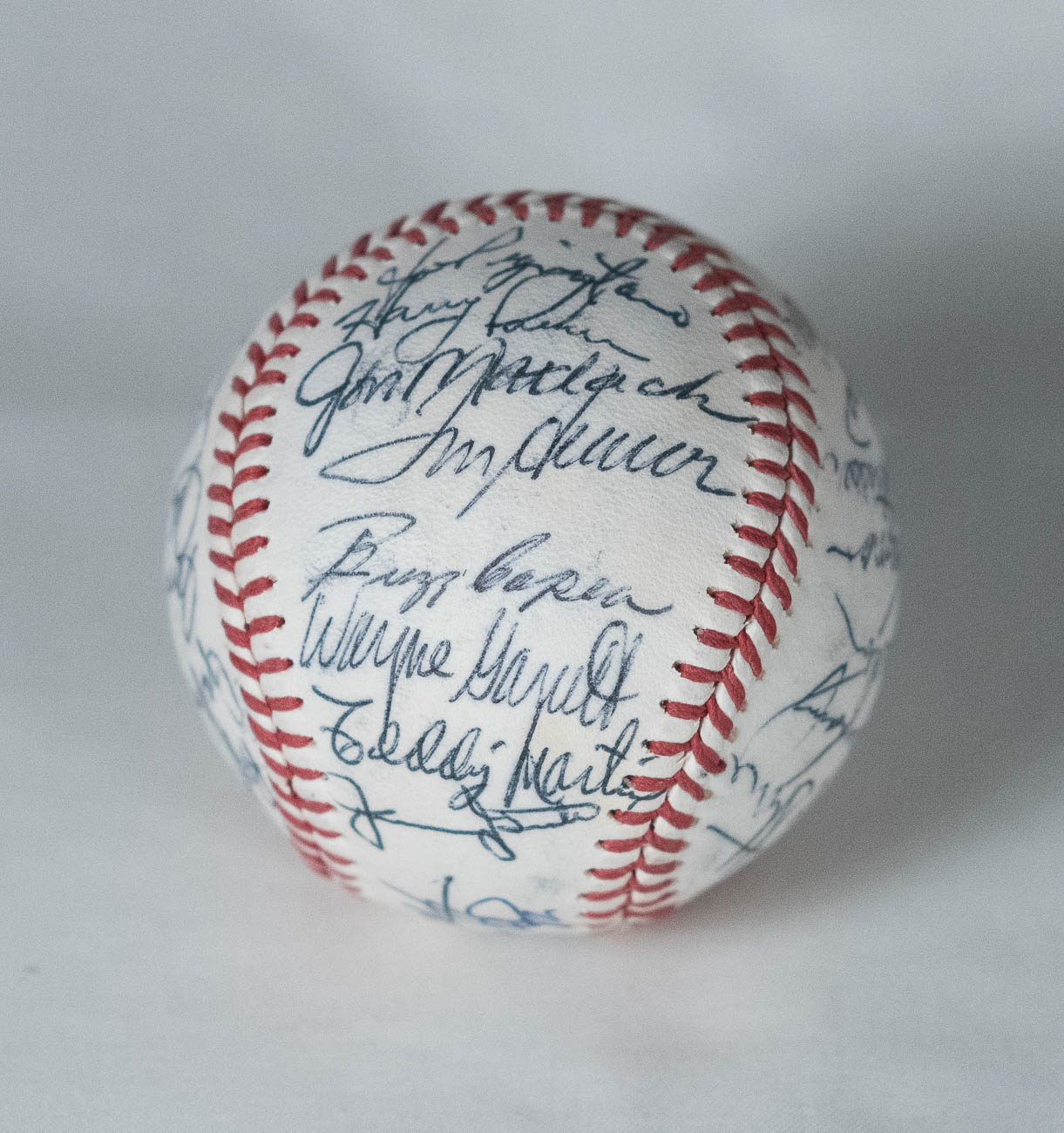 1973 New York Mets team signed baseball
Signed by Buzz Capra, Jerry Koosman, Jon Matlack, Jim McAndrew, Tug McGraw, Harry parker, Ray Sadecki, Tom Seaver, George Stone, Duffy Dyer, Jerry Grote, Ron Hodges, Jim Beauchamp, Ken Boswell, Wayne Garrett, Bud Harrelson, Ed Kranepool, Ted Martinez, Felix Millan, Ed Yost, John Milner, Brian Ostrosser, Cleon Jones, Willie Mays Coaches, Ray McMillan, Yogi Berra
$425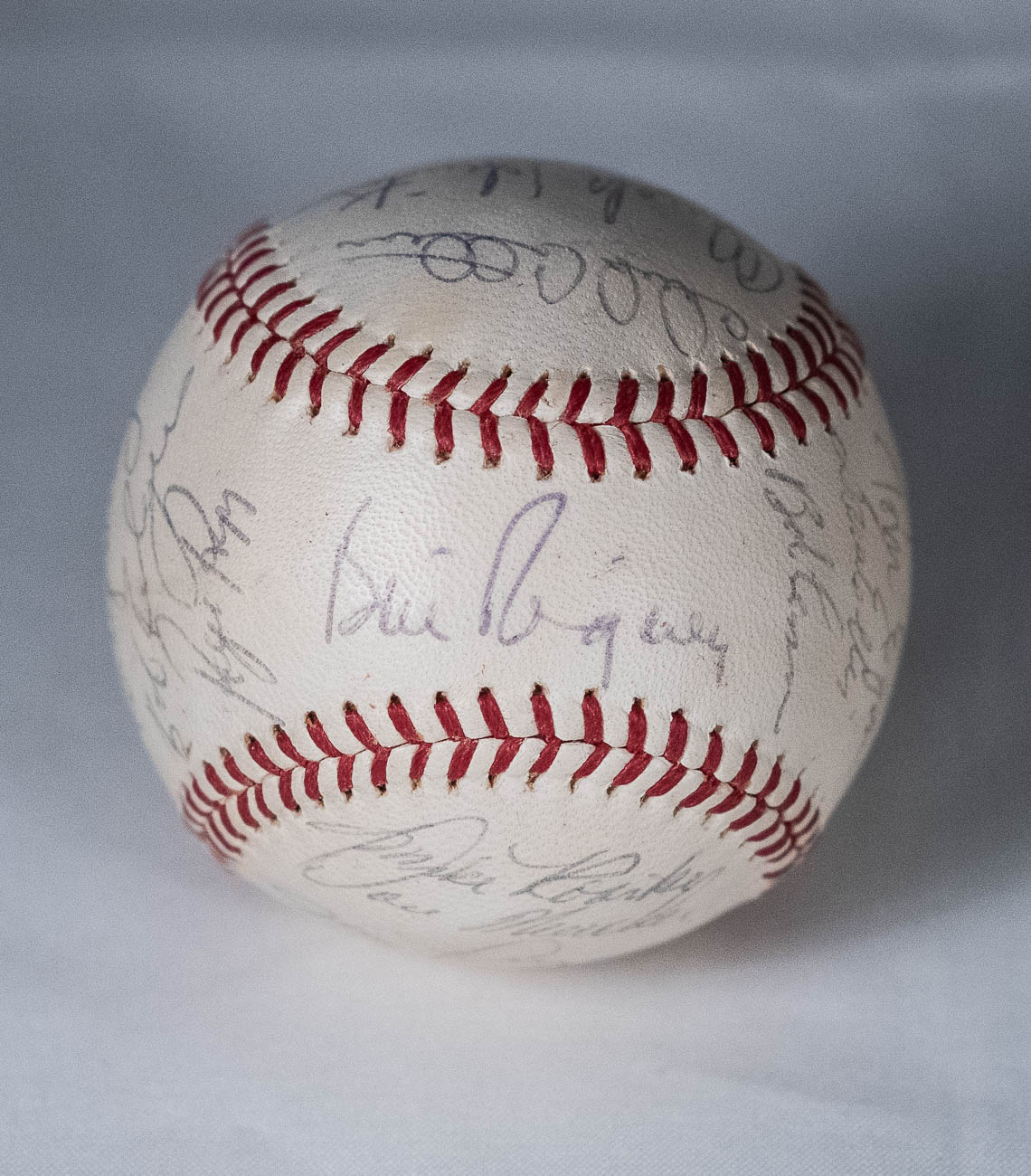 1968 California Angels team signed baseball
Signed by Tom Burgmeier, Ricky Clark, Chuck Cottier, Vic Davalillo, Tom Egan, Sammy Ellis, Jim Fregosi, Chuck Hinton, Ed Kirkpatrick, Bobby Knoop, Bobby Locke, Andy Messersmith, Don Mincher, Rich Reichardt, Roger Repoz, Buck Rodgers, Larry Sherry coaches signed – Bill Rigney, Bob Lemon, Rocky Bridges, Don Heffner, Mike Roark
$100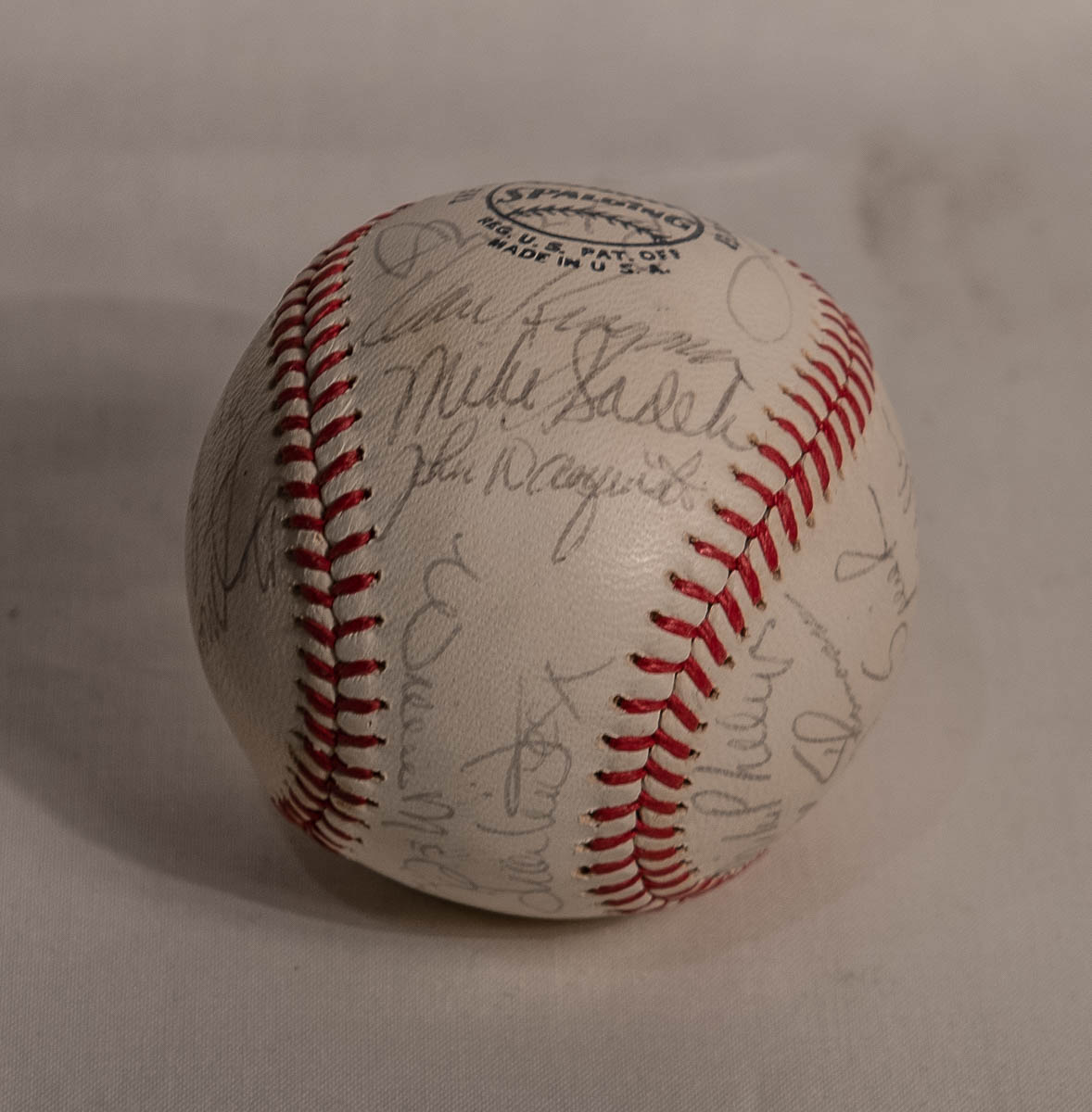 1975 San Francisco Giants team signed baseball
D'Aquisto, Montefusco, Murcer, Speier, Rader – 24 signatures
$50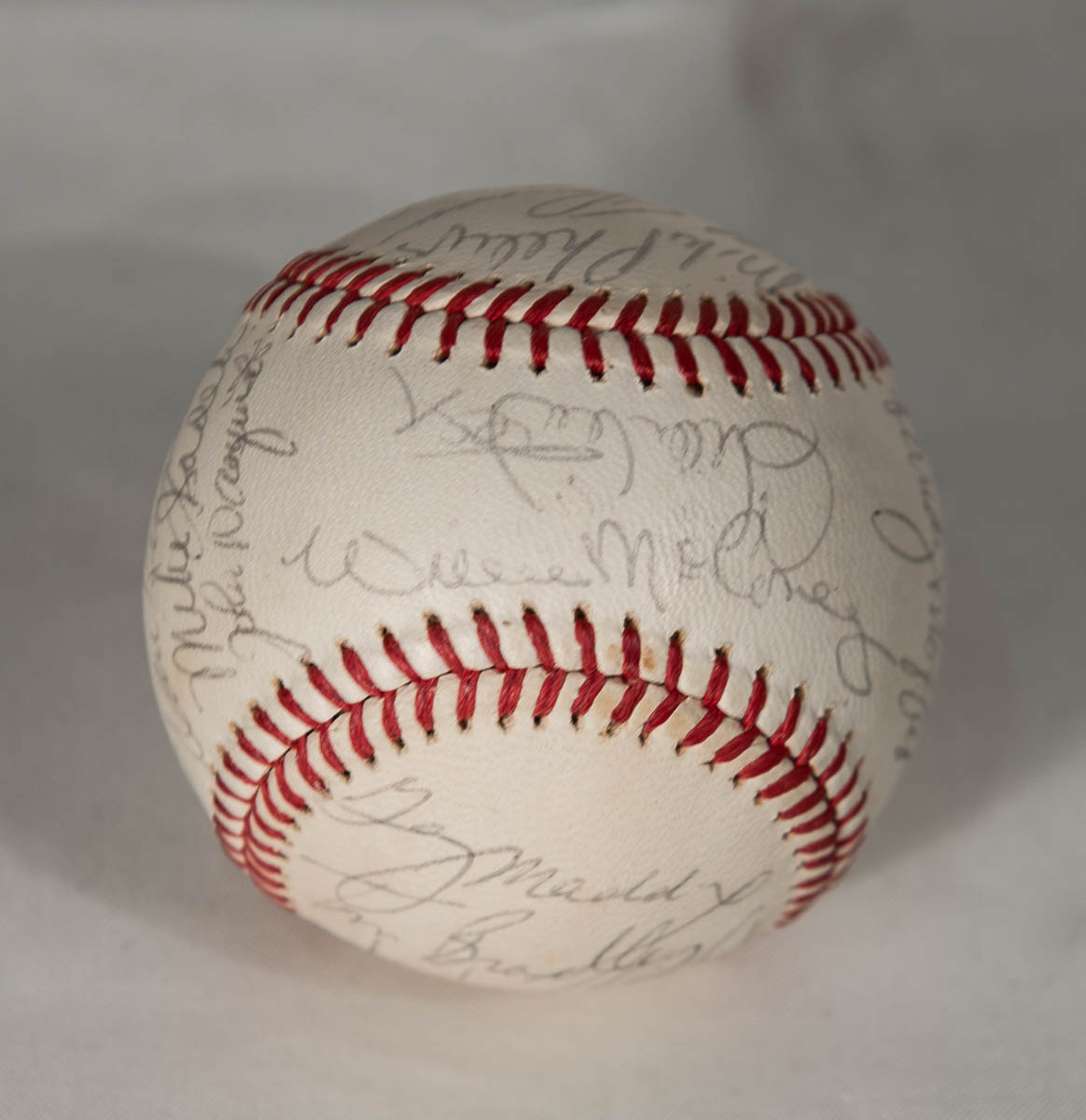 1973 San Francisco Giants team signed baseball
Marichal, Matthews, Fuentes, Speier, McCovey, Kingman, Maddox – 19 signatures total
$150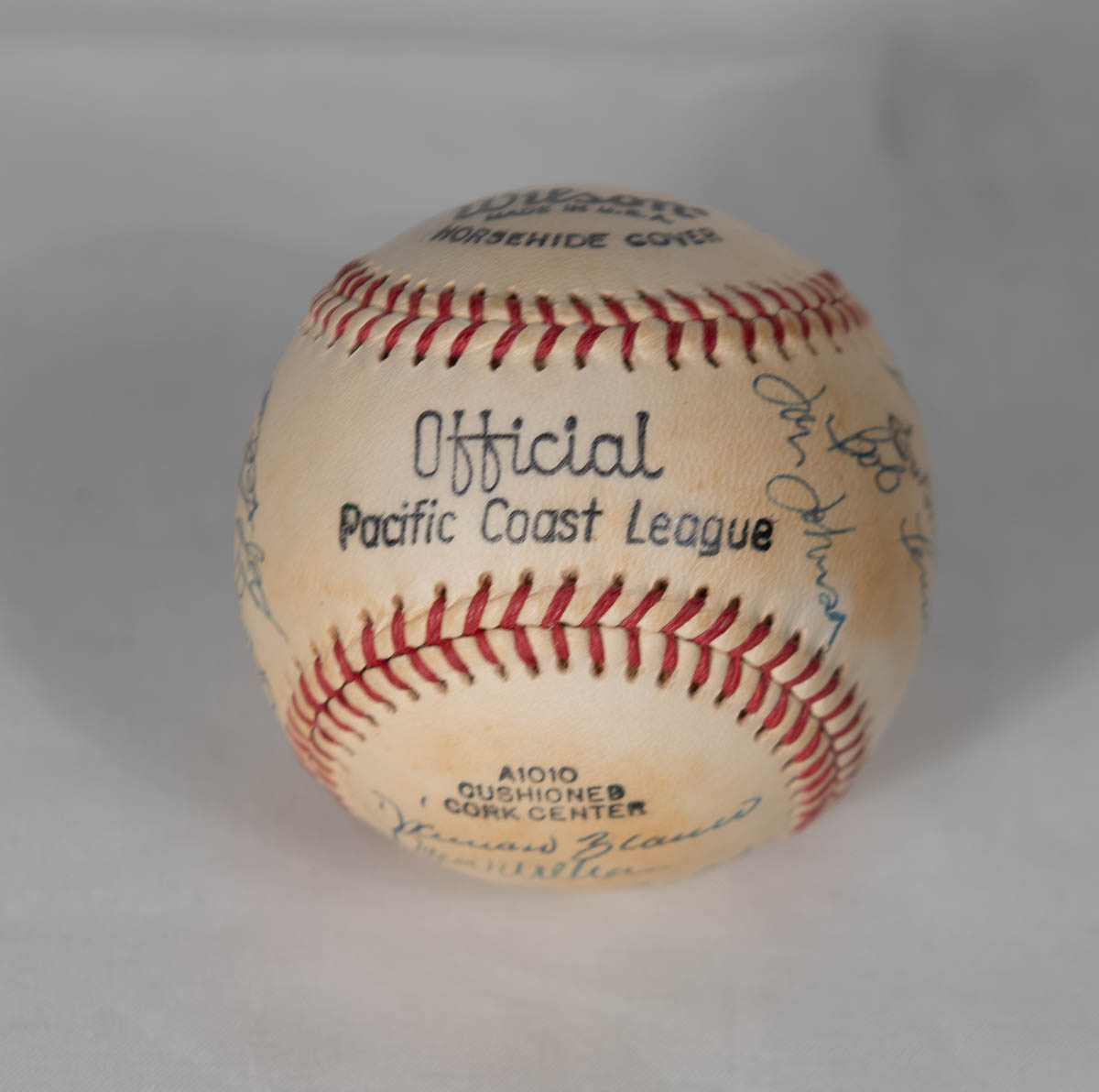 1970 Phoenix Giants team signed baseball
Puente, Linares, Blanco – 17 signatures
$40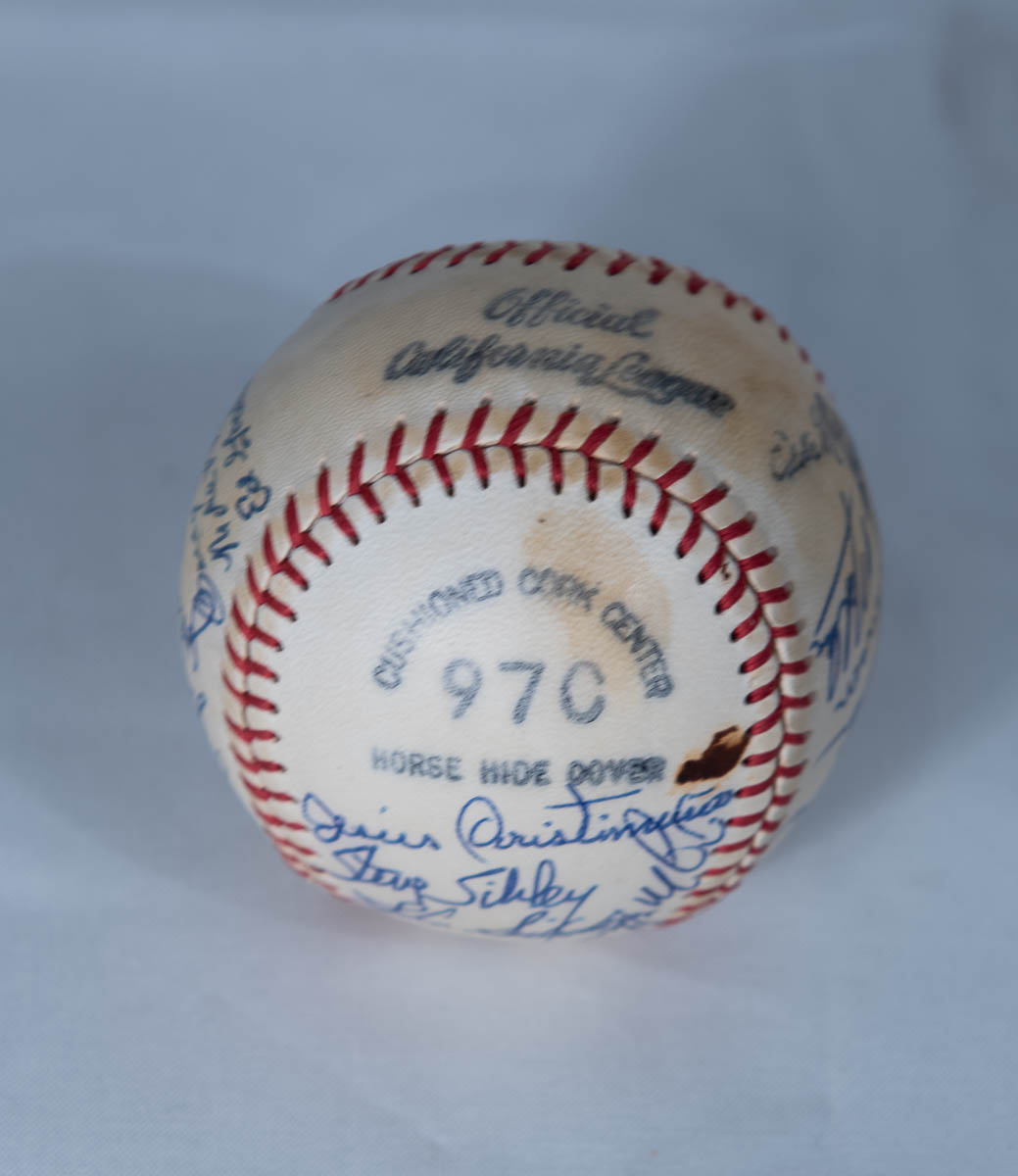 1970 Fresno Giants team signed baseball
Gary Matthews, Moffitt – 21 signatures
$40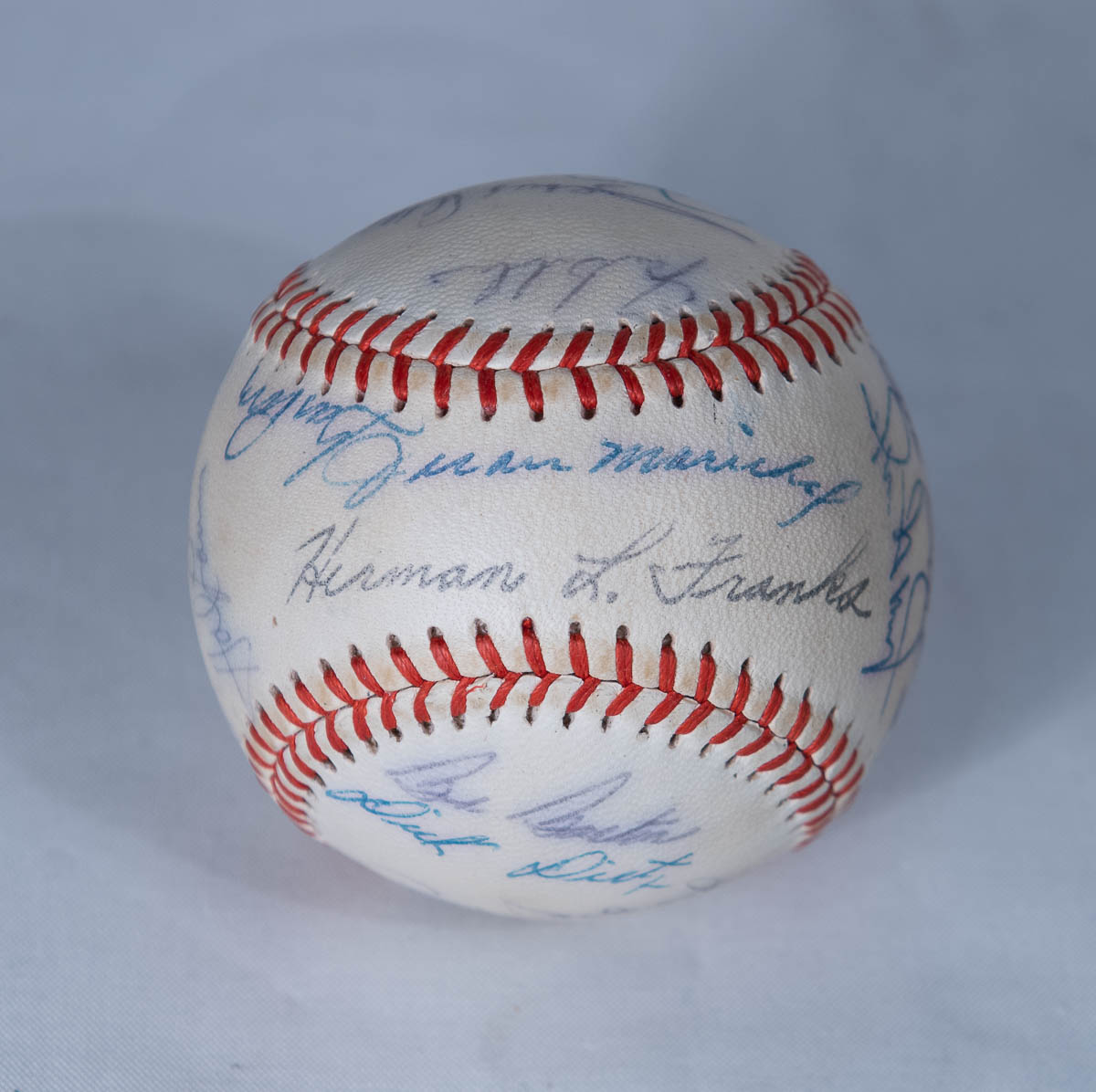 1968 San Francisco Giants team signed baseball
Jesus Alou, Mays, Marichal, McCovey, Bonds, Gaylord Perry – 21 signatures
sold