Where do I start? I have been woefully remiss in keeping my website current. I just wiped this page and will begin with a clean slate. Because I have so much new inventory it is impossible to list it all. This is just a snippet. More here offered on AskArt. How to begin?

How about a perfect and pristine Percy Gray (1869-1952) ?  Depicts the beautiful eucalyptus trees in his native San Rafael and painted in 1917. Did I mention it was a large work by this premier artist? 20 x 28″. You don't find better color, quality or composition. In a great and very expensive hand made Holton oak frame.

You won't find a more beautiful painting of Marin than this 20 x 30″ oil by Charles Dormon Robinson (1847-1933), Marin Hills in blossom time. Under glass for a hundred years, absolutely pristine view of Marin.

This oil by Phil Paradise (1905-1997) came from the wife of Disney's former Vice President Dave Hand. His late wife Mandy Davies said that Phil called this one Mystic Meadow. A lover of the female form, he was apt to stick all kinds of hidden faces and forms in his canvasses for people to discover.   Paradise worked for both Paramount and Disney and was onetime president of the California Watercolor Society.

Lilian May Miller (1895-1943) was one of the big four female American woodblock artists to find acclaim working in Asia, at the turn of the twentieth century, along with Bertha Lum, Helen Hyde and Elizabeth Keith. She has been the subject of some excellent museum shows. Miller had an abbreviated and somewhat tragic life. Her painting output was said to measure less than 100, making this large ink and watercolor painting with mica dust quite rare. Here is an interesting article on the artist.
"The 1942 Who's Who in California describes her as: "Only Western artist to have had complete training in the classical Kano style of painting; studied in Japan, China and Korea; began at age of 9 under famous Court Painter to the Emperor Meiji; exhibited in Imperial Salon (Japan), at age of 12. One-man shows in all important cities of the Orient."

This is one of two Victor Clyde Forsythe  (1885-1962) paintings new to the gallery. Dated 1941, he was likely traveling with Maynard Dixon during this art outing. Clean and lovely, simple and not overwrought.


I don't often buy still lifes anymore unless they are exceptional. This one is and by one of my favorite artists, Dana Bartlett (1882-1957). Hard to find painter, always good. This one crackles with energy have to view in person!

A nice southwest sunset by the long lived painter Jimmy Swinnerton (1875-1974). More old drunks than there are old doctors, Jimmy managed to both drink and paint for a very long time.

Ross Dickinson (1903-1978) was a beloved California artist who taught in both Santa Barbara and Los Angeles for many years. This four foot long canvas depicting a castle in Normandy showcases his later pointilist foray.

A very lovely work by Robert Wood (1889-1979). Not sure if it is California or Texas but what a palette! You can see why he was one of our most beloved artists in the mid century.

William Posey Silva (1859-1948) was one of the rare artists to achieve acclaim in both California and the south concurrently in the beginning of the twentieth century. This view of the Carmel coast adroitly shows off his juicy brushwork and command. Silva retired from his job in 1907 and went to France to study under Laurens at Academié Julian.

Painted in 1918, this allegorical painting by Claude Buck (1890-1974) is the greatest one from that period I have ever seen. I call it "Death's welcome," a salutation which seems to have thrown something of a fright into the lady subject, who was modeled by Buck's wife, Leslie.

A western landscape by the acclaimed Pennsylvania turned Arizona artist Lon Megargee (1883-1960) This is an early work, from the collection of his principal mentor, the first Arizona Governor George W.P. Hunt.

A.D.M. Cooper (1856-1924) was one of that particular coterie of artists who often had to sell their canvasses to pay their bar bill. A resident of San Jose his work is often found in saloons and bordellos and other similar low brow dens of ill repute. A very colorful sybarite who lived life on his own terms. This 1908 painting of nude vixens is not titled but I believe he is depicting Circe or some other siren whose design is to cause unsuspecting men to crash themselves on the nearby rocks and eddies.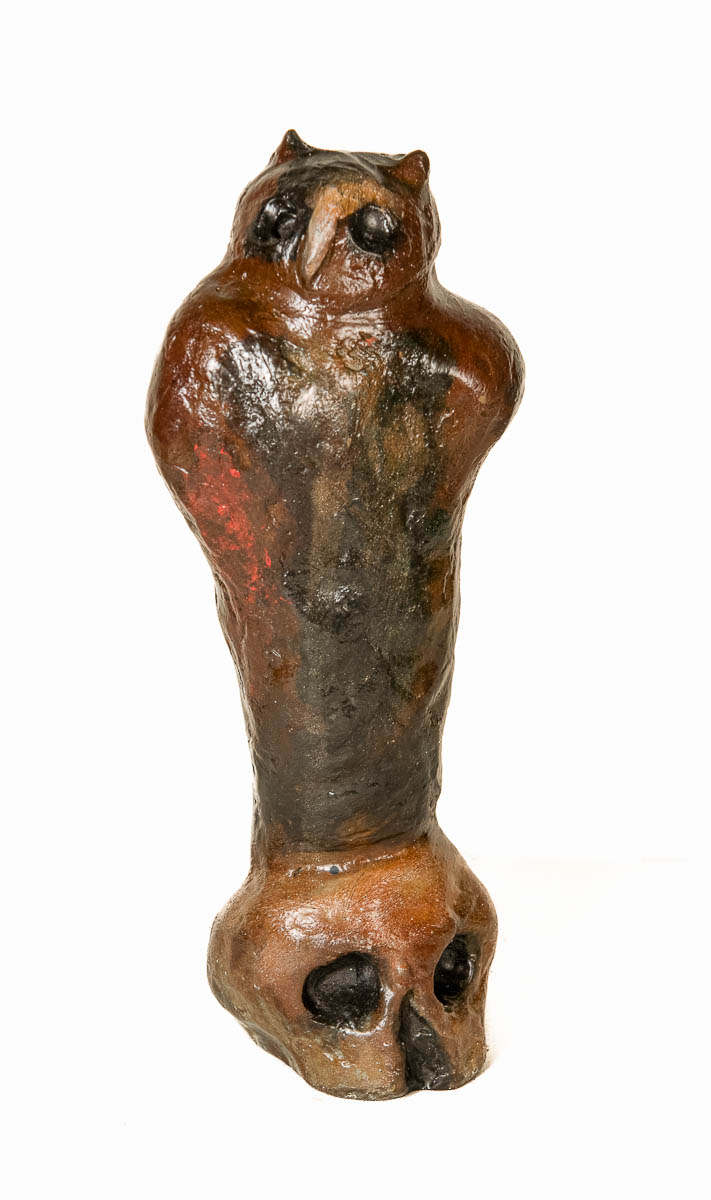 A very rare bronze sculpture by Fritz Scholder (1937-2005), Another secret.
A large vessel by Philip Moulthrop (b. 1947) in figured tulipwood, executed in 1980.
A monumental stoneware bowl by the esteemed California studio potter Harrison McIntosh (1914-2016)
A service for eight, five across, in Allan Adler (1916-2002) hand hammered sterling silver pattern Swedish Modern with extra serving pieces from the estate of the noted designer Herbert Bayer.
Please check out my recent  rare Jo Mora find on Gallery News!