Wilhelm Albermann (1835-1913) Der Schmied von Solingen (the smith of Solingen) Bronze sculpture circa 1910 signed with foundry mark for Gladenback, Berlin. 9 & 1/2″ tall. beautiful original patina. sold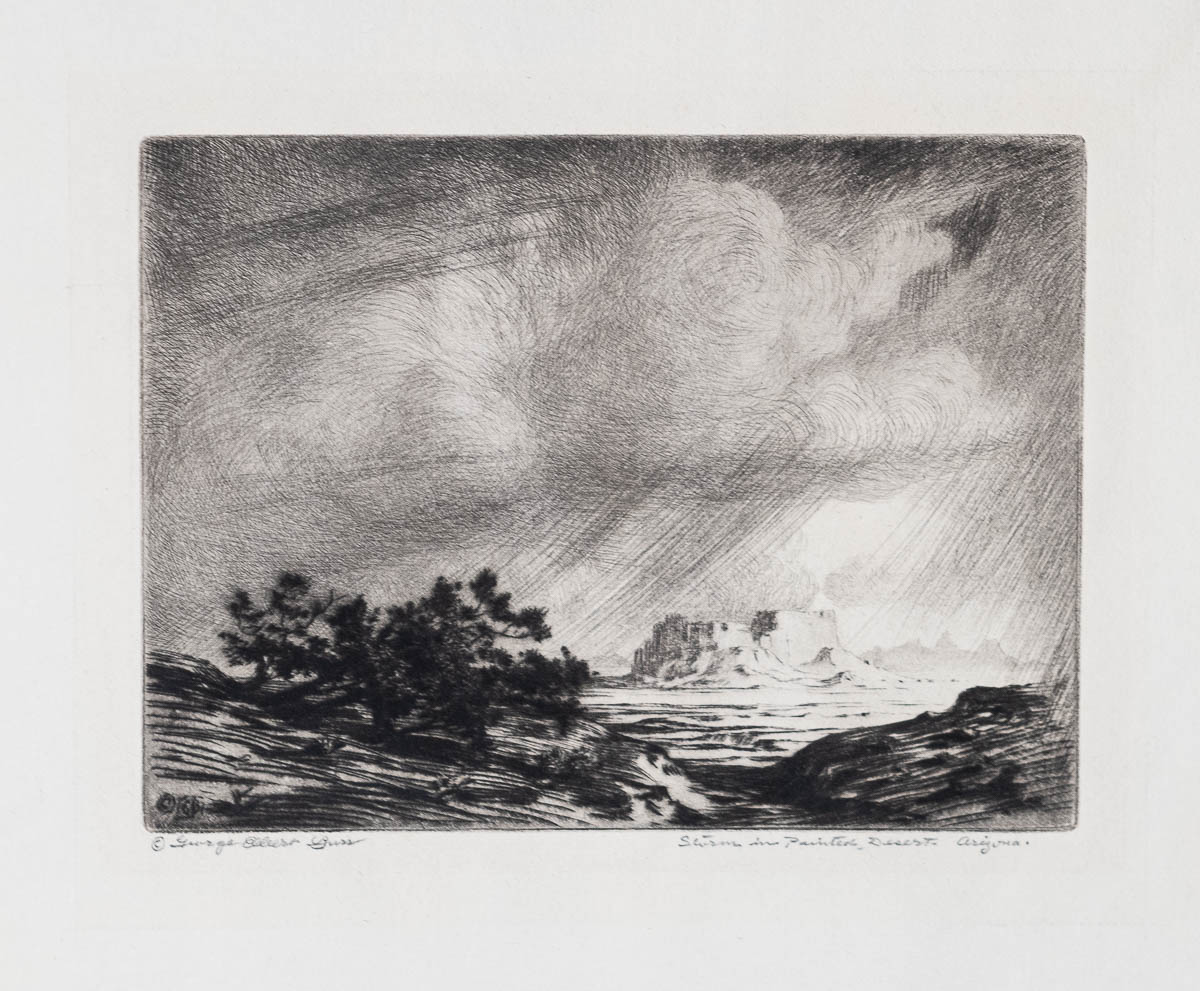 George Elbert Burr (1859-1939) drypoint etching Storm in Painted Desert 4 & 1/2″ x 6″ sold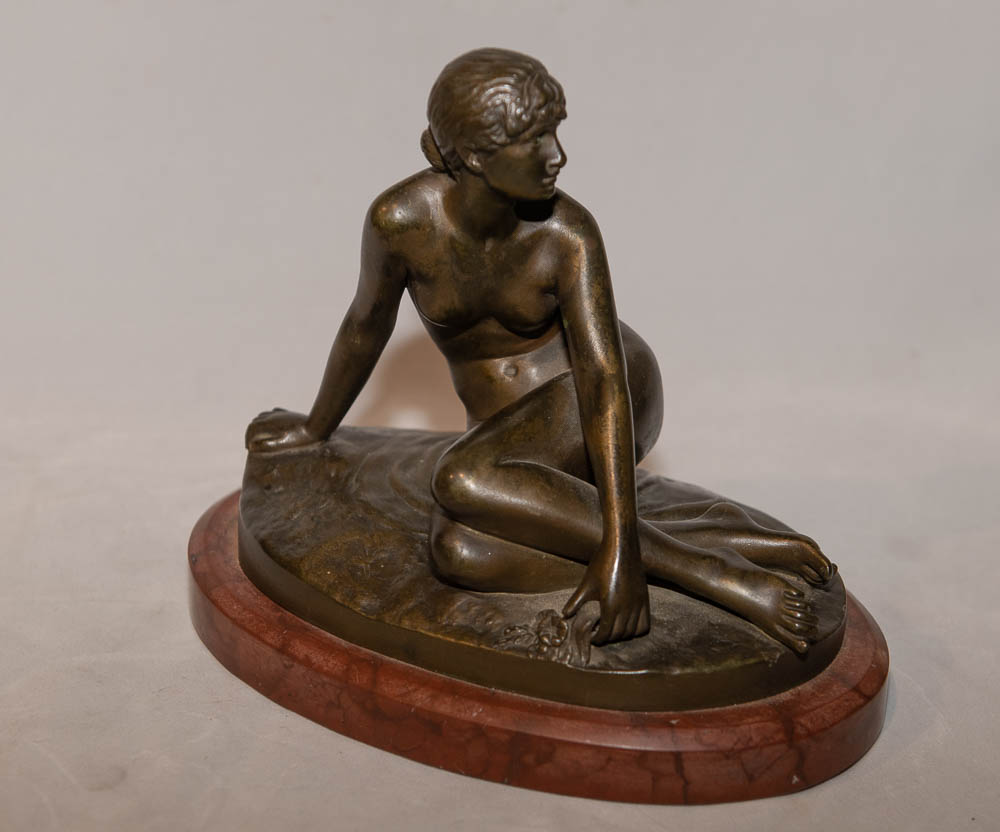 Peter Breuer (1856-1930) Spring, Bronze sculpture 7 x 8 x 5″ faintly signed, original patina
A beautiful sculpture by the iconic german artist, a girl holding flowers. I believe that this is an original casting and not a restrike. sold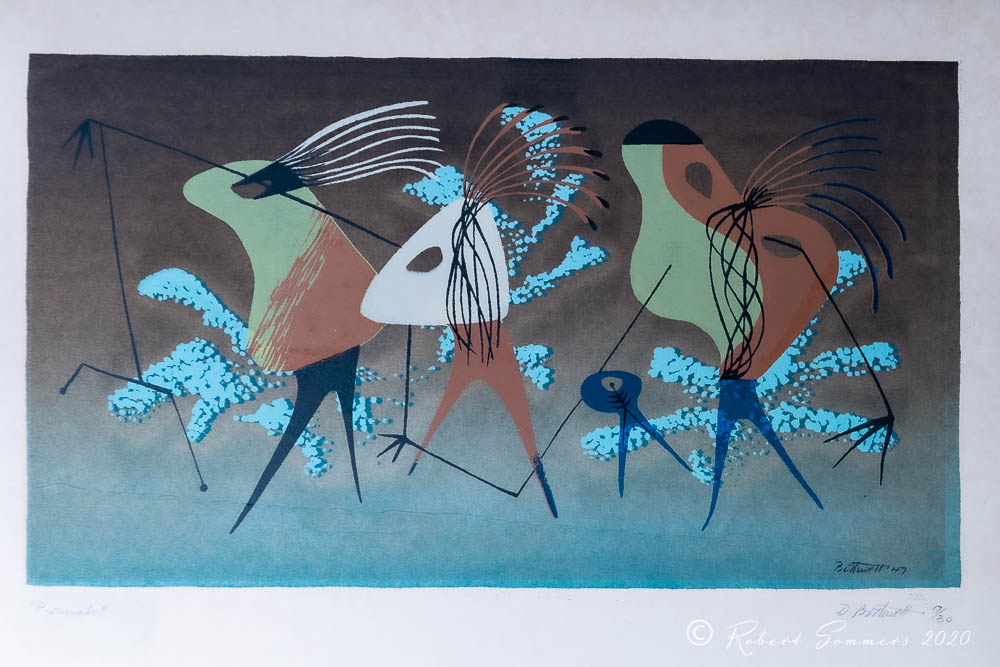 Dorr Bothwell (1902-2000)– Promenade 1947 Serigraph 17/30 $1200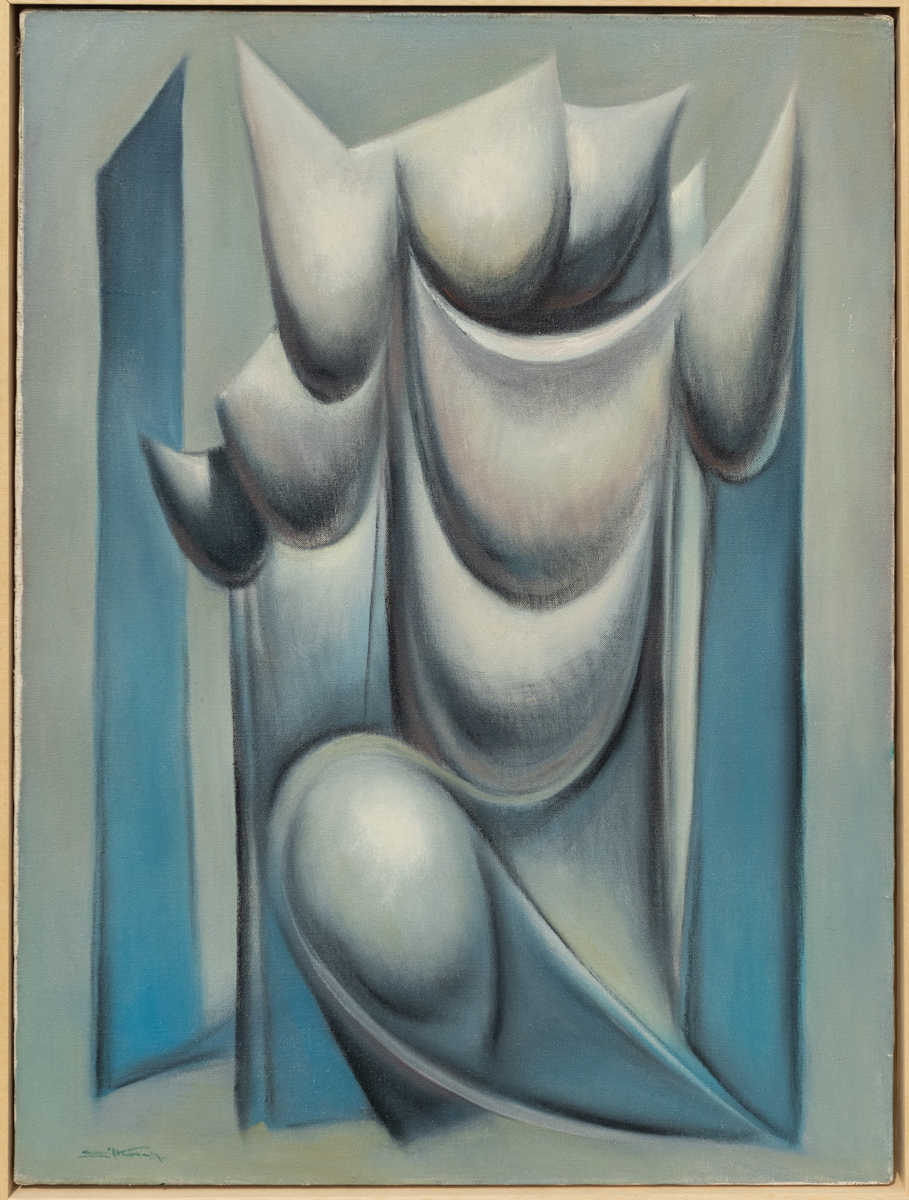 I having put any new offerings on the website in quite some times and the place is absolutely brimming with paintings, prints and merchandise. Like this wonderful oil on canvas modernist painting by Emil Kosa Jr. (1903-1968) that came out of my friend, the late Martin Medac's, collection. It measures 40 x 30″ plus strip frame. I really love it.
I have seen a fair amount of Kosa's abstraction and this one is the absolute best I have seen. His modeling and volume here is extraordinary. Much of his abstraction is two dimensional and he was stepping out here. It doesn't have a title, my overactive mind is thinking winged hydra holds up the world. $4800
Have you ever heard of an artist named Julie Speed (b. 1951)? A transplant to Texas, she is a remarkable artist and already has a monograph out. Very talented painter and printmaker. I recently found this lovely hand colored gravure, Singing Yolanda. approx. 12 x 9″. Edition of 40. $800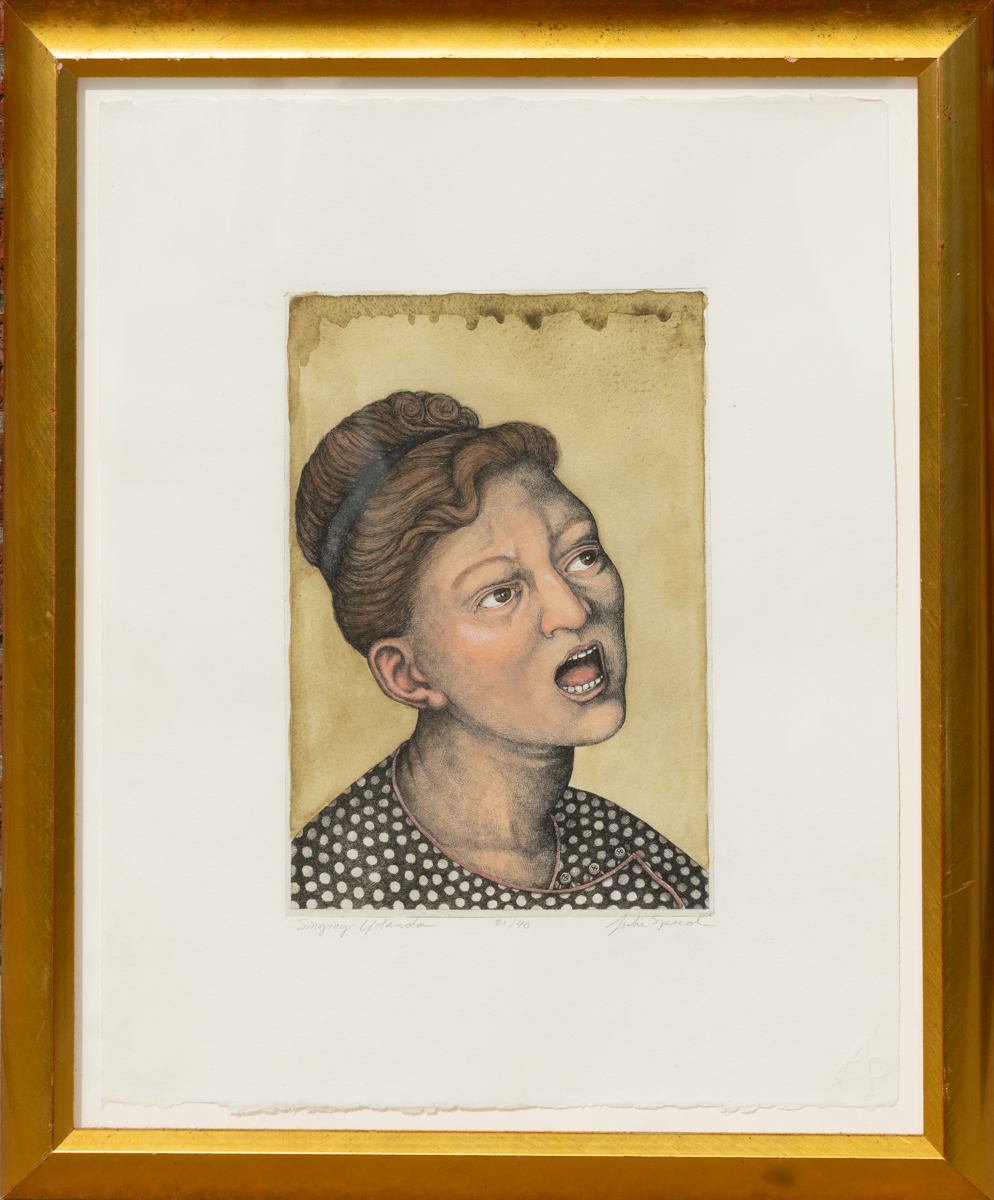 I bought a magnificent sterling silver overlay cuff by the late Michael Kabotie (1942-2009), the famous hopi painter and silversmith, son of the equally if not more famous Fred Kabotie. signed Lomawywesa verso sold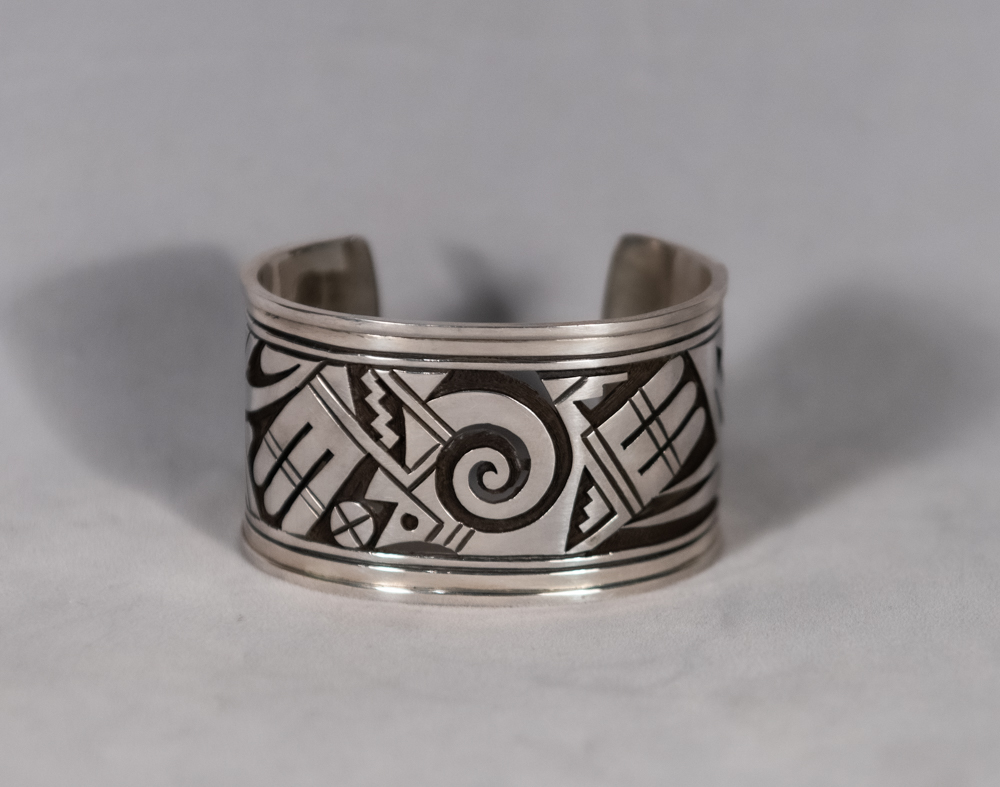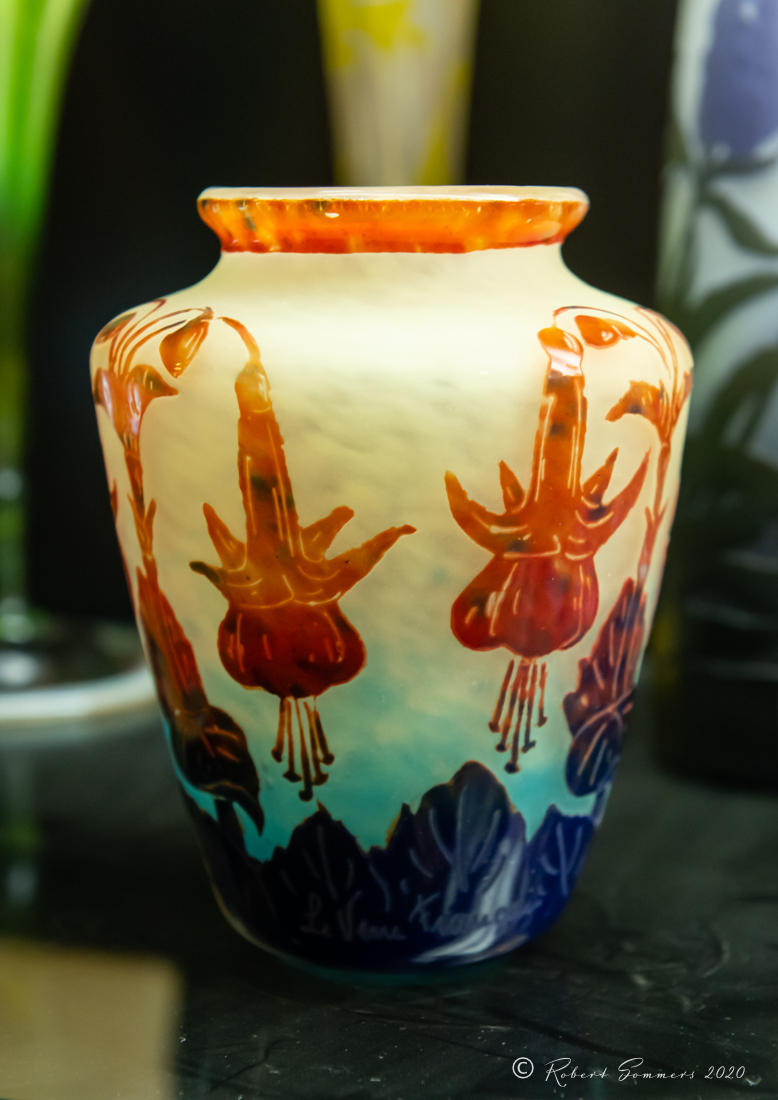 Le Verre Francais cameo cut back fuschia vase
5 & 3/4″ x 4 & 3/4″
signed, mint
sold
I am helping a friend and compatriot sell this 38 x 32″ oil on canvas still life by the noted California modernist Robert Frame (1924-1999) 38×28″.sold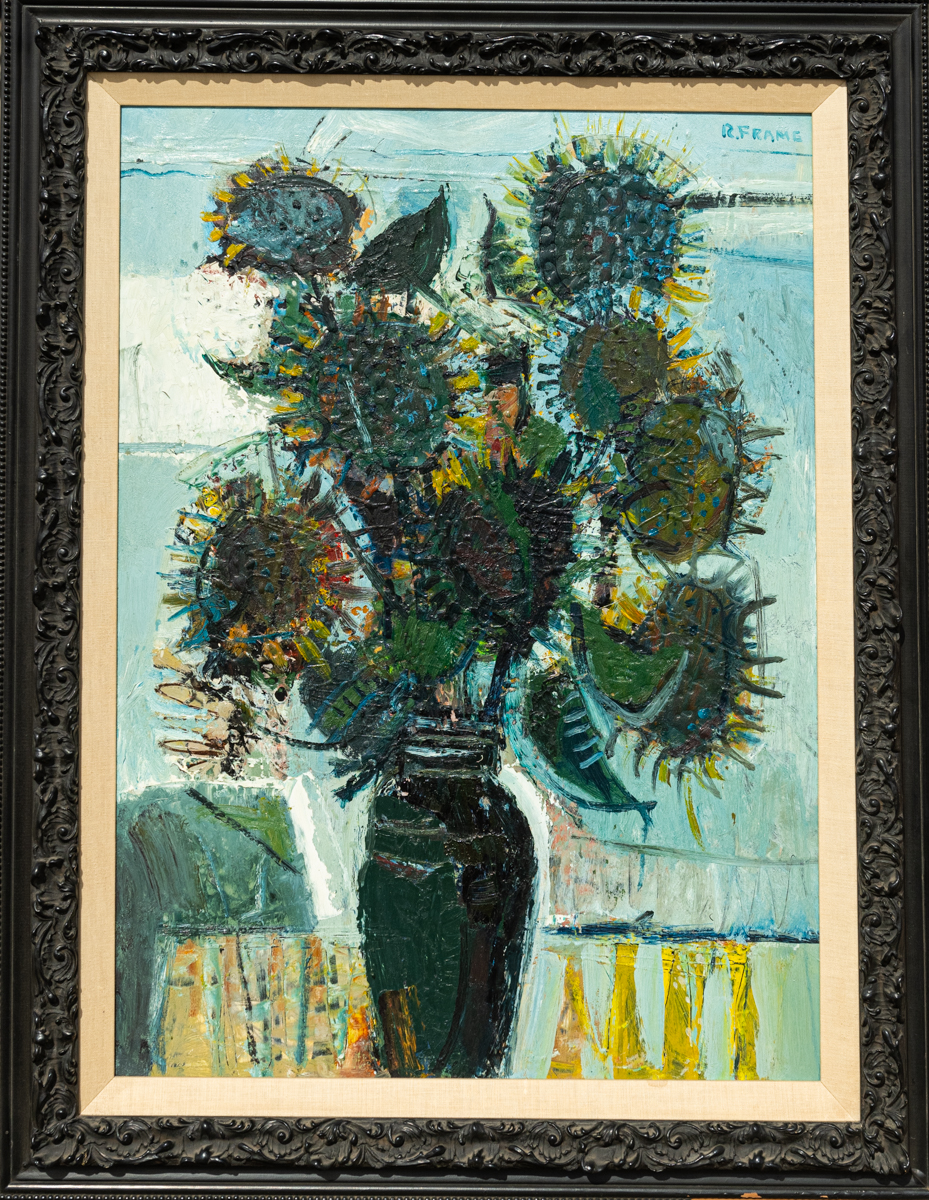 I found a remarkable Louis Comfort Tiffany favrile sherbet and underplate with an unusual pulled design in Palm Springs. Both signed L.C.T.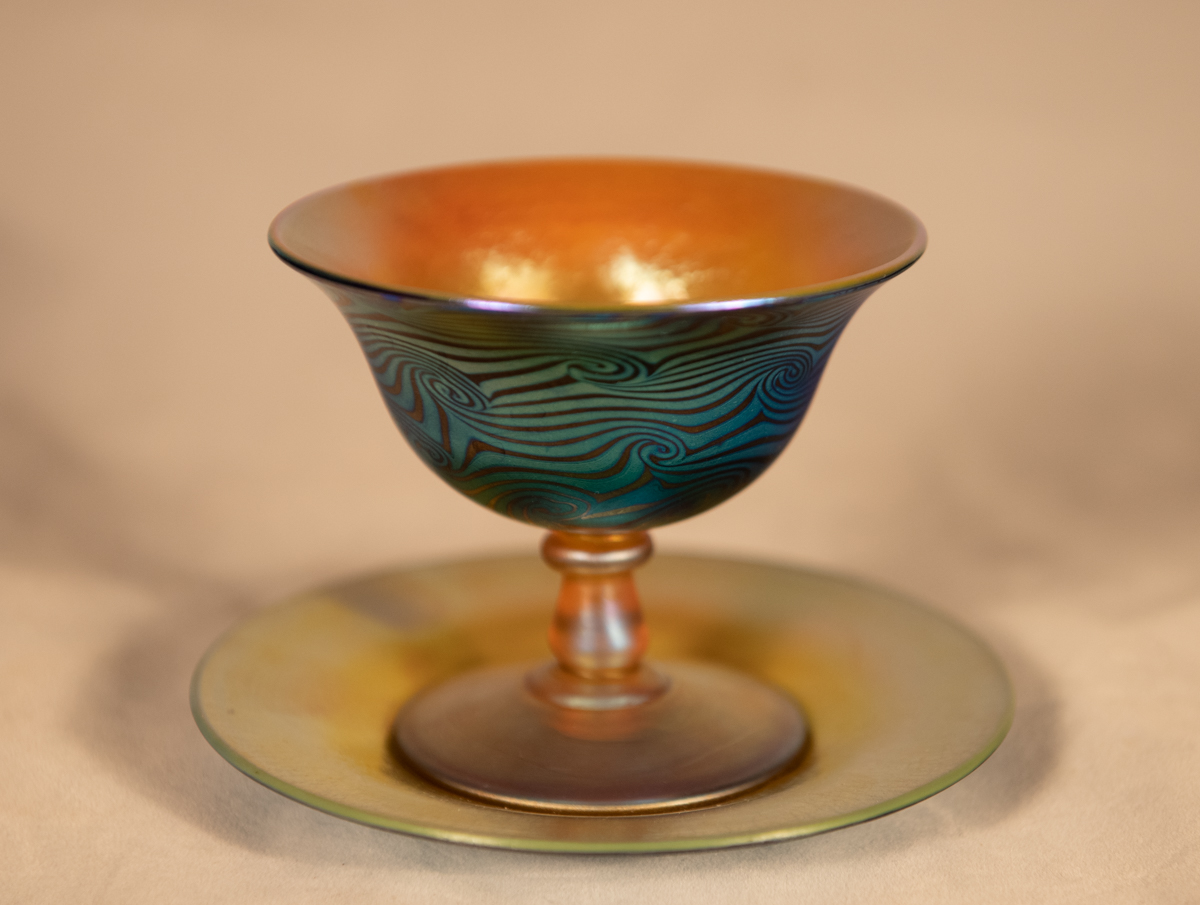 A Navajo modernist cuff with Kingman turquoise by the noted  silversmith Mark Roanhorse Crawford. Originally sold by the Heard Museum at an annual sale. $800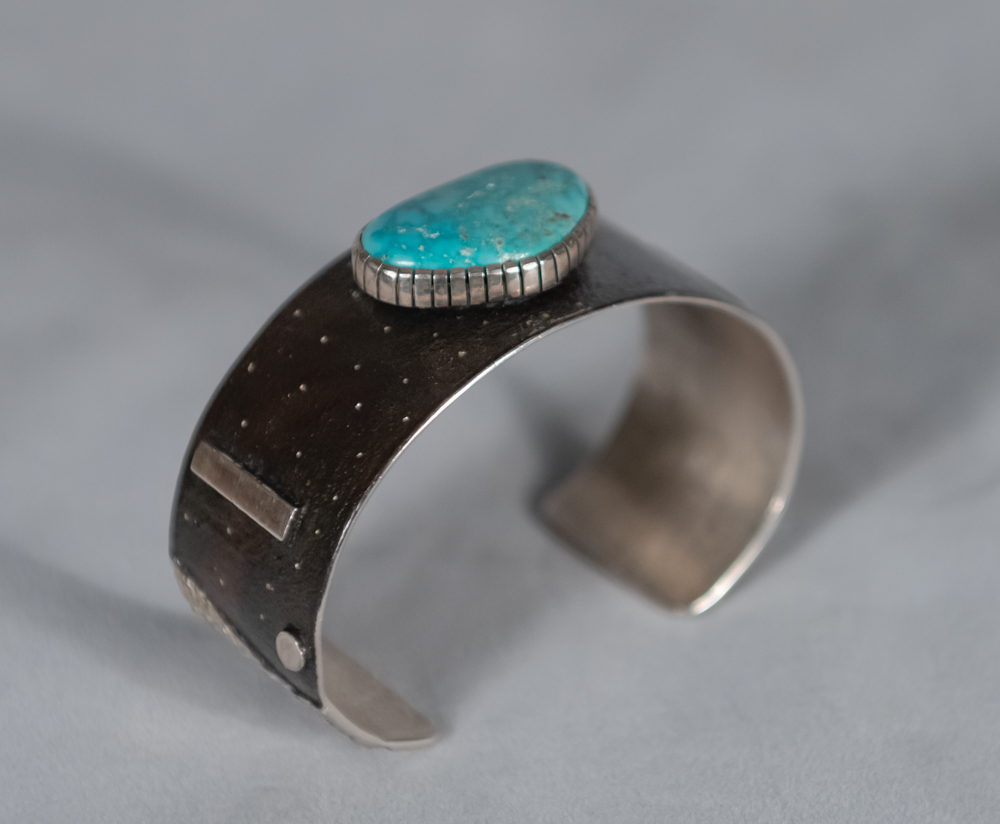 Two paintings by the hot modernist artist Bradford Salamon (b. 1963) Brad is noted for his quirky surrealism. He has sold to Museums and has done very well at auction. These two nonobjective abstract oil on canvas paintings from 2007 and 2017 respectively are a steal I think and a great investment. They each measure 36 x 36″. sold
Two large Polia Pillin (1909-1992) ceramic plaques, each approximately 17″ square and framed in nice and clean plexiglass boxes. These are very rare, as large as you will find with this artist as this was her maximum kiln measurement. sold
The Gate, a 1960 mixed media on paper painting by Dorothy Stratton King (1909-2007). 17 x 15″. $850 It is very rare to find her work, I am privileged to be working with her estate.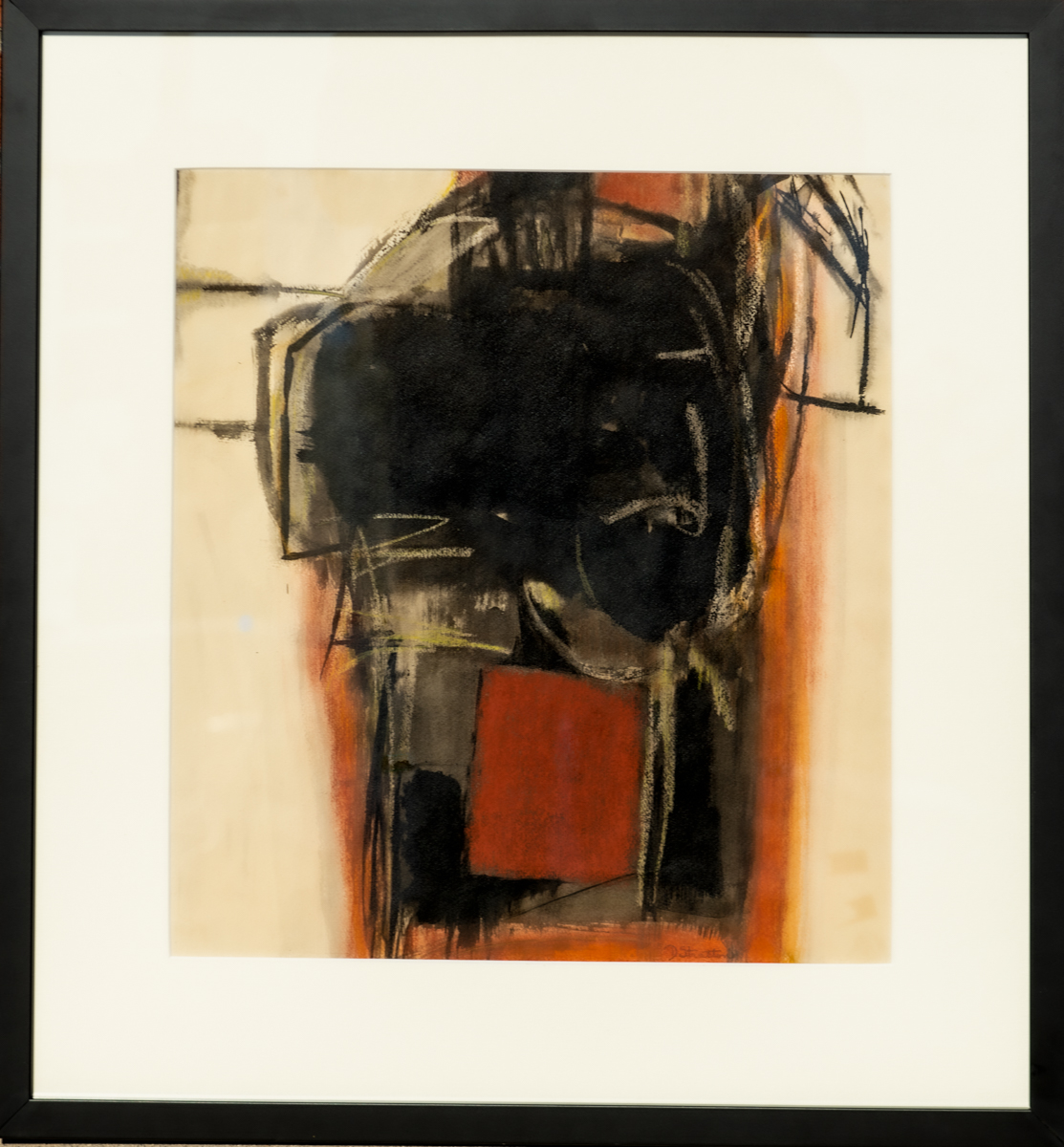 Clay Image a lovely large woodblock print by the Japanese artist Kiyoshi Saito (1907-1997)
1952 20 x 12.2″
ed. 45/200
$850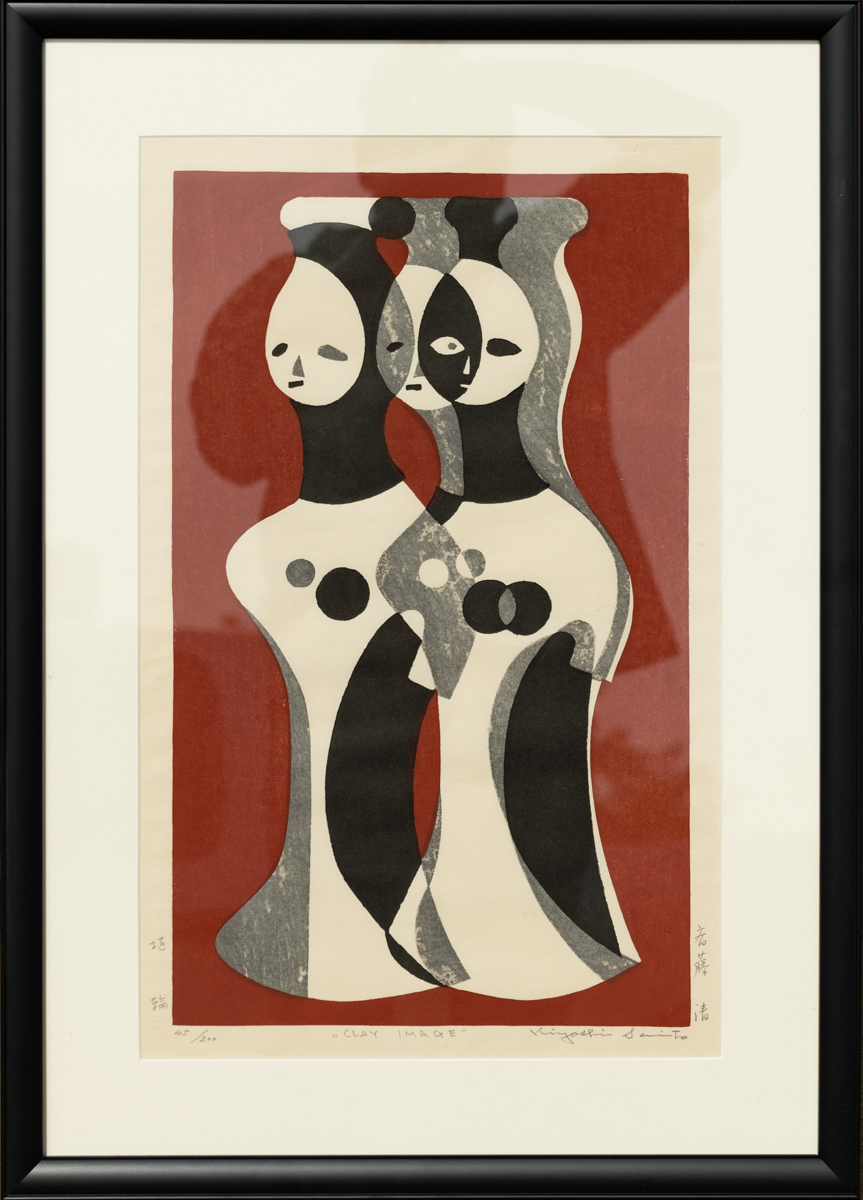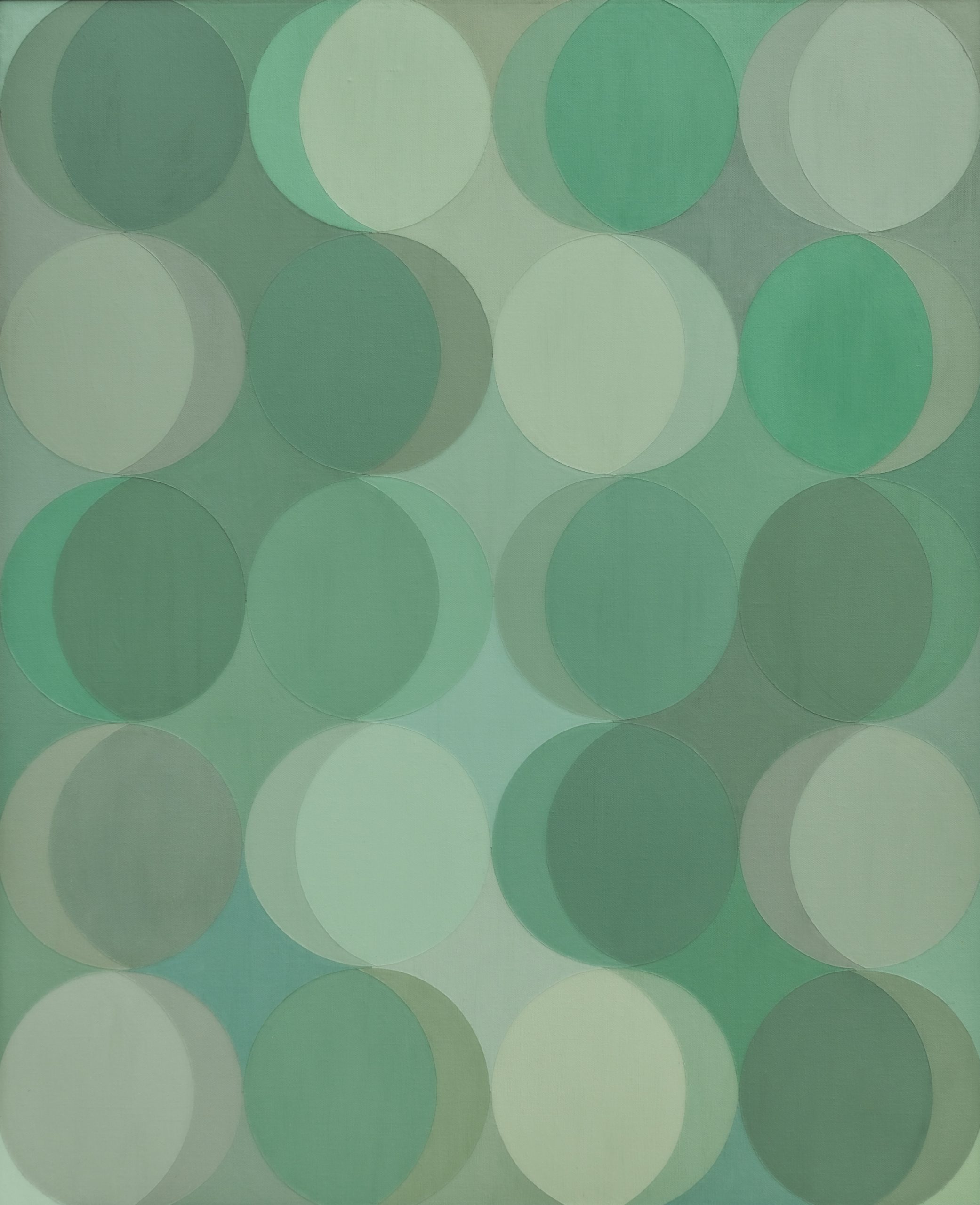 Stevan Kissel (1932-2017)
Twin Circular Columns
oil on canvas, laid to board, original frame
30 x 24″
$2400

Kissel was a promising artist from New York who relocated to Los Angeles to attend the Otis Art Institute.
From Askart: Kissel exhibited in the three-person show Young Artists, and is on a Round Table panel moderated by Lorser Feitelson, at LA Art Assn., LAT, June 17, 1962, page N 27; wins Grumbacher $300 Purchase Award at California Water Color Society 43rd Annual, at Otis Art Institute, LAT, November 10, 1963, page B 23; his painting mentioned in a review of the California National Water Color Society, 47th Annual, at Otis Art Institute, LAT, November 17, 1967, page C 10.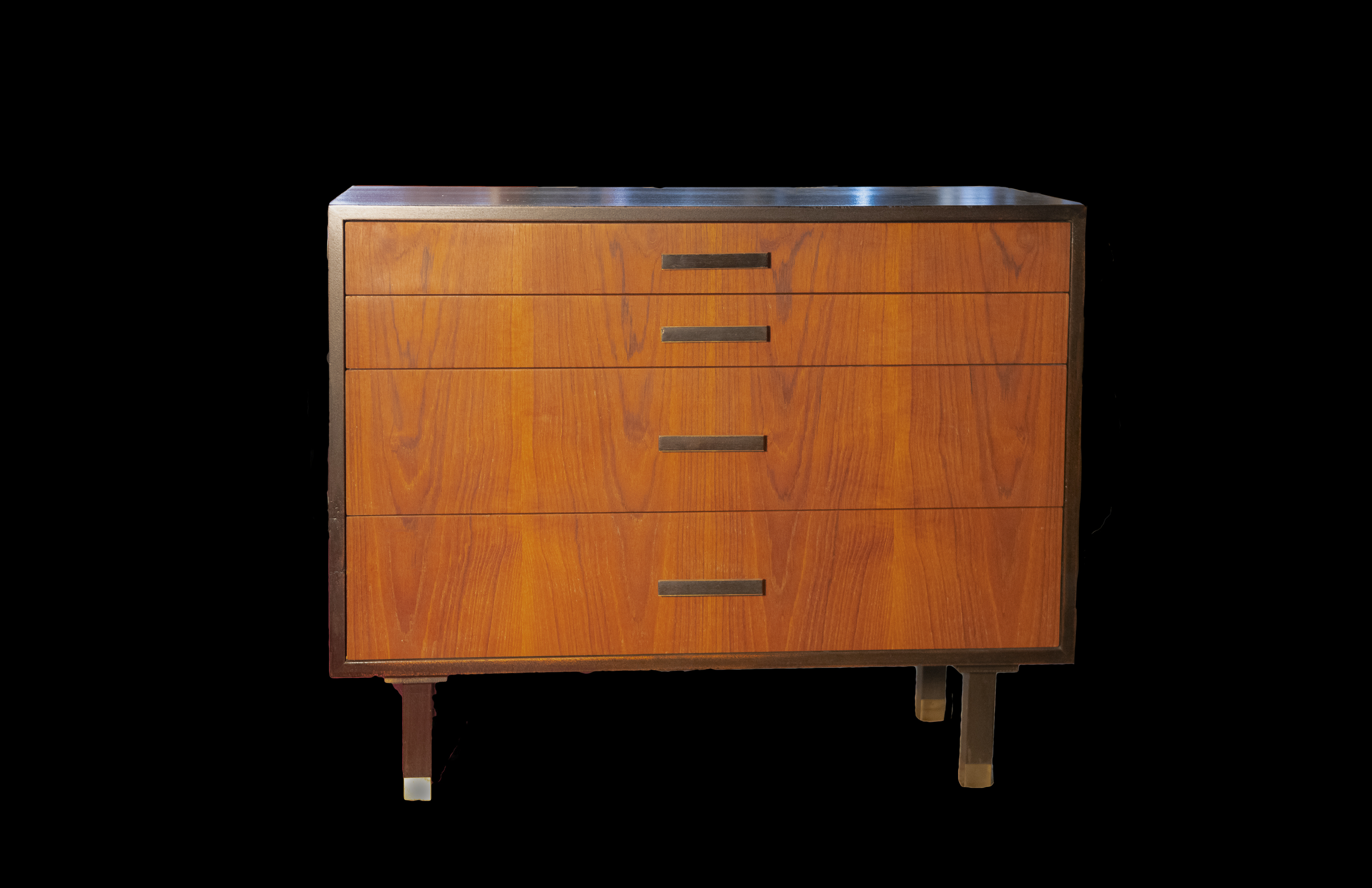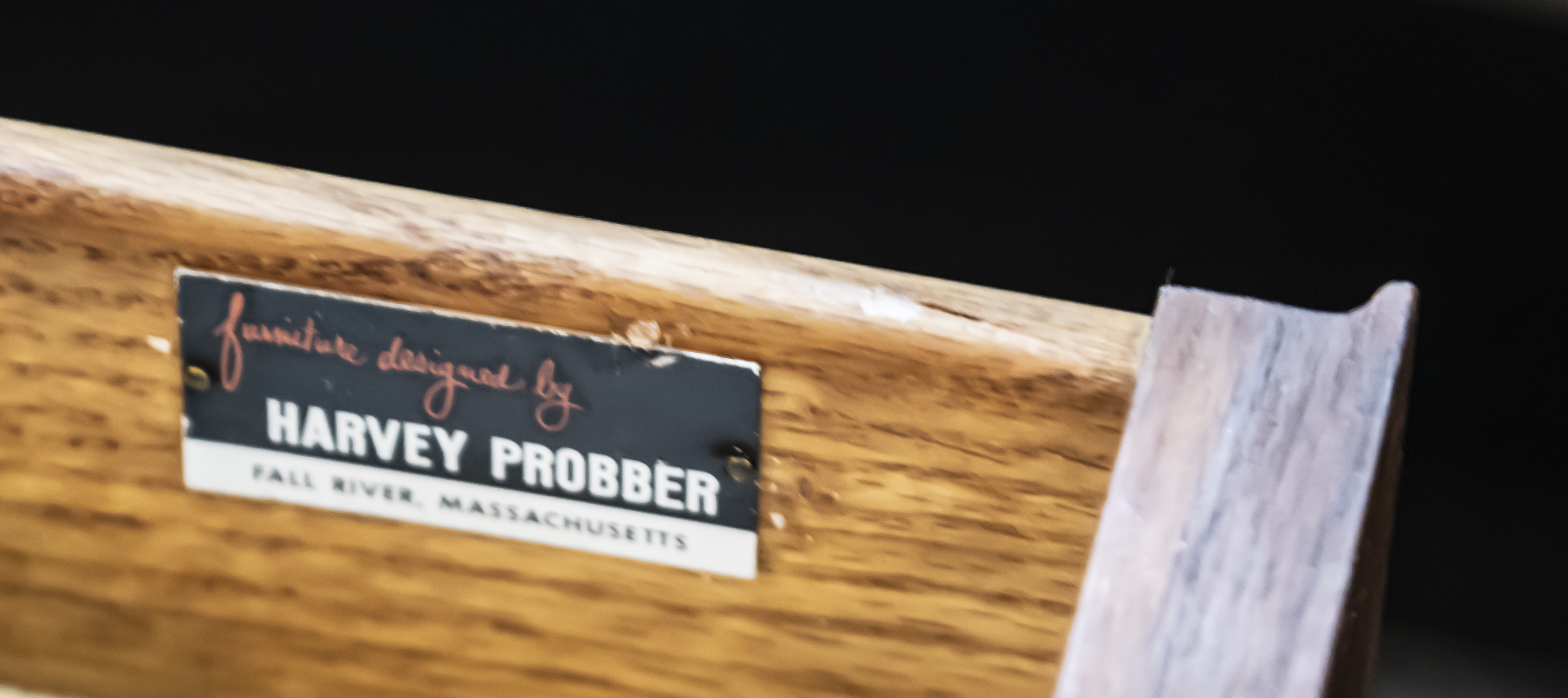 A lovely midcentury dresser by Harvey Probber – Fall River , Massachusetts
In walnut accented by ebonized mahogany.