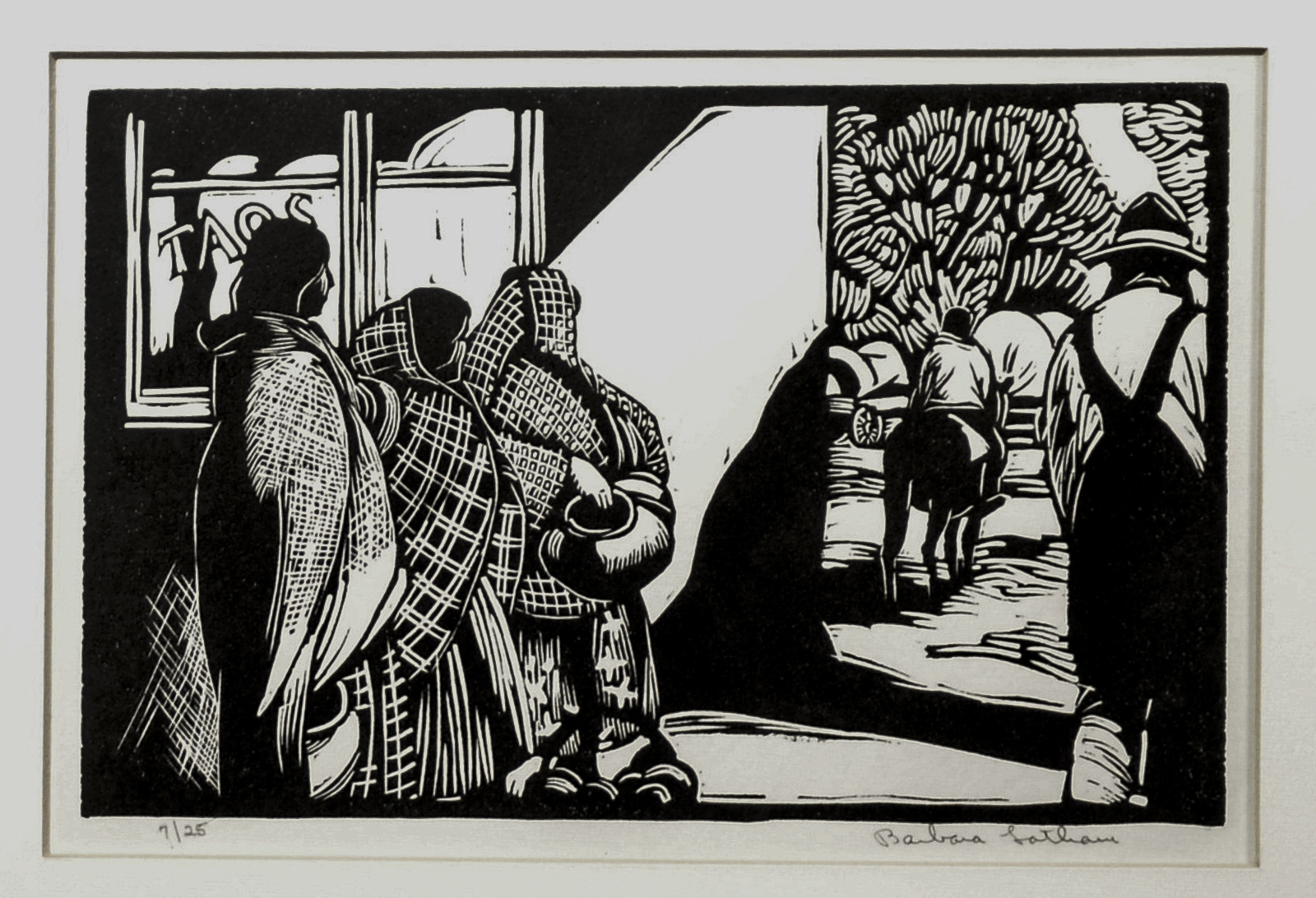 Barbara Latham (1896-1989) Taos Street Scene , woodcut 4.5 x 6.5″ circa 1935 9/25 framed sold
Painter, print maker, and children's book illustrator Barbara Latham was born in Walpole, Massachusetts in 1896, and lived most of her life in the West.  She was raised in Norwich, Connecticut and studied at the Norwich Free Academy and then attended Pratt Institute from 1915 to her graduation in 1919.  She then studied with Andrew Dasburg at the Art Students League summer school in Woodstock, New York.
She spent the early part of her career in New York, where she worked for the Norcross Publishing Company and did illustrations for Forum magazine and the New York Times Sunday magazine.
In 1925, Latham went to Taos, New Mexico, for the first time to get material for illustrations for a greeting card company.  She met artist Howard Cook, who was in the process of developing illustrations for Willa Cather's novel, Death Comes to the Archbishop, and the couple married in 1927.  From 1928 to 1935, they traveled widely including to Mexico; Springfield, Massachusetts; Paris, France; and Norwich, Connecticut.  In 1933, the couple made their home near Taos, on the Talpa Ridge just south of the town.  In 1976, they made their final move, which was to Santa Fe.
Latham, from the time of her first visit to Taos, created prints and paintings of New Mexico subjects: the Taos landscape, views of the town and genre depicting the seasons of rural life including that of the Taos Indians.  She also illustrated children's books and did pencil drawings.  Latham's illustrations for children's books included Pedro, Nina and Perrito, 1939, and Maggie, which was chosen as one of the best books from the period of 1945 to 1950 by the American Institute of Graphic Arts.  A lithographer and etcher, she created wood engravings that have an intense, contrasting use of black and white.
One of her paintings, Approaching Storm, c. 1930, 10 x 13, is a tiny but expressive painting emphasizing the orange of the earth and green of trees against the dark, stormy sky.  In style, the painting is a blend of the characteristics of the New Mexico landscape, the colorful approach to landscape developed by the original Taos painters and later followers, and a certain muscularity of form suggestive of Thomas Hart Benton.
Tourist Town, Taos, c. 1940, is an example of her painting of the village and its Indian and Anglo inhabitants milling about in front of one-story adobe shops and strongly-constructed, purple mountains beyond.
Latham's art became darker and moodier, somewhat surrealistic, after World War II. She died in 1989.
Among Barbara Latham's one-woman exhibitions are the Witte Memorial Museum, San Antonio, Dallas Museum of Fine Arts, Roswell Museum, New Mexico and Weyhe Gallery, New York City. Her work is in the collections of the Philadelphia Museum of Art, Metropolitan Museum of Art, New York City, and Library of Congress, Washington, D.C.
Sources include:
Jules and Nancy Heller, North American Women Artists of the 20th Century
Phil Kovinick and Marian Yoshiki-Kovinick, Women Artists of the American West
Internet: http://www.kargesfineart.com/links/Barbara-Latham.htm