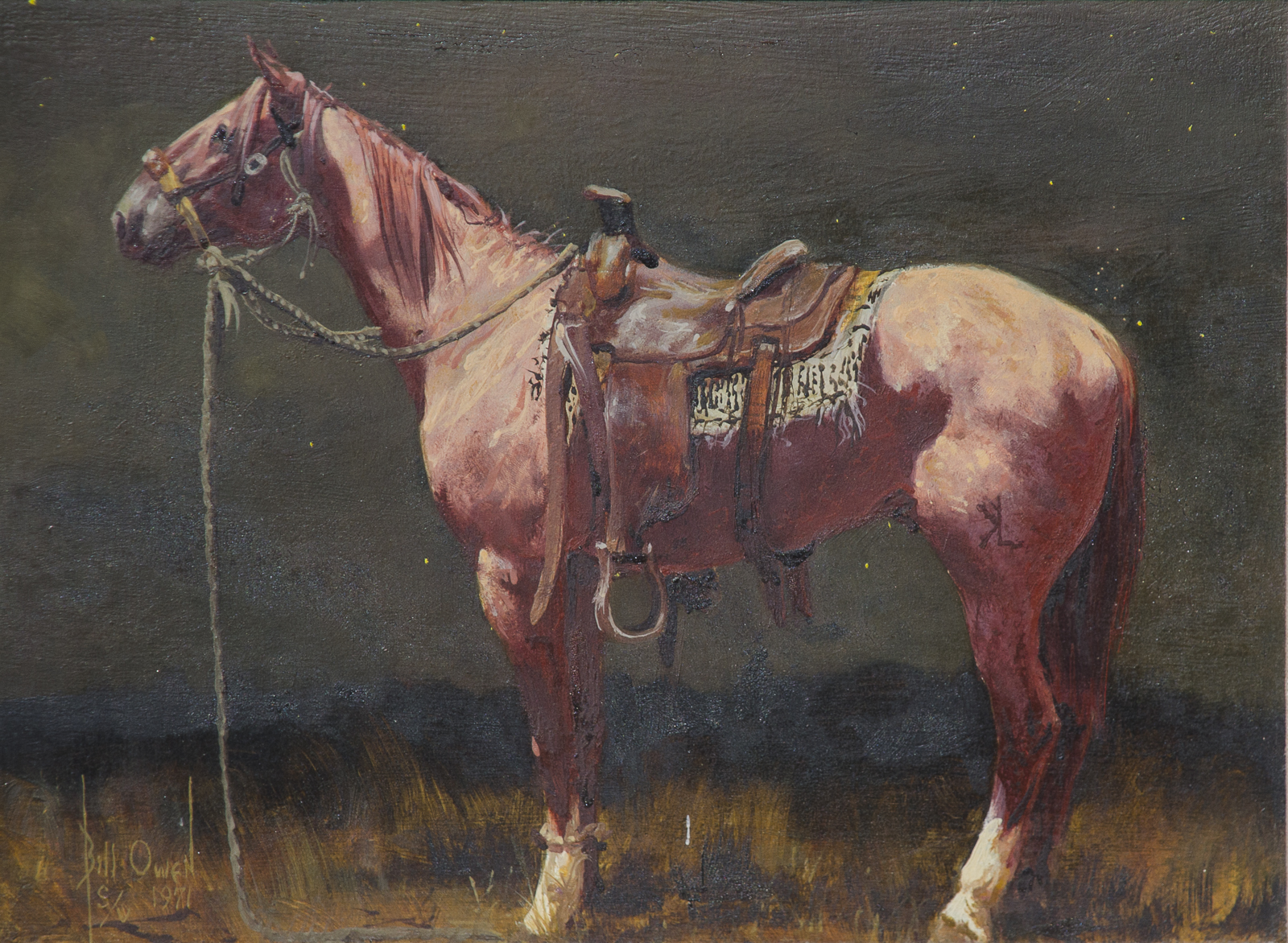 Bill Owen ( 1942-2013) untitled 9 x 12″ oil on board, dated 1971, original frame, signed lower left mint condition. sold
Living in Kirkland, Arizona, and born in Gila Bend, Bill Owen is a painter in realist style of western genre, a subject and method near to his family because his father was a cowboy and his mother an artist. His painting skills have earned him membership and special recognition in western-art related organizations: the Cowboy Artists of America*, which he joined in 1973, and the National Academy of Western Artists* in 1991. In 1993, he received the Frederic Remington Award* for Artistic Merit from the Cowboy Hall of Fame, and three years later, he was designated Rendezvous Artist by the Gilcrease Museum in Tulsa, Oklahoma. At the Prix de West* Invitational Exhibition and Sale in 2003, he was the first recipient of the Express Ranches Great American Cowboy Award*.
As a member of the Cowboy Artists of America, he served as a three-time President, and four times received the CAA Award, which is determined by membership vote for the best overall exhibition entries.
Owen's painting achievements are earned in spite of a 1989 rodeo-related accident, which caused him to lose sight in his right eye. Before that time he had also been a sculptor, but the eyesight loss affected his depth perception, so he quit working in three-dimensional mediums.
In 1995, Bill Owen established The Arizona Cowpuncher's Scholarship Organization to pay for higher education for young people from ranching families in Arizona.
Source:
Cowboy Artists of America 44th Annual Exhibition Catalogue, 2009, Published by the Cowboy Artists of America for their annual exhibition at the Phoenix Art Museum.