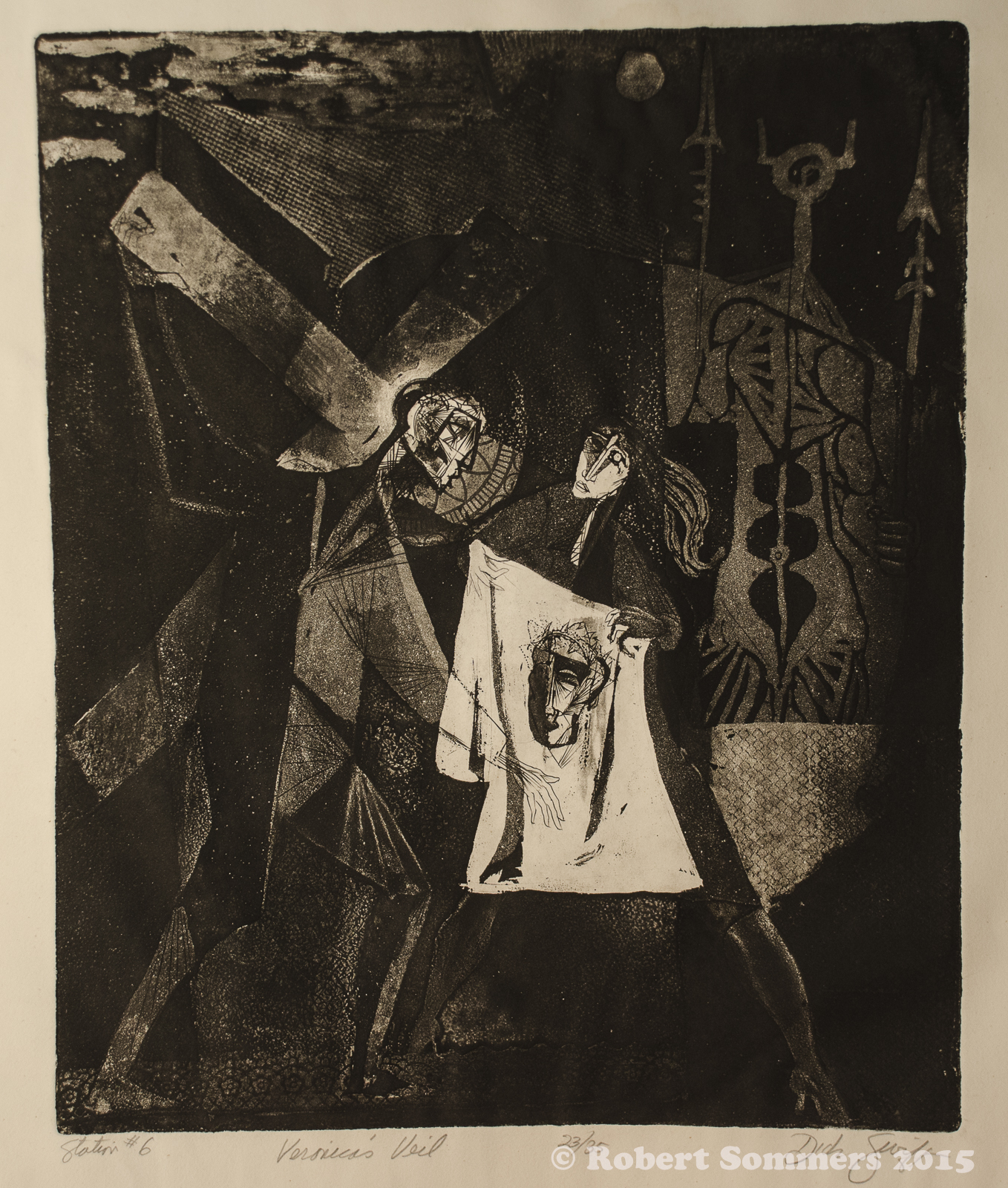 Dick Swift (1918-2010) Veronica's Veil, Station #6 intaglio – pencil signed 23/35 C.1957 15 x 8″ $750
From Annex Gallery:
Dick Swift (born Richard H. Swift, Jr.), printmaker, educator, and illustrator, was born in Long Beach, California on January 29, 1918. His studies began in 1938 at the Chouinard Art Institute where he was enrolled for three years. In 1943, Swift moved to New York to study for a year at the Art Students' League where his principal teachers were Reginald Marsh, Will Barnet, Yasuo Kuniyoshi, and Morris Kantor. In 1946 he studied under Rico Lebrun at the Jepson Art Institute in Los Angeles. Swift returned to his art training in 1954, studying for two years at the Otis Art Institute in Los Angeles where his influential teachers were Ernest Freed and Guy Maccoy. He continued his studies at the Pasadena City College before entering Los Angeles State College where he earned his B.A. degree in 1957. Swift studied under Paul Darrow and Roger Kunz at Claremont College in Los Angeles and earned his M.F.A. in 1958. He also studied printmaking with Stanley William Hayter at Atelier 17 in Paris between the years 1964 and 1965.

Swift taught at the Chouinard Art Institute and the California School of Art prior to his thirty-year career of teaching printmaking at the California State University at Long Beach, which began in 1958.

He was a member of the American Color Print Society, and the Los Angeles Print Society and served as its president in 1968 and 1969. He exhibited extensively throughout the United States, Japan, and Europe receiving more than forty awards.

Swift's work is represented in the collections of the Baylor University, Bibliotheque nationale de France, California State University at Long Beach, Canton Art Institute, Cincinnati Art Museum, Cleveland Museum of Art, Library of Congress, New York Public Library, Pasadena Museum of California Art, Philadelphia Art Museum, San Jose State University, Wichita State University, Victoria and Albert Museum, and the Zanesville Art Institute.

Dick Swift passed away at his home in Long Beach, California on June 8, 2010.