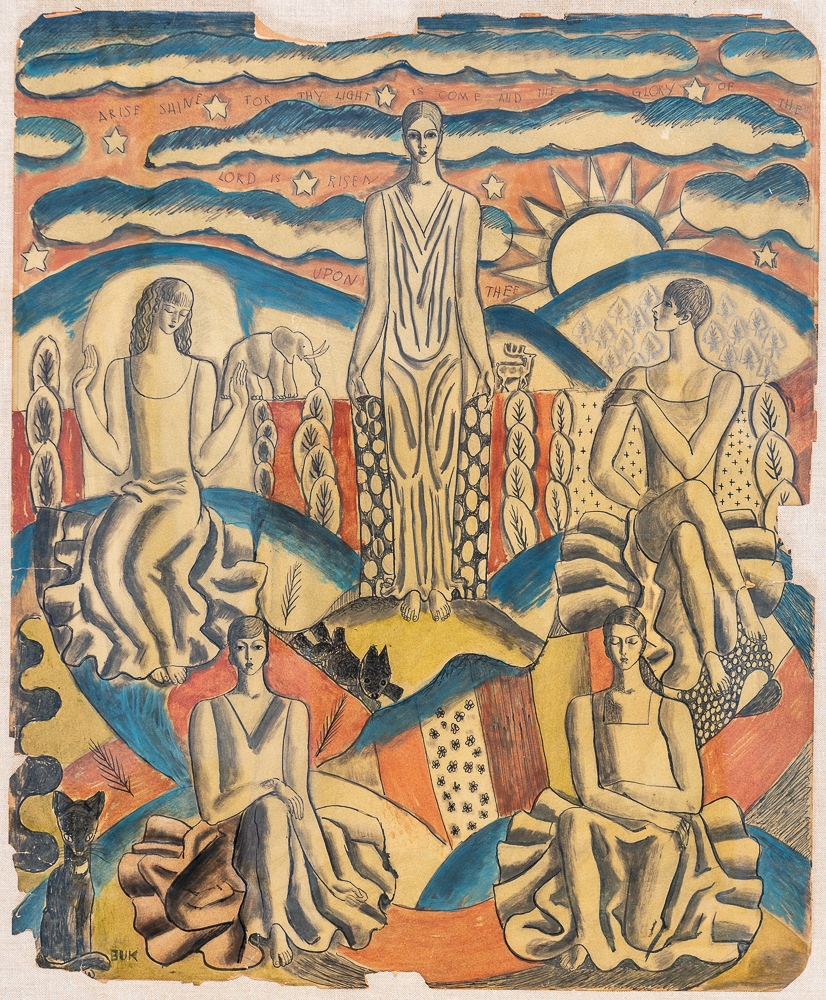 Eduard Buk Ulreich (1889 – 1966)
Arise, shine, for the light has come…
24 x 20″ image, 32 x 27″ framed
signed lower left
Original art deco frame
$3500
This is a beautifully rendered art deco gouache and watercolor by the noted WPA muralist Buk Ulreich. Ulreich is responsible for one of the murals at Rockefeller Center. Notice how he mixes cactus and elephants in this one. A friend of mine had the Ulreich estate and he dated the piece to 1925 but I think it is an early thirties work. Just guessing of course, hard to be precise with such things.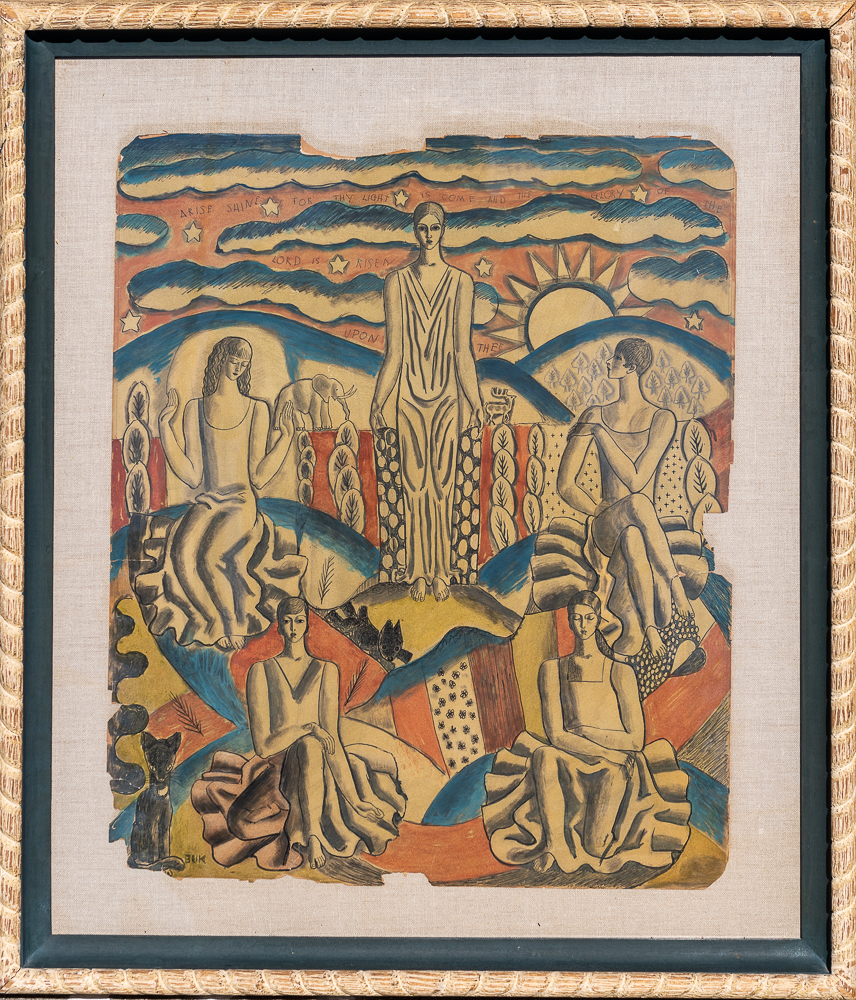 From Askart:
Born in Austria-Hungary and living in New York until 1962 when he moved to San Francisco, Eduard Ulreich became a painter of genre, a sculptor, muralist, designer and magazine illustrator. Many of his murals are in hotels, temples, industrial buildings, and post offices, and in the 1930s, he was well known for his talents in New York City, having completed in 1932 a mural, Wild West, for the third-mezzanine men's lounge at Radio City Music Hall in Rockefeller Center. Six feet square and depicting a saddled cowboy breaking a bronco, the mural was painted on leather in earthy tones, which reinforced the western theme.
The work was described as whimsical and suggestive of a comic strip, "an example of separate elements and blocks of color fragmenting the canvas and creating a playful sense of action, thrust, and speed." (Roussel 39) Ulreich also mixed sand into the paint, which played well with the mural's desert background populated with cacti and snakes and other wild creatures.
Ulreich was the pupil of Mlle. F. Blumberg and studied at the Kansas City Art Institute and the Pennsylvania Academy of the Fine Arts. In the 1920s and 1930s, he worked as a WPA (Works Progress Administration) Artist, designing painted murals in Chicago for the Temple Building and a marble mosaics mural for the Century of Progress Exhibition. He did murals for United States Post Offices in Columbia, Missouri; Tallahassee, Florida; Concord, North Carolina; and New Rockford, North Dakota.
He was also an illustrator for books and magazines, and western subjects appeared frequently. Memberships included the Guild of Free Lance Artists. He exhibited widely including at the Art Institute of Chicago, Corcoran Gallery, Anderson Gallery, Whitney Museum of American Art and Gump's Gallery in San Francisco.
His wife, Nura Woodson Ulreich, was an author and illustrator of children's books and an art instructor.
Sources include:
Peter Hastings Falk, Who Was Who in American Art
Christine Roussel, The Guide to the Art of Rockefeller Center