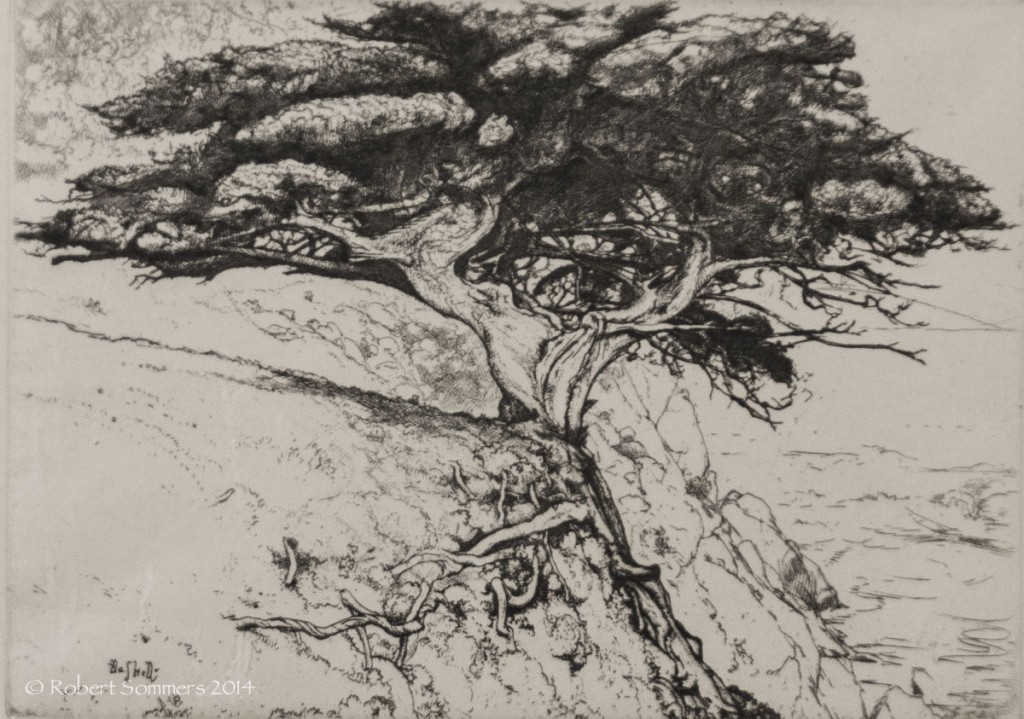 Ernest Haskell (1876-1935) The Fan Tree etching 5 x 7″ framed ,The Print Rooms, Los Angeles label verso $395
An illustrator, painter and etcher, Ernest Haskell was a well-known figure in New York and Paris during the early part of the 20th century. In 1976, a memorial centennial exhibition of his birth was held at the New York Public Library. Haskell was especially noted for his etchings, a skill he learned as a student of James McNeill Whistler. He also designed promotional posters in watercolor.

Haskell was born in Woodstock, Connecticut, and by age 19 was established in New York City where he turned out magazine covers and posters for Scribner's, The New York Sunday Journal and Truth magazine. By age 21, he was living in Paris, a city where he spent much of his time in the future as well. He enrolled in the Academie Julian but spent most of his time studying privately around the Louvre and with Whistler from whom he learned special techniques, which he later combined with elegant poster designs that made his work highly unique. It was said that Haskell created the first real art posters in the United States.

When he returned to New York in the 1890s, he was popular as a celebrity portraitist whose subjects included Ethel Barrymore and Helen Hayes. He was a member of the Players Club, a social venue for actors and artists that included many of New Yorks prominent figures such as Mark Twain, Childe Hassam and John Barrymore.

In 1903, Haskell married Elizabeth Foley, a New York society girl, and they had two children and spent much time at their farm on the coast of Maine. They also traveled occasionally to California. In 1918, Elizabeth died in the flu epidemic, and two years later, Haskell married Emma Laumeister in San Francisco. The couple had twins, Ernest Jr. and Josephine. Tragically, , in 1925, Haskell was killed while driving close to his rural home in Maine in a Model T Ford. He was returning from New York City, where he had been arranging a show.