Gene Kloss (1903-1996) – The Old Bridge etching 1924, 4 & 1/2″ x 3 & 1/2″. Excellent condition, nice image.
This is Kloss #1, her first print, and so listed in the catalogue. Extremely small edition, supposedly less than 10 ever pulled. Probably created under the supervision of her teacher at Berkeley, Perham Nahl. Framed. sold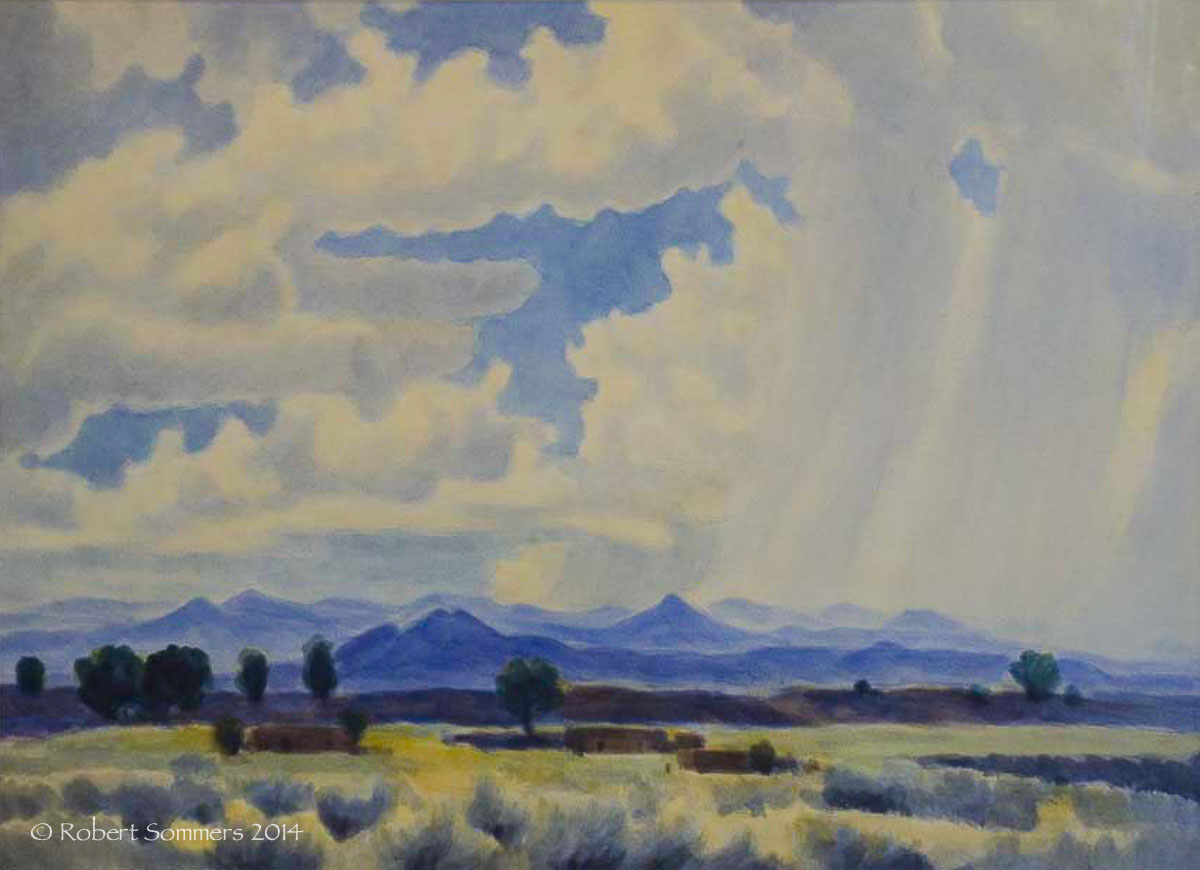 Gene Kloss (1903-1996) watercolor Approaching Storm 18 x 24″ framed  sold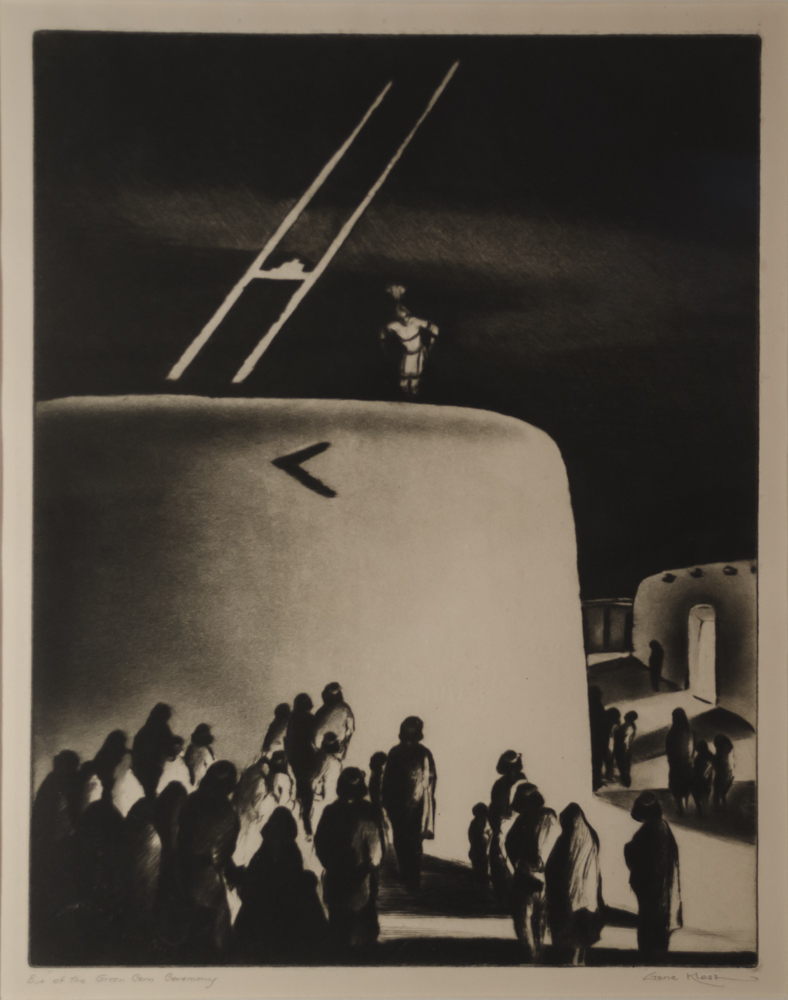 Gene Kloss Eve of the Green Corn Dance Ceremony, Santa Domingo 1934  Kloss #306 Aquatint and Drypoint, impression size 14" x 11", 16" x 12 3/8" with margins, pencil signed lower right, pencil titled lower left, signed lower right, hand carved frame. Edition of 130 price on request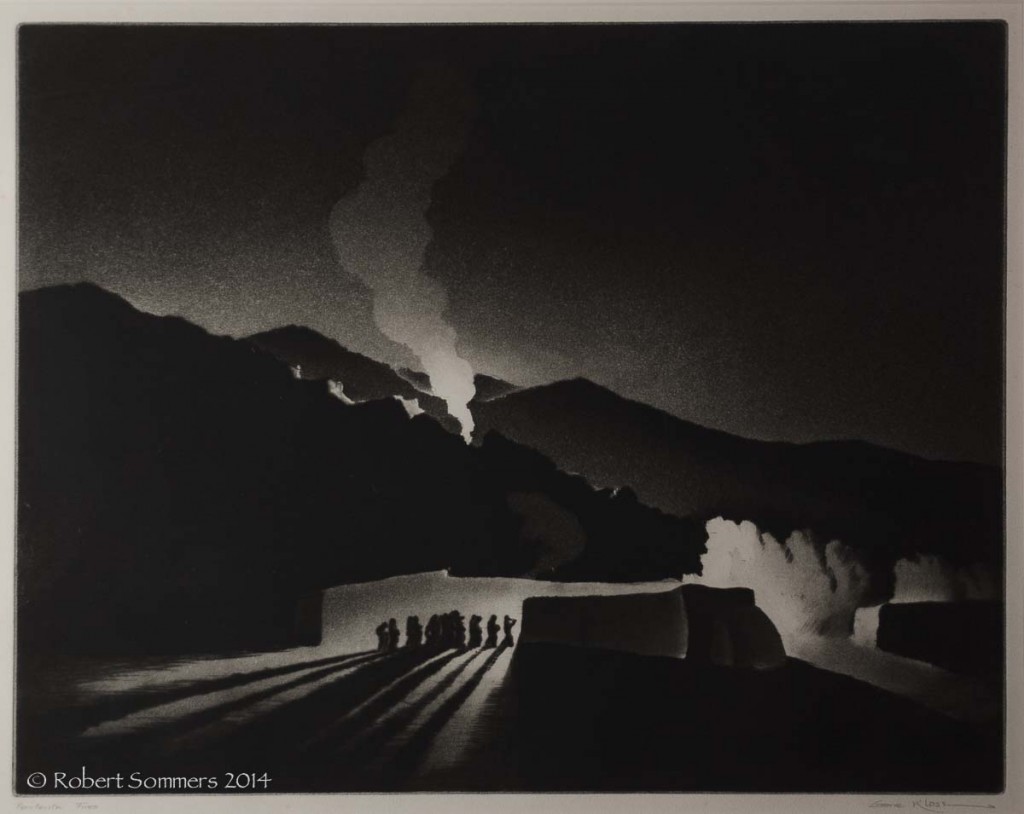 Gene Kloss Penitente Fires 1939 drypoint and aquatint 14 x 11″ full margins signed lower right, titled lower left, framed. Excellent pull and condition. sold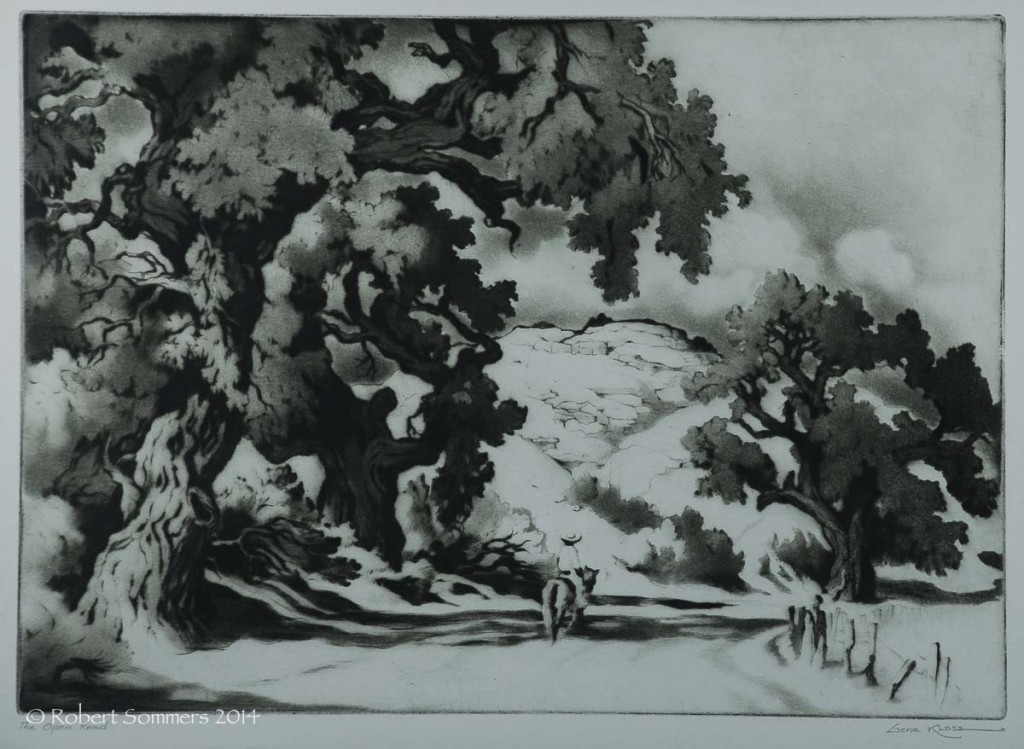 Gene Kloss – The Open Road aquatint and drypoint etching 1941, edition 50, 10 x 14 sold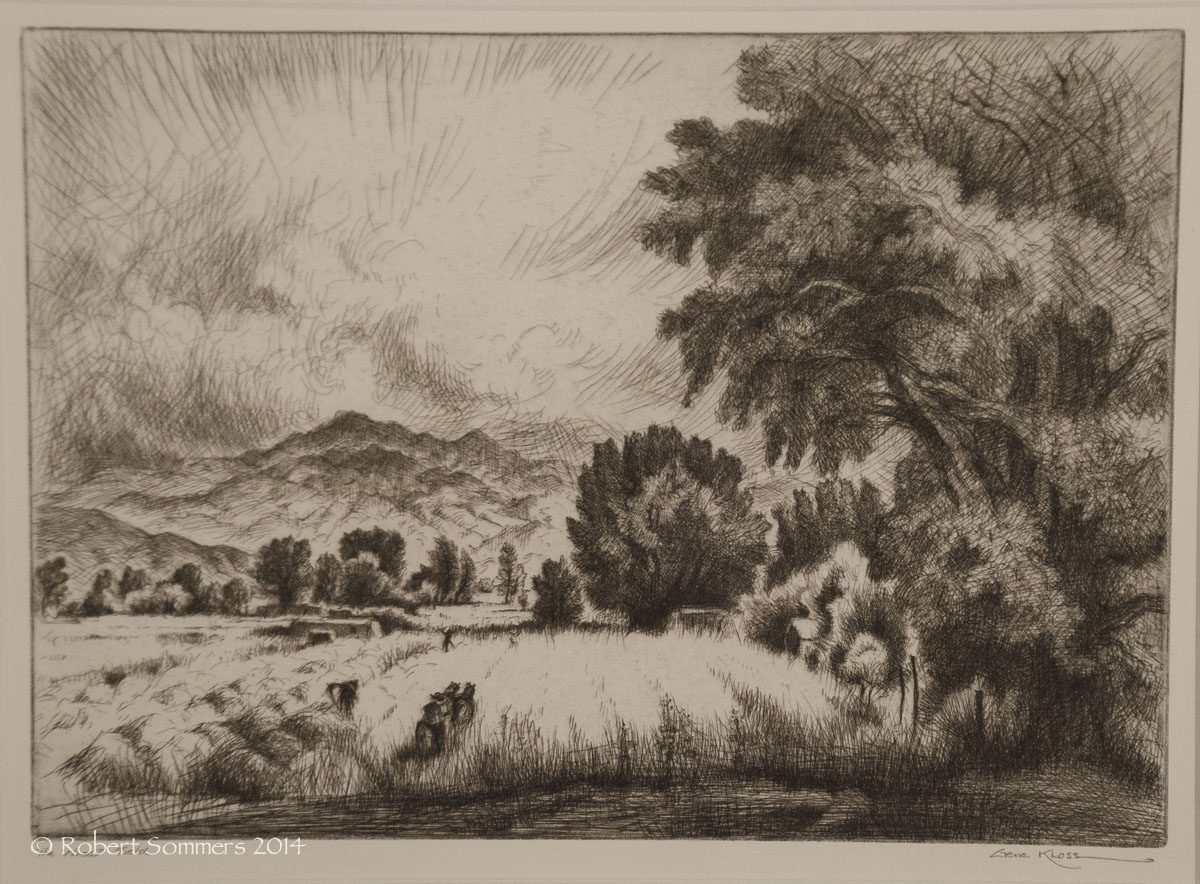 Gene Kloss The Wheat Field etching 1943 8 x 11″, ed. of 75 sold
Born in Oakland, CA on July 27, 1903. Alice Geneva Glasier was introduced to etching by Perham Nahl at UC Berkeley where she graduated in 1924. After marrying the poet Phillips Kloss in 1925, she furthered her art studies at the CSFA and CCAC. She continued spending winters in Berkeley after settling in Taos, NM in 1925. Nationally known for her etchings of Southwestern subjects, she also produced many watercolors and oils. Mrs. Kloss died in Taos on June 24, 1996.
Member: NA (1972); Calif. Society of Etchers; Calif. Society of PM; Taos AA; Philadelphia WC Club; Carmel AA.
Exh: SFAA, 1925, 1937; Berkeley League of FA, 1926 (solo); Oakland Art Gallery, 1932 (solo), 1939 (prize); SFMA Inaugural, 1935; PAFA, 1936 (medal); Calif. Society of Etchers, 1934, 1940, 1941, 1944, 1949 (prizes); GGIE, 1939; Chicago Society of Etchers, 1940-54 (prizes); Tucson FA Ass'n, 1941 (prize); Philadelphia PM Club, 1944 (prize); Library of Congress, 1946 (prize); Society of American Graphic Artists, 1953 (prize); CGA, 1988 (solo). In: MM; NY Public Library; Library of Congress; Dallas Museum; Museum of NM; Museum of Tokyo; Smithsonian Inst.; NMAA; AIC; Carnegie Inst. (Pittsburgh); PAFA; The Hague (Netherlands); CGA.
Source:
Edan Hughes, "Artists in California, 1786-1940"