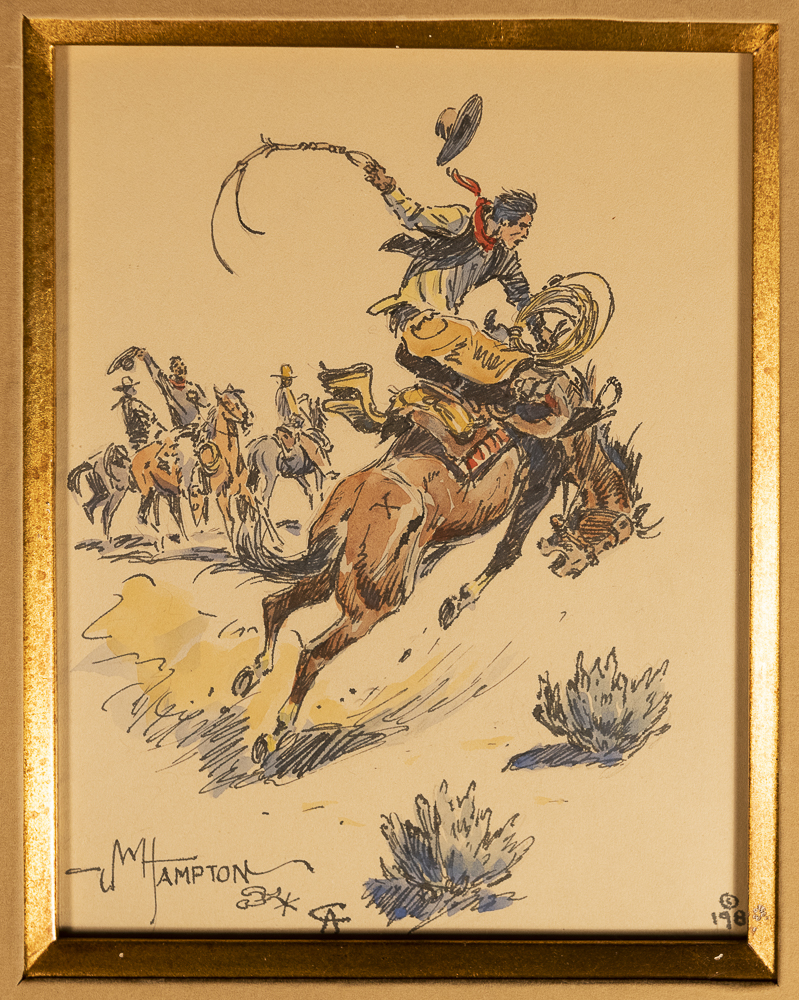 John Wade Hampton (1918-2000)
Watercolor, pen and ink
"Stay with him"
9 3/8 x 7 1/3″
signed l/l CA © 1980
matted, framed
titled verso
$850
From Askart:
Born in New York City and then settling in Scottsdale, Arizona, John (Johnny) Hampton became a renowned painter and sculptor of cowboy life that he grew to know first hand from living much of his life in the Southwest.
He was raised in Brooklyn and developed a love for the West from seeing Tom Mix movies. Acting out his fantasy of becoming a cowboy, he used pretended he was roping cows by using his mother's clothesline. He began illustration pulp magazines with western themes while he was in high school and at age sixteen, won a contest for sketch artists. When World War II began, he served in an Intelligence capacity in the South Pacific.
Having assisted Fred Harman with the comic strip "Red Ryder," he used the proceeds after the War to buy a small ranch near Silver City, New Mexico, in order to get a taste of the cowboy life that so intrigued him. He stayed there for twelve years before moving to Arizona where he lived in Prescott, Cave Creek, Scottsdale, Phoenix and finally in Sonoita, where he was living at the time of his death.
In 1977, John Hampton completed his first bronze and won the Gold Medal from the Cowboy Artists of America, an organization of which he was a founder and president.