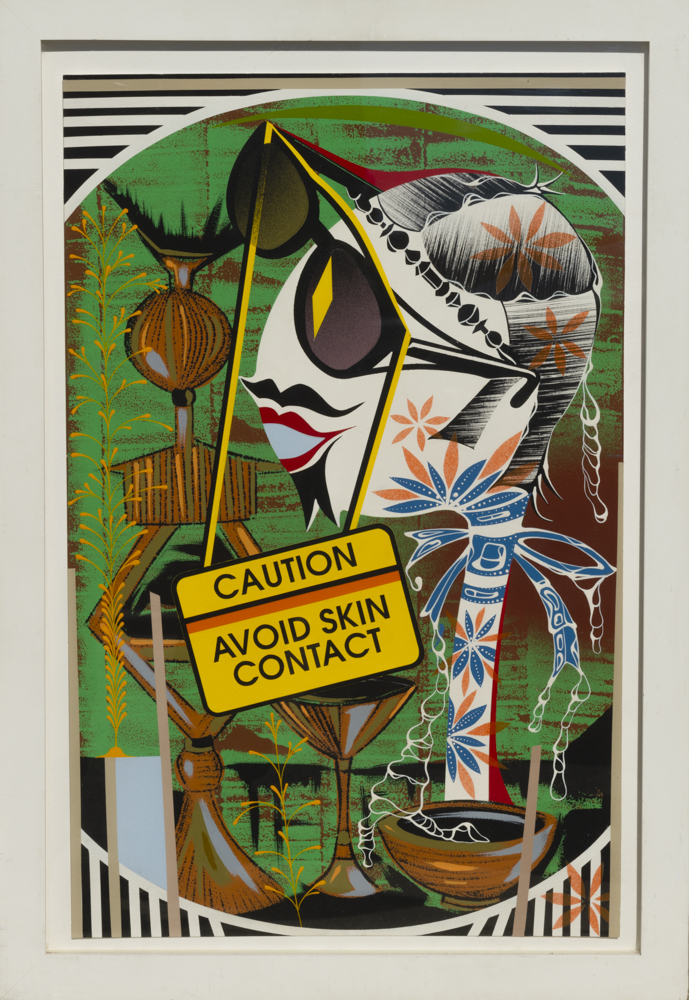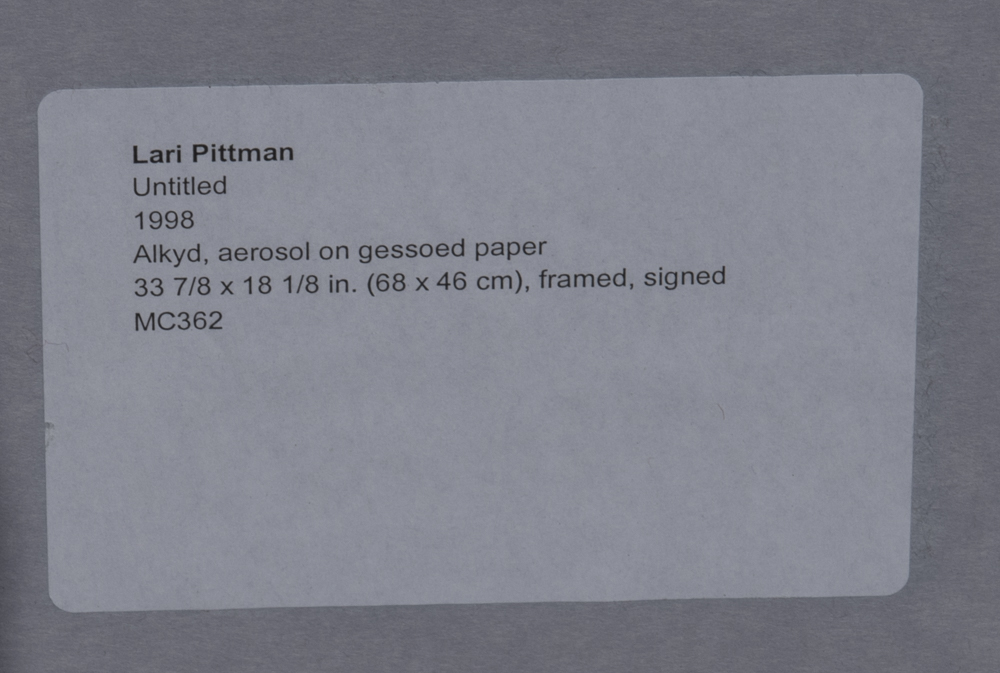 Lari Pittman (b. 1952)
Caution – Avoid skin contact
alkyd and aerosol on gessoed paper
33 & 7/8″ x 18 & 1/8″
sold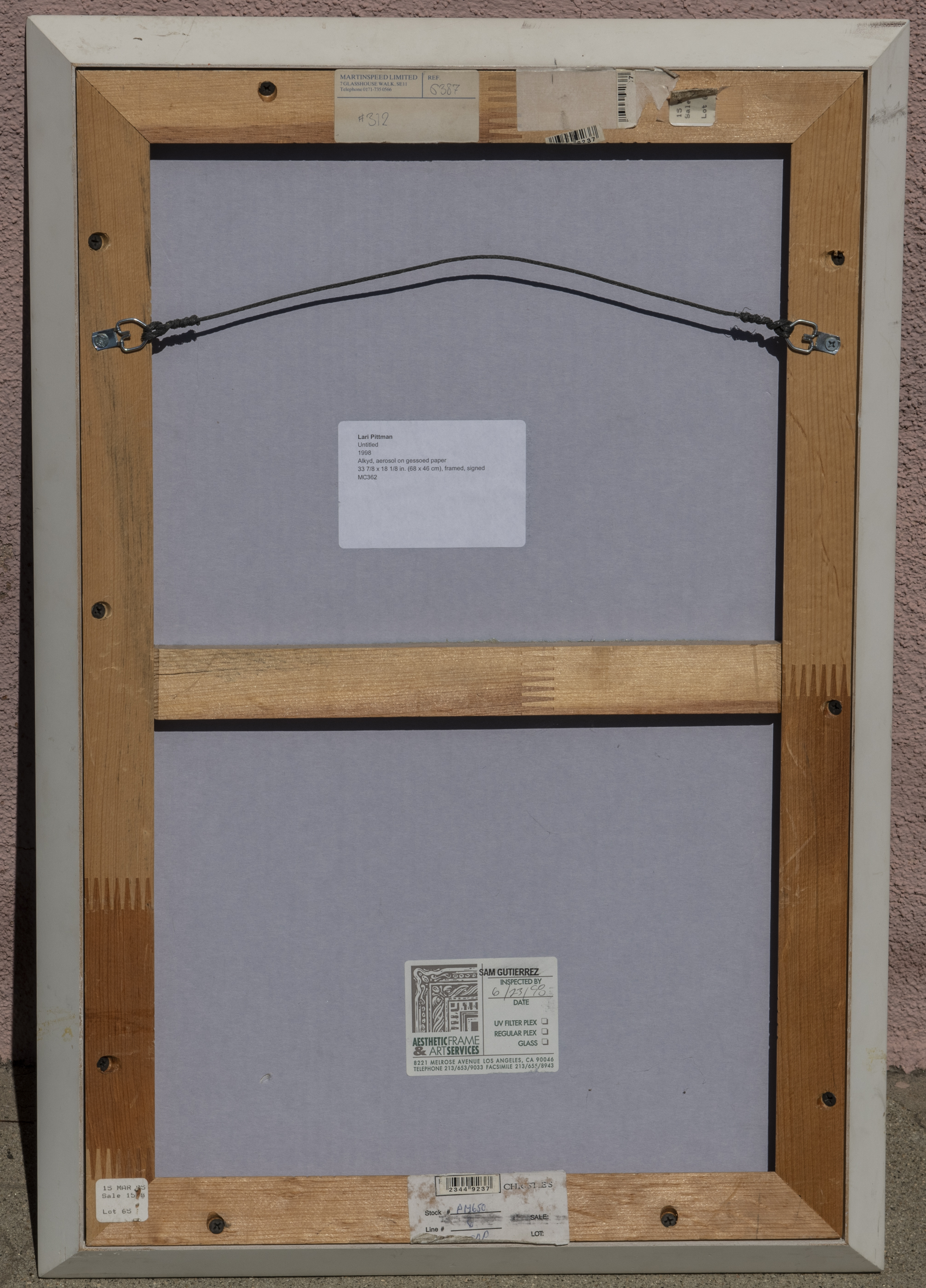 from askart:
Based in Los Angeles, he is an abstract painter whose acrylic work is highly decorative as well as figurative, which he regards as a rebellion against the 'puritanism of modernism' that is so fearful of decoration and any suggestion of realism. His tight, all over the ground imagery in blocky format is highly sexual.
He is openly homosexual and multicultural, an American and Columbian and had an early career in interior design. He has had long-time involvement in the Los Angeles arts community and had a brush with death in 1985 when he was shot by a robber.
In 1996, the Los Angeles County Museum of Art held a mid career survey of his paintings that traveled to the Contemporary Arts Museum of Houston.
———————————————————————-
Lari Pittman wasn't born into an artistic family. His father was an Arkansas native infused with a spirit of wanderlust; he found himself working in Columbia where he met and married Ilia Rosasco. Lari was born in Southern California in 1952 and when he was five the family moved back to Columbia. The village of Tumaco where they lived was so small there wasn't even a school, but a tutor was hired for all the children; fortunately the tutor was also a painter of religious art. When Lari was eleven, they moved north to Whittier, California.
In 1971 Pittman entered the urban campus of University of California at Los Angeles to study painting. He studied with Lee Mullican and Charles Garabedian, but the rest of the faculty fell short on artists of cosmopolitan bent; one even dismissed his paintings as "faggy." Disappointed, he transferred to California Institute of the Arts, earning a Master of Fine Arts degree in 1976. While there he met Roy Dowell, an abstract painter, with whom he has lived ever since.
Pittman had an early career in interior design. He is an abstract painter whose acrylic work is highly decorative. Once described as "faggy", his work is now considered fabulous, due to the changes in thought about the college situation in Los Angeles and the people involved. Pittman is now a tenured professor at UCLA in what has become perhaps the nation's finest art school faculty.