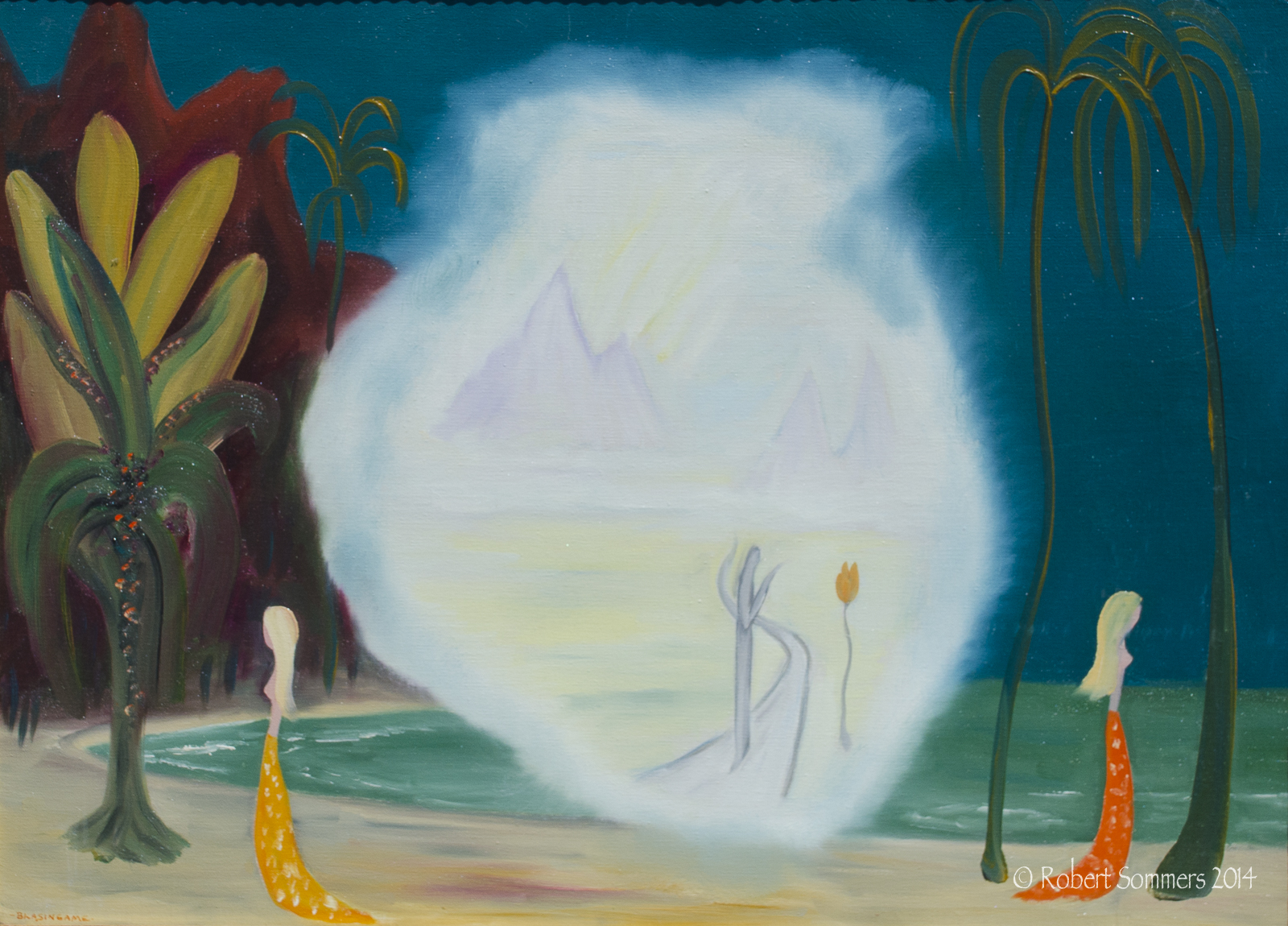 Marguerite Louis Blasingame (1906-1947)  untitled oil on canvas, 22 x 29″ signed lower left, framed sold
Born in Honolulu and trained at Stanford University in California, Marguerite Blasingame returned to Hawaii where she became an established sculptor of figural works, many of them bas reliefs in wood and stone.  Her depictions were usually sinuous in contour with simplified anatomy.
Along with Isami Doi, Madge Tennent, and others, she founded the Hawaiian Mural Arts Guild in 1934.
She was among the artists in Hawaii who, before World War II, experimented with decorative pattern using natural forms, especially tropical foliage and flowers and used stylized imagery of Hawaiian figures in work that mirrored the similarly romanticized and exoticized Art Deco imagery depicting the people of French colonial Polynesia and South East Asia.
During the 1930s and 1940s, she was a WPA artist and filled many commissions for architectural panels, some of them very large in size.
She died in 1947 while traveling in Mexico.  The Honolulu Academy of Arts is among the public collections holding her works, and her sculptures in public places include an (untitled) 1935 marble sculpture in Ala Moana Park, Honolulu, and a 1939 bas relief at the entry to the Board of Water Supply building.
She is the author of a book titled "A Course in Art Appreciation for the Adult Layman," Stanford University Press.
Sources include:
Edan Hughes, "Artists in California, 1786-1940"
Gordon Chang, Asian American Art: A History, 1850-1970
in.com
huffingtonpost.com
Honolulu.gov