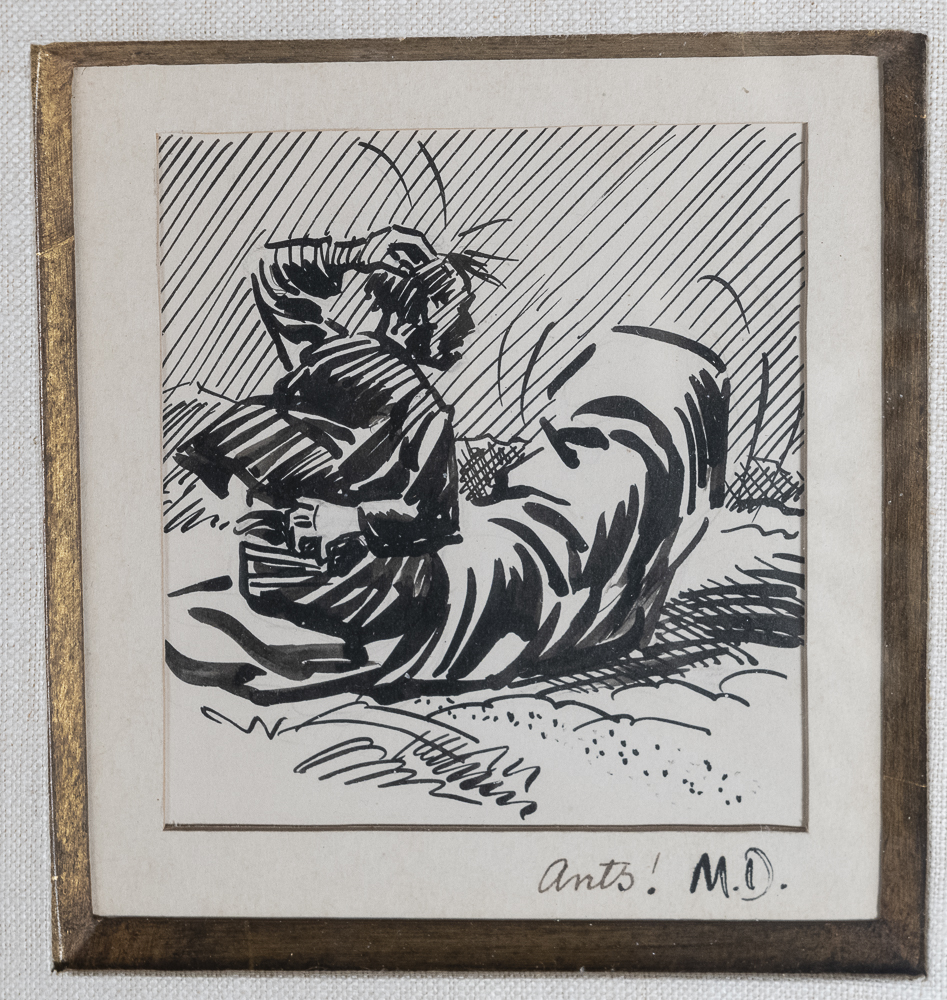 Maynard Dixon (1875-1946)
Ants
pen and ink on paper
3 7/8 x 3 1/2″
signed and titled on mat initials l/r
matted, framed
$2200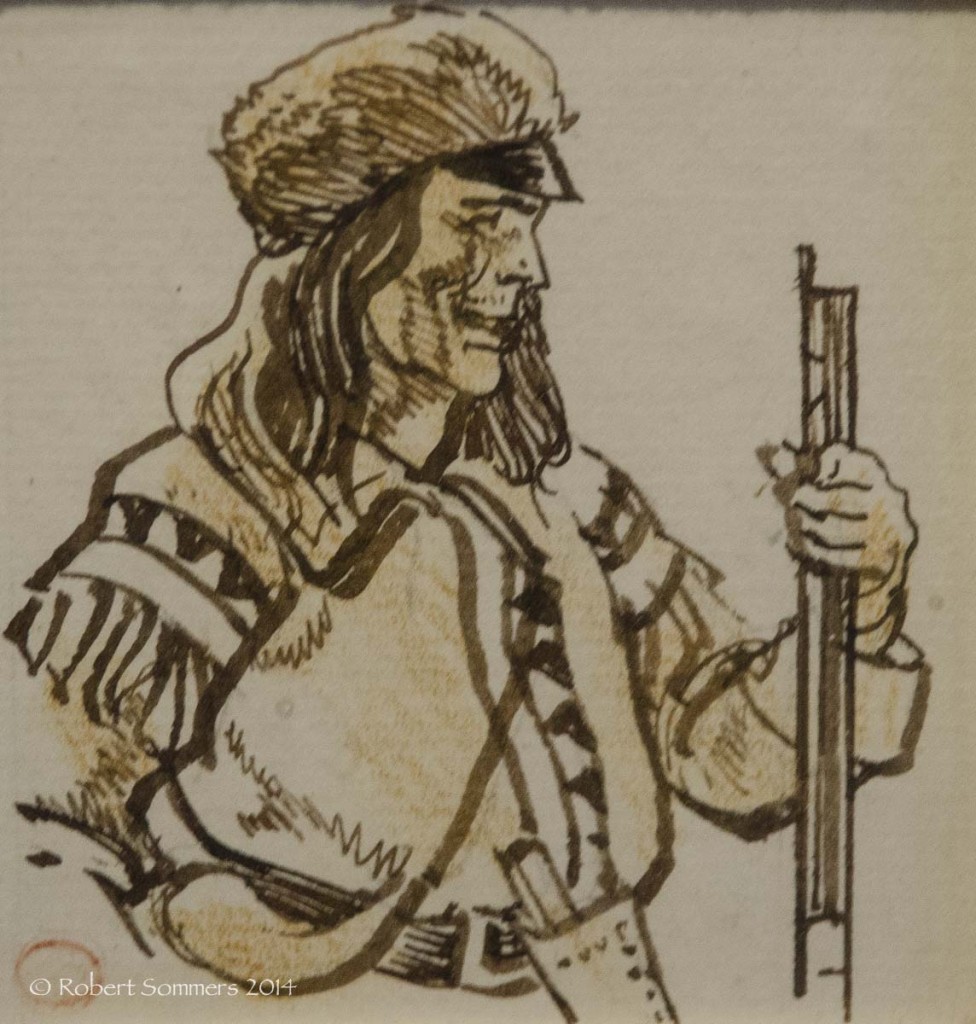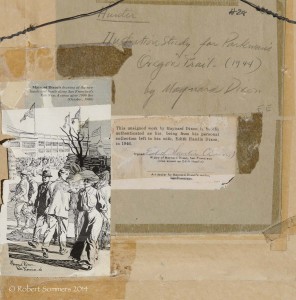 A study for Dixon's last book illustration project, Parkman's Oregon Trail (1944). 3 x 3″. Thunderbird stamp, signed and titled verso by Edith Hamlin Dixon $2800
Born in Fresno, CA on Jan. 24, 1875. A sickly child, sketching occupied a lot of Dixon's time while growing up. As a boy he listened with fascination to the stories of the Old West told by the old timers. It is no wonder that cowboys and Indians were to become the main subject matter of his life's work. At 16 he sent his sketch book to Frederic Remington who encouraged him to pursue an art career. The Dixon family moved to Alameda, CA in 1893, the year the artist's first illustration was published in Overland Monthly. Dixon enrolled at the Mark Hopkins Art Institute, but the confines of a classroom were not to his liking and he remained only three months.
In 1895 he took his first full-time job as an illustrator for the San Francisco Morning Call and continued four years later with the Examiner. By 1899 he was making regular sketching trips into the Northwest and Southwest, during which time he was exhibiting regularly with the San Francisco Art Ass'n. In 1905 he married artist Lillian West Tobey. A year later the earthquake and fire destroyed his studio and most of his early works. The Dixons then lived across the Golden Gate in Sausalito until 1907 when he accepted a commission from the Southern Pacific Railroad to paint a mural for their depot in Tucson, AZ. Afterwards he moved to New York where he continued his magazine illustrations. Upon returning to California in 1912, he abandoned commercial art to concentrate on easel paintings and murals. During the PPIE of 1915 he suffered a nervous breakdown and divorced his wife in 1917. He married photographer Dorothea Lange in 1920. This marriage lasted until 1935 and in 1937 he married artist Edith Hamlin. During the 1930s he did murals and paintings for the WPA. In 1938 ill health forced his move to the drier climate of Tucson, AZ where he spent his last years while maintaining a studio nearby in Mt Carmel, UT. Dixon died in Tucson on Nov. 14, 1946. Today he is internationally famous for his western subjects which he often signed with his logo, an Indian Thunderbird.
Member: SFAA; Salmagundi Club; Architectural League of NY; Bohemian Club; Press Club (SF); Bay Region AA; Oakland AA; Foundation of Western Art (LA); Berkeley Art League; AFA; SW Society; American Artists Congress.
Exhibitions (group): SF Artists Society, 1905; NAD, 1911; PPIE, 1915 (bronze medal); Bohemian Club, 1915, 1922; Painters of the West (LA), 1924-25.
Exhibitions (solo): Vickery, Atkins, & Torrey Gallery (SF), 1914; Oakland Art Gallery, 1919; Gump's (SF), 1920; Stendahl Gallery (LA), 1921; Macbeth Gallery (NYC), 1923; Galerie Beaux Arts (SF), 1925-32; Mills College (Oakland), 1927; Pasadena Art Museum, 1928; Biltmore Salon (LA), 1928; Haggin Museum (Stockton), 1934; De Young Museum, 1956, 1968; CHS, 1975; Fresno Arts Center, 1975; Calif. Academy of Sciences (SF), 1981.
Murals: Canoga Park (CA) Post Office; Martinez (CA) Post Office; John C. Fremont High School (LA); Main reading room of Sacramento State Library; West Coast Theatre (Oakland); Mark Hopkins Hotel's Hall of the Dons (done with Frank Van Sloun); Oakland Technical High School; Biltmore Hotel (Phoenix); Dept. of Interior Bldg. (Washington, DC). In: Orange Co. (CA) Museum; Brooklyn Museum; Univ. of Idaho; De Young Museum; Brigham Young Univ.; Mills College (Oakland); Cook Museum (Honolulu); Southwest Museum (LA); Pasadena Art Inst.; Bancroft Library (UC Berkeley); CHS.
Source:
Edan Hughes, "Artists in California, 1786-1940"
Interview with the artist or his/her family; Who's Who in California 1928; American Art Annual 1933; Who's Who in American Art 1936-41; Artists and Illustrators of the Old West (Robert Taft); Who's Who in America 1938; So. Calif. Artists 1890-1940; California Art Research, 20 volumes; Southern California Artists (Nancy Moure); Artists of the American West (Doris Dawdy); Dictionary of American Painters, Sculptors & Engravers (Fielding, Mantle); Art in California (R. L. Bernier, 1916); History & Ideals of American Art (Neuhaus); Painters & Sculptors in California: the Modern Era; Dictionary of American Art (Baigell); NY Times, 11-15-1946 (obituary).