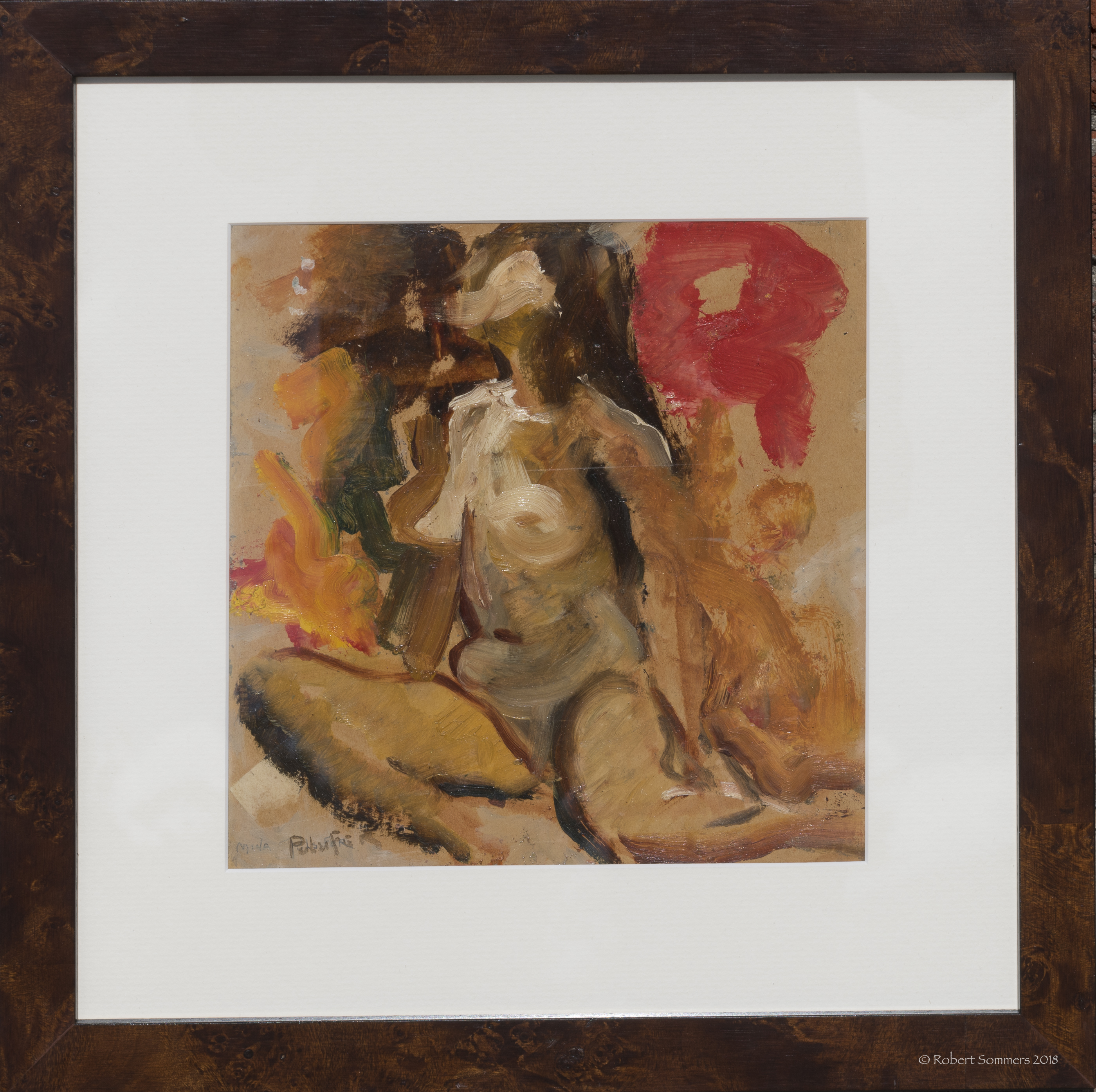 Mina Pulsifer (1899-1989)
nude figure, oil on paper
10 x 9″ image, framed
signed lower left
$1200
From AskArt: Wilhelmina "Mina" Schutz Pulsifer was born August 3, 1899 in Leavenworth, Kansas. She was a graduate of St. Mary's Academy in Leavenworth and attended the Kansas City Art Institute. Moved to San Diego, CA in 1924 and studied at the San Diego Academy of Fine Arts under Eugene de Vol and Otto Schneider. Also took art lessons from Nicolai Fechin and Frederick Taubes. Took up printmaking in the 1940s. Her painting style changed with the times from Regionalist scenes of the 1930s and 1940s to Expressionism in the 1950s, and figurative abstracts in the 1960s. During the 1960s she taught at the San Diego Art Guild and continued to
exhibit into the 1970s.
Member: San Diego Art Guild.
Exhibitions: California Pacific International Exposition, 1935; Spanish Village Art Center, 1937, 1942; Golden Gate International Exposition, 1940; La Jolla Art Center, 1943, 1955; California State Fair, 1947, 1950; San Diego Fine Arts Gallery, 1948; Laguna Beach Art Gallery, 1950;
Bibliothéque Nationale, 1952; Boston Public Library, 1952; Old Globe Theatre (San Diego), 1959; Long Beach Museum, 1960; San Diego Public Library, 1961.
Collections: Boston Public Library; Bibliothéque Nationale, Paris; National Bezalel Museum,
Jerusalem; San Diego Historical Society; Emprise Bank Collection.
SOURCES:
Susan Craig, "Biographical Dictionary of Kansas Artists (active before 1945)"
Art of the Print, http://www.artoftheprint.com/artistpages, accessed May 30, 2007; Edan Milton Hughes,
http://www.edanhughes.com/biography.cfm?ArtistID=1062, accessed Oct. 6, 2007.