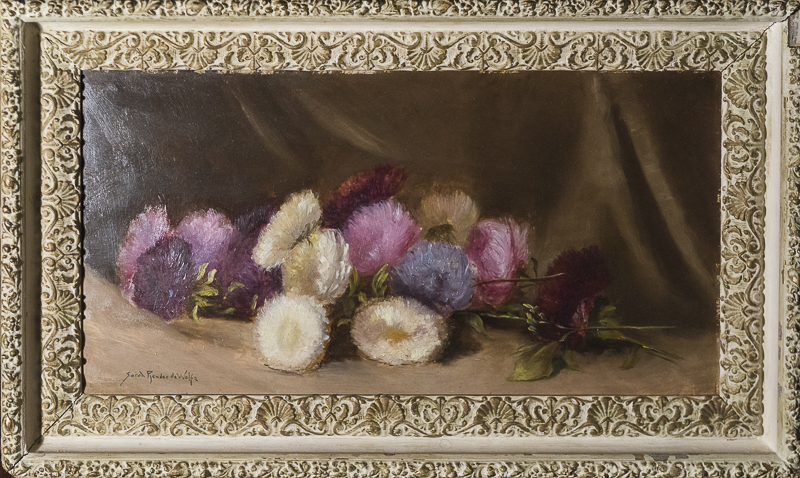 Sarah Bender De Wolfe (1852-1935) Still life with strawflowers o/b 10 x 18″ framed p.o.r.
circa 1890's
exceptional!
Painter. Born in Washington, DC on July 10, 1852. Sarah Bender settled in San Francisco in 1865. When the School of Design opened in 1874, she was one of the first pupils to enroll and was greatly influenced there by Virgil Williams. In 1904 she married Harold DeWolfe. (Curiously, some of her 1890s paintings are signed with her married name.)
The earthquake and fire of 1906 destroyed her studio at 509 Sacramento Street taking with it many of her early works. She later had a studio on Hyde Street and a home at 3400 Laguna Street where she died on June 15, 1935.
Her oils of fruit and flowers qualify her as one of California's finest still-life specialists.
Member: SFAA; SF Women Artists. Exh: Mechanics' Inst., 1883-97; Calif. State Fair, 1883, 1902; Calif. Midwinter Int'l Expo, 1894; SF Guild of Arts & Crafts, 1904; Sorosis Club, 1913.
Collection: Oakland Museum. & CSL; AAA 1909; Ber; AAW; DR; SF Chronicle, 2-19-1904 & 1-3-1905 & 6-17-1935 (obit).