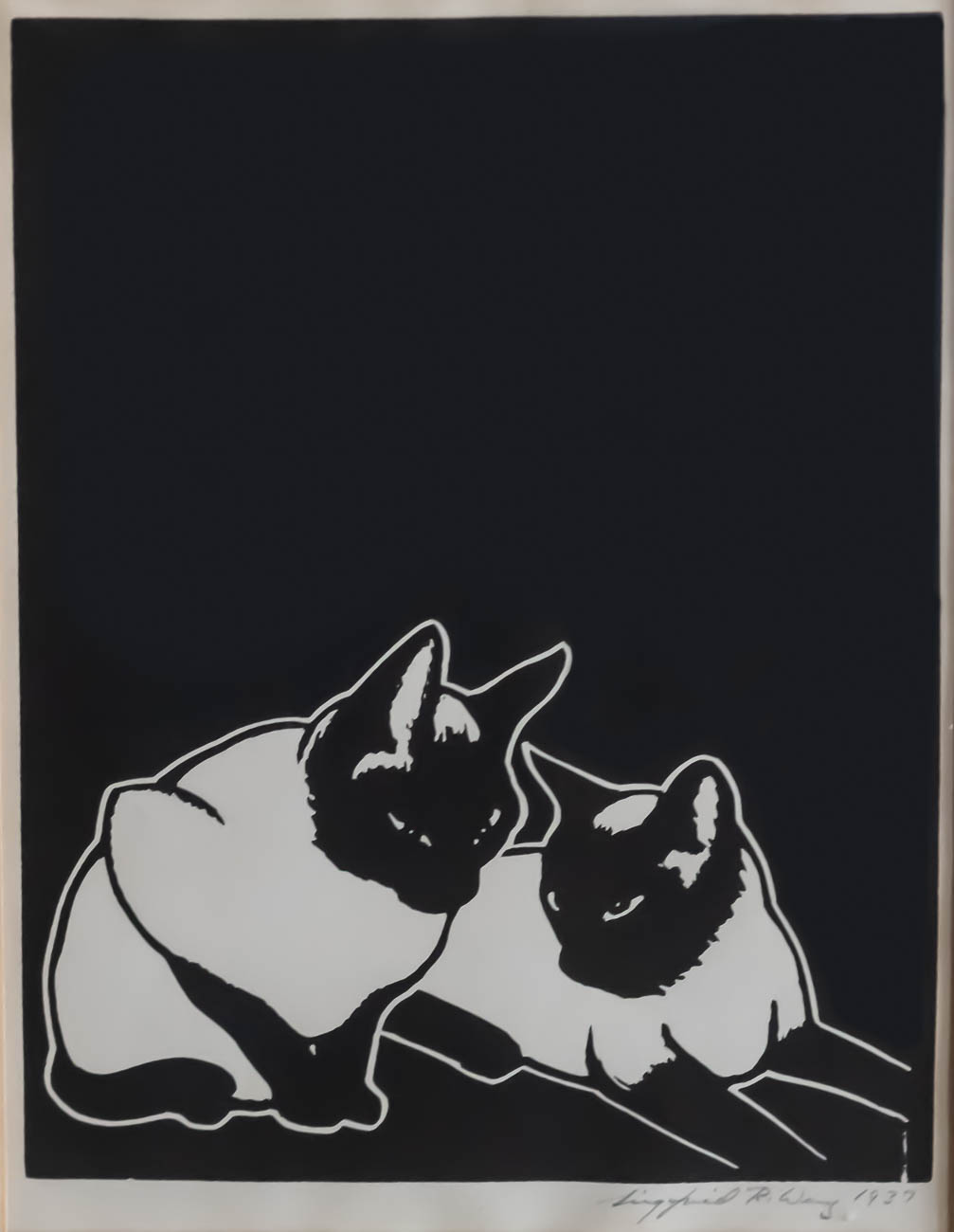 Siegfried R. Weng (1904-2008)
Siamese Cats, 1937
Linoleum cut on paper
$275
Born in Oshkosh, Wisconsin, on May 20, 1904, Mr. Weng studied at Oshkosh State Teachers College, the Art Institute of Chicago , the University of Chicago, where he earned B.A. and M.A. degrees, and the Fogg Art Museum, Harvard University. In 1928 he was Lecture Assistant to the noted American sculptor, Lorado Taft, in Chicago; from 1929 to 1950 he was Director of the Dayton Art Institute (Museum and School), and from 1950 to 1968 he directed the Evansville Museum of Arts and Science. In his capacity as a Museum Director, he oversaw the planning and construction of new museum buildings at both places, expanded the art collections of both, and developed museum programs and exhibitions appropriate to each.
As an artist, Mr. Weng exhibited most recently at the Dunn Memorial Gallery, Oakland City University, where he had retrospective of prints and drawings dating from 1928 to 1998 (June 6-25, 1999) and an exhibition of prints and drawings, as well as 158 designs for notecards reproduced from his prints and drawings, at the Dayton Art Institute (December 17, 1999-March 12, 2000). Mr. Weng is the recipient of an Honorary Doctor of Humanities Degree from the University of Evansville (1960), and in 1985 he received the Evansville Mayor's Award for "more than thirty years of inspiring leadership and counsel." He is listed in the 1966 Who's in American Art as a member of the American Federation of Arts, American Association of Museums, and Midwest Museum Association, of which he was Vice President for Indiana in 1954-55 and President in 1948.