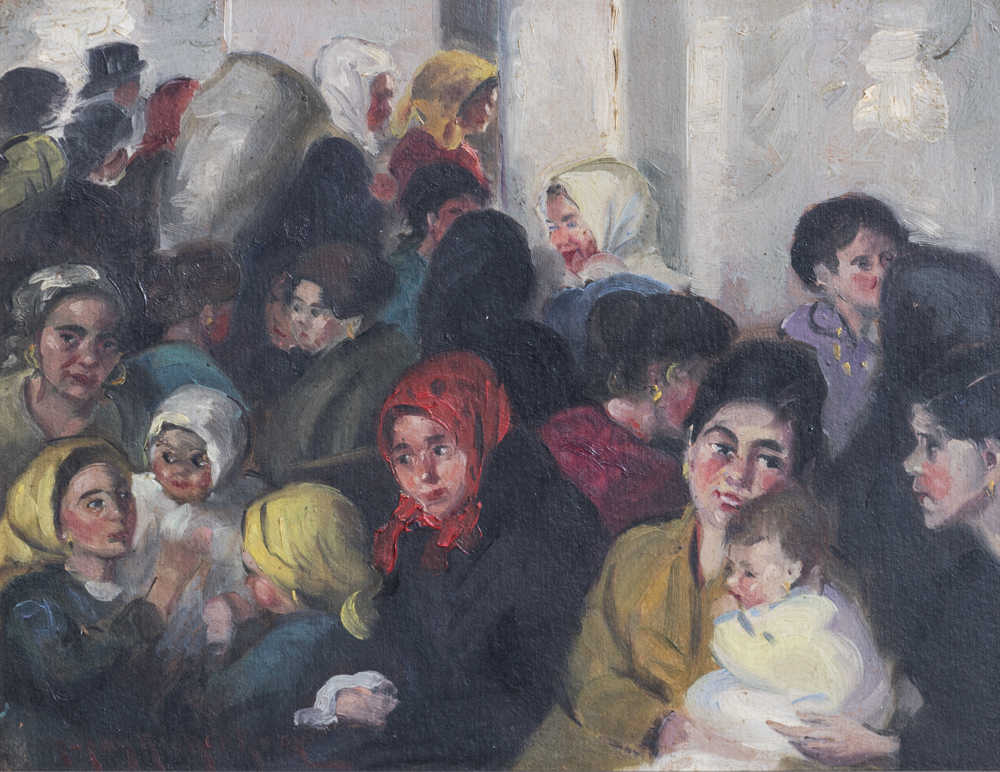 Susan Ricker Knox (1874-1959)
The Lonely Refugee – 1921
Czech in center, Italians, jews, figures in background, going to America.
oil on board, 16 x 20″ signed l/l
From 1921 exhibition, U.S. House of Representatives
exh. sticker verso – Art Club of St. Petersburg, 1923
needs cleaning, original frame.
sold
From AskArt:
Born in Portsmouth, New Hampshire, Susan Knox excelled at painting portraits and figure works of mothers with children. She was also known for pen and ink silhouettes.
With the idea that art should be concerned with social conditions, she painted a series of 32 paintings in 1921 of European immigrants at Ellis Island. These paintings were exhibited at the Museum of Natural History in New York during the International Conference of Eugenics, and later they hung in the Committee Room of the House of Representatives
She studied at the Drexel Institute in Philadelphia with Howard Pyle and the Cooper Union Art School in New York City with Douglas Volk, and Clifford Grayson, and then studied in Europe from 1906 to 1907.
Knox lived primarily in New York City but summered in York Harbor, Maine where she and her mother paid for their lodging with their paintings. She also traveled widely in the Southwest, where until the mid 1930s she painted during the winters in Arizona and New Mexico. Subjects included the Hopi, Apache, and Pima Indians. Her Native American paintings stirred much interest including a work titled "In Salt River Valley", which depicted Pima Indians on their reservation in Arizona. It was exhibited in 1932 at the National Association of Women Painters and Sculptors.
From 1936, she began regular trips to Mexico.