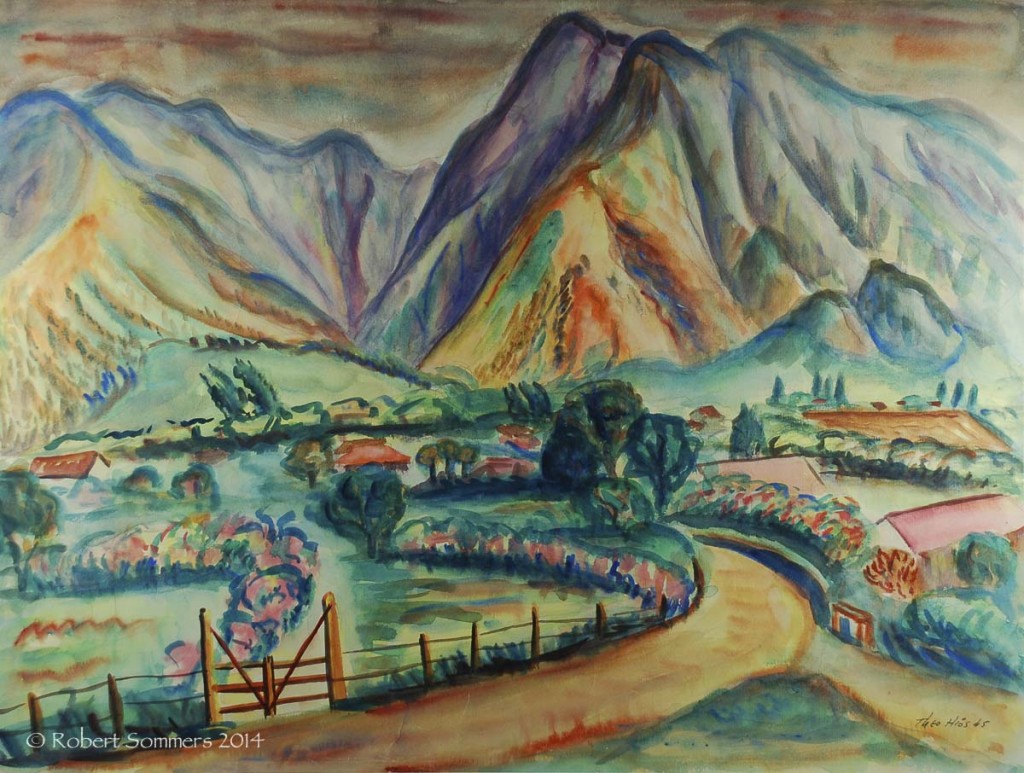 Theo Hios (1910-1998) w.c. Japanese Cemetery, Wailuku Maui, 1945, Sgt. Theo Hios. United States Army verso sold
Theodore Hios (Greek-American 1910-1999)

During his six-decade painting career, the style of Theodore Hios occasionally turned abstract,* but he mostly hewed to expressive* portraits and especially visionary views of nature that were sometimes reminiscent of Marsden Hartley. These landscapes often resembled the canyons and precipices around Tripi, the small Greek village where he was born in 1908.

In 1929, after becoming disenchanted with law studies, Mr. Hios followed his father and a brother to New York, where he scraped together a living working mostly in restaurants. In 1934 he enrolled in a Works Progress Administration art class in a public school, and by 1937 was a working member of the W.P.A*. As a member of the American Artists' Union,* he had his first public showing with that organization in 1936.

During World War II, Hios enlisted in the Marine Corps and was made a combat photographer, serving in the Pacific. After the war he studied at the Art Students League* with Morris Kantor and Vaclav Vytlacil. He had his first solo show in New York at the Contemporary Arts Gallery in 1947. That year he married Catherine Lekakis, a ceramist * who was also Greek and a sister of the sculptor Michael Lekakis.

In 1964 he and his wife bought a brownstone on a crime-ridden block on the Upper West Side of Manhattan. Rallying his neighbors, Mr. Hios helped found the 100 West 95th Street Block Association, serving as its president for eight years. It became a model for similar organizations.

From 1963 until his retirement in 1994 Mr. Hios taught at the New School for Social Research*, where he also had five solo shows. His exhibition, a 57-year survey, was held at the Susan Teller Gallery in SoHo.