Well, between Chanukah, Christmas, extended bouts with my mortality and a hospitalization or two, the show and mortgage must go on! Hope that everybody is having a nice holiday and hasn't gained too much weight eating cookies and watching sports. I know I have.
I haven't been buying a lot, have been quite selective but still have had some very interesting pieces come my way. Like this Gustave Baumann Woodblock print, Hillside Woods.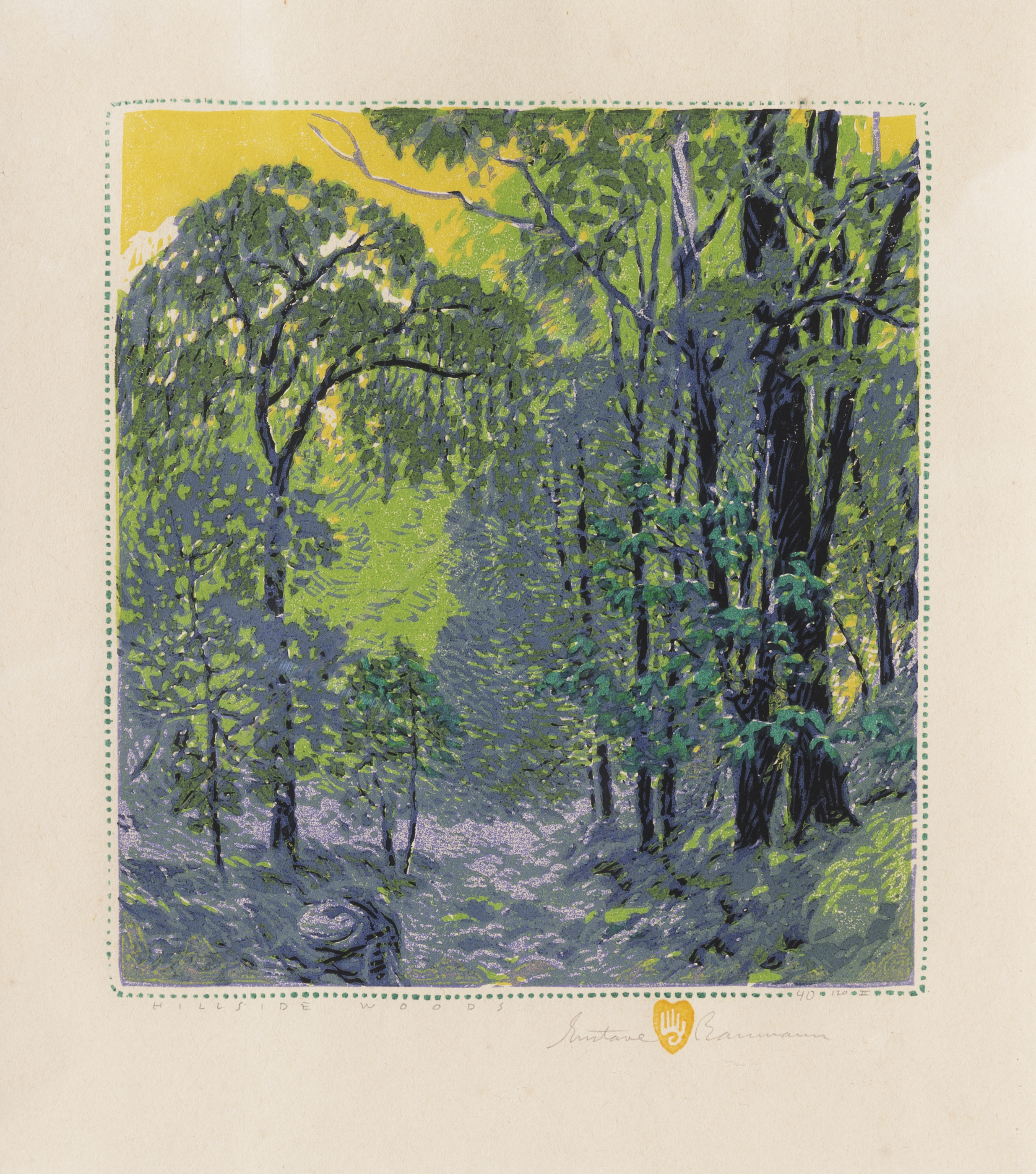 Forgive the photograph, there is a slight scratch on the plexiglass. Hillside Woods is a pivotal print for Baumann (1881-1971). This woodcut, numbered 40 out of 120 II, was executed in 1917. Its colors are pristine. Baumann traveled to his native Germany in 1905 to study the art of color woodcut. He returned to work in Brown County, Indiana and then had a short stint in Provincetown, Mass, a print mecca. In 1917 he was invited to visit the New York estate of his friend Lydia Avery Coonley. The western New York estate, located in the town of Wyoming, was called Hillside. He bought a small printing press from a company in Chicago and had it shipped directly to the estate. He continued to use the same manual press for his entire life. Using oil based instead of water based inks, the winner of the Gold Medal for printmaking at the Panama-Pacific International Exposition in San Francisco was able to get the strong colors and definition that typify his work. This was the first work of art with the new press. Price on request.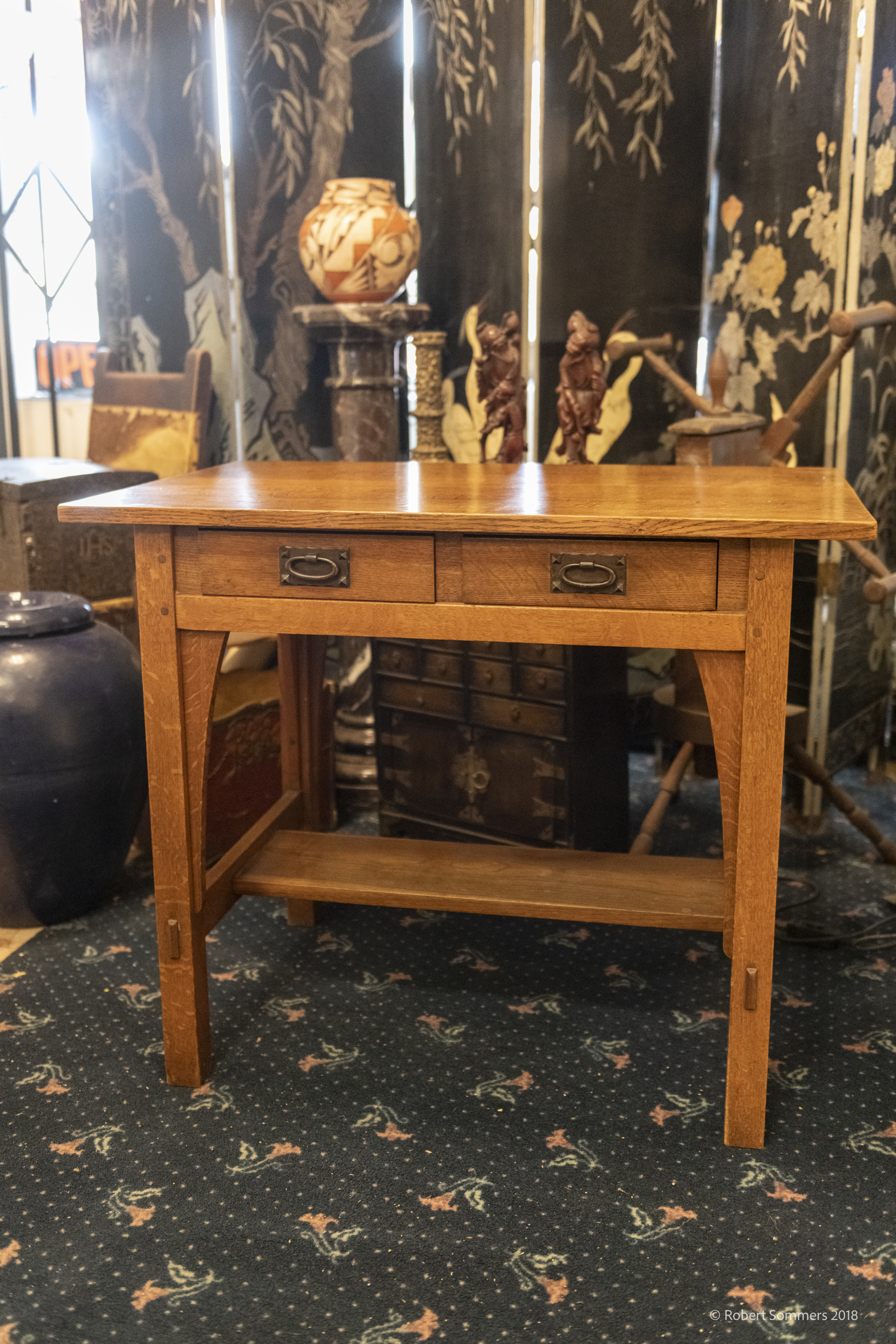 I don't get a lot of opportunities to buy nice pieces of mission furniture anymore. This Gustave Stickley #615 library table is in fabulous shape and original finish. Some lovely quartersawn oak. Came out of a Pasadena home. It was made between 1912 and 1916, bearing the branded mark in its right hand drawer. $2500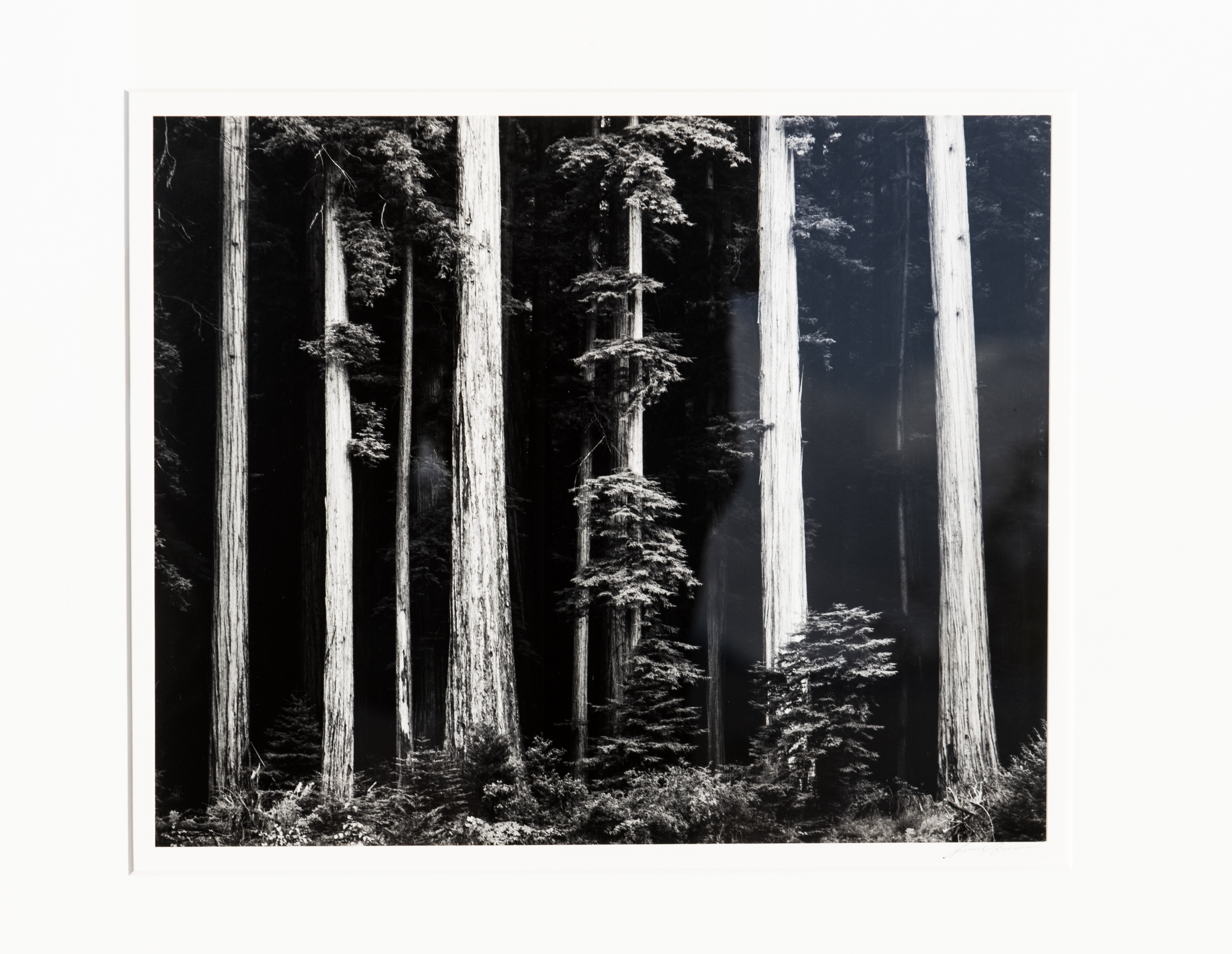 Ansel Adams (1902-1984) Northern California Coastal Redwoods from Portfolio IV – 1960
Bromoil gelatin silver print, 9 1/3 x 11 1/3″
pen signed lower right
Here is another piece that I have not had a chance to photograph properly so you get some glare in the shot.  Lovely example. $3800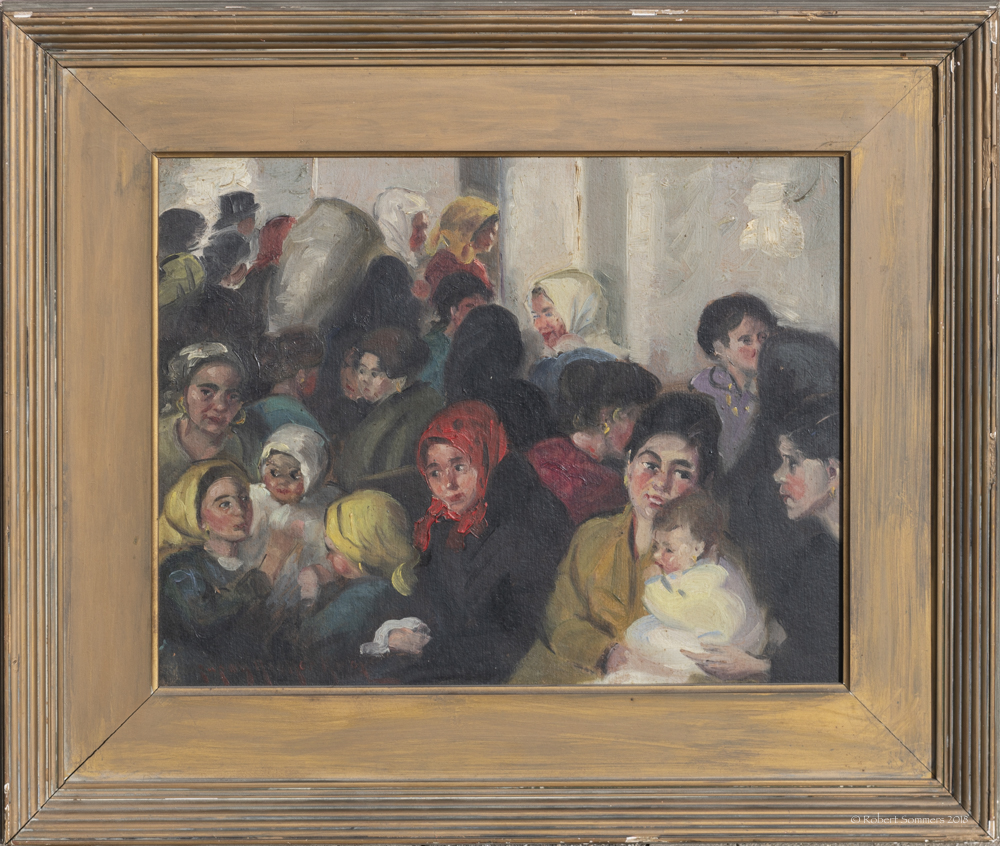 I had this painting walk in the door of my shop recently )accompanied by a human) and am quite excited about it. It was painted by the artist Susan Ricker Knox (1874-1959) and was one of thirty two paintings that she painted for an exhibition of works depicting emigres to America in 1921. It is the strongest of any of the works I have seen from the exhibition and is titled The Lonely Refugee.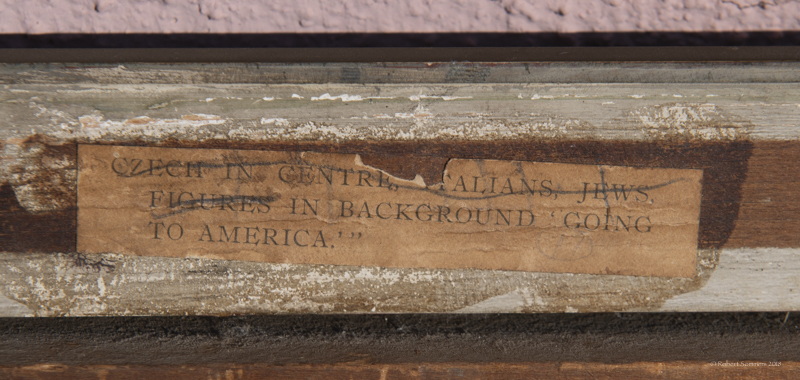 This exhibition hung in the Committee Room at the House of Representatives in Washington in 1921 while Congress was debating establishing quotas and restricting immigration to the United States. Look at the subtitle of this painting; Czech in center, Italians, jews, figures in background, going to America.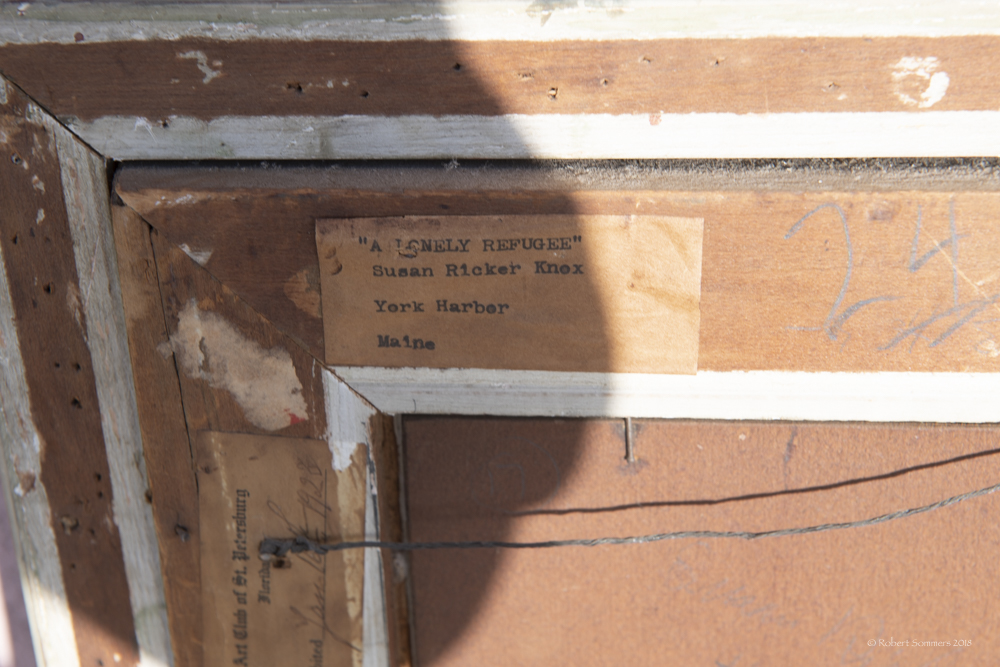 The 16 x 20″ oil on board needs cleaning but looks beautiful to me in its original patina. My friends used to make fun of me when I called objects or paintings historically important. I don't care. I think that this painting was and is, still relevant, not to mention very beautiful. Price on request.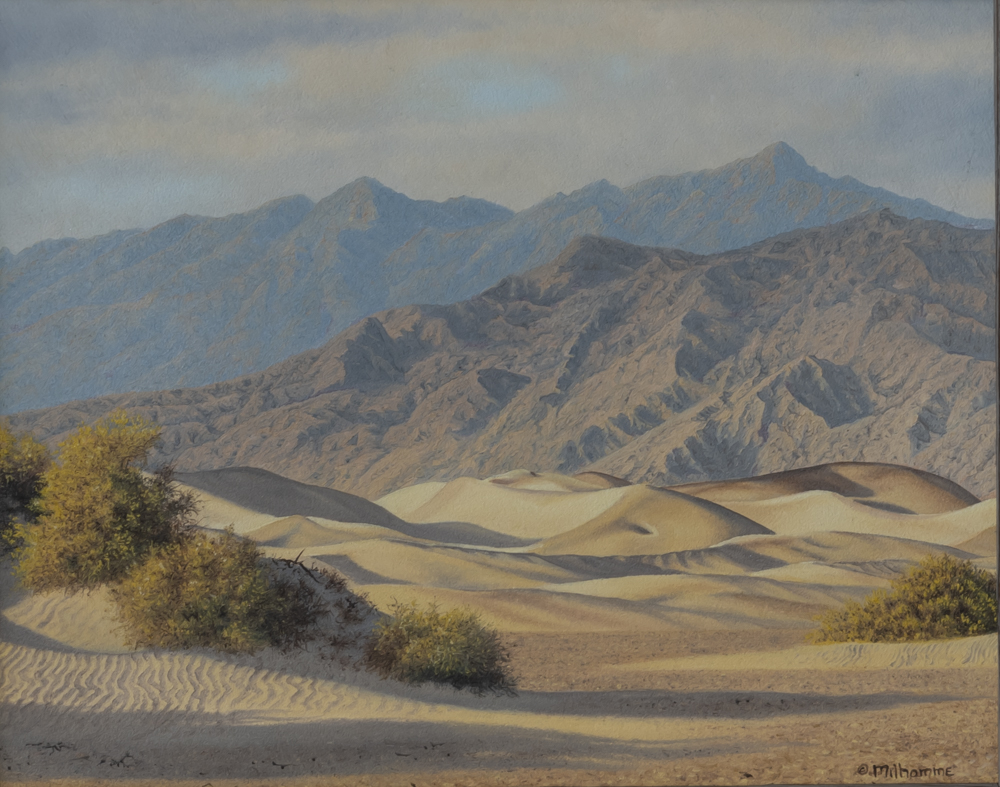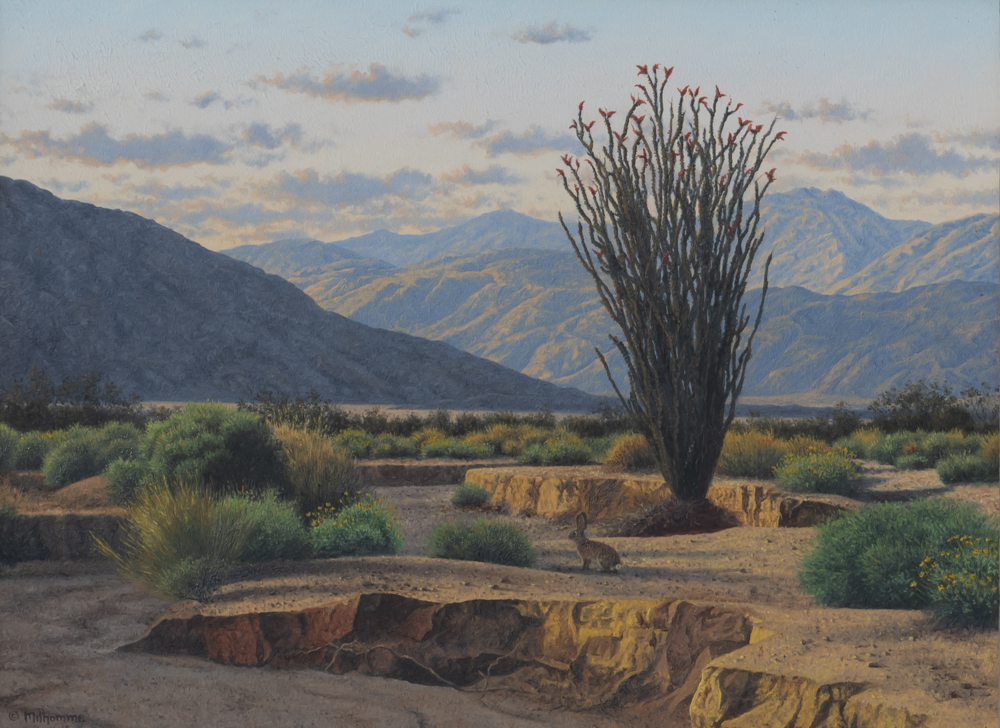 I got two nice small Anza Borrego paintings in by the artist Denis Milhomme, born 1954. I an not really familiar with him but now understand that he has a pretty devoted following, beautifully executed. Framed and titled. The painting on top is titled Dunes aglow and is 8 x 10″. Price is $800
The painting with the Ocotillo bush is titled Fading light, measures 9 x 12″ and is $1000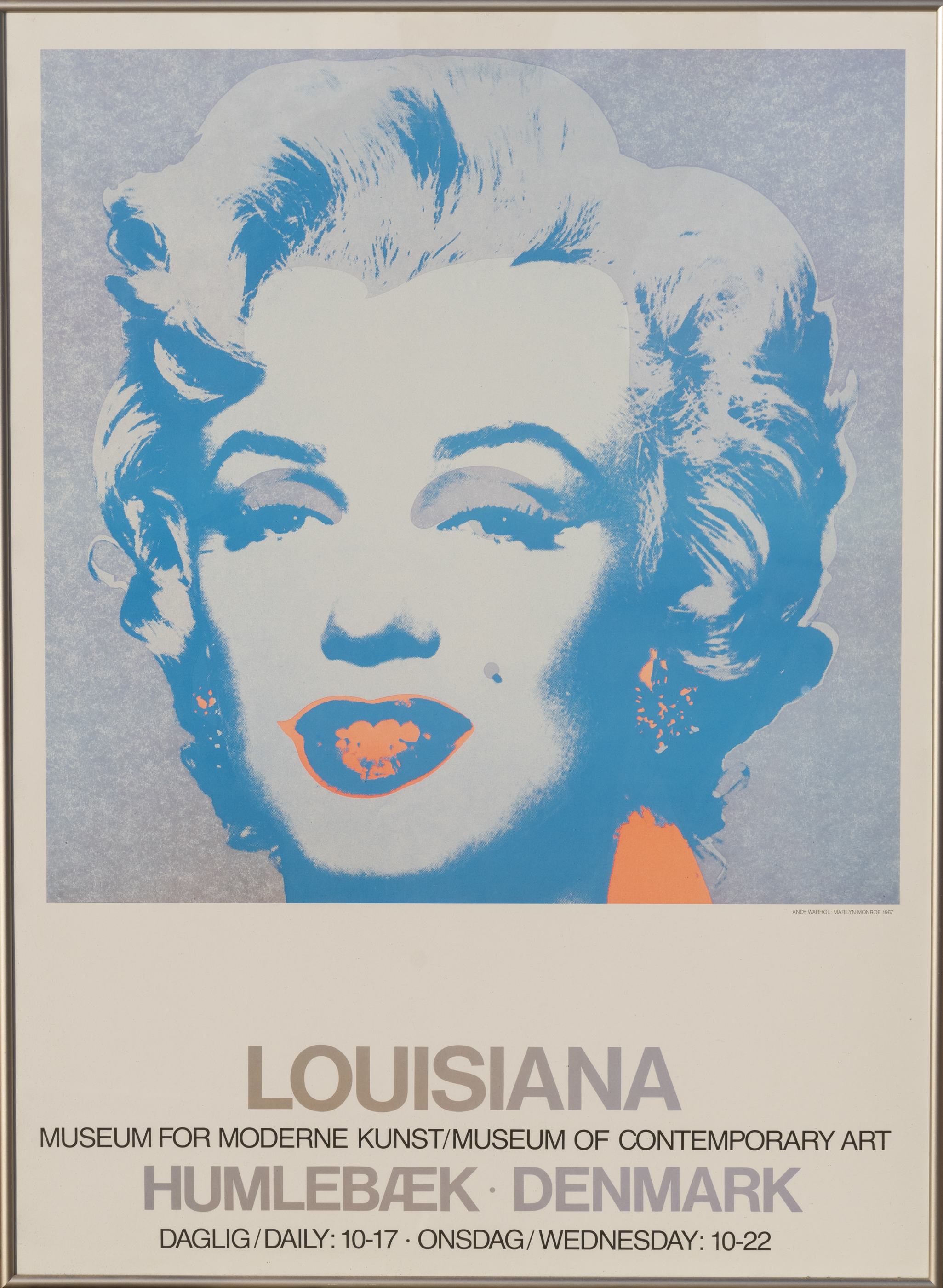 Last but not least is a rare Andy Warhol poster from Louisiana, Denmark. Yes there is such a place. From a 1986 exhibition. $500