I have a lot of new inventory to share with you, much of it modern. I have been working with the Dorothy Stratton King estate for about a year and have been focussed on her prints. Heather was sweet enough to send me a great painting. Dorothy lived in La Jolla for a time and was a student of the great Rico LeBrun.
It is signed and dated  D. Stratton 1963 on bottom left and dated 1962 verso. She probably worked on it for a while. 18 x 24″ framed. Mixed media on masonite. Here's a link for more info on Dorothy and her work.
I bought this excellent work painted by Ethel Fisher (1923-2017) recently.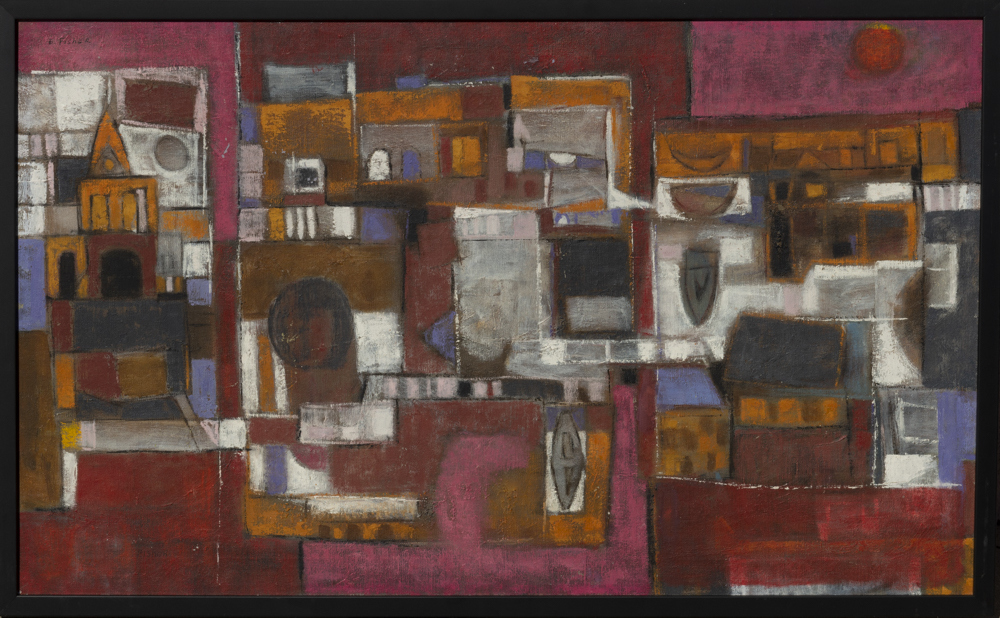 The oil on canvas is titled Trinidad. According to the label verso it was once titled "the city" and was painted while she lived in Miami. It measures 21 x 36″. Fisher is a bit of an enigma. Her daughter Sarah, also a noted painter, was married to R.B. Kitaj. Ethel's papers are in museums and universities. She had several major shows. But I can't find pictures of her work, which is unfortunately locked behind paywalls. Here is a biography from the archives of American Art:
Ethel Fisher (1923-2017) was a painter who lived in Pacific Palisades, California.
Ethel Fisher was born in Galveston, Texas in 1923. She studied art at the University of Houston, University of Texas, and Washington University in St. Louis, Missouri. After college, she moved to New York City and attended The Art Students League on scholarship from 1943-1946. In New York, she studied with painter Will Barnet, Morris Kantor, and Robert Beverly Hale, and befriended many people in the art world. She married Gene Fisher and their first daughter Sandra was born. Sandra also became a painter and later married artist R. B. Kitaj.
Fisher and her family moved to Miami in 1948 where her daughter Margaret was born. Upon her divorce, Fisher travelled in Europe for about a year before returning to New York City in the early 1960s, where she continued to paint and maintained 2 studios for her artwork. She married art historian Seymour Kott in 1963.
In 1970, Fisher and her husband moved to Pacific Palisades in Los Angeles, California. Throughout her career as a painter, Ethel Fisher has had solo and group exhibitions at galleries in Havana, Cuba; West Palm Beach, Florida; Atlanta, Georgia; New York City, New York; and San Francisco and Los Angeles, California. She has been the recipient of numerous awards and continues to paint. In 2003, Fisher had solo exhibit of portraits at Platt Gallery in Los Angeles.
There is an interesting article about her and Kitaj in this newspaper from the Pacific Palisades. A beautiful painting by a noted artist at a very inexpensive price, considering its merits. Call me for a price.
This is a lovely John Haley oil on canvas. It measures 30 x 24″. Haley led the art department at the University of California, Berkeley for many years. Price on request.
From Askart: Born in Minneapolis, John Haley studied at the Minneapolis School of Art in the 1920s and later with Hans Hofmann in Munich. Returning to the U. S., he taught art in Minneapolis and then moved in 1930 to California where he became Professor of Art at the University of California at Berkeley for forty-two years.
In the 1930s and 40s, he spearheaded the Berkeley school of watercolor painting and was known for his innovative use of opaque watercolors. He began exhibiting with the California Watercolor Society in 1942. However, in the mid 1950s, his style and subject matter turned from realistic Regionalist to Abstract Expression.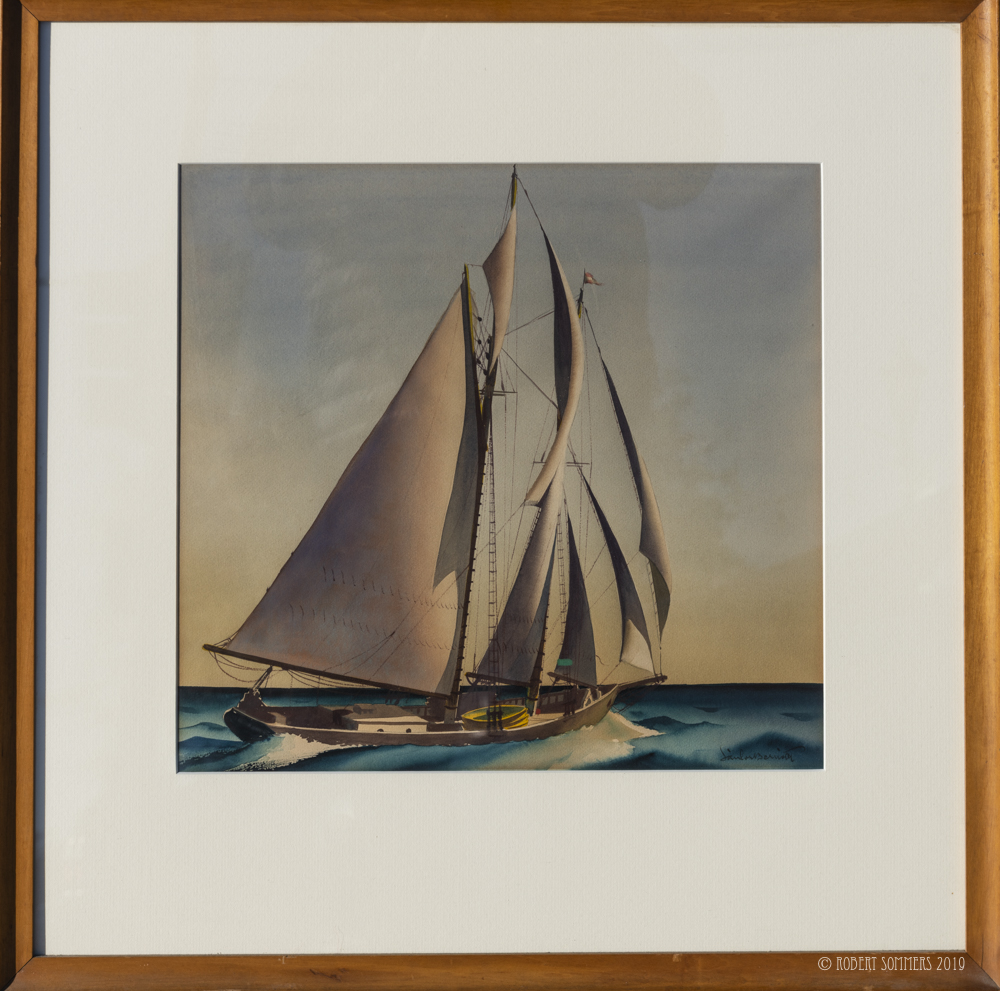 Sandor Bernath (1892-1984) – I have always loved the work of this Hungarian American artist, a student of Hopper. Pardon the bad picture, the reflection is me. Bernath has the most undecipherable signature in existence. He did wonderful nocturnal adobe paintings in Taos as well as New England boats and lighthouse. This is the first one I have found in years. 17 x 18″ image. $1800
From AskArt: Sandor Bernath was born in Hungary in 1892, but emigrated to the United States as a youth. In the early 1920's, Bernath was an up and coming artist in New York City. He became a member of the American Watercolor Society and the Brooklyn Society of Modern Artists. Bernath was also a student of Edward Hopper. Little is known about his education and training, but several works produced around 1922 prove that Bernath was studying abroad in France and Czechoslovakia.His last show on record was in Brooklyn during 1927. After that, his whereabouts have been speculated to include: Maine, Pennsylvania, South America and New Mexico. It is thought that Bernath followed his contemporaries to Taos. His last listed address was found in Maine in 1945, but Sandor Bernath lived until 1984.Studied: National Academy of Design Member: American Watercolor Society; New York Watercolor Club Exhibited: Art Institute of Chicago, 1923-1925, 1927; Whitney Museum of American Art, 1923-1926 Works Held: Brooklyn Museum
I feel privileged to have this incredible triptych by Susan Bright Lautmann Hertel (1930-1992). Her work is rare and lovely. A beautiful blend of southwest and modern. Hertel graduated from Scripps College in 1952 and was a longtime assistant to Millard Sheets. This canvas measures about 32″ x 100″ with suitable and precise spaces. Call for price.
A few years ago I obtained five early works by Ralph Goings (b. 1928) from his early abstract figurative period at the California College of Arts and Crafts. Goings eventually became a super tight super realist but I love the free and easy early stuff, I think even better. This is the last one I have left, was hidden. Not signed but I have a note from the Goings neighbor that I got it from. 20 x 16″. Call for price.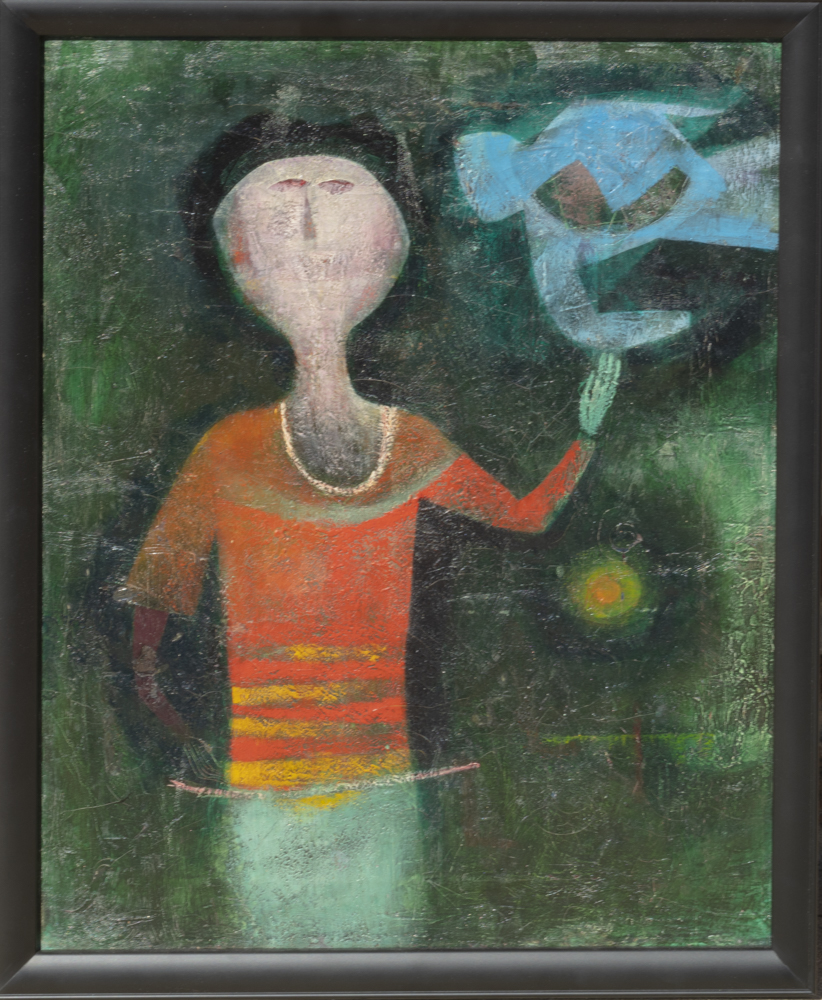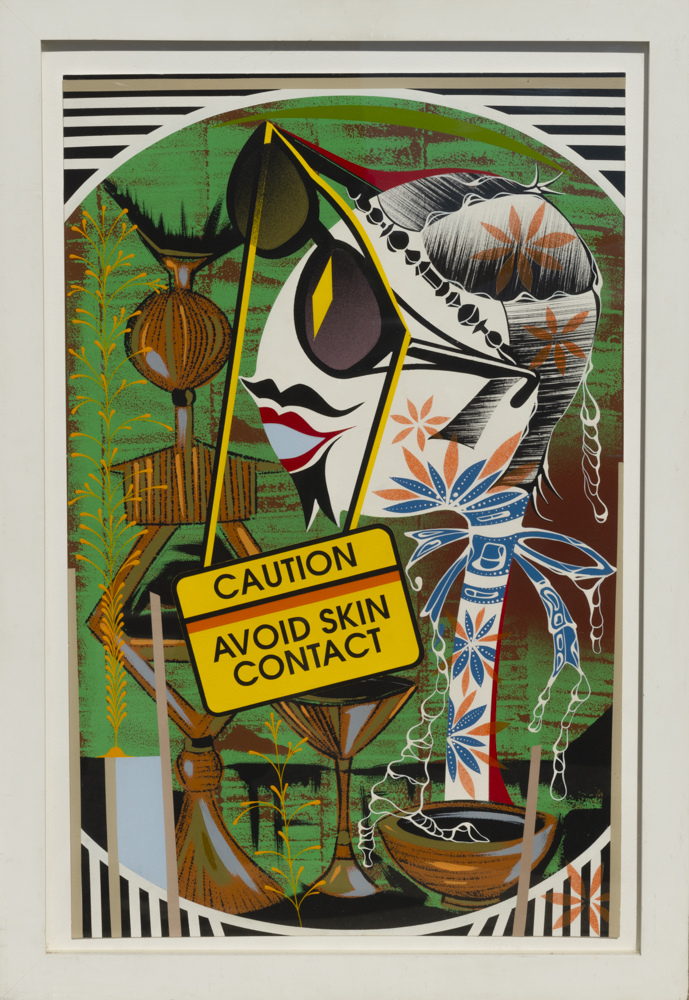 This is a 1998 painting by the UCLA professor Lari Pittman. Born in 1952, he has a very huge following, very high auction records, especially in England for some reason. Here is the label verso: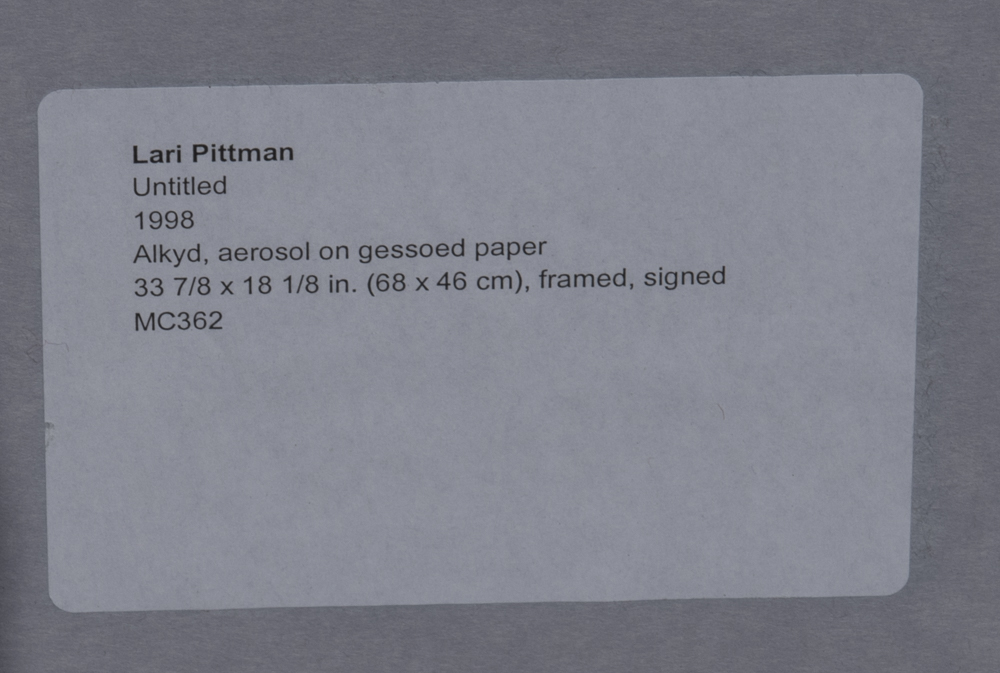 sold
From AskArt: Based in Los Angeles, he is an abstract painter whose acrylic work is highly decorative as well as figurative, which he regards as a rebellion against the 'puritanism of modernism' that is so fearful of decoration and any suggestion of realism. His tight, all over the ground imagery in blocky format is highly sexual.He is openly homosexual and multicultural, an American and Columbian and had an early career in interior design. He has had long-time involvement in the Los Angeles arts community and had a brush with death in 1985 when he was shot by a robber. In 1996, the Los Angeles County Museum of Art held a mid career survey of his paintings that traveled to the Contemporary Arts Museum of Houston.
Lari Pittman wasn't born into an artistic family. His father was an Arkansas native infused with a spirit of wanderlust; he found himself working in Columbia where he met and married Ilia Rosasco. Lari was born in Southern California in 1952 and when he was five the family moved back to Columbia. The village of Tumaco where they lived was so small there wasn't even a school, but a tutor was hired for all the children; fortunately the tutor was also a painter of religious art. When Lari was eleven, they moved north to Whittier, California.In 1971 Pittman entered the urban campus of University of California at Los Angeles to study painting. He studied with Lee Mullican and Charles Garabedian, but the rest of the faculty fell short on artists of cosmopolitan bent; one even dismissed his paintings as "faggy." Disappointed, he transferred to California Institute of the Arts, earning a Master of Fine Arts degree in 1976. While there he met Roy Dowell, an abstract painter, with whom he has lived ever since.Pittman had an early career in interior design. He is an abstract painter whose acrylic work is highly decorative. Once described as "faggy", his work is now considered fabulous, due to the changes in thought about the college situation in Los Angeles and the people involved. Pittman is now a tenured professor at UCLA in what has become perhaps the nation's finest art school faculty. Written and submitted by Jean Ershler Schatz, artist and researcher from Laguna Woods, California.
Merrill Mahaffey (b. 1937) Plateau at Horn Creek, Grand Canyon acrylic on linen 28 x 40″ $2800
From AskArt: Merrill Mahaffey was born in 1937 in Albuquerque, New Mexico. By the age 8 he was already creating color pencil drawings of landscapes near his family home in Grand Junction, Colorado.His college training includes: Mesa Junior College in Grand Junction, Colorado; California College of Arts and Crafts, Oakland; Sacramento State University, California where he earned his Bachelor of Art degree in 1959; and Arizona State University where he received his Master of Fine Arts Degree in 1965.Mahaffey taught design and art history at the Phoenix College from 1967 until 1983. His reputation as a landscape painter in Arizona began developing in the early 1970's. His work has evolved from an earlier abstract style to his present realism, reflecting the best traditions of American landscape painting. With lithography and serigraphy, Mahaffey maintains the same expansive, panoramic quality found in his paintings, rendering certain basic yet complex abstract relationships in nature with the visionary technique that is uniquely his own.His awards have been numerous: Colorado State Fair, Arizona State Fair, Southwestern Fiesta Biennial Exhibition, 10th Arizona Annual, Four Corners Biennial at the Phoenix Art Museum, Tucson Art Museum and the Scottsdale Center for the Arts.His art has been shown at the Denver Art Museum and the San Francisco Museum of Modern Art. His painting "Toroweap" is in the Museum of American Art at the Smithsonian in Washington, D.C.Articles have been published about Mahaffey in publications including Southwest Art, Southwestern Art, Art in America, Art Week, Phoenix Magazine, and Arizona Highways. Northland Press published a book about him titled "Monumental Landscapes" by Rudy Turk, with a forward by Arizona's Governor Bruce Babbitt.Mahaffey's largest commission was given by the City of Phoenix for a 7-by-20 foot painting titled "Panorama From Bright Angel Point". It is displayed at the International Sky Harbor Airport terminal.
Lastly, a piece from my personal collection by Rick Griffin (1994-1991). Rick was a good friend of mine. This is a study for his Jubilee Magazine cover, ultimately it became an album cover called Water to Wine for Calvary Chapel. I owned that too at one time but that is another story for another day. This ink on paper drawing measures about 14 x 13″. sold