It's getting hot out here. Not an ideal time to be recuperating from minor heart surgery, not like we get much choice in these kinds of matters. The tank is definitely on fumes, lets see if we can turn it around. Or at least cool it down. That is, if I can get the air conditioning fixed…
I have a lot of great new material to hopefully tempt you with. Do you like modern abstraction? Try these two large oil on canvas works by Dorothy Finley, each 48″ x 40″.
Finley (1920-2004) was a great painter. But she had three things going against her, she was a woman, she was a military wife and she didn't live in New York or San Francisco. Yet she was a student of the great Joseph Albers among many other wonderful teachers and she painted with deft skill and integrity.
In addition to Albers, she studied with Walter McCown in Waco, Texas, Louisa Jenkins at Big Sur, Heinz Kusel at Fresno State and A. Madrigal at Yale. On the local front she worked and studied with such luminaries as Robert E. Wood, Linda Doll, Sebastien Capella, Vera Fields, Carl Provder, Pauline Doblado and Carol Barnes.
Painters fall through the cracks, especially women, who were thought to be mere hobbyists for much of the last century. People with eyes can see for themselves.
And you can orient these canvases any which way your heart desires. And see anything you want to see in them, that's what makes abstraction so great. I might see a frothy bouillabaisse here, you might see a homicidal knitting party. It is all cool.
I have two great new works by Bertha Lum, the woodblock Kites and Waiting for Ganesha, a raised line print. Lum won the Japanese award for printmaking in 1904, unheard of for a western women. Waiting for Ganesha is actually a monotype, a watercolor, a technique that she developed herself in Chicago while creating stained glass.
If you like Western art, a fabulous oil on board by the german painter Hubert Wackermann (b. 1945) Wackermann is known for his realistic and accurate paintings of the Native Americans. This painting is beautifully framed and measures 24 x 30″.
Another recent addition from an excellent estate, renowned working cowboy artist Bill Bender (b. 1919) painted this great canvas, The Hold Outs in 1973. It measures 18 x 24″. I rescued it from a  storage locker.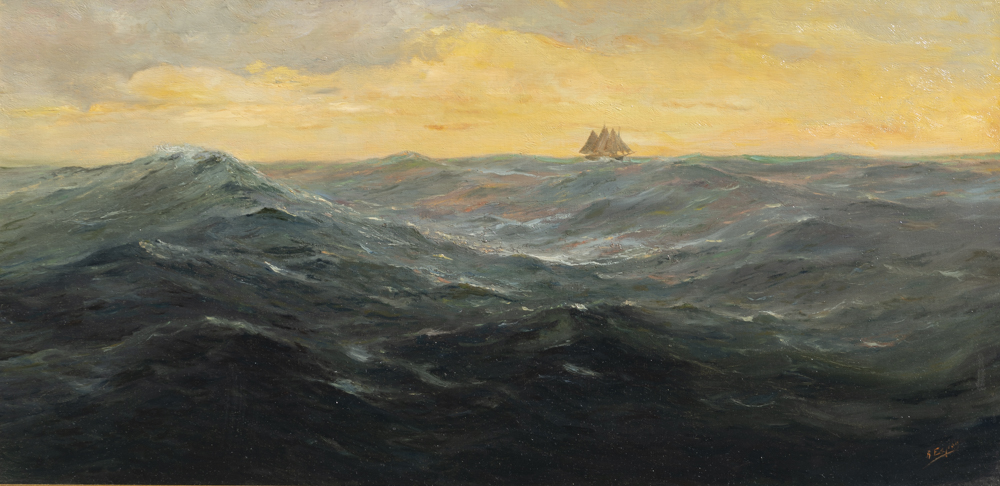 A nice 18 x 36″ marine painting by the master Angel Espoy that is priced to sell.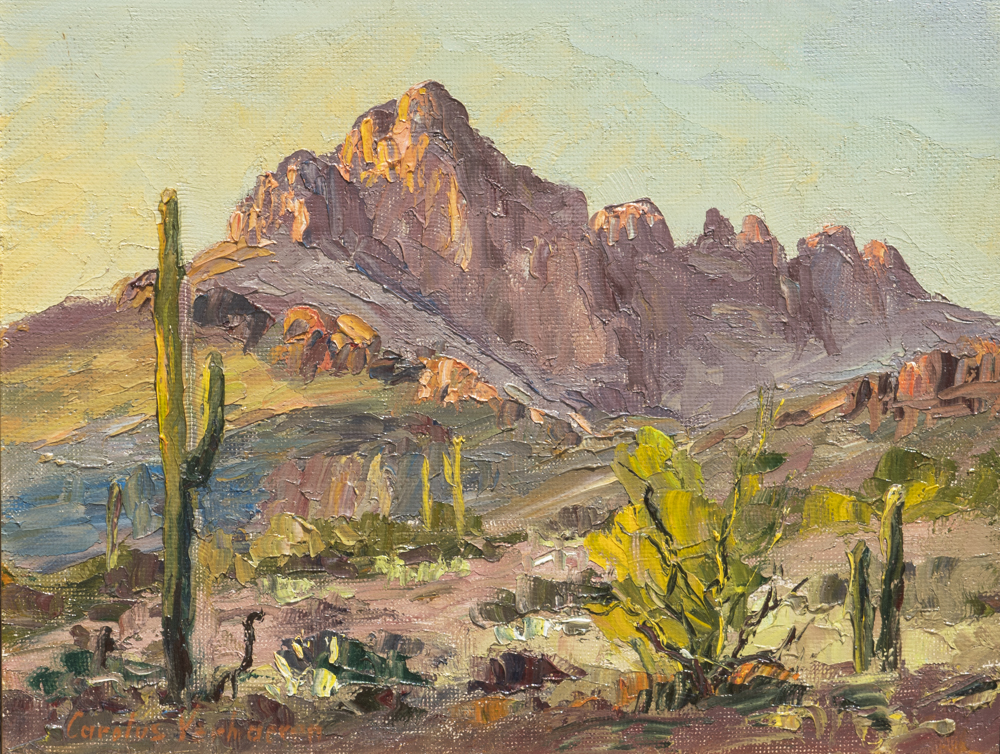 Carolus Verhaeren (1908-1956) is a beloved painter from La Jolla, known for his free slinging of paint and his unfortunate termination in a phone booth in 1956. This oil on canvas laid to board measures 12 x 16″. You can still see much of his work hanging in the La Jolla Country Club.
I have some interesting objects as well, will try to stick more up here tomorrow. A prehistoric anasazi tularosa ladle that I am guessing is over a thousand years old. Although there is native wear on the rim and a crude repair to the bowl, the handle has never been broken.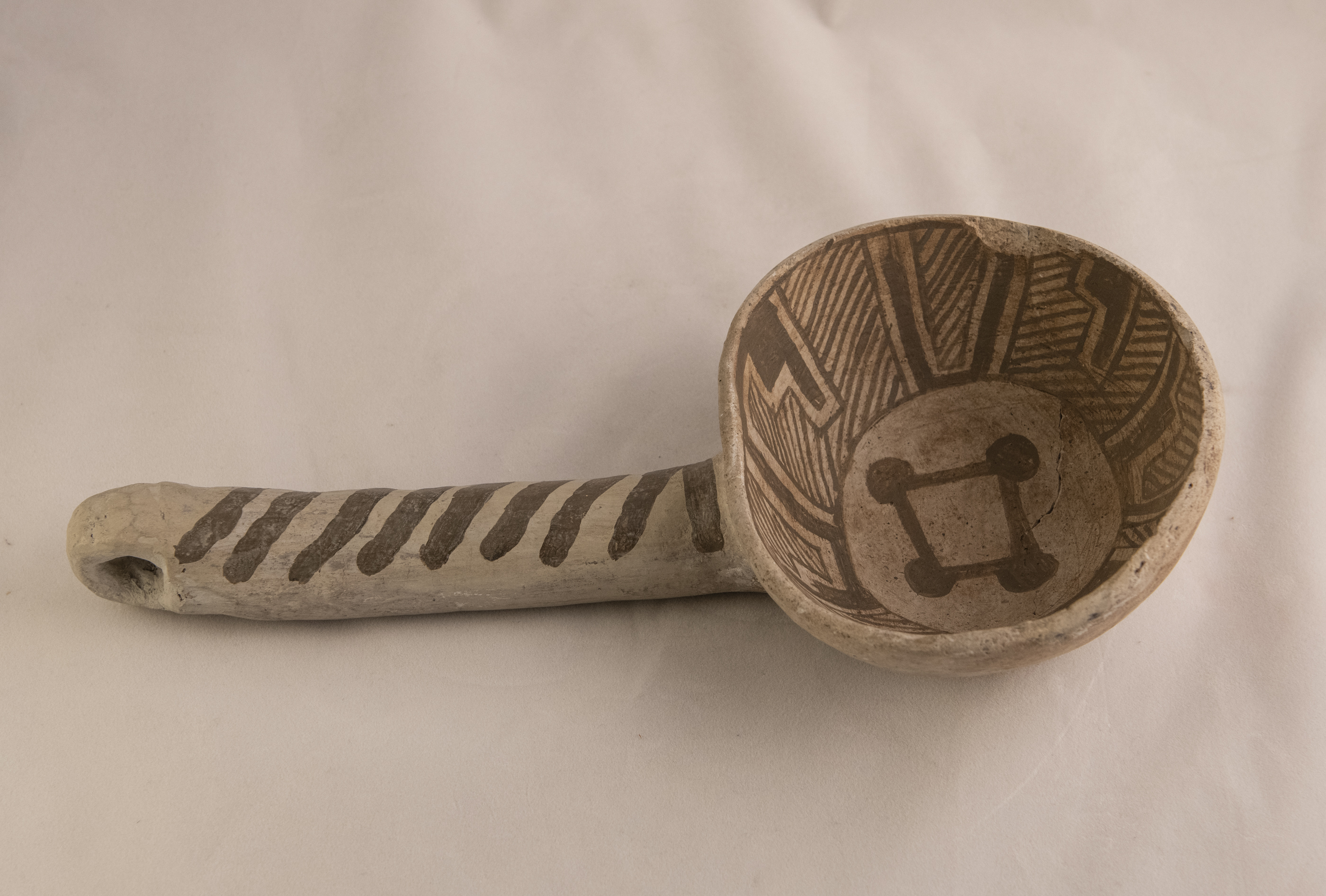 An incredible Gorham sterling silver teapot in the 1840 pattern from 1887. With a birdie on a limb.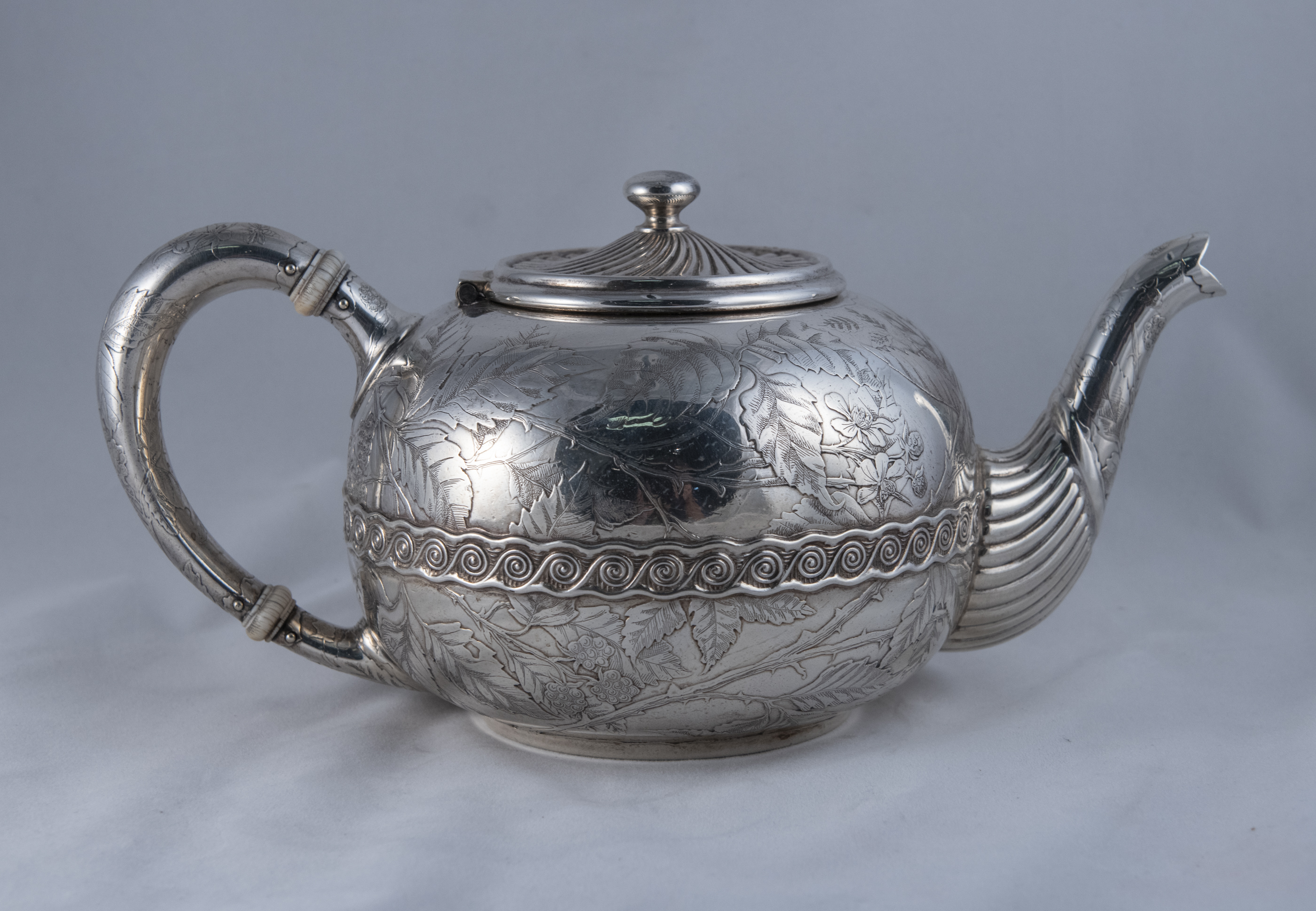 I have an interesting new set of Japanese woodblock prints, including some very early Hiroshiges. I have always loved Hiroshi Yoshida and here I present to you Chionin Temple Gate, 1935. Bad picture but this print has full margins and the requisite jizuri seal that shows that this was indeed pulled in his lifetime. Pencil signed and titled.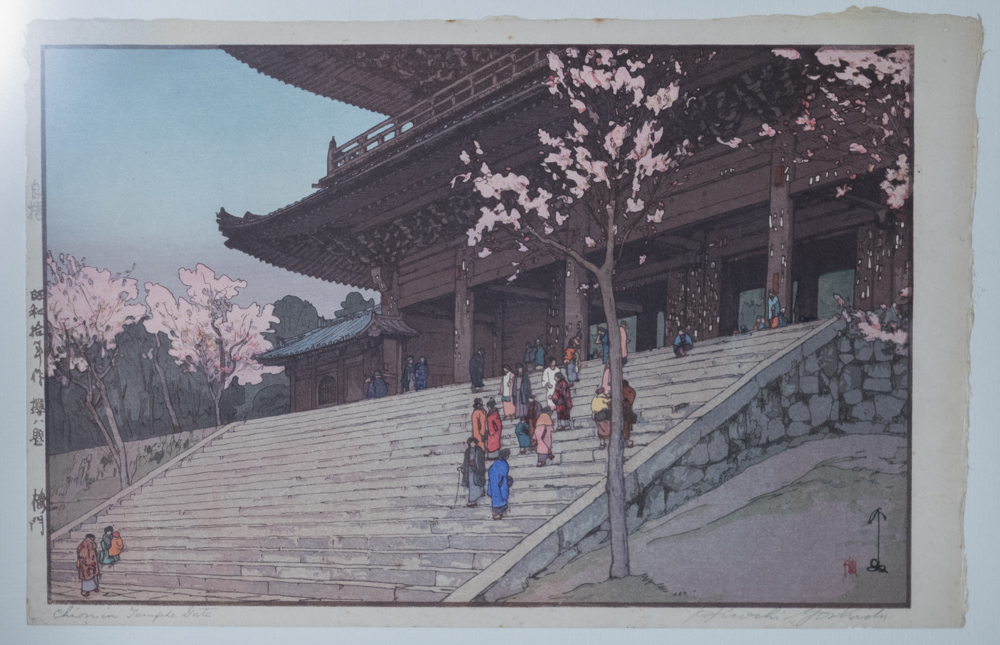 I was given a large collection of Japanese studio pottery created by a man named one of the three living treasures of bizen ware, the late master Yu Fujiwara. I am still researching these pieces and it is frankly, not easy, but will tell you that some of them are quite spectacular and look both special and uncommon.
This 10″ diameter bowl is quite large for this artist.
I have a nice large mission basket to share with you with deer and birds. I believe that this basket was made more east northeast than what we typically see.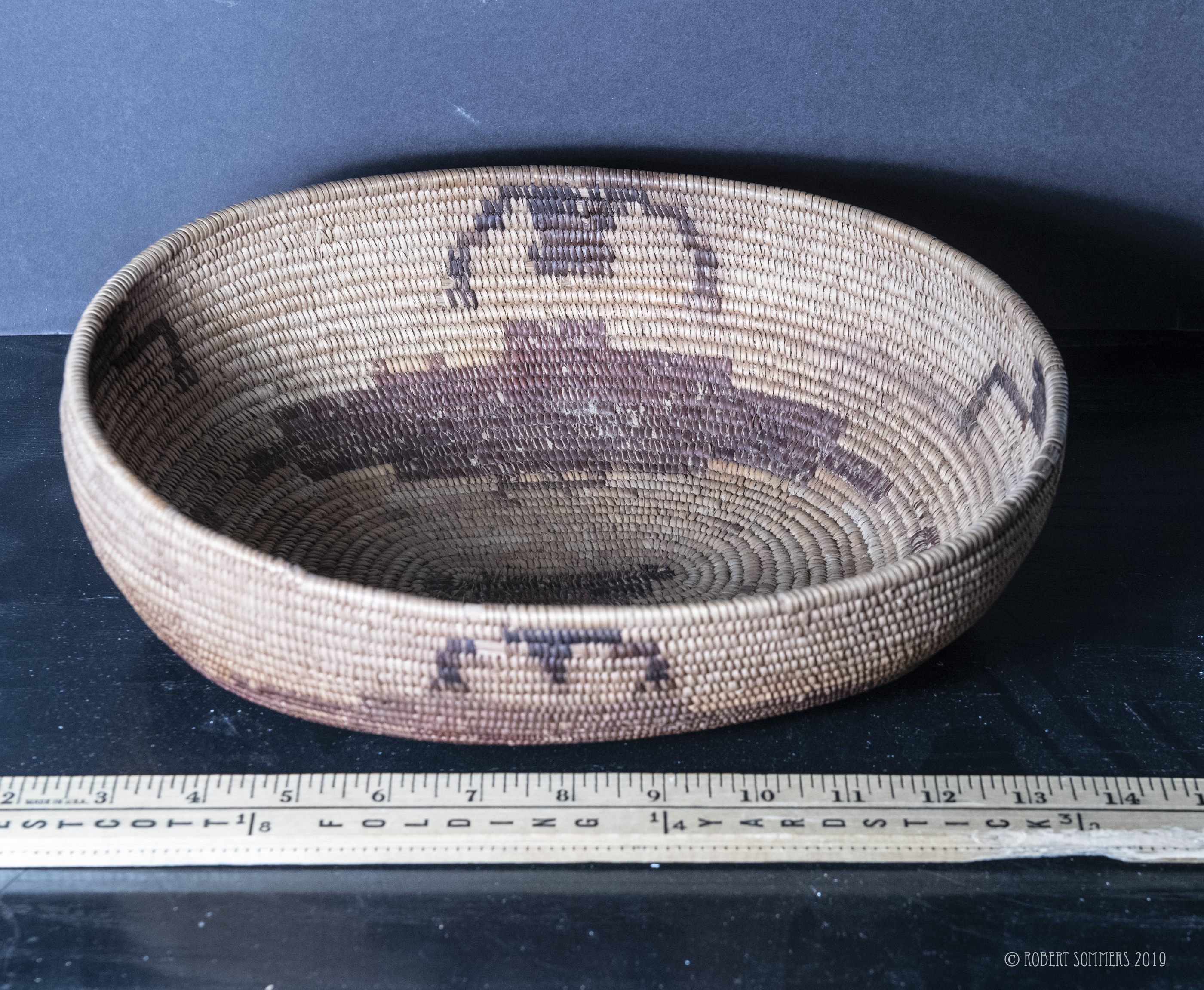 I could keep going for practically perpetuity but don't want to overload you. Lots of arrowheads, celts, prehistoric, clovis spears, prints, paintings. Just have to keep loading things up. Hope to see you soon.
Keep checking, I will try to keep posting. Stay cool and healthy.