It has been a trying time for everybody in the entire world, antique dealers are no different. I just got word that the Palm Spring Modernism Fall Show has now been officially cancelled. It makes me wonder if we will have a single show this year. I have my doubts.
I have managed to keep my head above water and I hope that you have as well. People are still buying art and antiques, both from retailers and at auction and that is a good sign.
And I am still amassing new inventory. Let me show you a few new items, in all price ranges. Store is once again busting at the seams.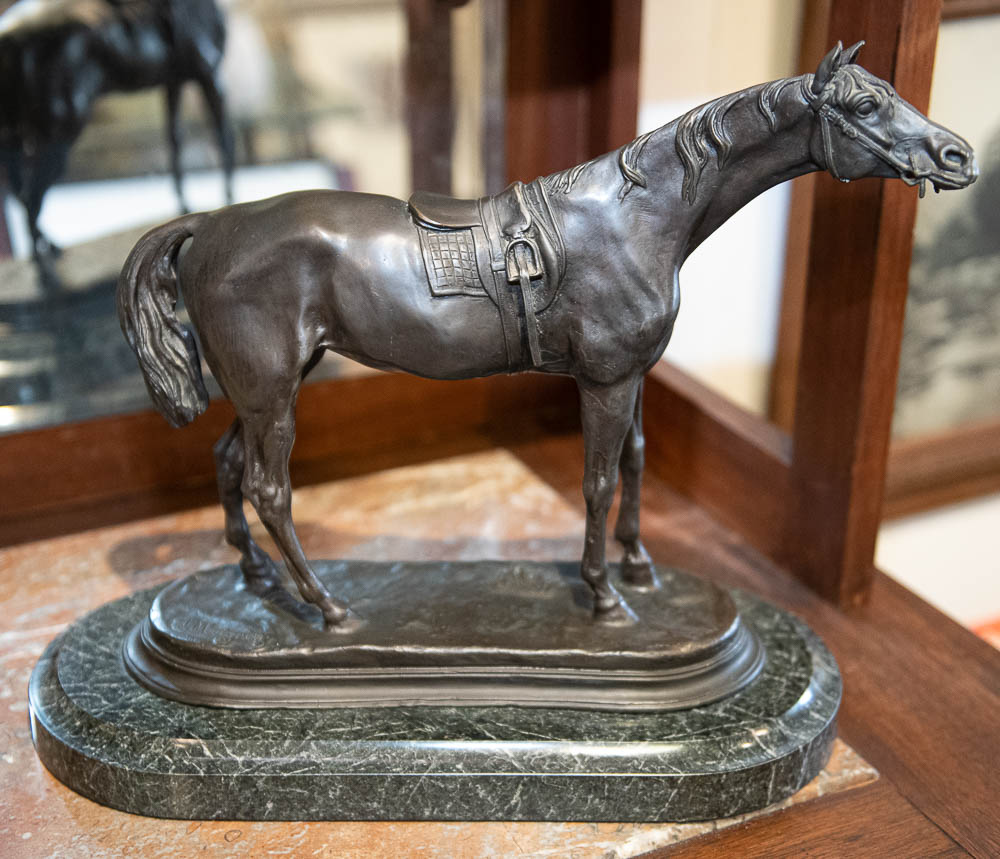 A woman brought this saddled mare bronze in by Jules Moigniez (1835-1894.) This lovely bronze measures approx. 12″ tall x 15″ wide. My client purchased it from the late thoroughbred trainer Charlie Whittingham's estate. Early posthumous strike, signed on base. Nice patina. $475
Once I sell a print it is rare to ever get it again. And so I was a bit sad when I sold this 1947 print by Dorr Bothwell (1902-2000) last year, arguably her greatest print ever, Promenade. But lo and behold, I recently got another one in the mail, from a woman who lives in the south. From an edition of thirty 17/30, good condition, full margins, faint creasing. Pencil signed, good color. Call for price.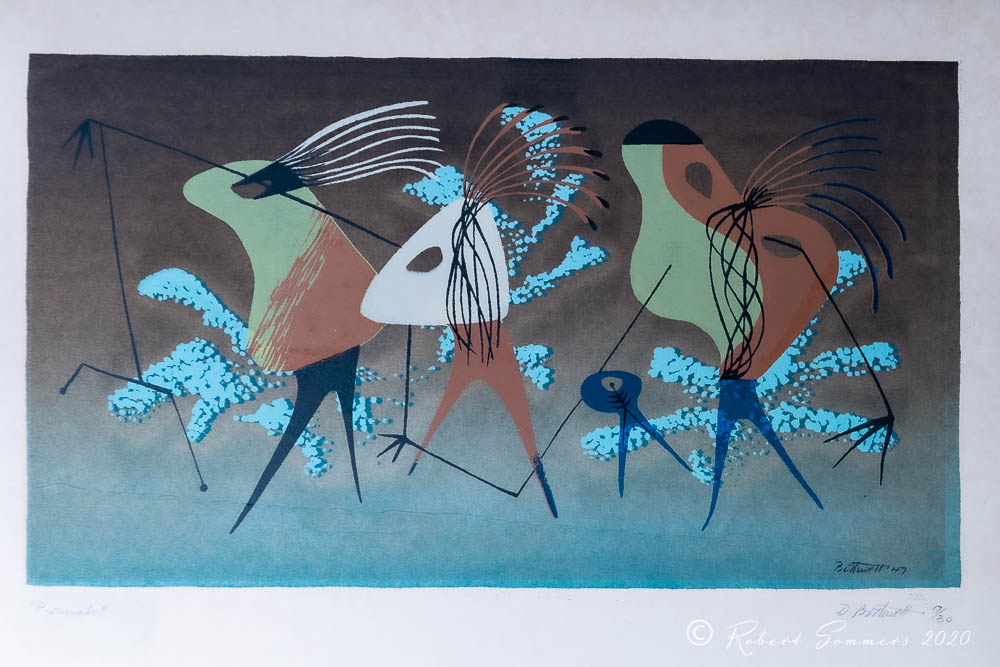 Lovers of folk art will appreciate this hand carved wooden cattle team. It measures 32″ in length and is a real wonder. Not sure if it articulates or reticulates but the pieces do move!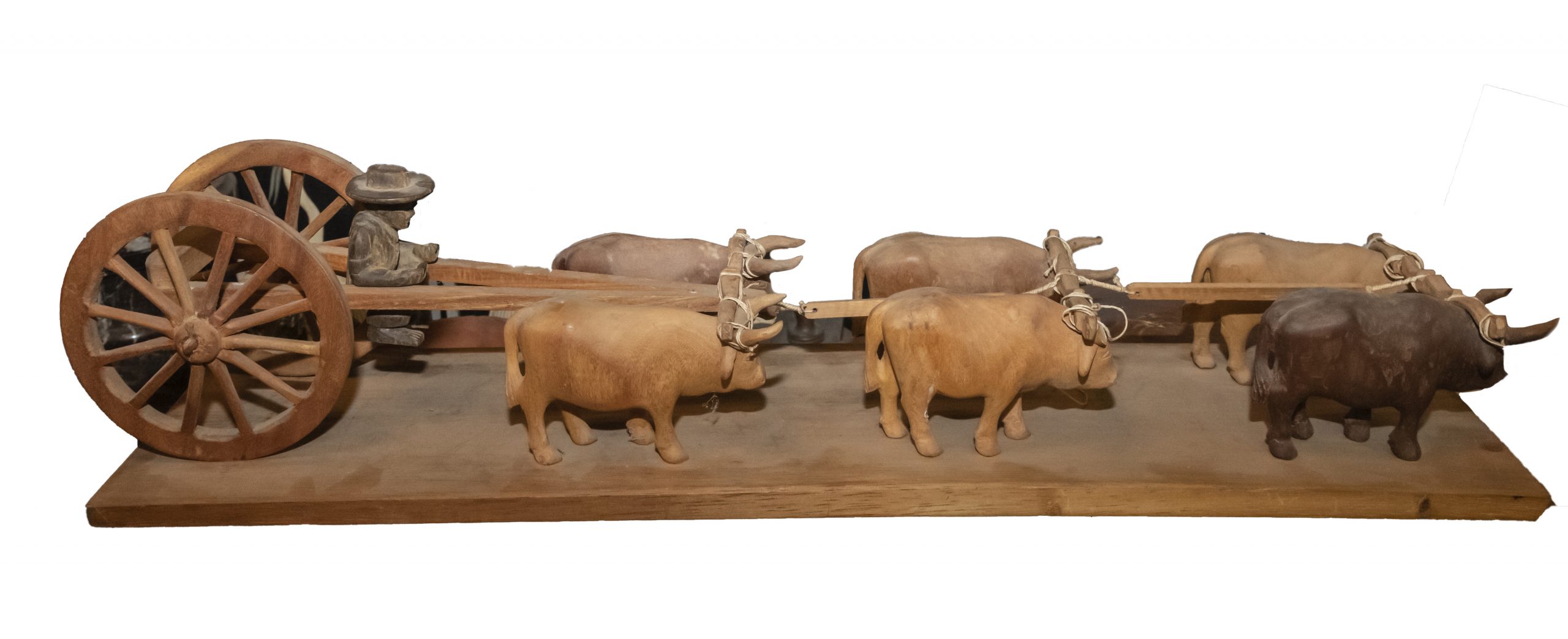 It is remarkably good shape for its age. There are two horn breaks.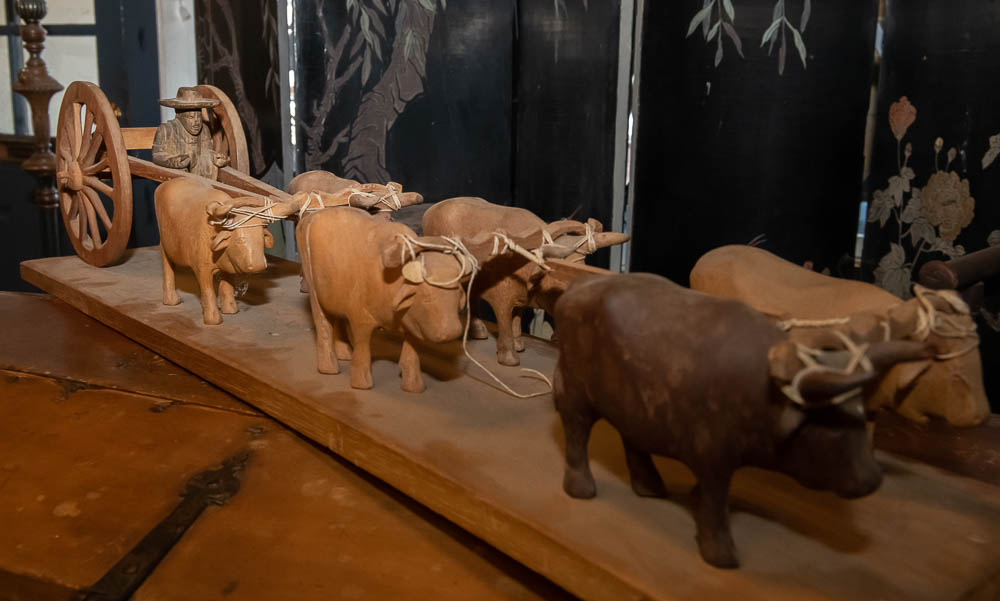 A marvelous piece of Americana. $475
I don't get a lot of good modern sculpture by prominent artists. But I could not resist this beautiful terracotta sculpture by Chaim Gross (1904-1991.) It is titled The secret and was created in 1942.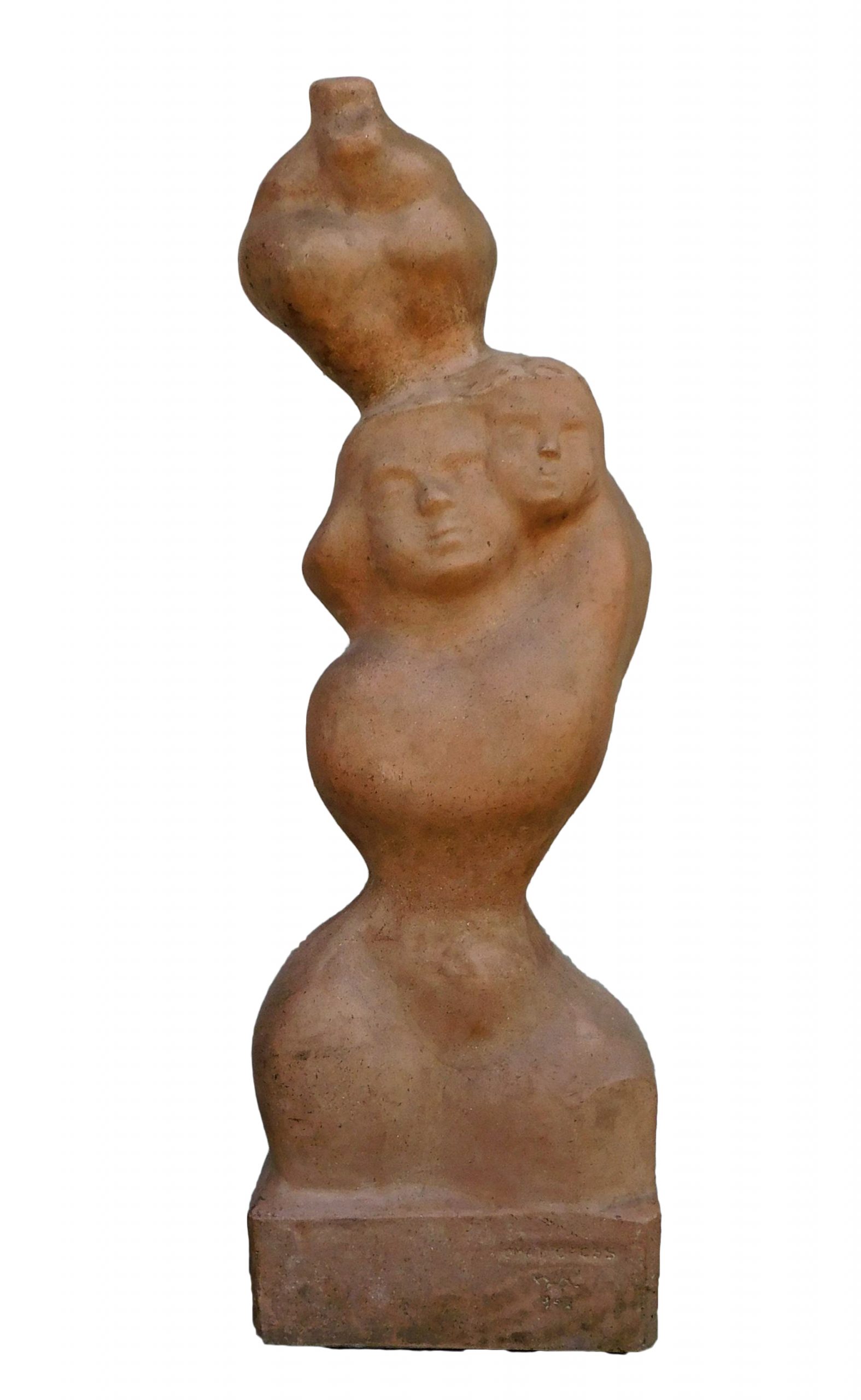 It stands 27.75″h x 9.25″w x 4″ and is signed and dated on the base. sold
I have new paintings by Wayne LeCom, Bradford Salamon, Clarence Hinkle, Jane Greene Gale and Roger Kuntz.
A set of sterling silver Whiting Louis XV flatware.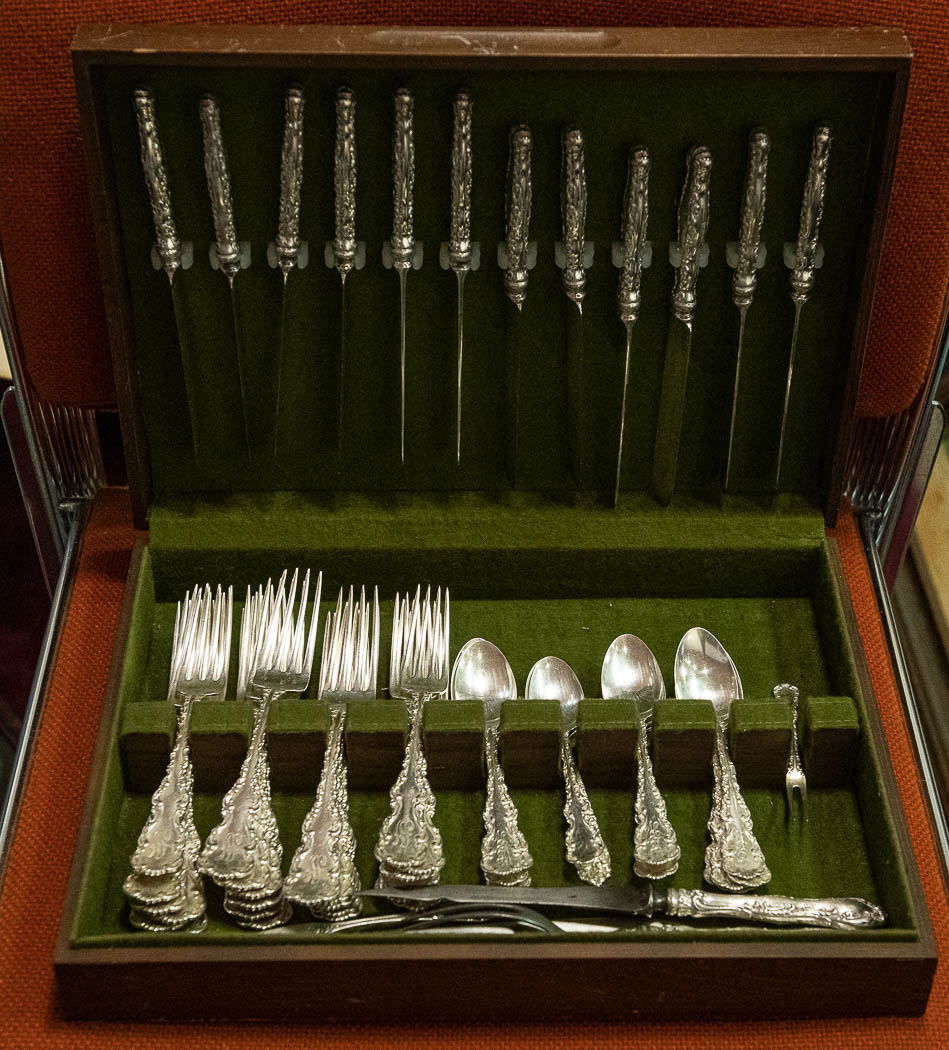 One can find 19th century french desks on occasion but it is much more difficult to find lovely examples from the 18th century.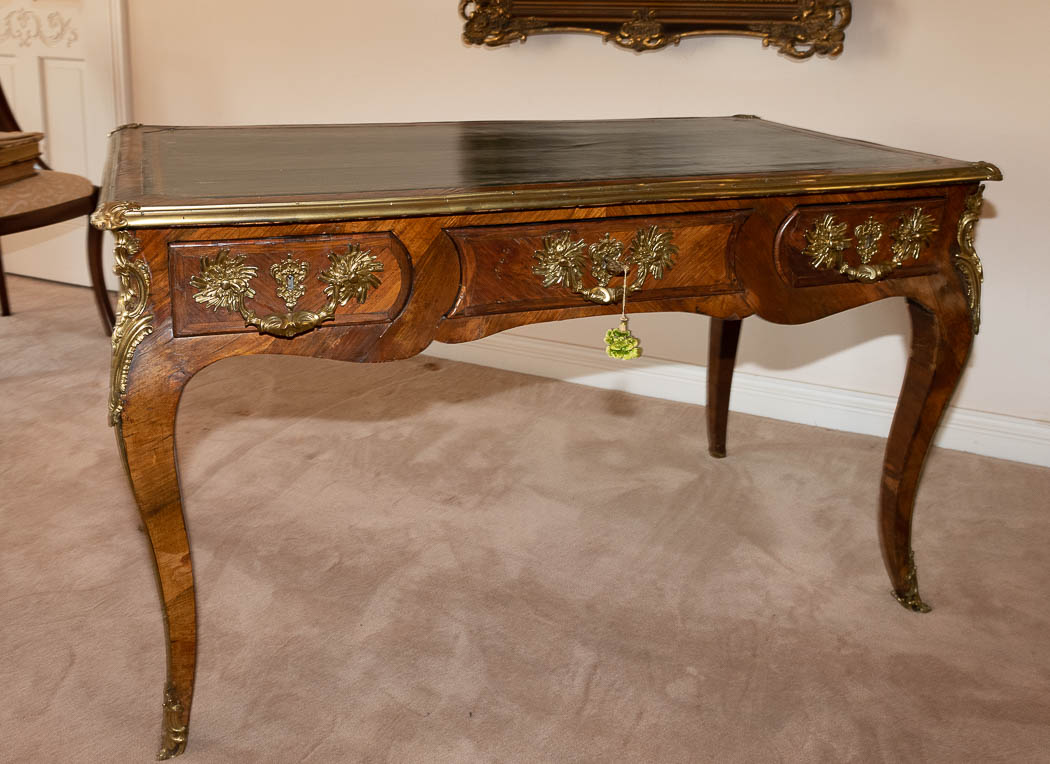 I am selling this exquisite secretary for an elderly client. It was built by the famed Jean Baptiste Tuart. Tuart was a Parisian ebeniste who received his maitrise in 1741. It is signed by him in a drawer and bears the JME mark, which stands for Jurande des Menuisiers-Ebénistes, the Paris guild of furniture makers. Small veneer loss to inside of right front leg. Original top still extant under replaced top.
If you know someone that might be interested in a beautiful example of period french furniture, far below retail, please pass this along!
Call me for prices.
more listed soon!