Haven't reached out in seven months. Egads, where does time go?
So the world keeps on spinning, no physical, tangible universe shows in about fifteen months now on this covid logged planet. But we are all trying to hang in there, doing what we do, putting our noses to the grindstone and trying to survive and even where possible, thrive. And honestly, things have been going pretty well.
Chinese pith paintings of artisans – Canton, circa 1850 from Rita Coolidge collection
I have been buying and selling some great stuff, including two magnificent collections of American Indian material which I will try to get up on line in the next few weeks. Like this Siktyaki revival seed jar from Nampeyo of Hano, circa 1905.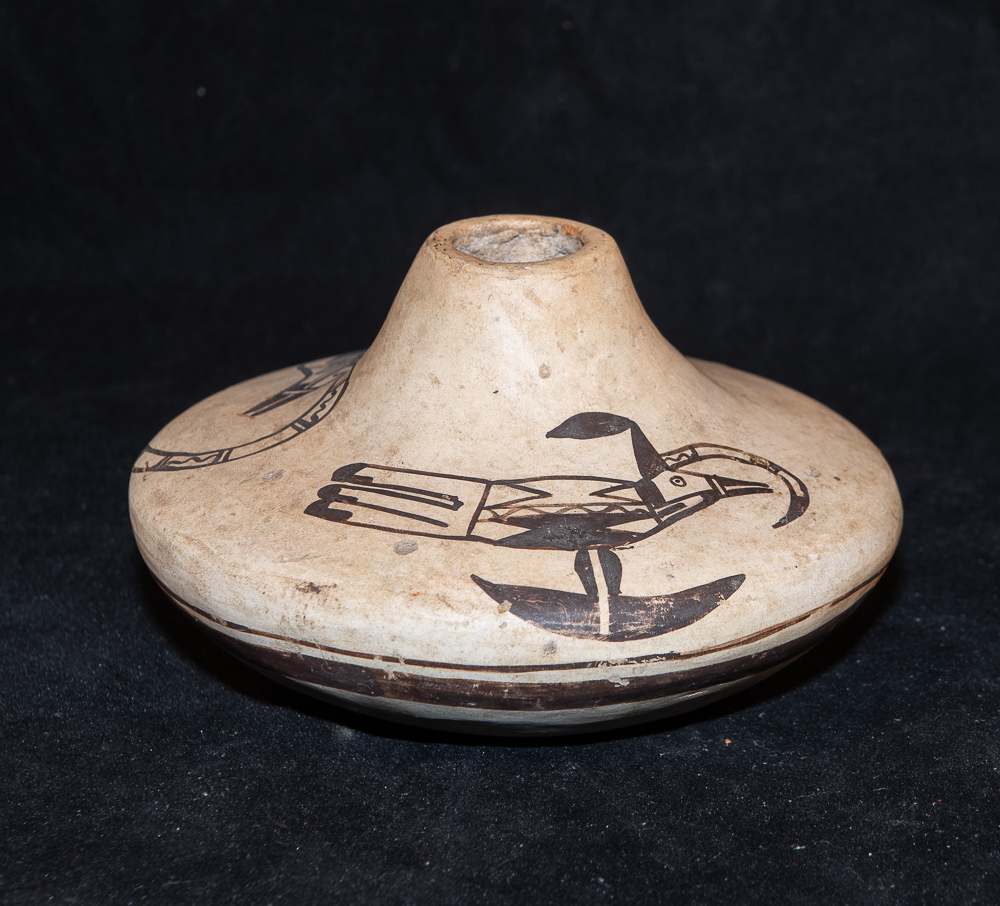 Here are some of the other things that have wet my whistle. All for sale, just call or write for prices.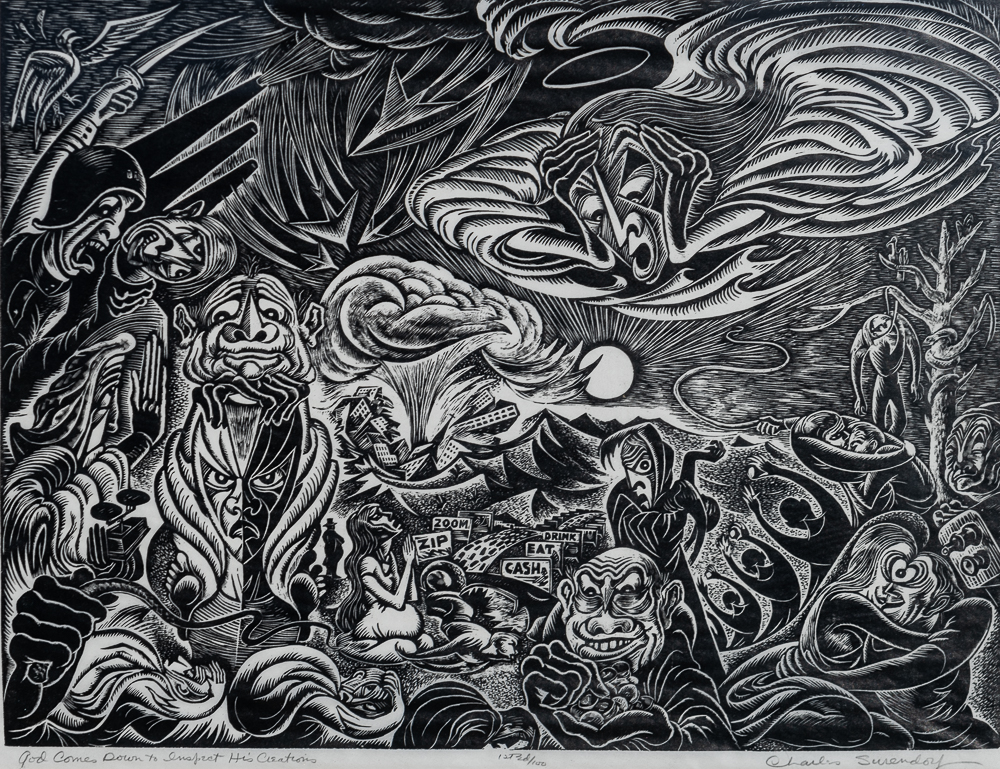 This is a linocut from Charles Frederick Surendorf (1906-1979) titled God comes down to inspect his creations. Surendorf was a Northern California artist with a keen eye and a biting pen, often quite satirical in nature. You get the idea that the creator might not be too happy when he sees the kind of mischief man is up to. From the first edition of 100 on what I believe is Van Gelder paper. It measures approx. 14 x 18″ image. All the human vices depicted in one powerful image and social commentary. This one was pulled in the early 1940's. There is another smaller work with the same title that he produced in 1938, also very good.
Originally from Indiana, after graduating from Ohio State University Surendorf studied at the AIC and at the ASL in NYC. In 1935 he moved to the San Francisco Bay area and had further study at Mills College. Active in the local art scene, he was director of the first SF Art Festival. In 1946 he settled in the town of Columbia in the Sierra foothills. Very creative artist.
I also bought this Surendorf, not a social commentary but very good nonetheless, Girl in Levis.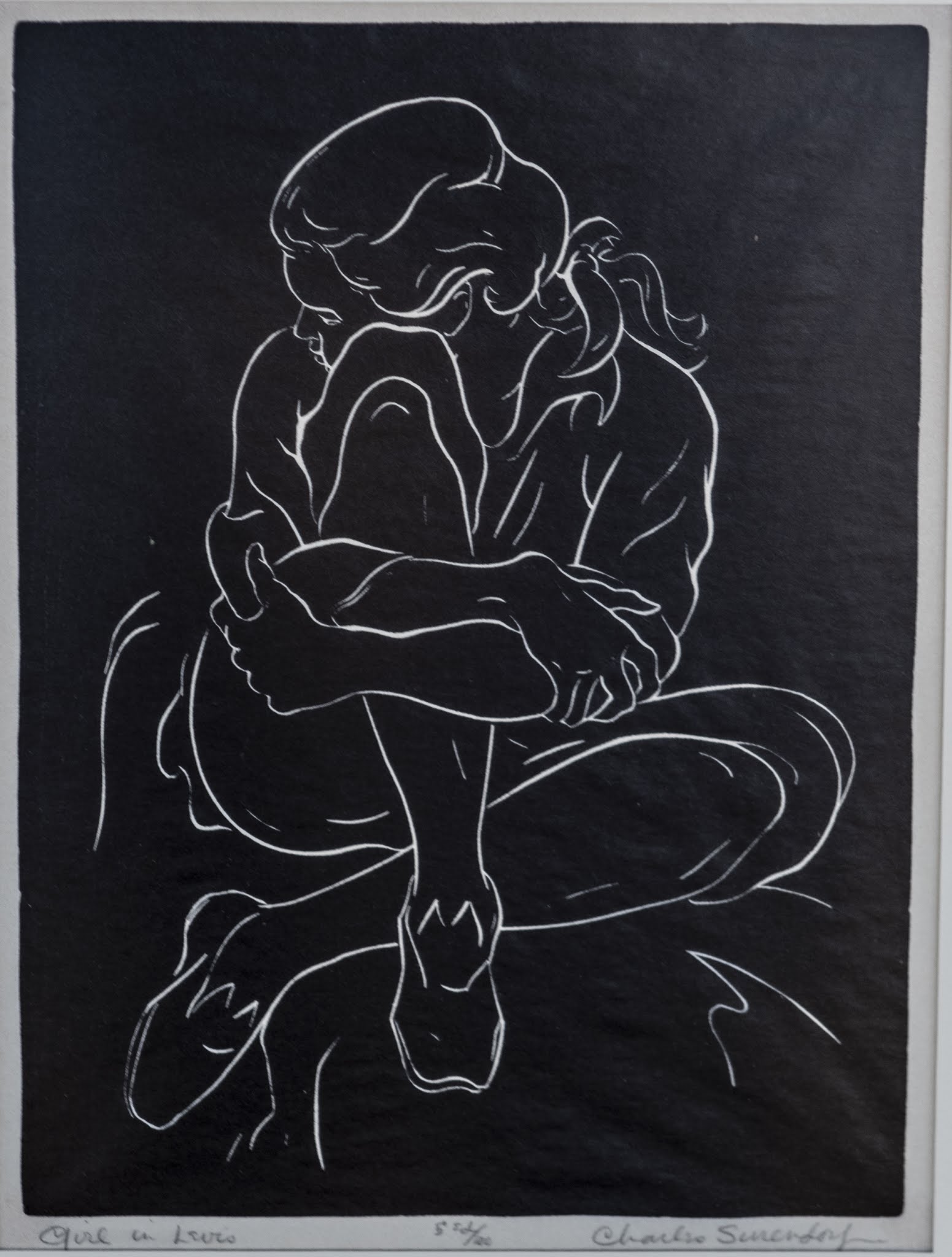 Guy had a great hand and a sharp eye, as we say in the business. I have sold quite a few of his pieces over the years. More people should know about him but that only happens if you live in New York. The next print is my favorite of his, sold it about ten years ago but still love it. Wish it was mine again. Three men in a bar.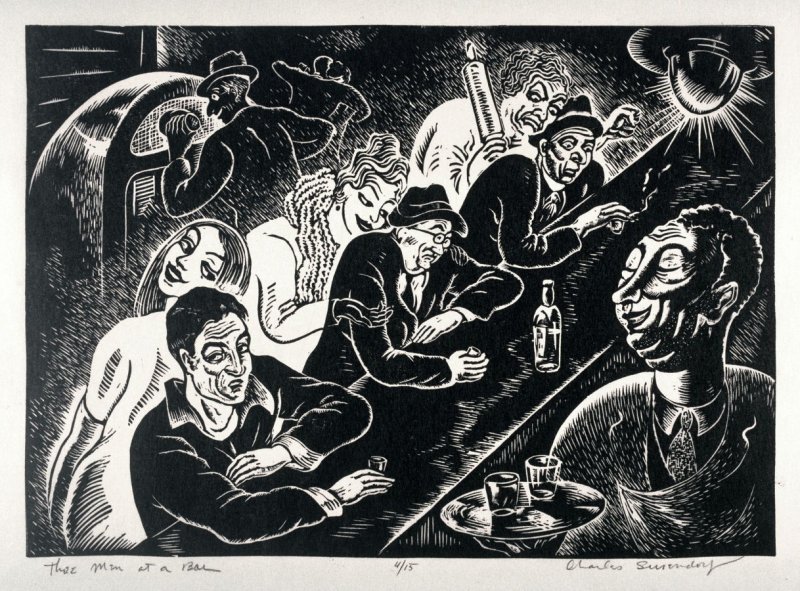 Love the lady with the rolling pin. Bukowski meets Lyn Ward. Wish I had that one back. But that is another kettle of fish. Let's focus on what I do have. A beautiful new Maurice Braun, newly cleaned, titled In the Valley. 25 x 30″.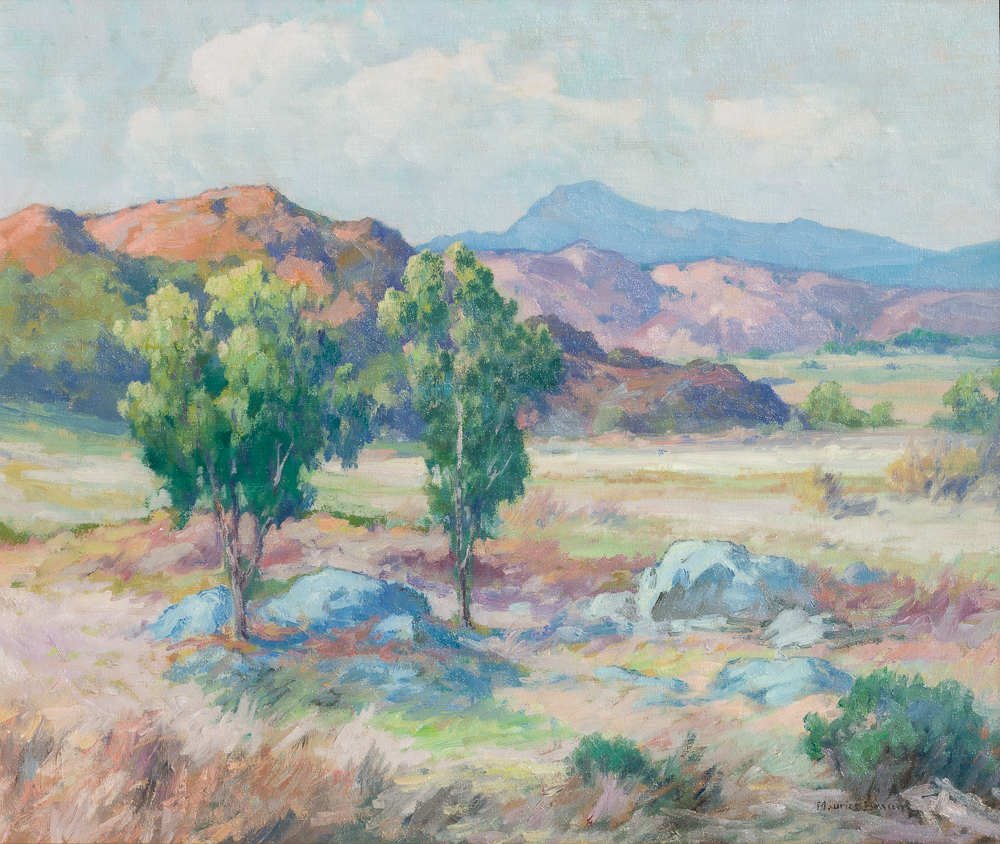 A Marc Chagall poster from 1977 at the Louvre, signed by him in marker, framed immaculately, out of a Beverly Hills estate.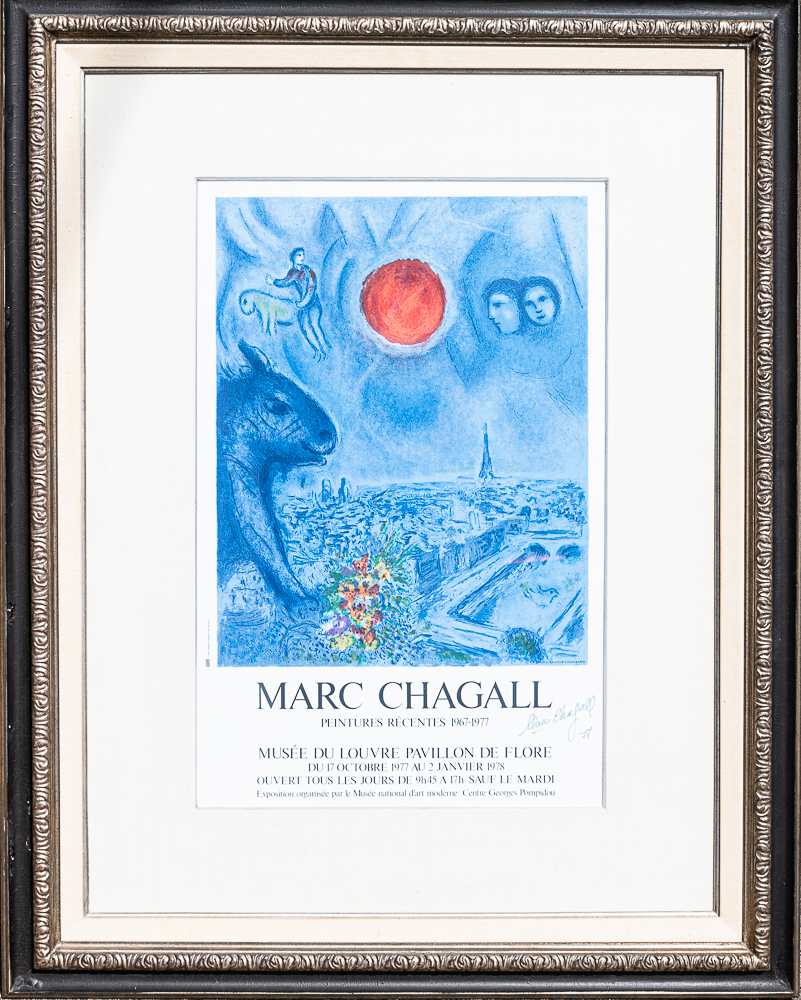 I don't tend to buy much French furniture, millennials apparently diss it as too formal for their minimalist lifestyles. But it is also possible the most well made and beautiful furniture in the world and it reminds me of my father, who was a lover of fine things.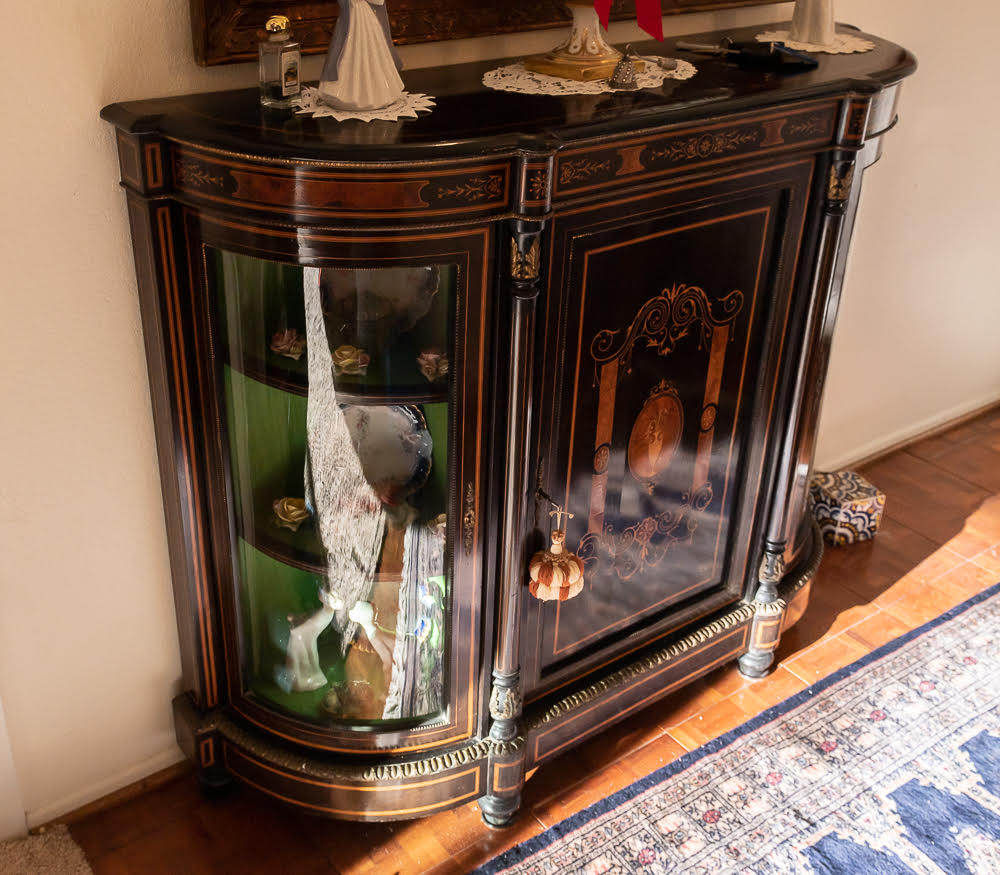 And so I bought this Napoleon III, Louis XVI cabinet from the nice woman from Beverly Hills nowmoving to Wisconsin. It is beautiful and immaculate and I currently have it stuffed with indian moccasins.
The same woman, a beautiful and wealthy Hungarian lady who used to model, once lived in Mary Pickford's old house on 660 Bedford in Beverly Hills. The silent movie star left five incredible pieces of furniture in the home. I was able to buy this figural trunk of Pickford's from her yesterday. By the way, Pickford also had a home in Rancho Santa Fe with Douglas Fairbanks and once owned the La Paloma Theater in Encinitas.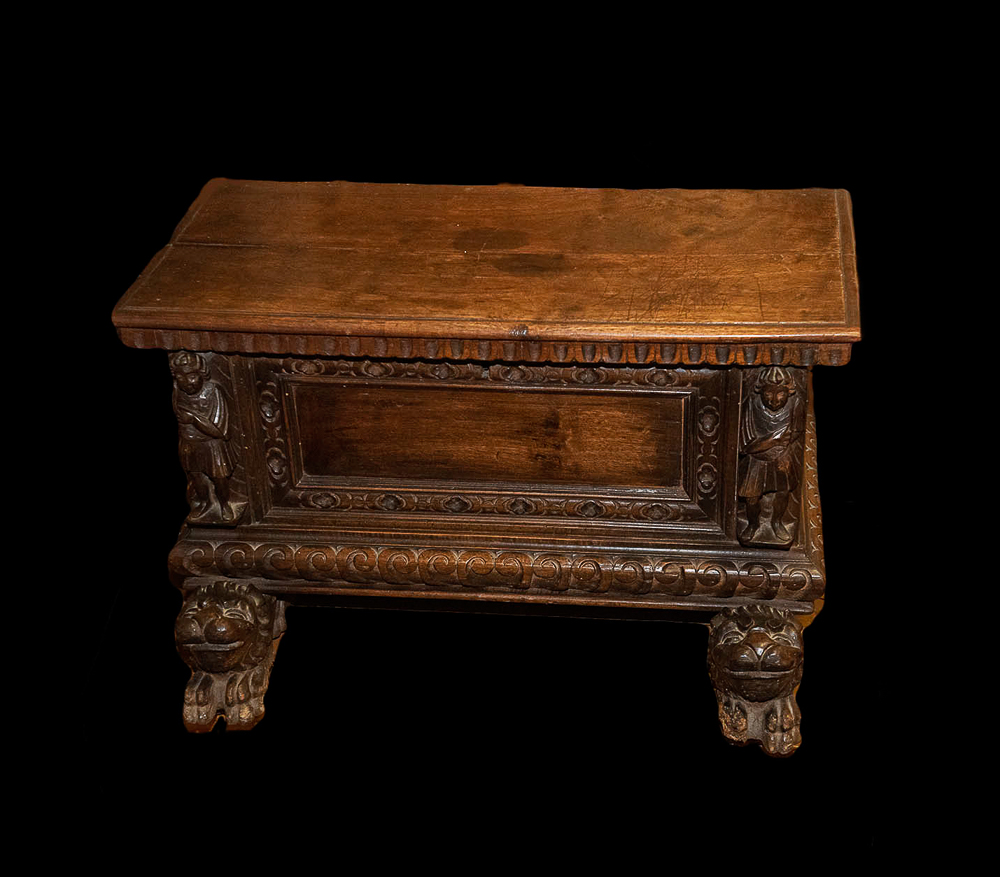 It is rather diminutive, one chippendale foot could use some repair, if you feel like picking nits and care about such things, however the piece is very lovely even with the minor flaw and has oodles of charm.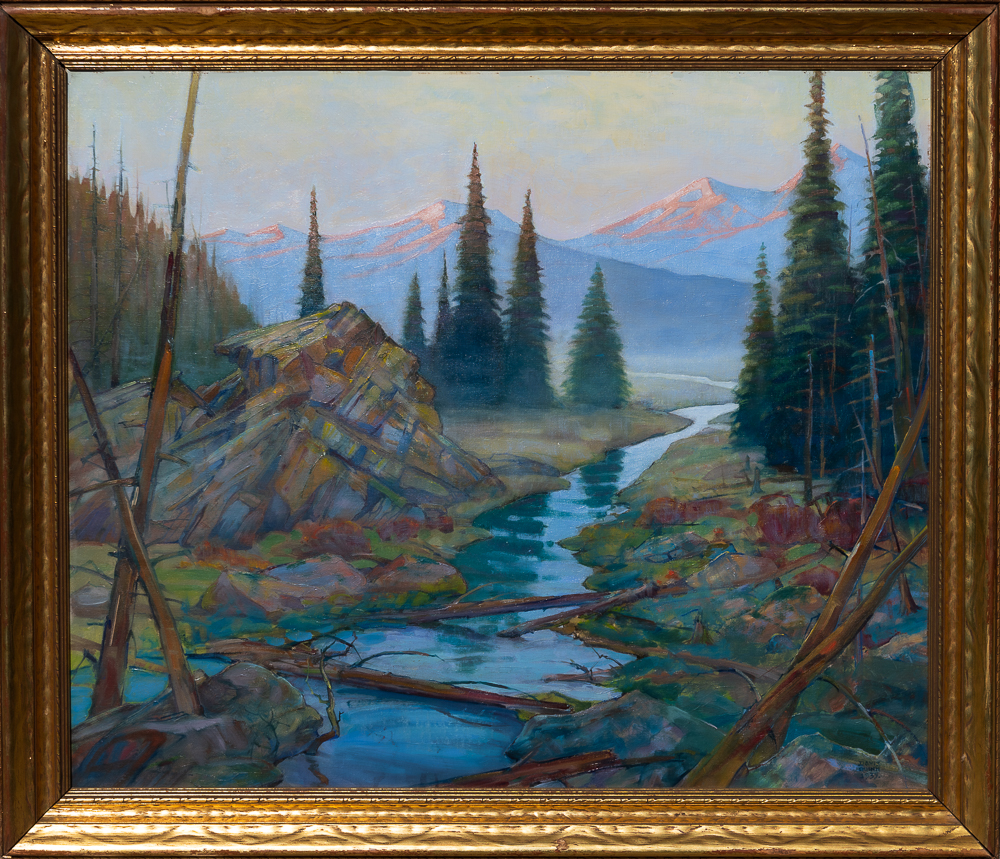 Lovers of the pastoral might really like this painting. I certainly do. And I just got it back after sixteen years. I had given it to our closest surrogate parents in Fallbrook as a gift after their house burnt down in 2003. They are sadly moving and downsizing and are now giving it back.
The painting is by a man named Davis Quinn. He was an artist and musician and painted a lot of famous and seminal jazz artists. There is a book about his jazz paintings. But not too much known about him. I always thought he had a wonderful and unusual style of slinging paint and color around. Jazzy and ahead of his time. Must have been smoking the viper.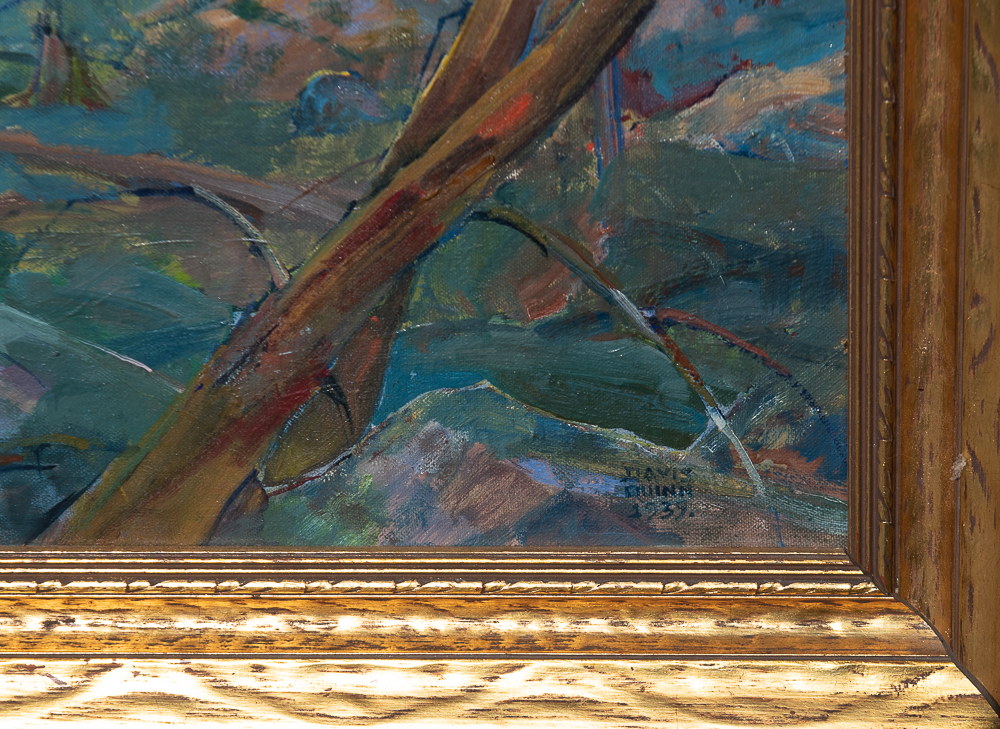 This was painted in 1939, the earliest canvas I have seen from him. Nice sig. 25 x 30″. It has an old New Jersey label on the back, I think he is an east coast guy and it fits since he was a musician.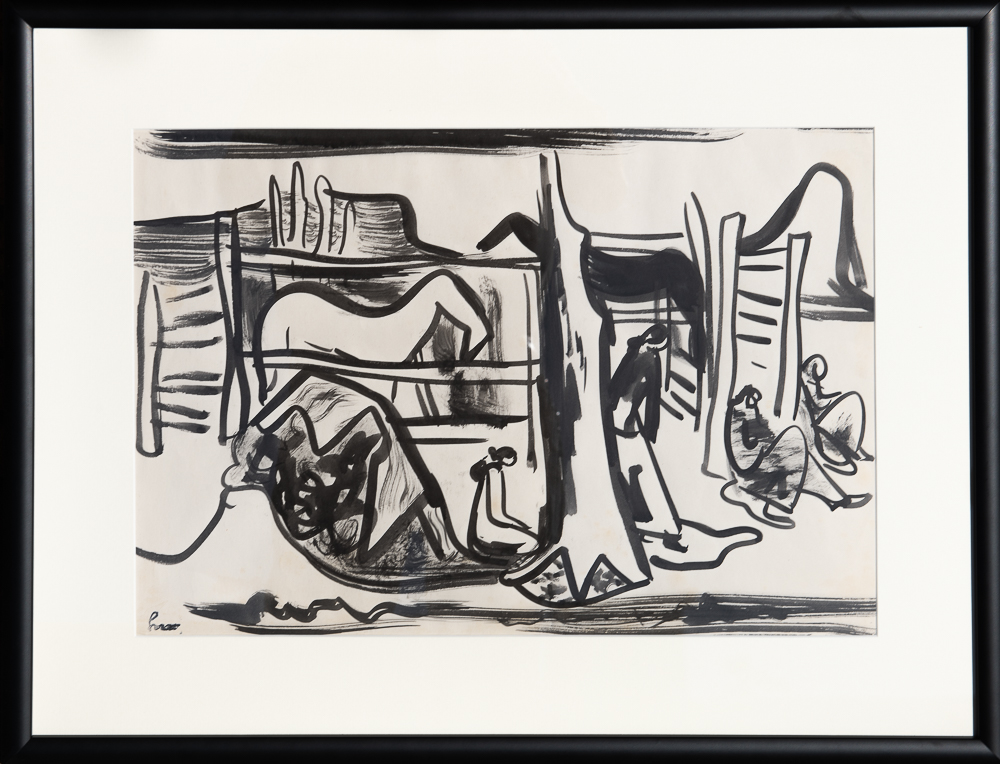 Lovers of the modern, you modern primitives out there and you know who you are, might take a gander at this southwest corral piece by Earl Loran (1906-1999). Loran was a gifted youth and he won a prestigious scholarship in the 1920's. He traveled to Paris and lived in Cezanne's house. He moved to California in 1936 and started teaching at Berkeley. Studied with Hans Hoffman for a spell.
Whenever people ask me what to look for in investment art, I suggest looking for early woman artists. They have always faced a sexist credibility problem and their work is as good if not better than the men. In the past few years, artists like Savo and Berk have really appreciated, women who were left in the shadows of their male cohorts, for no reasons of merit.
The late art dealer of Los Angeles Spencer Helfen did a remarkable job championing forgotten women in art as did the very much alive Maurine St. Gaudens.
Here is a San Diego female artist I like, Mary Ladd Saul. I like the cubist power in this one. Found it in Las Vegas.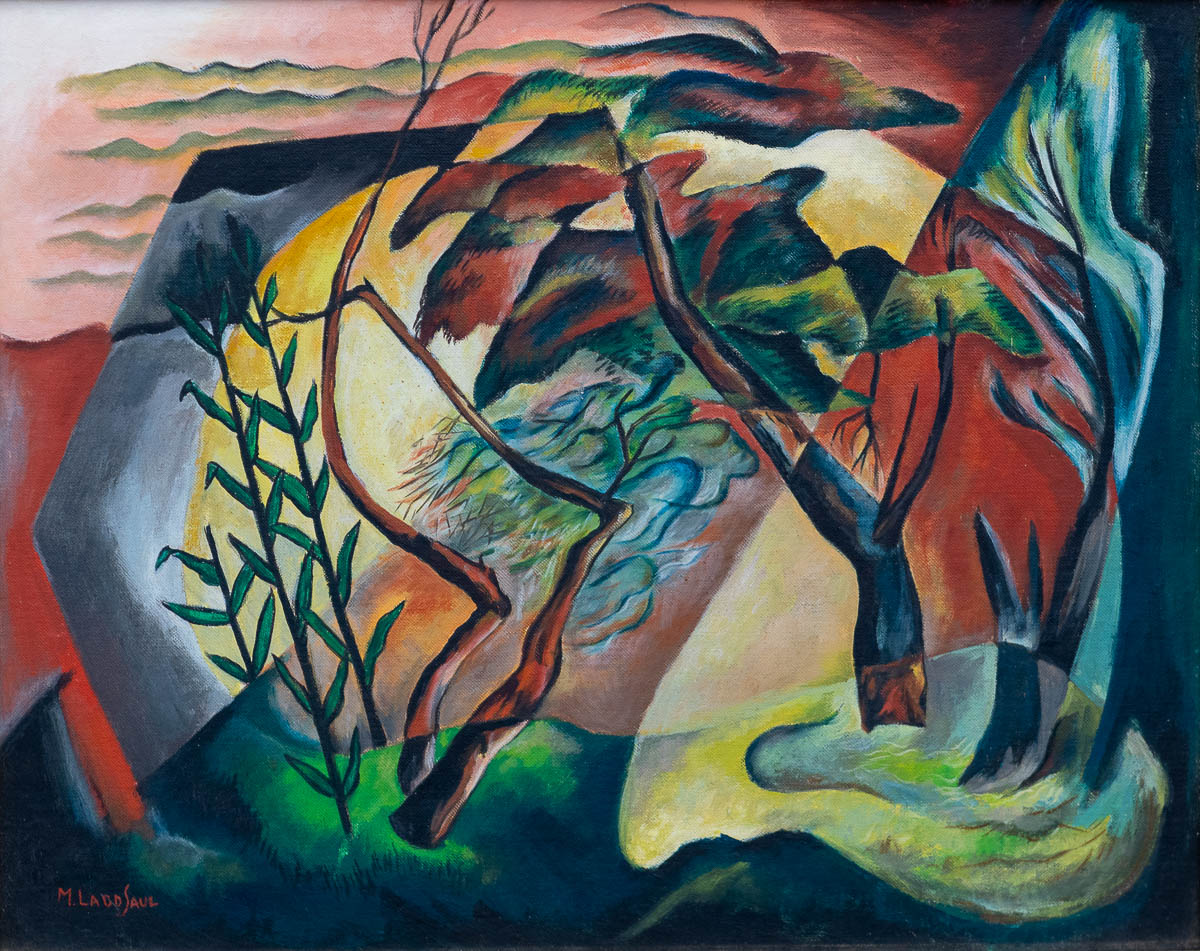 Minshall, Mary Elizabeth Ladd SAN DIEGO — Born on December 16, 1912, Swayzee, Indiana; passed away on February 14, 2013. The daughter of Fern Cates and Boyd Ladd. Siblings: George Herbert Ladd 1908; Margaret Emily 1916; and James Howard 1921. Graduated from Ball State University in 1933 with a Bachelor's degree in Art, she attended Cincinnati Art Academy 1933-1934. Mary worked as an "Art Supervisor" at Greenville City Schools, Ohio, from 1934 to 1939. Mary married Buford Saul on May 29, 1939 and moved from Cincinnati to San Diego in February of 1941. Mary started teaching in the San Diego School system in 1941 and received her teaching credential from the State of California in 1945. In June of 1946, Mary moved from San Diego to San Bernardino with her husband, returning to San Diego and the San Diego School system in 1949. She and Buford built a home on 1115 Sorrento Dr. in Point Loma. 
Saul lived to be over a hundred and painted her whole lifetime.
Two more prints and we are done for now. No, three more.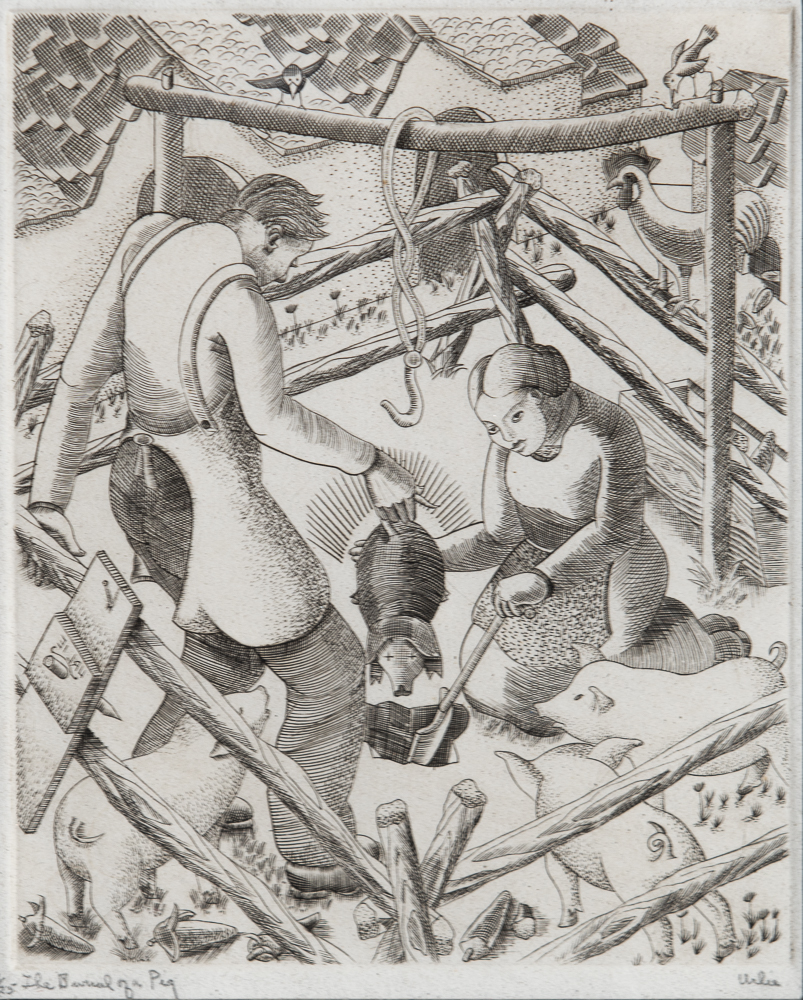 An obscure and rather short lived Minnesota WPA printmaker named Gerald Urlie (1911-1959) pulled this drypoint, Burial of a pig. 3/25.
And this one, Magic Fountain.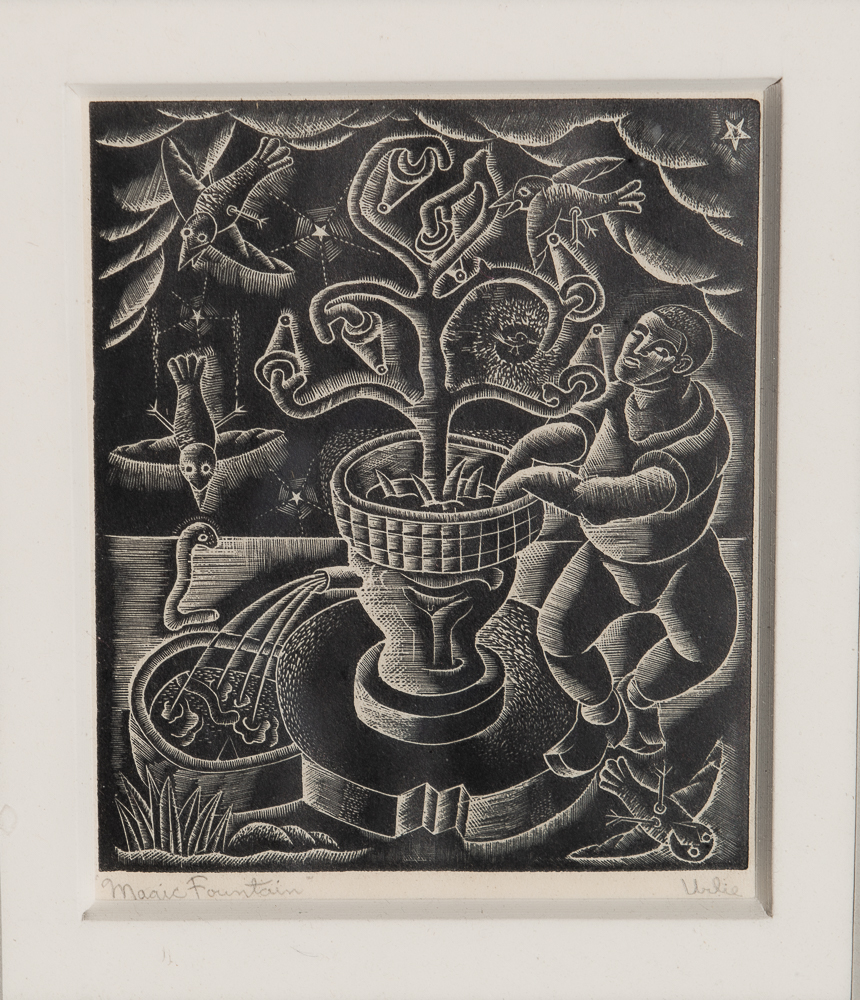 Tuesday I bought this nifty little WPA era print, Dirt Farmer's Home by Jon Peacock. 3/50 Dated 1932. Steve didn't want to sell it but I paid his asking price. I like the strong contrasts. Born in NYC in 1908, he was a pupil of Arshile Gorky.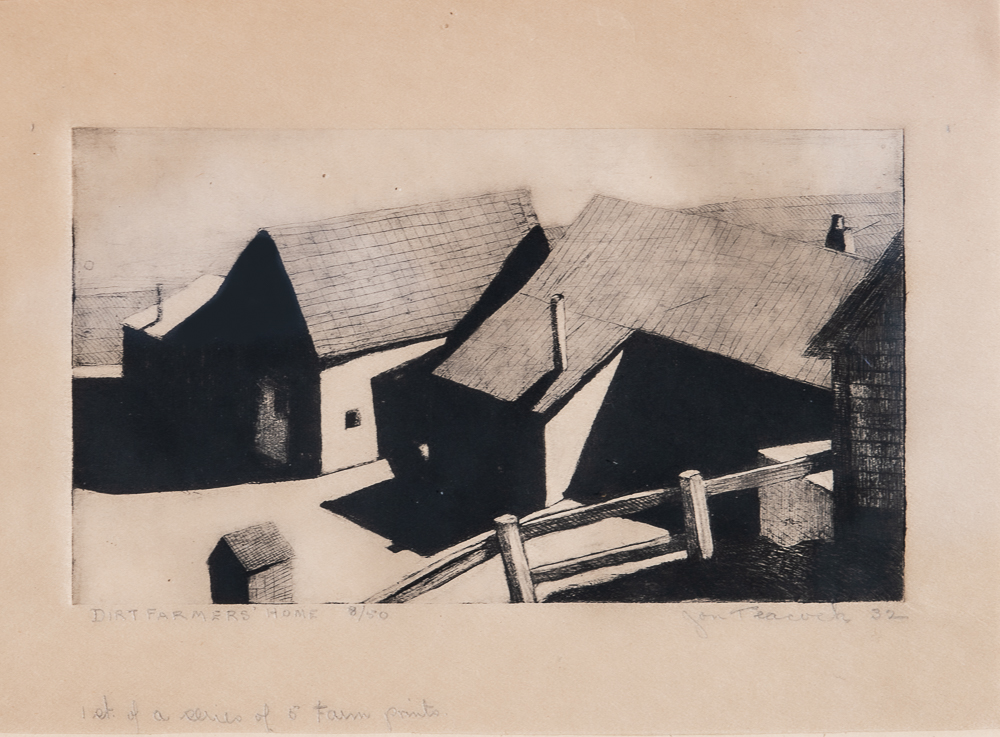 The gallery is full to the brim.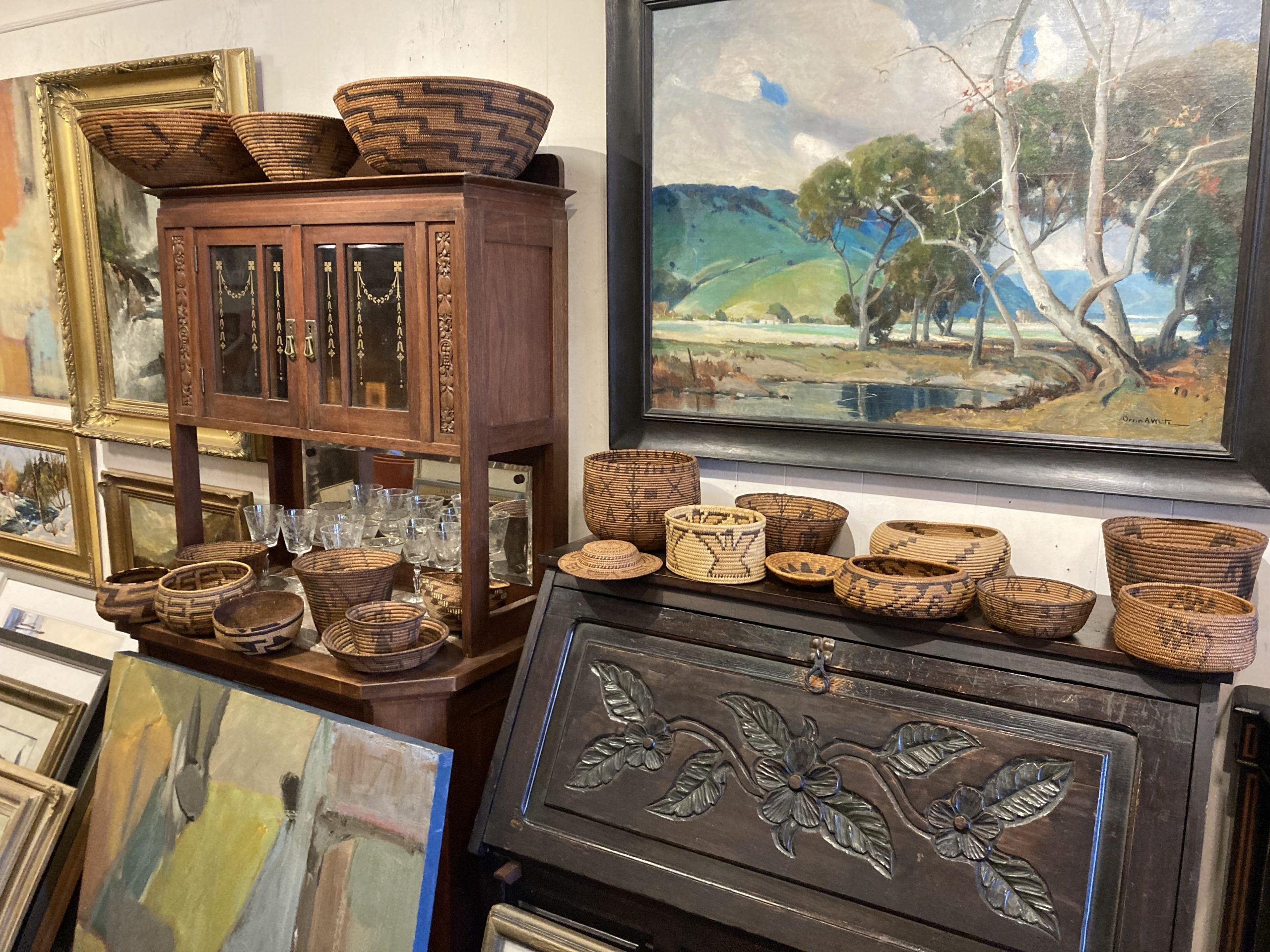 It is hard to describe just how much native material I have as you can partly see from some of the baskets above. The furniture piece to the left is a secessionist cabinet from Austria. The Vienna address of the maker is written on the back of the drawer. It has lovely carving and a beautiful inlay in the lower doors which you can not see from this picture.
The piece to the right is a Spanish Colonial vargueño desk from South America, rougher than the revival pieces you see from the 1920's and with atypical carving.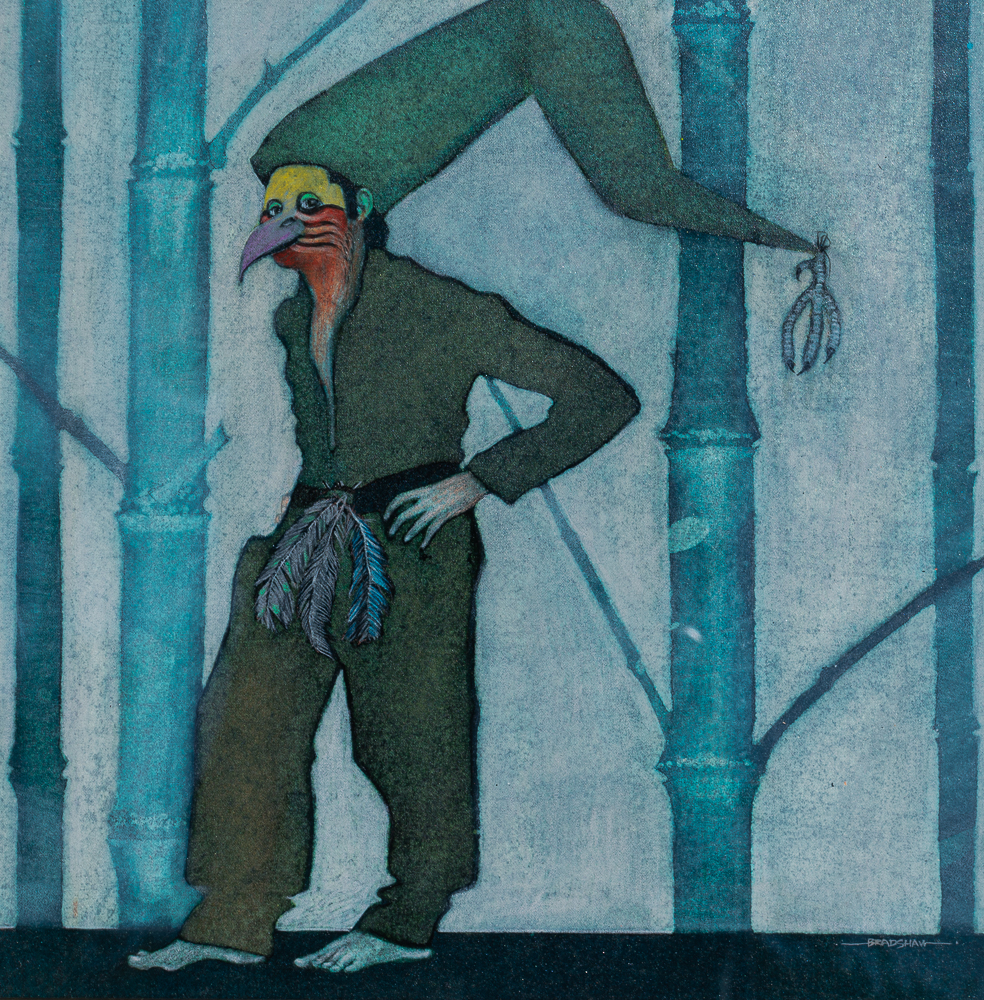 I bought this surrealist work from Robert Bradshaw (b. 1930) a month or two back from Cam. Bradshaw had an elaborate method of constructing his works which involved a lot of glazes and sanding. Really good and very powerful imagery.
Sticking with the earlier modern primitivist theme, I present two lithographs by Roy De Forest (1930-2007).  Ass for every saddle, as we say in the business. And speaking of saddle, the untitled color one of the man and horse at the campfire is quite large at 22 1/2 x 30 1/4″. 19/100, mint unframed.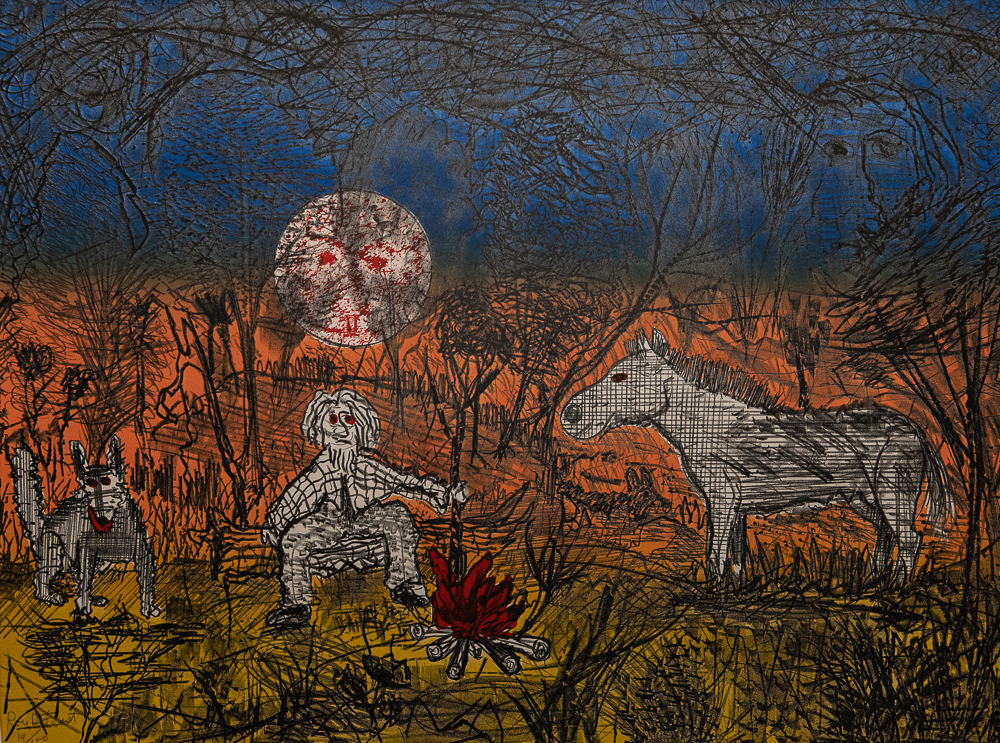 The black and white is cool, like a psychotic Franz Kline. 18 x 23″ 7/100 pencil signed with artist watermark.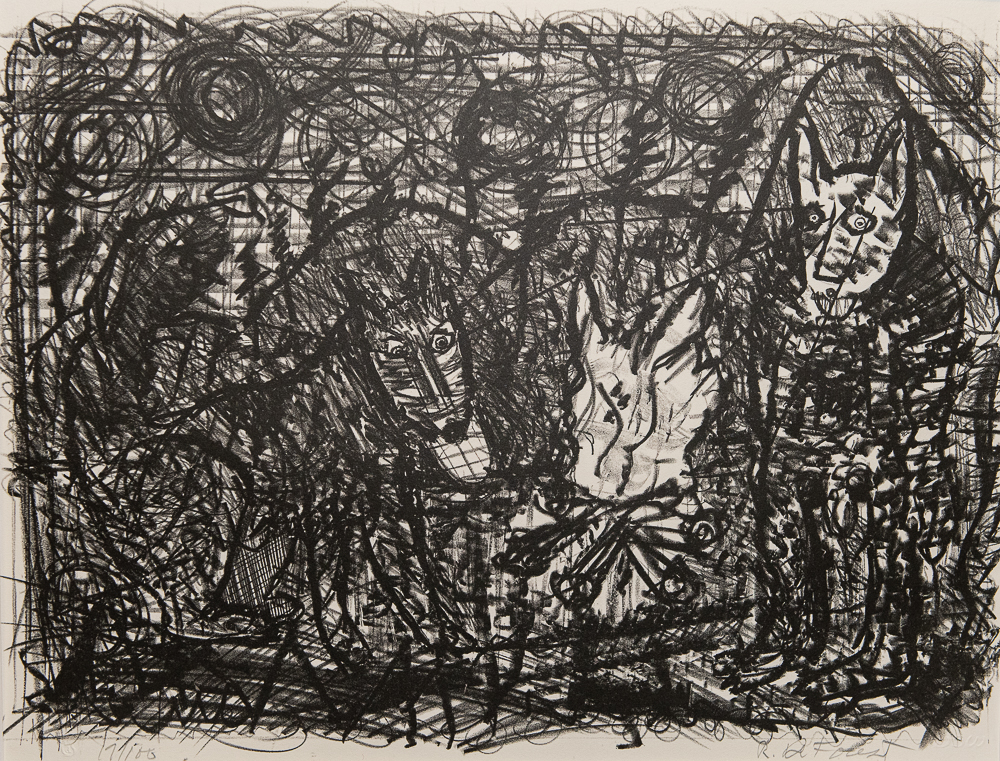 Finally the incredible piece by Eduard Buk Erlich (1889-1966) which is now on the masthead page of my website. Marty called the piece Goddesses but he admitted to me that he pulled that out of the air. Whatever the actual title it is wonderful.