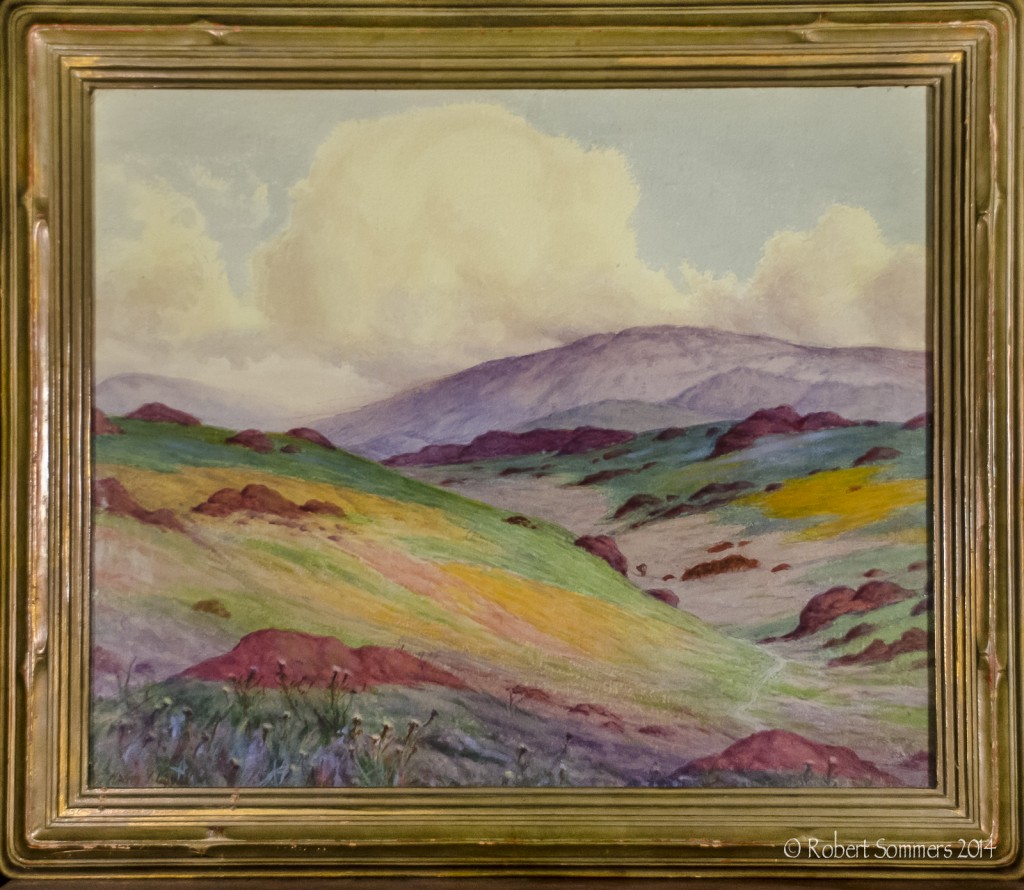 After three shows in a month, Del Mar, San Francisco and Santa Barbara, it is certainly very nice to be home. The recent fires thankfully missed us, and thanks to those of you who inquired for asking. Shows were okay, last one was pretty good, it was hot as hell in Santa Barbara but I managed to make something happen anyway. Our thoughts are certainly with those who did suffer losses in the blazes. Tough way to start the year,
I bought this painting at the show in Santa Barbara. A very nice watercolor in its original frame by Harry Victor Law (1868-1941). My first thought was the Santa Barbara artist Ray Strong with its color sense but it is in fact of earlier vintage. The work is titled "Over Hill and Dale" and it was executed in 1936.

Law was an interesting depression era artist, originally from Illinois, who painted a lot in Steinbeck country, Salinas. He has a fairly scant listing in Hughes:
Harry Victor Law was a resident of Peoria, Illinois in 1880. By the turn of the century, he had moved to California and was working as a commercial artist. He was in Salinas (1905), Oakland (1908-20), San Francisco (1922-23), and then settled in Los Angeles. He died there on July 4, 1941. Exhibited: Art Institute of Chicago, 1904; Golden Gate Park Museum, 1916; California Watercolor Society, 1924-29; Berkeley League of Fine Arts, 1924; Bradford Gallery (Los Angeles), 1938; Delphic Studios (New York City), 1940.
Works held: Society of California Pioneers; University of Southern California.
Had to have been a tough time to make a living as an artist, not that it is ever really easy. This piece is 20 x 24″ sight (not including the frame.) It has a wonderful early California feel and a very simpatico original carved and gilded frame. Price is very affordable at $1800.  My thought is that it is central California, maybe the Tehachapis or the area near Tejon. Pre telephone pole and oil derrick.